With Thanksgiving right around the corner, I thought I'd share with you probably one of my easiest recipes yet. My Vegan Garlic Mashed Potatoes, dairy-free of course. It's a staple for the holidays, and I wanted to show you how easy they are to make.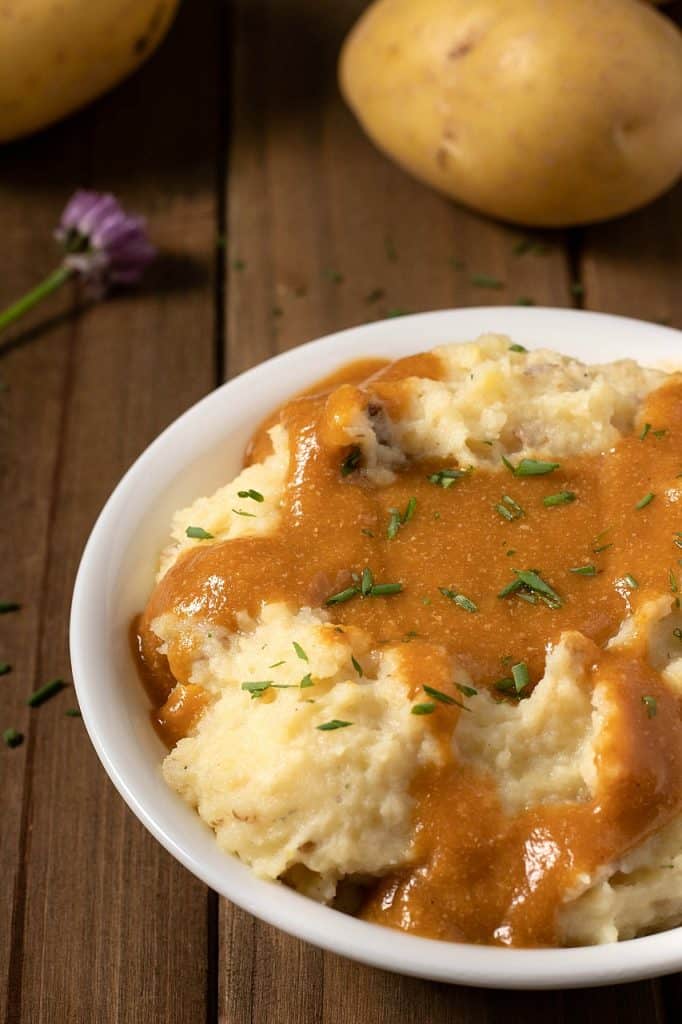 I know what you're thinking, do I REALLY need a recipe for mashed potatoes? Well, you'd be surprised how many people have asked for one.
I get it - this way of eating is brand new to many of you, and learning how to cook mashed potatoes without all the traditional ingredients like milk and butter might seem impossible.
And I also know there are others who are just now learning how to cook - period - and there's no shame in that either.
So I wanted to show you how easy it is to make light, fluffy, super-creamy mashed potatoes, with tons of flavor, without using any dairy products at all.
You can make these on your stovetop, or you can use your Instant Pot like I did. Either way this recipe is pretty-much foolproof.
So without further ado......
Vegan Garlic Mashed Potatoes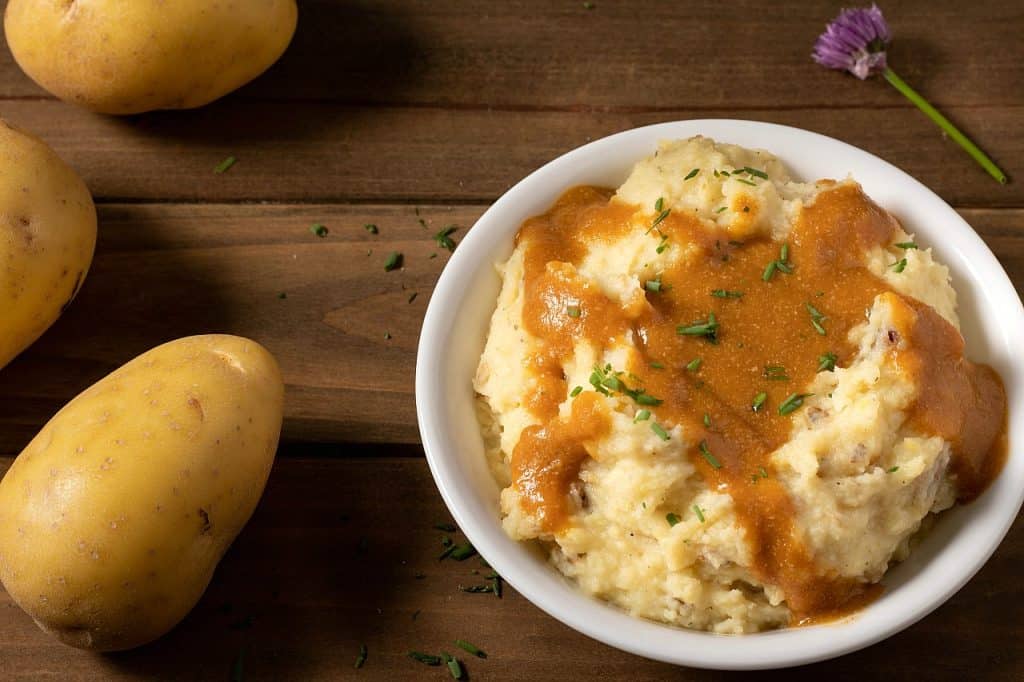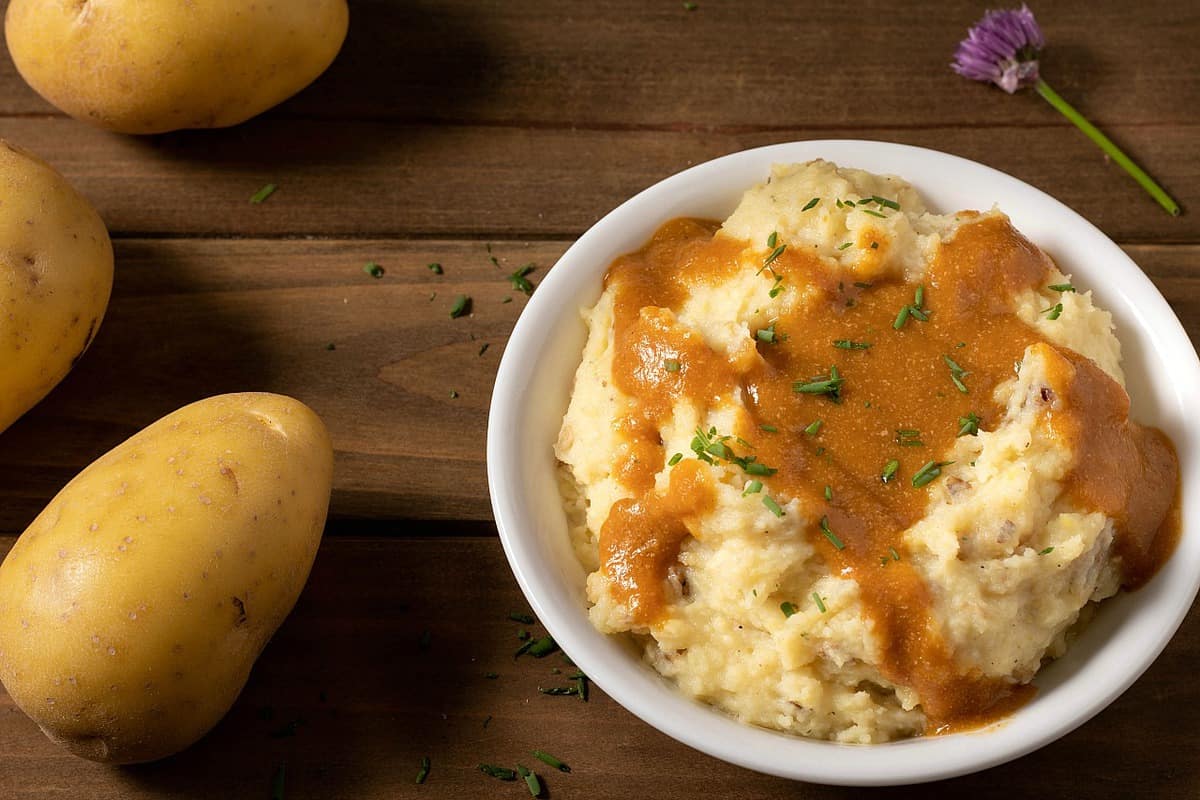 First, we need to select our potatoes. In this recipe, I used about 3 pounds, which came out to about 6 medium-sized potatoes.
If you want super light and fluffy potatoes, use Russets. They are the starchiest of the potatoes and practically fall apart in the pot when you cook them. I would not use waxy potatoes like Reds. They are great for potato salads because they hold together so well, but not so great for mashed.
Yukon Golds are kind of in-between. They are not as starchy as Russets but do have a great buttery flavor. If you go with ALL Yukons (which is fine) just bear in mind they may need more work to get them fluffy and creamy when we mash.
For this recipe, I actually did half Russets and half Yukons. The best of both worlds.
Wash your potatoes and remove any eyes or bad spots. I personally never peel my potatoes but if you want to, do that now. Then cut them into ½" rounds and drop them in a pot (or your Instant Pot) and cover with water. Using my 6 qt Instant Pot, that came out to be about 5 cups of cold water.
Add 1 teaspoon of salt - you really want to add a good amount of salt now while cooking. We'll do our final taste and seasoning adjustment later.
And finally, add your garlic. I used 3 HUGE cloves of garlic (thanks Dora) and they came out perfect. If you are using those little heads of garlic from the store you may need quite a bit more - like 6-7 cloves.
It's your garlic mashed potatoes - use as little or as much as you like.
Now we boil. Or in my case with my Instant Pot, I added my lid, set it to the STEAM setting, and set the timer for 12 minutes. We basically want to cook these until they are done all the way through and practically falling apart. So bring them to a boil if you're doing this on the stove, then reduce the heat and cover, and let them simmer/steam for about 20-25 minutes.
When they are done: if you're using your Instant Pot, we can carefully do a Quick Release to release the pressure. And then regardless of the cooking method - using hot pads - carefully drain the water but be sure and save a little bit - like ½ cup as we may need some shortly.
With the water drained, we can now mash. I have this potato smasher and love it, actually use it a LOT. If you have the old-fashioned kind, it will work fine but it may take a bit longer.
I am a member of the Amazon Affiliate Program so any purchase here will result in a small commission for me at no extra cost to you.
I add ½ cup of Unsweetened Almond Milk and start mashing. How much you mash depends on what consistency you like your mashed potatoes. I know some people will even use an electric mixer - it's totally up to you.
Now we can taste and adjust for seasoning. I added an additional ½ teaspoon of salt, ¼ teaspoon of pepper, and a tiny bit of that potato water I saved to make them creamier. Be careful you don't add too much water here or you'll end up with potato soup instead of mashed potatoes.
Finally, our last and secret ingredient - and I want to thank my dear friend Trish over at https:///www.yourmomsvegan.com for turning me on to this - I added 2 Tbs of white Miso and stirred that in until it was very well blended.
The miso adds just enough of that extra oomph we miss by not using butter. It was perfect. Obviously, if you're not a Miso fan or can't find it locally you can skip this part - but I highly recommend you try it.
You now have a big bowl of perfect, Vegan Garlic Mashed Potatoes, ready for a nice big ladle of my super-quick, super-tasty, fat-free Vegan Gravy.
Hope you enjoy.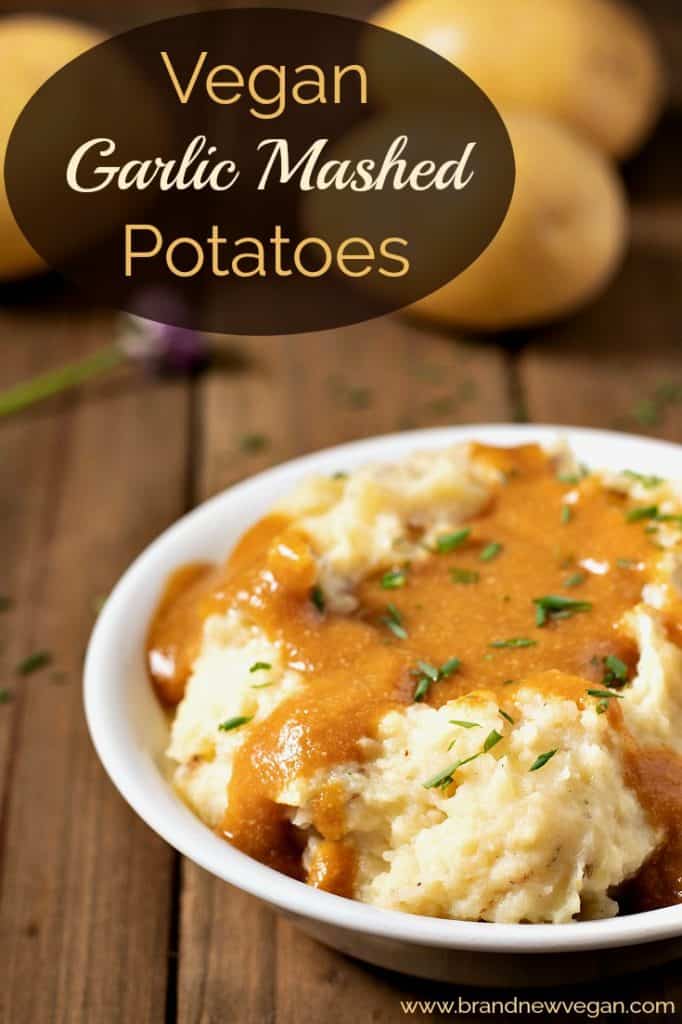 Print
Vegan Garlic Mashed Potatoes
Author:

Prep Time:

10 min

Cook Time:

12 min

Total Time:

22 minutes

Yield:

6

servings

1

x

Category:

Potatoes, Holiday

Method:

Instant Pot or Stovetop

Cuisine:

American, Vegan
---
Description
With Thanksgiving right around the corner, I thought I'd share with you probably one of my easiest recipes yet. My Vegan Garlic Mashed Potatoes, dairy-free of course. It's a staple for the holidays, and I wanted to show you how easy they are to make.
---
3

lbs potatoes (about

6

russets, yukons, or  a mix of both)

5 cups

of water (or until potatoes are covered)

3

large garlic cloves

1 tsp

salt

½ cup

unsweetened almond milk

½ tsp

salt (or to taste)

¼ tsp

pepper (or to taste)

2

Tbs white miso (or to taste)
---
Instructions
Clean potatoes and peel if desired.  Cut potatoes into ½" rounds and place in a large pot or your 6 qt instant pot.
Add enough water to cover, which was about 5 cups in my IP.
Add 1 teaspoon salt and garlic cloves.
If using IP:  attach the lid and using the STEAM setting  - cook for 12 minutes.  Use the QR method to remove the pressure.
If using STOVETOP: bring to a boil then reduce heat to simmer, cover, and cook until soft, about 20-25 minutes.
Carefully drain the water, reserving about ½ cup for later
Add almond milk and mash until smooth and creamy
Season with salt & pepper.
If the potatoes seem too dry, add a little bit of the reserved potato water until you reach your desired consistency
Stir in miso and mix well.  Whip with an electric mixer if desired and serve with your favorite gravy.
A sprinkling of paprika or chopped chives makes a nice garnish.
---
Notes
Keywords: vegan garlic mashed potatoes