Ever had Vegan Gyros?!
(by the way – they're pronounced (yē-ˌrōs)…….not JIROS …and that sauce? It's pronounced zat-ZEE-kee)
However you pronounce it, they really are simple to make, SUPER delicious, and rest assured you'll be getting your helping of fresh veggies for the day!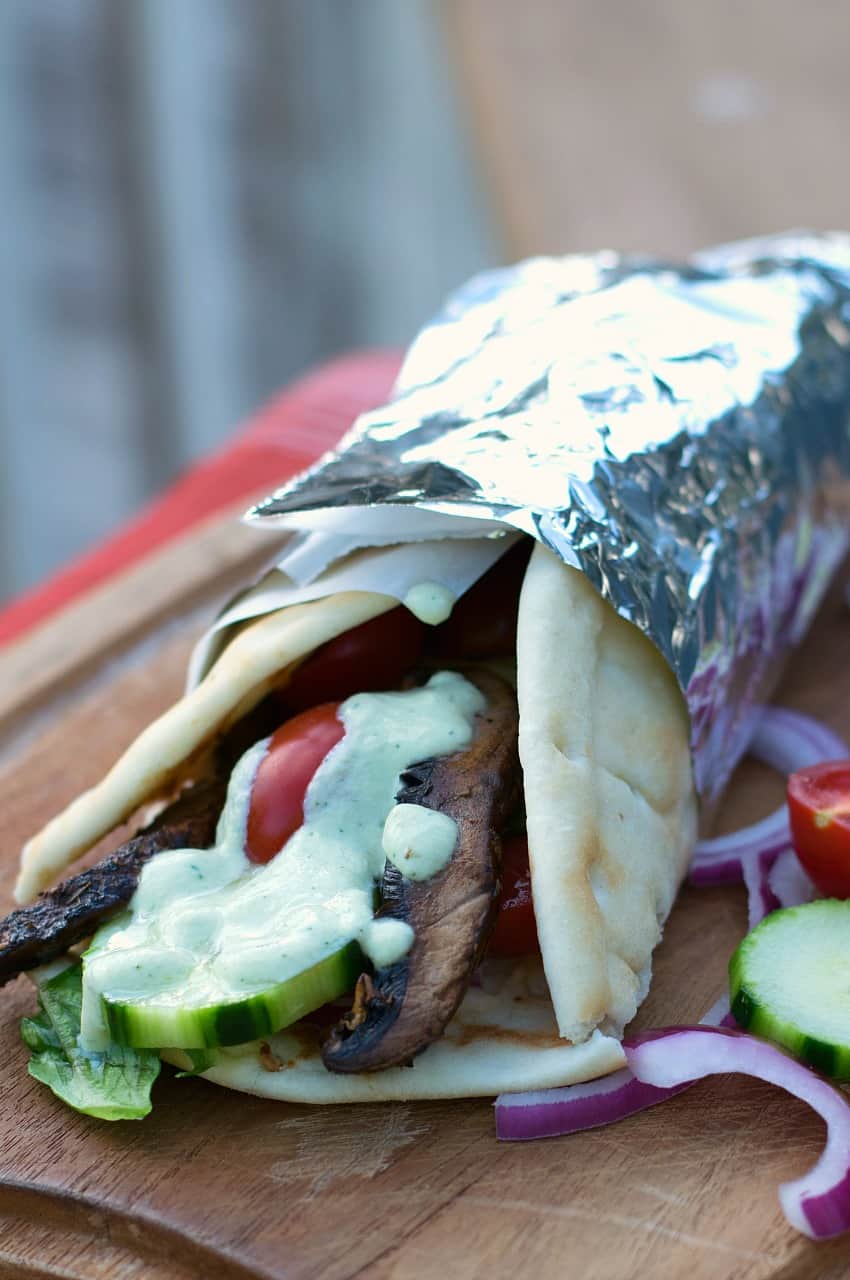 After all …. it's mostly a Greek Veggie Salad Sandwich anyway, just drizzled with that hard to pronounce cucumber sauce that is totally easy to make in your blender.
All I had to do was figure out how to replace the meat – and these smokey Portabello Mushrooms I come up with do the job nicely.
Mmmm……
Fresh Pita Bread
Hummus
Garden Fresh Veggies
Smokey Marinated Mushrooms
And homemade Tzatziki Sauce..?
I guarantee when all those ingredients come together to party… it's gonna make one TASTY sandwich.
Enjoy!
Vegan Gyros with Tzatziki Sauce
Let's start with the Tzatziki Sauce...
For my version, I used a 12oz block of Extra Firm Tofu. If you're allergic to Tofu – there may be Cashew based versions on the web, but that adds a lot of fat – so your choice.
Make sure you pat the Tofu dry and then cube it up for your blender.
Now we simply add 3 Tbs Lemon Juice, 1 Tbs Apple Cider Vinegar, 2 cloves Garlic, 1 peeled English Cucumber, a heaping Tablespoon of fresh Dill, and ½ tsp Salt.
Blend until smooth stopping to scrape down the sides if necessary.
You may like more Lemon Juice or Dill – so adjust as necessary.
Store this in the fridge until we're ready for it later.
Now the Gyro Meat…
I used two 8oz Packages of pre-sliced Portabello Mushrooms. Arrange these as best you can in a large skillet.
In a small measuring cup, add ¼ cup Low Sodium Soy Sauce, 2 Tbs Maple Syrup, 2 Tbs Water, 1 tsp Oregano, ½ tsp Garlic Powder, ½ tsp Onion Powder, ½ tsp Ground Cumin, ½ tsp Liquid Smoke, ¼ tsp Black Pepper, ¼ tsp Rosemary, and 1/8 tsp Ground Cloves.
Whisk this together until it's smooth and then pour over the mushrooms and turn on the heat. Cook the mushroom on medium heat, moving them around occasionally so they all eventually spend time in the sauce.
The mushrooms are down when they are reduced in size and most of the sauce has cooked off.
(Optional – if you like your 'meat' a little more crispy – arrange the finished mushrooms on a parchment lined baking pan and broil them for 5 minutes or so…until they begin to crisp up…. I used my Toaster Oven which worked perfectly)
And Hummus…
Everyone seems to have a favorite Hummus Recipe now so I won't dwell on this too much…..
I make a very easy Hummus consisting of 1 can (15oz) Garbanzo Beans, and 1 can (15oz) White Beans….use the LOW SODIUM or NO SALT ADDED variety whenever you can.
Drain the beans and save the juice….. add the beans to your blender with at least 2 Tbs lemon juice, 2-3 cloves garlic, and maybe ¼ to ½ tsp ground cumin. Use a few tablespoons of bean liquid to thin it out if it's too thick. I don't really have set amounts …as I just add a little of this – taste, add a little more…… etc.
Just be careful if you buy a store brand of Hummus, as it usually contains a LOT of oil and sometimes sodium.
About Those Pitas…..
I KNOW I'm going to get a lot of questions on the Pitas.
Where do I buy Oil Free Pitas?
I don't know. Really. I don't.
Just like hamburger and hot dog buns – any store bought brand is probably going to have oil. That's not to say they don't exist at all….I just don't know. And I don't make the trip all the way to Whole Foods every time I cook a new recipe, but if there IS such a creature….Whole Foods is probably where you'd find it.
I DO know Ezekiel Brand makes a wrap…so you could always use those.
Or…you could make your own….. a bit more work – but guaranteed to be oil-free.
The Assembly….
To make the sandwich, take your favorite Pita, (wrap, whatever), and slather a good amount of Hummus right down the middle…..
Now pile on the mushrooms and veggies. I used sliced Red Onion, sliced English Cucumbers, Red Cherry Tomatoes, and Romaine Lettuce. Feel free to add your own favorites.
Wrap your Gyro in some parchment paper (I also used foil on the outside just to hold it together for the photo), and pour on the Tzatziki……
Hope you enjoy and please let me know how you like them in the comments!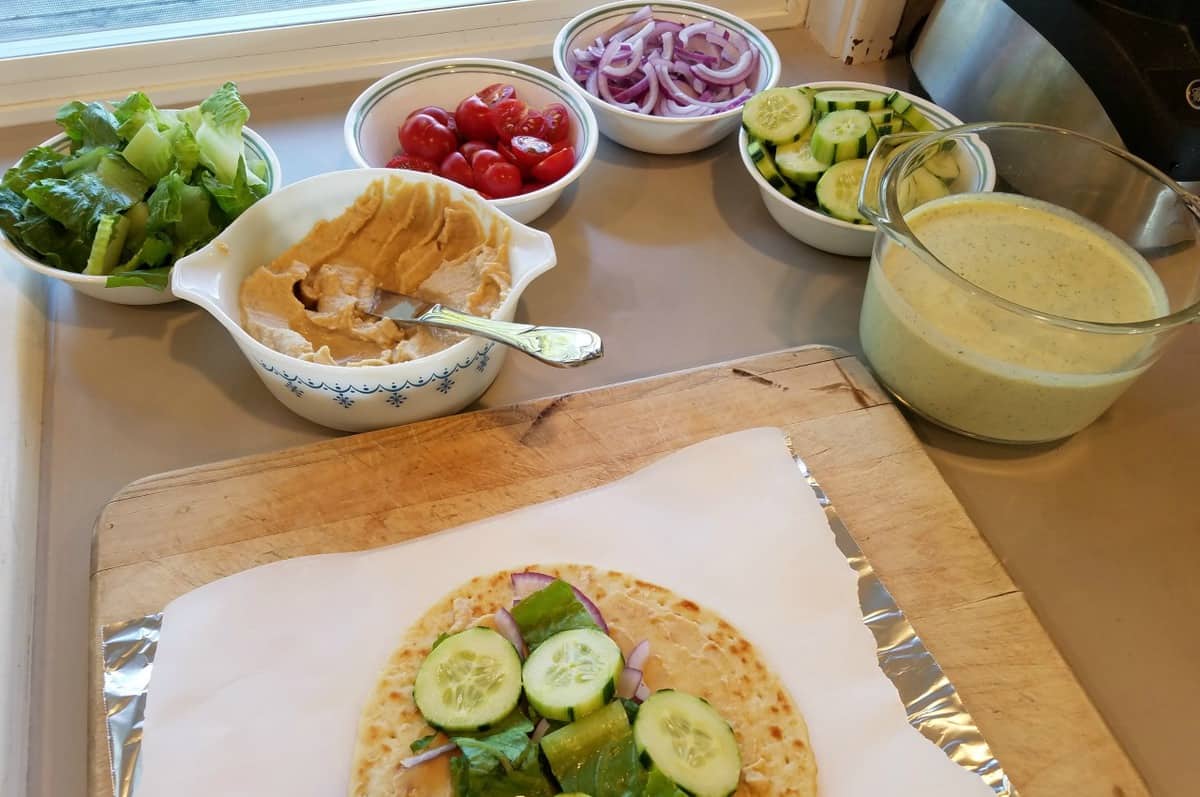 Vegan Gyros with Tzatziki Sauce
Ever had Vegan Gyros? However you pronounce it, they're simple to make, SUPER delicious, and you'll be getting your helping of fresh veggies for the day!
Ingredients
Tzatziki
12

oz

Extra Firm Tofu

(drained and patted dry)

2-3

cloves

Garlic

1

English Cucumber

(peeled)

3

Tbs

Lemon Juice

1

Tbs

Apple Cider Vinegar

1

Tbs

Fresh Dill

1/2

tsp

Salt
Gyro Mushrooms
16

oz

Portabello Mushrooms

(sliced)

1/4

cup

Soy Sauce

(low sodium)

2

Tbs

Maple Syrup

2

Tbs

Water

1

tsp

Oregano

1/2

tsp

Garlic Powder

1/2

tsp

Onion Powder

1/2

tsp

Ground Cumin

1/2

tsp

Liquid Smoke

1/4

tsp

Rosemary

1/4

tsp

Black Pepper

1/8

tsp

Ground Cloves
Garnishes
English Cucumber

(sliced)

Cherry Tomatoes

(sliced)

Red Onion

(sliced)

Romaine Lettuce

4-5

Pitas

(or use Wraps)

Hummus
Instructions
Tzatziki
Drain Tofu and pat dry, slice into smaller cubes and add to blender.

Add remaining sauce ingredients to blender and process until smooth, stopping to scrape down the sides if necessary

Pour into bowl and set in fridge until ready to serve.
Gyro Mushrooms
Place mushrooms in large skillet.

Whisk remaining marinade ingredients together in a small cup (bowl) until smooth and pour over mushrooms.

Cook mushroom over medium heat until reduced in size and most of marinade has cooked off.

(Optional: Place mushrooms under broiler for extra crispness)
Assembly
Using your favorite Pita (or wrap) spread some of your favorite Hummus down the middle of each Pita and layer on fresh Veggies and Mushrooms. Drizzle with Tzatziki Sauce. Wrap and enjoy!