Anyone here remember Ham Salad Sandwiches?  Maybe it was a midwest thing, but man I used to like that stuff.
In fact, I've missed it so much that last night I decided to try and make some Vegan Ham Salad, and let me tell you....this Indiana boy is one happy camper.
For those of you who have no idea what I'm talking about ....
Years ago,  I used to work in a small Mom & Pop Grocery Store.  
We had 4 aisles, including a small produce section and a meat department.  Now we sold conventional prepackaged deli meats like everyone else, but we also had a deli slicer where we would slice up the big loaves of bologna, ham, etc as well.
I'd plop down a pound of sliced ham or olive loaf on some of that white butcher paper, weight it, and tape it up with a price tag for the cashier....remember those days?
Well, when we got down to the ends of those loaves....we would toss them into a big plastic bin and save them.  And when that bin got full, we would grind up all those various pieces into a hamburger like consistency.
Then the deli girls would mix in a gallon jug of mayonnaise, pickle relish, and paprika (by hand), and we called it Ham Salad.
They didn't use gloves back then either....can you imagine?   Ahhh ....life in the 80's. 
So it was kind of like Tuna Salad....only instead of Tuna we used ground up lunch meats,,,,,,,  and it was GOOD!  Really!  I'd take my break and pile this stuff on my sandwich bread at least an inch thick......mmmm.
My poor arteries......  if only I had known right?  
Well as bad as it sounds....I've really missed this stuff.  Convenient sandwich material.....right?  Something to munch on during the game or whatever.
So last night I played around with some chickpeas, ham flavorings, and beets of all things....and came up with this recipe.
And let me tell you, it satisfies my Ham Salad craving perfectly.
I hope you enjoy it too.
Vegan Ham Salad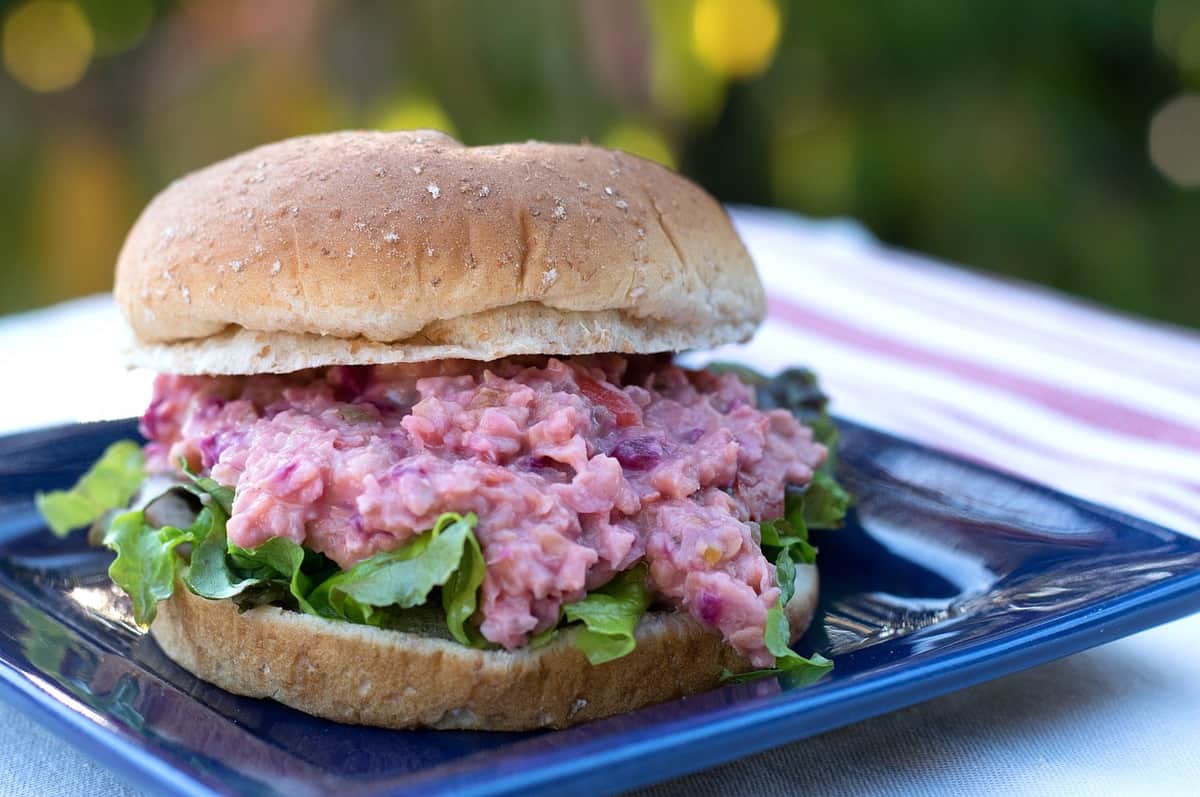 First, we're going to need some mayonnaise, about ¾ of a cup.  Sure, you can use Vegannaise or whatever....but that's loaded with oil and fat....so why not take a few extra minutes and make your own?
I've used this mayonnaise recipe in my Vegan Turkey Salad and my Vegan Potato Salad, and it's not only easy, its low-fat as well.
Drain and rinse a can of White Beans (cannelloni beans will work too) and add them to your blender.  Add in the remaining mayonnaise ingredients and blend until smooth.  Scrape down the sides occasionally if necessary.  This will make about 1 cup so you'll have a little extra left over.
Now for the Ham Salad
Drain and rinse a can of Chickpeas (Garbonzo beans) and add them to your food processor.
Also add 1 rib of Celery, roughly chopped so it will fit, ½ of a Red Bell Pepper, about ¼ of chopped, raw beet that you've peeled and diced, ⅓ cup of pineapple chunks (frozen is easy), and 2 Tbs of dried, dehydrated Onion Flakes.
Give your food processor a whirl or 2 to start breaking everything down.  We're not making hummus here - so don't go crazy.
Add in your ¾ cup of Mayo, ¼ cup Sweet Pickle Relish, ¼ cup Dijon Mustard, 1 teaspoon Soy Sauce, ½ teaspoon Garlic Powder, and ¼ teaspoon Liquid Smoke.
Gently pulse the mixture a few times until it JUST starts to come together.   Again, go easy or you'll end up with a pink paste.....probably not very appetizing either.  
Scrape your salad into a bowl and refrigerate it for a while to allow all those flavors to meld together, and.....
And we have Vegan Ham Salad.  
Goes great on a sandwich, but you could also serve it up with oil-free crackers, or as a topper for your green salad.
However you enjoy it , I hope you DO....enjoy it.  I know it brings back many happy memories for me.

Print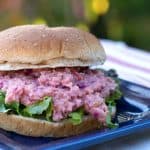 Vegan Ham Salad
Category:

Sandwich

Cuisine:

American
---
Description
This Vegan Ham Salad is a tasty blend of chickpeas, red bell pepper, pineapple, and beet to replicate my favorite midwestern sandwich spread.
---
White Bean Mayo
1

can White Beans - drained & rinsed ((

15oz

))

3

Tbs Lemon Juice

1

Tbs Apple Cider Vinegar

1

Tbs Tahini

1 tsp

Brown Sugar

½ tsp

Garlic Powder

½ tsp

Dijon Mustard

¼ tsp

Onion Powder

¼ tsp

Salt
Vegan Ham Salad
1

can Chickpeas, drained & rinsed ((

15oz

))

1

rib Celery ((chopped))

½

Red Bell Pepper ((chopped))

⅓ cup

Pineapple Chunks ((frozen works))

¼ cup

Raw Beet ((peeled & diced))

2

Tbs Dried Dehydrated Onion Flakes

¾

cup White Bean Mayo ((see recipe))

¼ cup

Sweet Pickle Relish

¼ cup

Dijon Mustard

1 tsp

Soy Sauce ((low sodium))

½ tsp

Garlic Powder

¼ tsp

Liquid Smoke
---
Instructions
White Bean Mayo
Drain and rinse the can of White Beans and add to blender.
Add remaining mayo ingredients and process until smooth. Scrape down the sides if necessary.
Vegan Ham Salad
Drain and rinse a can of Chickpeas and add to a food processor.
Add bell pepper, celery, pineapple, dried onions, and beet and pulse a few times - just until everything starts to break down.
Add in mayo, relish, mustard, soy sauce, seasoning, and liquid smoke and pulse just until mixed.
Scrape out into bowl, cover, and refrigerate for at least 1 hour.
---
Notes
Garnish with Smoked Paprika if desired.  
---
Tips are always appreciated!
[paypal_donation_button]