Authentic Spanish Rice involves frying the rice in oil before adding the chicken broth - not very Vegan and not very healthy. My version of this Mexican Classic addresses both of those issues.

I hope you enjoy my Vegan Oil-Free Spanish Rice.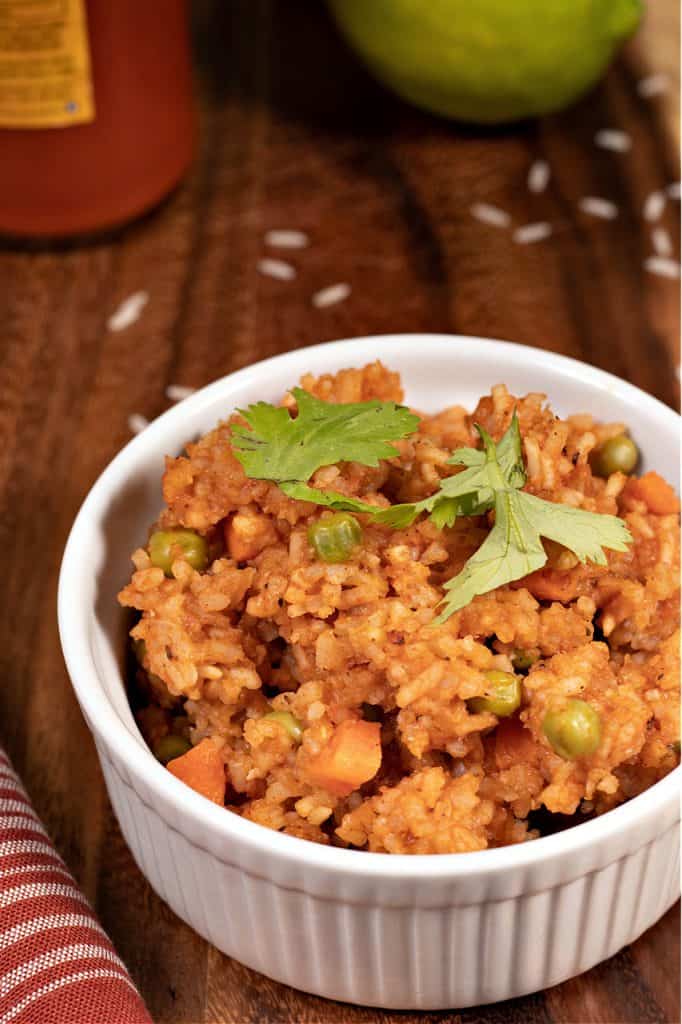 First of all, this is a STOVETOP recipe. If you would like an Instant Pot Version - then look no further ---> Instant Pot Spanish Rice
This is also a total REDO of an older recipe of mine I posted way back in May of 2014. I made it using a Rice Cooker and besides the fact that those older photos, taken on a Samsung Note 4 Smartphone were absolutely horrid - I realized not everyone owns a rice cooker (or an instant pot) so a complete stovetop version would be nice.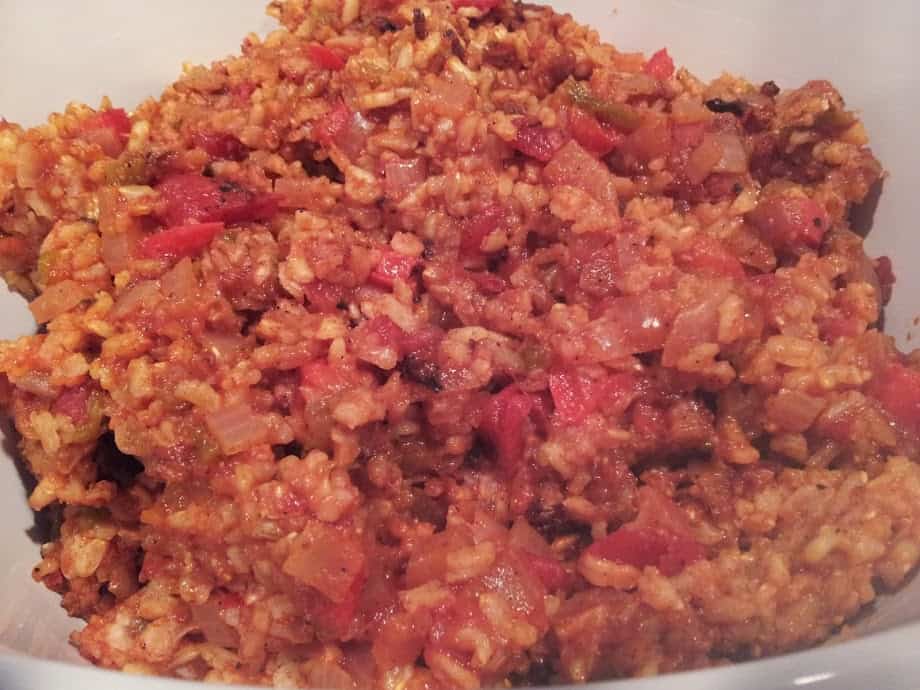 Yikes - those photos! But - I was learning right?
So that was the inspiration for this recipe. Update the photos and make it so anyone can make it regardless of the kitchen equipment they have.
I also want to give credit to Diana Kennedy. If you have never heard of Diana, she is a legend in the culinary world for her Mexican Recipes. She and Chef Rick Bayless are my go-to resources for coming up with new Mexican Recipes. She's a 97 yr old powerhouse and they even made a movie about her adventures. Here is a short trailer if you are interested.
This recipe was heavily inspired by her Arroz a la Mexicana Recipe.
So without further ado - let's get cooking.
Vegan Oil-Free Spanish Rice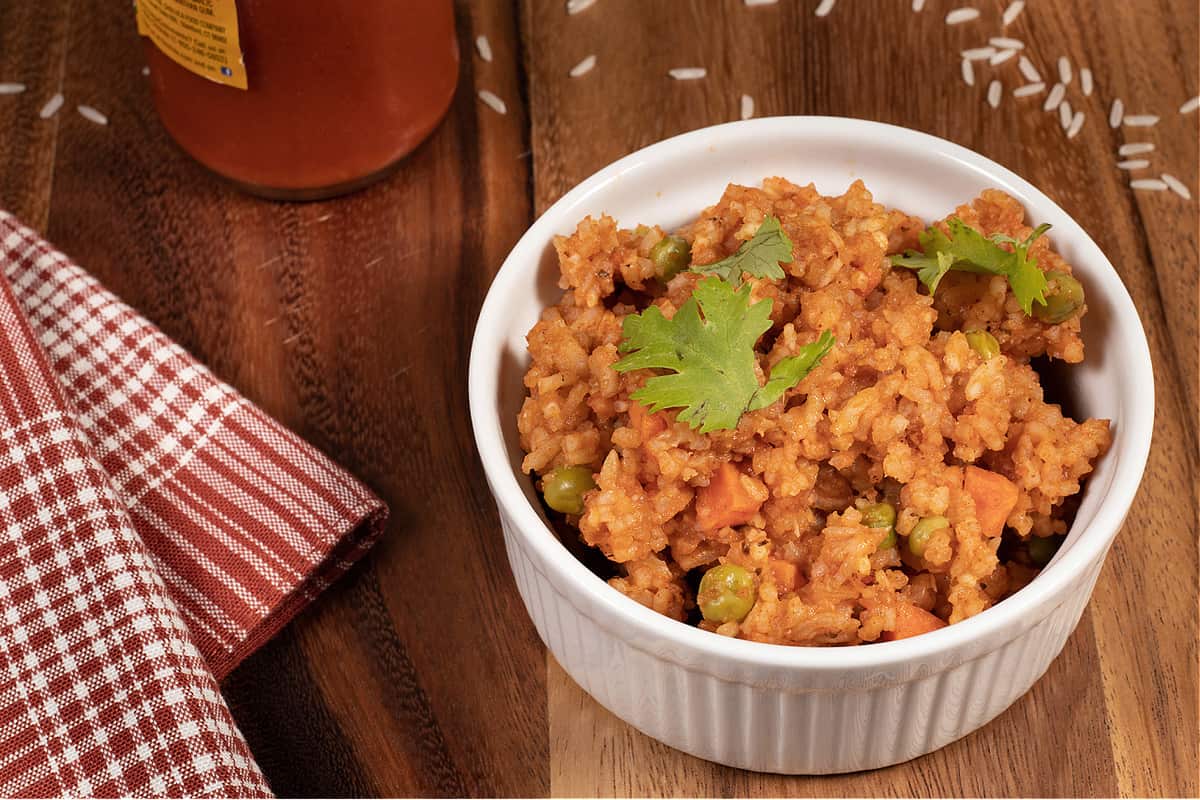 Let's start out with a warning..... this is NOT the easiest recipe to make. In fact, it took me 3 tries to get it right. Because we are NOT using oil, AND we are using tomatoes, AND a starch - there will be sticking and scorching if you are not careful.
Just want to put that out there right now.

I think the fact that I used an induction burner was a big part of my problem, so a stovetop hopefully will yield more favorable results when it comes to sticking.
We are going to start by soaking 1 ½ cups of LONG GRAIN rice in hot water for at least 10 minutes. Then drain and rinse until the water runs clear. Then we let it THOROUGHLY drain, and then toast it in a non-stick pan until it becomes slightly tan. (I have thought about trying to toast the rice in my toaster/convection oven first - let me know if anyone tries that)
You must use long grain rice. Basmati or Jasmine will work fine. For those of you who want to use Brown Rice - i haven't tried. My wife likes white rice so - happy wife, happy life....
I also used a Dutch Oven because it was big, worked on my induction burner, and had a tight-fitting lid. Any large non-stick pan with a tight-fitting lid should work.
While my rice was soaking, I made up my tomato puree. I basically took 1 cup of canned, fire-roasted tomatoes (because grocery store tomatoes suck), and pureed them with ¼ of an onion, some garlic, and some seasonings (all listed in the recipe box below).
Also, I finely diced a small carrot (⅓ cup) and had some frozen peas standing by (½ cup).
I toasted my rice in the dry pan over med heat while constantly stirring for about 10 minutes.
After about 10 minutes, when I could see the color changing, I turned down my heat and added my tomato puree. Stir thoroughly so that every grain of rice is coated and keep stirring so it will not scorch. Do this for about 8-10 minutes. Most of the liquid will have cooked off and the rice will be somewhat dry again.
Finally, we can pour in our broth, salt, and veggies. I used low-sodium veggie broth and about ½ teaspoon of salt. Stir very well and increase the heat to a low boil. THEN DO NOT STIR AGAIN. We want to cook this over med-high to high heat, UNCOVERED, for 20 minutes - or until most of the liquid has been absorbed. Remember - don't touch it.
Next, take a clean kitchen towel and carefully cover the pan (you gas stove people be very careful) and cover that with the lid to the pan. Turn the heat down to it's LOWEST setting and wait 5 minutes.
After 5 minutes - turn OFF the heat, carefully remove it from the hot burner (if you're using an electric stove), and let it rest another 15-20 minutes. Do not take the lid off, nothing. Just let it sit.
THEN you can carefully remove the lid, the towel, and fluff your rice with a fork.
Like I said - this recipe is somewhat involved - but it is so good. This is as close to Authentic Spanish Rice as we will ever get....and to me, it was well worth the effort.
Hope you enjoy and if you do, leave those comments down below.
Next time I see you will probably be after Christmas so HAPPY HOLIDAYS everyone and thank you all so much for your love and support.

Print
Vegan Oil-Free Spanish Rice
Author:

Prep Time:

10 min

Cook Time:

60 min

Total Time:

1 hour 10 minutes

Category:

Rice

Method:

Stovetop

Cuisine:

Mexican

Diet:

Vegan
---
Description
An oil-free version of a Mexican Classic, only Vegan, made entirely on your stovetop.  Enjoy.
---
1 ½ cups

long-grain rice

1 cup

fire-roasted tomatoes

¼

white onion

1

-

2

teaspoon minced garlic

2 tsp

chili powder

1 tsp

mexican oregano

½ tsp

cumin

3 ½ cups

low-sodium vegetable broth

½ tsp

salt

½ cup

frozen peas (optional)

⅓ cup

diced carrots (optional)
---
Instructions
Soak rice in hot water for 10 min
Meanwhile, puree tomatoes, onion, garlic, chile powder, oregano, cumin in a blender until smooth.  Set aside.
Dice carrots and have both peas and carrots standing by.
Drain the rice and rinse until the water runs clear - drain thorougly
In a large non-stick skillet/dutch oven, toast the rice over med heat for 10 min or until color deepens
Turn down the heat and stir in tomato puree - constantly stirring to avoid scorching
Let tomatoes and rice cook 8-10 min or until almost dry
Pour in broth, add salt, and stir in veggies - mix well and bring the heat up to high
Cook uncovered for 20 minutes - DO NOT STIR
Lower heat to the lowest setting, cover the pan with a clean kitchen towel, and add the lid.
Simmer 5 minutes.
Remove from heat and let rest 15-20 minutes
Remove lid and towel, fluff with a fork
Serve and enjoy with a squeeze of lime and added cilantro or hot sauce
---
Keywords: vegan spanish rice, oil-free, mexican rice