I made a special Birthday Dinner for my lovely wife last night - and one of her favorites too - Vegan Pepper Steak.  
The fact that there were absolutely NO leftovers tells me she really liked it.... 🙂
I used Onion and Bell Pepper Strips for the veggies, and Portablella Mushrooms for the steak.  In fact, the mushrooms replaced the steak strips so well you'd never think this was a meatless meal.
And the sauce!  Oh my gosh - the sauce!  
This quick and easy sauce marries the flavors of the peppers and the mushrooms perfectly.
I also want to thank one of my readers for the suggestion.  Chinese Pepper Steak is one of those long forgotten meals I used to eat all the time when I was an omni-eater - but honestly never thought about trying to replicate it - until now.
I'm SO glad I did!  And it was SO easy!
If you like Stir Frys - this Vegan Pepper Steak will instantly be added to your meal rotation - guaranteed!
Vegan Pepper Steak
This stir fry is super easy to make and comes together in minutes once the prep work is done.
Onions, Bell Peppers, and Portabella Mushrooms make up the bulk of the stir fry - seasoned by a few cloves of garlic and some minced ginger.
I marinated the mushrooms in a little Soy Sauce and Mirin - which is a sweet Japanese Cooking Wine you should be able to find in any local grocery store.  Look in the Oriental section next to the Rice Wine Vinegars and Soy Sauce.
The sauce is a mixture of Soy Sauce, Mirin, Veggie Broth, black pepper, corn starch, and just a scant tablespoon of Tahini for some incredible Sesame flavor.  For those of you watching your fat content - a few drops of Sesame Oil would do the trick too.
I started by marinating the mushrooms, and then let them sit while I chopped my veggies and made the sauce.
Once everything is chopped and prepped and the sauce is done, heat a Wok on high heat until a few drops of water sizzle when you drop them in.  Then add your garlic and ginger and a splash of water as necessary to keep from sticking.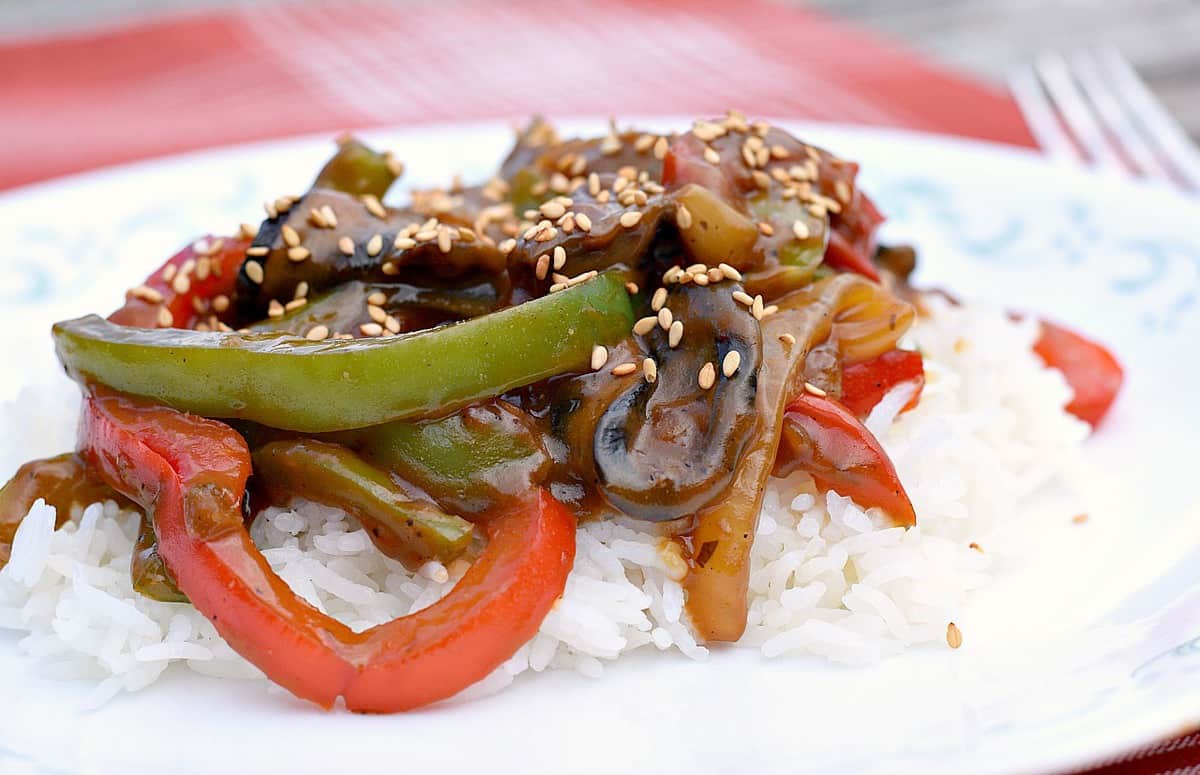 NOTE:  I do not use oil for stir frying.  
I use an occasional splash of water in my pan to keep things from sticking - that's it.  Oil is completely unnecessary and just adds fat and calories to an otherwise healthy recipe.  Try stir frying without oil - and you'll be amazed how good your food will start to taste without it! 
Once the garlic and ginger becomes fragrant, add the mushrooms (with the marinade), and stir fry until most of the liquid evaporates.
Removing the mushrooms to a separate pan, deglaze the wok with a little bit of water and then add the peppers and onions.  Stir fry the veggies until they begin to cook down a bit,  and then add the mushrooms back in, followed by the sauce.
It will begin to thicken immediately.  Stir well to coat and then serve immediately over noodles or rice.
Forget about takeout!  It's so much easier (and healthier) to make your favorite Chinese takeout dishes at home!
I hope you enjoy this as much as we did!

Print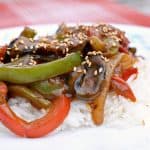 Vegan Pepper Steak
Author:

Prep Time:

15 minutes

Cook Time:

10 minutes

Total Time:

25 minutes

Yield:

4

people

1

x
---
Description
A quick and easy Vegan Pepper Steak - using Portabella Mushrooms as a replacement for the steak. The sauce really ties the peppers and mushrooms together. So much better than takeout!
---
8 oz

Portabella Mushroom Caps (sliced into strips)

1

Red Bell Pepper (sliced into strips)

1

Green Bell Pepper (sliced into strips)

1

Onion (sliced into strips)

2

cloves Garlic (minced)

2 tsp

Ginger (minced)
Sauce
¼ cup

Soy Sauce (low sodium)

⅓ cup

Mirin (Japanese Cooking Wine)

⅓ cup

Vegetable Broth (low sodium)

2

Tbs Corn Starch

1

Tbs Tahini

¼ tsp

Ground Pepper
---
Instructions
Slice mushrooms into strips - stems can be saved for another recipe
Marinate mushrooms in a shallow dish using 2 Tbs Soy Sauce & 1 Tbs Mirin
Stir well to ensure the mushrooms are evenly coated and then set aside
Slice peppers and onion into strips
Mince garlic and ginger
Mix all sauce ingredients and whisk until blended
Preheat Wok over high heat (until a drop of water sizzles)
Add garlic, ginger, and a few tablespoons of water and stir fry until fragrant (about 1-2 minutes)
Add mushrooms and the marinade and stir fry until the liquid has evaporated
Remove mushrooms from wok, and add onion and peppers
Stir fry veggies until bright and crisp tender
Add mushrooms back into wok and stir thoroughly
Slowly stir in sauce, mixing well to coat
---
Notes
Serve over rice or noodles
Garnish with toasted sesame seeds