If you would have told me 10 years ago that you could make TOFU look and taste just like taco meat, I would have laughed at you. But these Incredible Tofu Taco Crumbles will make you a believer!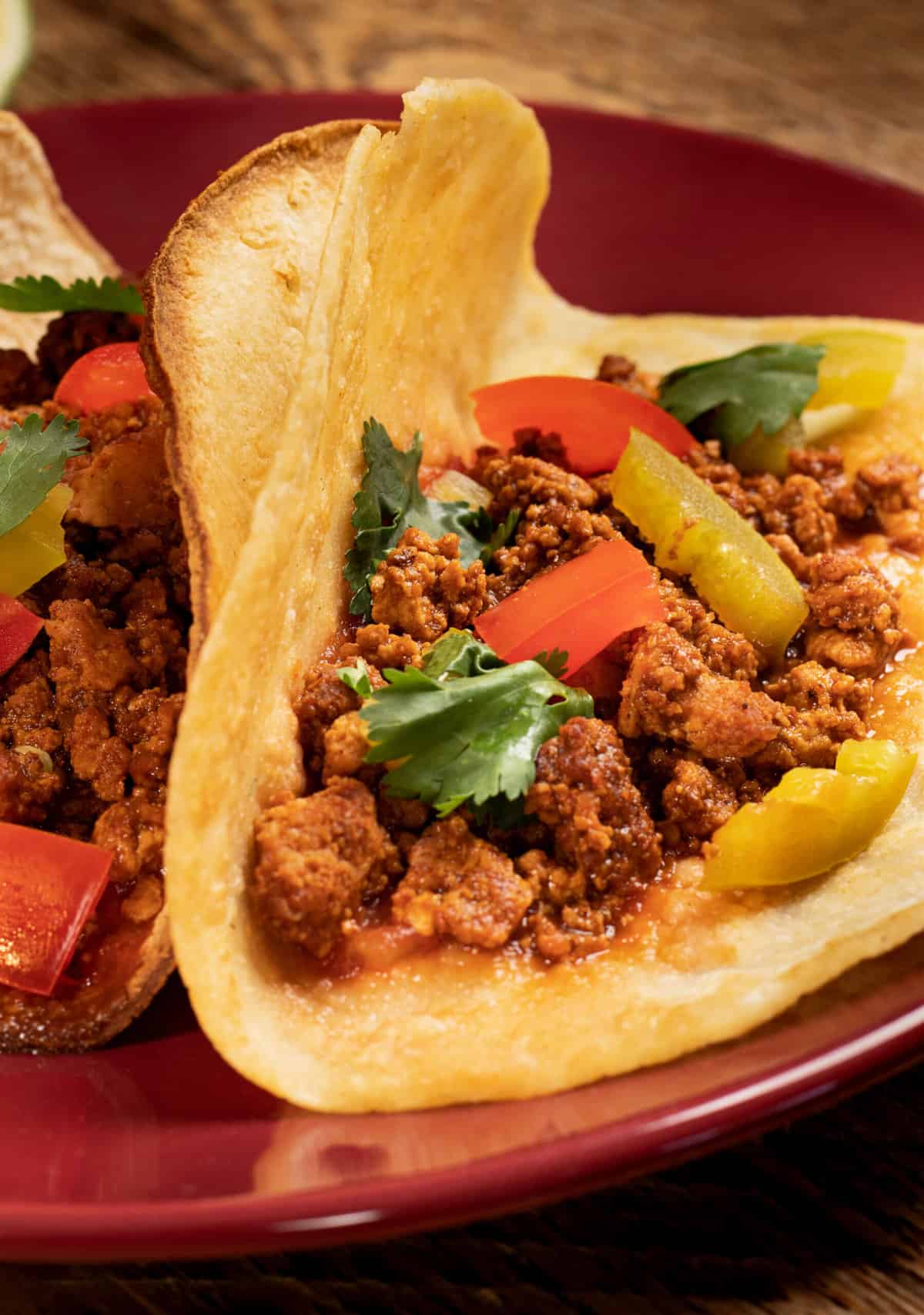 Online comments usually say something like, "Why do you vegans always have to make food that tastes like meat", or something to that effect. And the answer I give them is always this:
Because I can.
I get SO many emails and comments from people thanking me for making something their non-vegan spouse will not only eat but thoroughly enjoy. And that's the main reason I make recipes like this, to hopefully show all those non-believers that we can still enjoy the foods we used to like, but now in a much healthier way.
And I have to tell you, these Tofu Tacos just might be the deal breaker for them, because when you have a skillet of these crumbles simmering on the stove, it looks, smells, and even tastes JUST LIKE HAMBURGER!
They are similar to my Cauliflower Tacos. With those, we crumble cauliflower, mushrooms, and walnuts together, add seasoning, and bake.
With these Tofu Tacos, we are going to crumble 'tofu' instead, add our seasoning paste, and bake till dry. But then we rehydrate them in a skillet and watch the magic happen.
Instead of telling you about it, let's make some Tofu Tacos shall we?
Choosing the Correct Tofu
You want to start by buying some SUPER FIRM tofu.
This is the brand I recommend - but if all you can find is your typical "extra-firm" tofu in your grocery store, that will work too - but just know it will take longer to bake.
Just be sure and drain & press the extra-firm first to remove as much moisture as possible. I did not have to press the super-firm but I did wrap it in paper towels to dry it off.
Then crumble it into a large bowl and set it aside.
The Seasoning Paste
For the seasoning: add all the dry ingredients to a small bowl or glass measuring cup first, then whisk till everything is thoroughly mixed. Then add the wet ingredients and whisk until you have a very thick paste.
Using a rubber spatula, scrape this paste into our bowl of tofu crumbles, and now for the fun part.....getting our hands dirty.
Reach in there and thoroughly mix that paste into the tofu. If you see any larger pieces or those flat pieces from the sides, now is the time to break them apart.
When every piece is coated, turn this out onto a parchment-lined baking sheet and bake it for 30 minutes at 350° F. Make sure it is spread evenly in a single layer. The tofu will reduce in size as it bakes, and will begin to dry into crumbles.
After 15 minutes or so, carefully stir the crumbles around so they bake evenly.
After the 30 minutes is up, I turned off the heat but left my crumbles in the hot oven to continue to dry out. Just be sure and stir them around every so often. I let them dry for an additional 30 minutes.
As I said, if you used the typical grocery store "extra-firm" it will probably take a little longer, just keep an eye on them. We don't want burned pebbles, but the smaller pieces will be dry and crunchy - and that's ok.
Finally, transfer the tofu crumbles into a large skillet and add about a cup of water. Gently stir over medium heat until most of the water evaporates. This is what's going to rehydrate our taco meat.
We bake & dry to create texture and concentrate flavors. When we rehydrate, the texture remains but now the 'meat' will become moist and juicy.
Making the Tofu Tacos
Now that the 'meat' is ready, making the tacos is up to you and you can dress them however you want.
For the shells, I use corn tortillas since they are usually oil-free. If you feel adventurous, I have a recipe where you can make your own Homemade Tortillas.
To get that traditional taco shape, try drooping a few tortillas over the rungs of your oven or air fryer, and then toast them gently until they are crispy.
I can't believe how good these taco crumbles were!
Several times I asked my wife to have a taste and we both agree that if you didn't know you were eating tofu, you would swear you were eating hamburger.
Hope you enjoy the recipe and as always, like and comment down below.
See ya next time!

Print
Incredible Tofu Taco Crumbles
Author:

Prep Time:

15 min

Cook Time:

60 min

Total Time:

1 hour 15 minutes

Yield:

4

Servings

1

x

Category:

Main

Method:

Oven, Stovetop

Cuisine:

American

Diet:

Vegan
---
Description
If you would have told me 10 years ago that you could make TOFU look and taste just like taco meat, I would have laughed at you. But these Incredible Tofu Taco Crumbles will make you a believer!
---
16oz

package of SUPER FIRM Tofu

1

cup

water
Seasoning Paste 
2

Tbls nutritional yeast

3 tsp

chili powder

1 tsp

garlic powder

1 tsp

smoked paprika

½ tsp

cumin

½ tsp

onion powder

3

Tbls low-sodium soy sauce

2

Tbls water

1

Tbls tomato paste

1 tsp

vegan worcestershire

½ tsp

liquid smoke
---
Instructions
Preheat oven to 350° F.
Drain and pat the tofu dry, then crumble it into a large bowl
In a separate bowl, whisk all the dry ingredients together first, then mix in the wet ingredients to form a thick paste
 Gently mix the paste into the tofu crumbles until they are evenly coated
Spread the crumbles in a single layer on a parchment-lined baking sheet
Bake for 30 min, stirring occasionally
Turn off the heat and let the crumbles continue to dry for an additional 15-30 minutes
Transfer the crumbles to a skillet and add 1 cup of water
Stir the taco meat over medium heat until most of the water has evaporated
Dress your tacos however you wish or use the crumbles in a taco salad
---
Keywords: tofu taco crumbles