It's that time of the year again when we tend to feast on all kinds of foods. But don't let this Vegan Pimento Cheese Spread fool you, it uses cauliflower as its base - so it's a happier, healthier indulgence.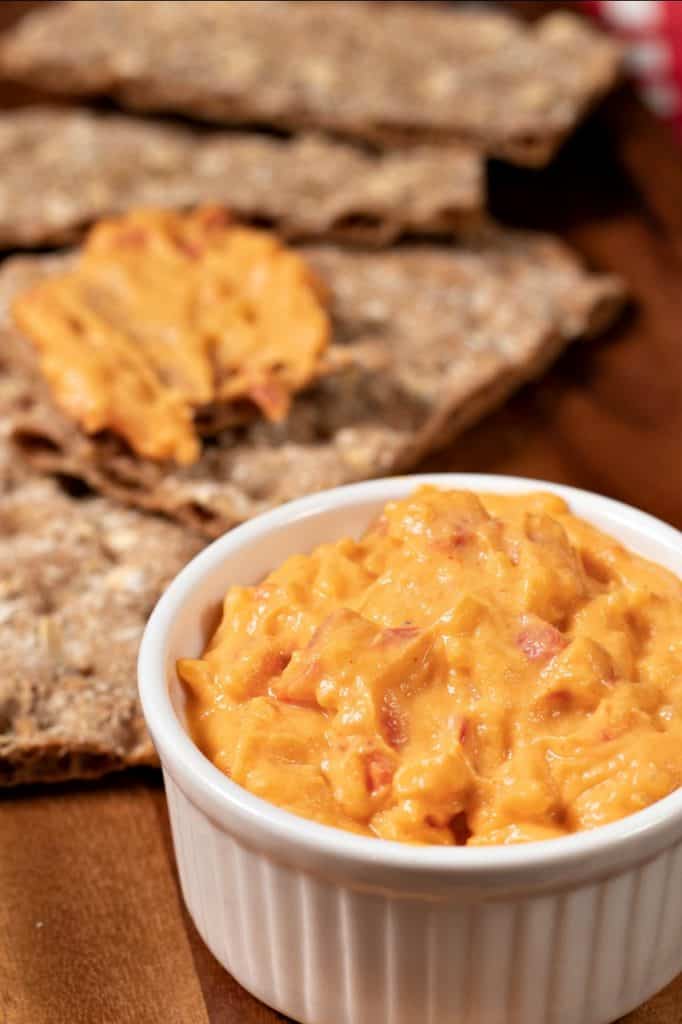 This recipe has been a long time coming.
I LOVE cheese this time of the year, and last year made my Holiday Vegan Cheese Spread, which so many of you liked and commented on. But since my roots run deep in the south, many of you have asked me, "Chuck, why don't you have a Pimento Cheese recipe?!"
Good question, as I used to eat a ton of it when I worked in a grocery store during my High School years. I could get our homemade version right out of the deli, alongside our ham salad.
For you Northerners who may be wondering what in the heck we are talking about.... Pimento Cheese was a southern staple made from shredded cheddar cheese, pimentos, mayonnaise, and paprika. It goes way back to Georgia I think before the great depression.
So why haven't I made it before now? Not sure. I think I tried once using shredded carrot to replace the cheddar, but it wasn't quite right. Cheese, in general, is hard to veganize and still make it kind of healthy. But cheese AND mayonnaise? That's a trick.
But to give credit where it's due, it wasn't until I saw this recipe using cooked RICE, that I began to think I should revisit the whole pimento cheese thing. Rice is brilliant, so thank you Lori for the inspiration.
I use cauliflower as my main base instead of all cashews. I also added some roasted red bell pepper, sriracha, smoked paprika, and miso to give it the color and cheesy 'twang' that I like.
I'm also using my instant pot, but you could totally make this on your stove too.
So, ready to try this? I think you'll be pleasantly surprised. I know I was.
Vegan Pimento Cheese Spread
We start with the star of our show, the cauliflower. Remove the leaves and as much of the stem as you can, and then break it into large florets. My total weight was 1 lb 4 oz.
To make it tender enough to blend, I used my instant pot.
If you don't own an instant pot, first I'll add my affiliate link in case you're interested (Christmas is coming you know) but you can also just cook it in a steamer basket on your stove - probably 5-10 minutes will do.
Note: As an Amazon Affiliate I earn from qualified purchases but at no extra cost to you...
Back to the instant pot... add your metal trivet to the bottom on the IP pan, the cauliflower, the cashews, and 1 cup of water. By steaming the cashews we won't have to soak them.
Also, note that I don't ordinarily eat a lot of nuts due to their high calorie-density and fat content. If you are also trying to lose weight or have a nut allergy, I think you could just leave them out - but I haven't tried it yet. I only added them because I wanted to spread to be super creamy.
Attach the lid, set your IP to MANUAL for 3 minutes, and let it naturally vent for 5 minutes when it's done before carefully releasing any remaining pressure.
Add the cauliflower and cashews to your blender along with just ⅓ cup of the cooking water and blend.
This is the base of our spread. Everything else will be for taste, color, and texture, so can all be modified depending on your own unique tastes. I added ¼ cup of drained, roasted red bell peppers next to give it its orange color.
The rest of the ingredients are in the recipe box below - and I added them one at a time, then blended to mix, so I could taste as I went along. Feel free to adjust anything to make it the way YOU like it - but I would add the teaspoon of sriracha even if you don't like hot sauce. It's not too spicy and adds a nice twang to our 'cheese'.
I used yellow miso too for that extra twang and umami flavor we all like so much.
When you get down to the pimentos and rice - set aside the blender and scrape out the spread into a bowl. We want to stir those two ingredients in by hand. Be sure and drain the pimentos as well as you can as the jar does have a lot of liquid.
The rice might sound like a crazy idea, but it actually does a fantastic job of replicating the feel of shredded cheddar. I used white Jasmine Rice but feel free to experiment.
Me personally? I was eating this right out of the bowl, right then and there. It was that good. BUT....cover it up and put it in the fridge for an hour or two. Overnight is even better. It'll let all those flavors get together and party.
Use it as a 'sammich' spread, a dip, or even as a topping for your potatoes or veggies. And have fun telling your family and friends, "Yup! You're eating cauliflower and rice!" They'll think your crazy.
Thanks for all the suggestions to make this recipe and please, keep them coming.
Stay safe folks, it's getting even crazier out there. Talk you soon.

Print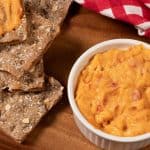 Vegan Pimento Cheese Spread
Author:

Prep Time:

22 min

Cook Time:

8 min

Total Time:

30 minutes

Yield:

About

3

-

4

cups

1

x

Category:

Dip, spread

Method:

instant Pot

Cuisine:

American

Diet:

Vegan
---
Description
It's that time of the year again when we tend to feast on all kinds of foods. But don't let this Vegan Pimento Cheese Spread fool you, it uses cauliflower as its base - so it's a happier, healthier indulgence.
---
1

head cauliflower (1 lb

4 oz

to be exact)

⅓ cup

unroasted cashews

1 cup

water

¼ cup

roasted red bell peppers

2

Tbs nutritional yeast

2

Tbs lemon juice

1

Tbs rice vinegar

1 tsp

sriracha

1 tsp

miso

½ tsp

garlic powder

½ tsp

onion powder

½ tsp

smoked paprika

½ tsp

salt

4 oz

jar pimentos

1 cup

cooked white rice
---
Instructions
Remove the leaves and stem from the cauliflower and break into large florets
INSTANT POT

Add to instant pot along with cashews and 1 cup water
Cook MANUAL 3 minutes with a 5 min NPR

STOVETOP

Add cauliflower and cashews to steamer basket and cook until cauliflower is tender

Add cooked cauliflower, cashews, and ⅓ cup of the water to blender
Add roasted red bell peppers and blend until smooth
NOTE: The remaining ingredients can all be modified to suit your taste - these are the amounts I used.  Taste and adjust as you go. 
Add nutritional yeast, lemon juice, vinegar, sriracha, miso, and seasoning - blend thoroughly
Scrape out into a bowl and stir in drained pimentos and rice
Let chill in refrigerator for flavors to meld before serving
---
Keywords: vegan pimento cheese