While living in Albuquerque, there were 2 things I could always count on during the holidays…..Tamales, and Posole.  So in order to continue enjoying one of MY favorite holiday stews, I created this version of New Mexican Vegan Posole.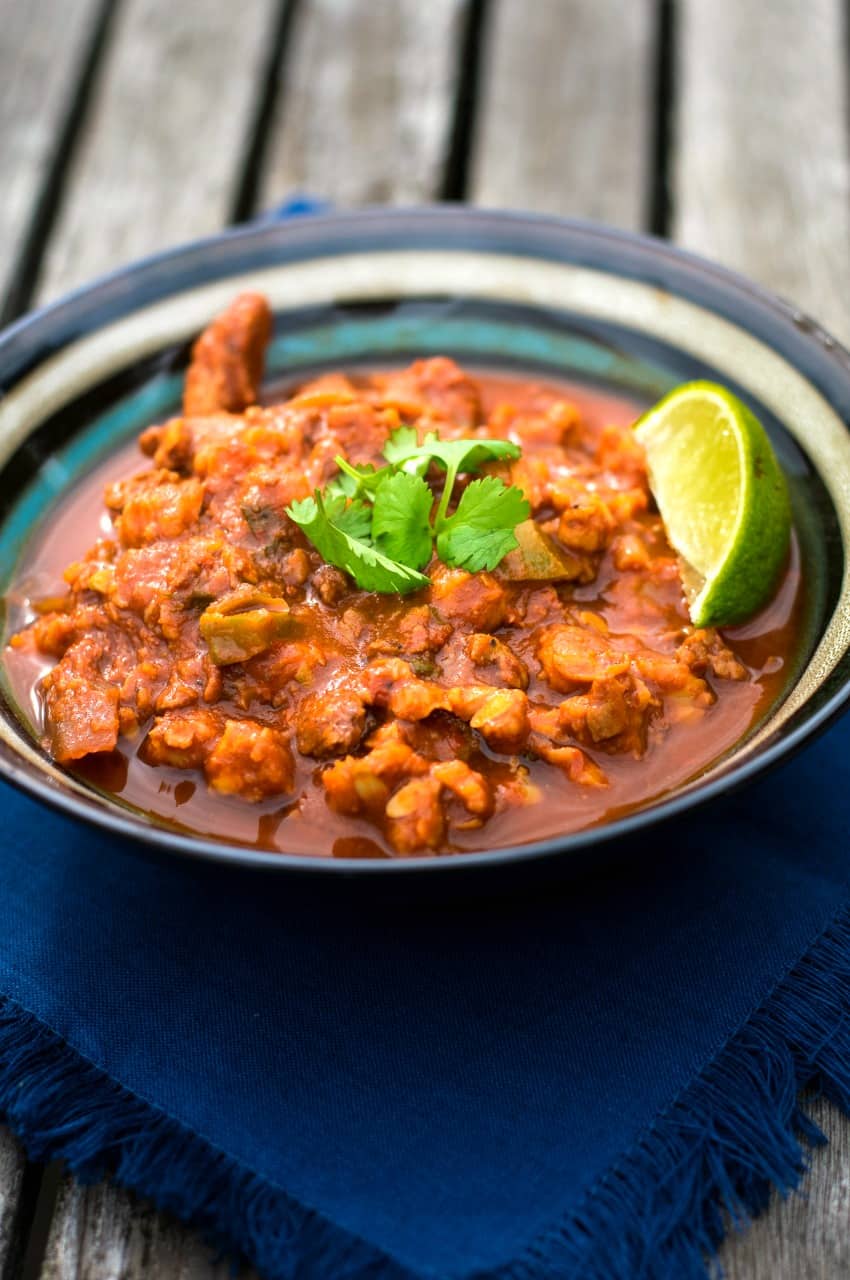 Pozole is a very traditional Mexican Soup made from hominy and pork and usually comes in two versions:
Pozole Verde (green) or
Pozole Rojo (red).
Since I am a huge fan of New Mexican Red Chiles, I made this vegan version of Posole Rojo.
I can still remember visiting friends on Christmas Eve, and walking into their kitchen to the smells of freshly made Tamales and huge pots of Posole.
If you've never been to Albuquerque or Santa Fe around Christmas – it's truly magical, and definitely something to add to your bucket list.
Imagine a clear, crisp night, lit up by hundreds of little paper lanterns (farolitos) as you settle down to a nice, hot bowl of freshly made Posole.
Good times, dear friends, and wonderful memories.
My version of this comforting stew requires 3 main ingredients, all of which should be easy to find at your nearest grocery store or on Amazon.
Hominy (about a 29oz can)
Soy Curls (available at most Whole Foods or on Amazon)
New Mexican Red Chile Pods (look in your grocery near the mexican spices, salsas, tamale flour, etc)
And while it does take a bit of time and effort – I love this stew …..so to me, it's definitely worth it.
New Mexican Vegan Posole
Start by preparing the Soy Curls…..  
Soy Curls are a perfect meat substitute for this dish as they have the same texture of shredded pork.  They are made by Butler Foods here in Oregon and are simply steamed, non-GMO, soybeans that are shredded, and then dried.
Here is my affiliate link to Amazon where you can purchase them if they are not available where you live. As an affiliate, I will receive a small commission on every purchase, which helps support Brand New Vegan…. so thank you!
Amazon Link to Butler Soy Curls 
Empty about half a bag (about 2-3 cups) of Soy Curls into a large bowl and add about 1 cup of hot water to rehydrate them.
I like to season them as well, so add either a few Tbs of Soy Sauce or 1 tsp of Better Than Bouillon Vegetable Base ….. AND 1 tsp Chili Powder.  Mix well and remember to occasionally submerge any dried soy curls to make sue they all get properly rehydrated.
On to the Broth
Dice and saute 1 White Onion, 1 green Bell Pepper, and 4-5 cloves of Minced Garlic until softened.  Use a few tablespoons of Vegetable Broth or water to prevent sticking if necessary.
Add 2 tsp Cumin, 1/2 tsp Black Pepper, 1 tsp Oregano (Mexican if you can find it), and 2 Bay Leaves…… stir to combine and allow to simmer for 1 minute to activate the spices.
Add 4 cups of Low Sodium Vegetable Broth and a 29oz can of White Hominy that you have already drained and rinsed.
Bring that to a boil and then reduce the heat to a simmer and cover.
Now the Red Chile
Take about 10-12 New Mexican Red Chile Pods and place them on a cookie sheet.  Place them in a 250° oven for about 20 minutes or so, or until fragrant.
Carefully remove the chiles from the oven,  and with a garbage can handy we are going to snip off the stem ends with scissors and empty out all the seeds and membranes.
Place the cleaned chiles in a large stock pot and add enough cold water to cover.
Bring the cleaned chiles to a boil – then turn off the heat and let them steep for about 10 minutes or until they have softened.
Carefully remove the chiles from the pot and place in your blender along with 1 cup of the hot chile water.  Also add 2-3 cloves of garlic, 1/4 tsp ground cumin, and 1/4 tsp salt.
Press until smooth scraping down the sides if necessary.  This should make about 2 cups.
Making the Posole
Drain any water from the bowl of soy curls, squeezing out any excess by hand, and add the soy curls to the soup pot along with the hominy.  And finally, slowly add the Red Chile Sauce.
Stir to combine and continue simmering for about 30 minutes.
If the stew looks too thick for your liking, you can always add a cup of water to thin it out.
Traditionally, Posole is garnished with shredded cabbage, sliced radishes, vegan sour cream, and freshly squeezed lime.
I hope you enjoy this recipe as much as I do and please continue to leave those comments and photos.
Enjoy!

New Mexican Vegan Posole
A plant-based version of my favorite New Mexican Stew......Vegan Posole. A holiday tradition of White Hominy, Soy Curls, and New Mexican Red Chile.
Ingredients
Soy Curls
2-3

cups

Butler Soy Curls

1

cup

Hot Water

1

tsp

Better Than Bouillon Veg Base

1

tsp

Chili Powder
Red Chile Sauce
10-12

New Mexican Red Chile Pods

1

cup

Hot Water

(for blending)

2-3

cloves

Garlic

1/4

tsp

Ground Cumin

1/4

tsp

Salt
Posole
1

large

White Onion

(diced)

1

Green Bell Pepper

(diced)

4-5

cloves

Minced Garlic

4

cups

Vegetable Broth

(low sodium)

1

can

White Hominy

(29oz)

2

Bay Leaves

2

tsp

Ground Cumin

1

tsp

Mexican Oregano

1/2

tsp

Black Pepper
Instructions
Soy Curls
Mix Bouillon, Chile Powder, and water and pour over soy curls to rehydrate. Stir occasionally.
Red Chile Sauce
Place Chile Pods on a cookie sheet and roast in a 250 degree oven for 20 minutes.

Using scissors, remove the stem ends and dump out all the seeds. Remove any membranes that are easily accessible too. Place cleaned chiles in a stock pot and cover with cold water.

Bring to boil then turn off heat and allow to steep for 10 minutes.

Place softened chiles, garlic, salt, and cumin in blender and process with 1 cup of the hot chile water until smooth.
Posole
Saute minced onion, green bell pepper, and garlic until softened. Use 1-2 Tbs of Veg broth or water to prevent sticking.

Add spices and stir - allowing to simmer for 1 minute.

Add broth and hominy. Bring to a boil and then reduce heat to simmer.

Drain soy curls and squeeze out any excess liquid. Add to soup pot with hominy.

Add Red Chile and stir to combine.

Allow to simmer for 30 minutes.
Recipe Notes
Garnish with Shredded Cabbage, Sliced Radish, Lime Wedges, and Vegan Sour Cream if desired.  
Serve with Corn or Flour Tortillas. 
---
Tips are Always Appreciated!