My wife says this Vegan Roasted Bell Pepper Soup reminds her of Panera Bread's Cream of Tomato - only a million times better! And my daughter said that this is now her new all-time favorite and I better be prepared to make it a lot!
Good thing it's so simple to make!
I'll occasionally buy one of those little jars of Roasted Bell Peppers when I go shopping. You'll find them next to the pickles, olives, and Italian Pepperoncini Peppers in your grocery store.
They're great to add to hummus or salads, or just anytime you want a little bit of sweet pepper flavor.
So last night as I was trying to figure out what to make for dinner .....
Ever do that? Just stand there in front of the pantry or fridge, staring at what you have....hoping something will jump out at you?
... I pulled out my jar of Peppers and a can of Fire Roasted Tomatoes and the next thing you know, I had a very tasty soup in my pot - with THE most delicious smells wafting throughout my kitchen.
A little onion, a little celery, some garlic of course.....
This soup is SO ridiculously simple and easy to make.....but DANG it came out good. Better than any restaurant, I'm not kidding.
If you've never tried Vegan Roasted Bell Pepper Soup - you have to make this at least once.
You won't be sorry!
Vegan Roasted Bell Pepper Soup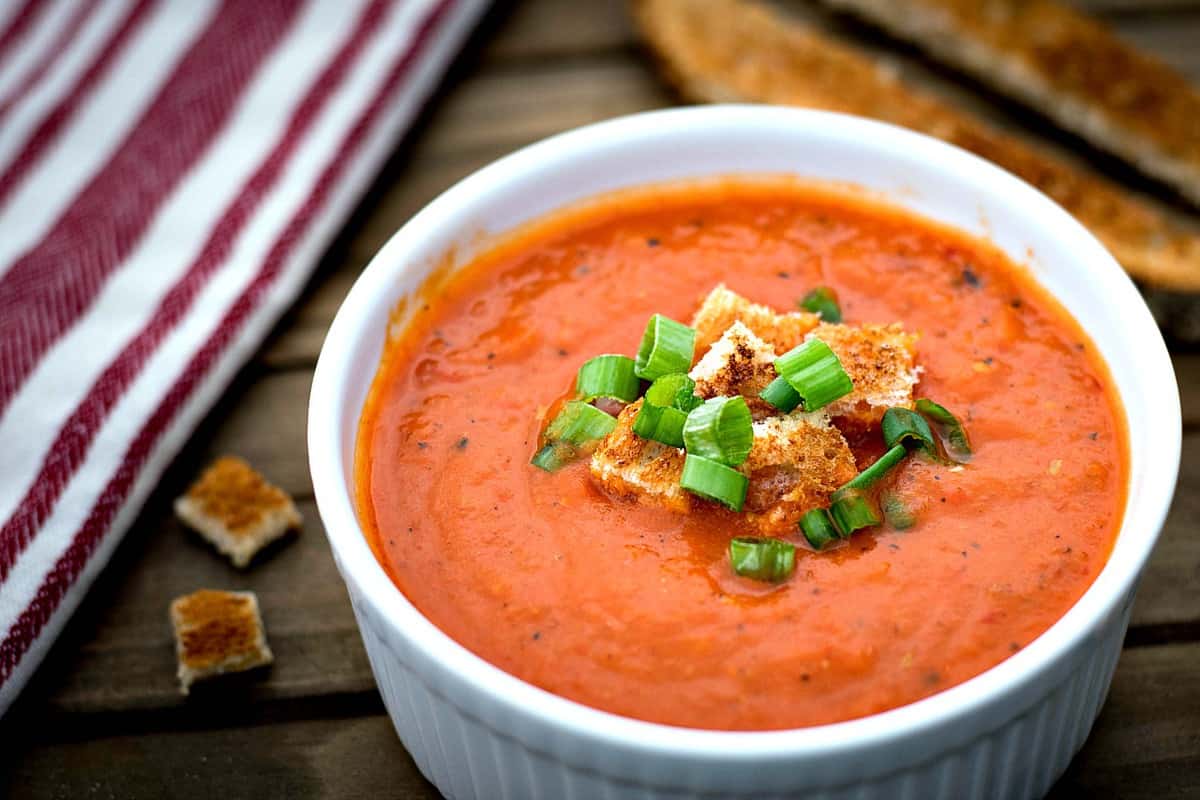 Dice a small onion and 2 ribs of Celery and add them to your favorite soup pot. We're going to saute them in a few tablespoons of water or broth just until they begin to soften.
Add a few cloves of minced garlic and give that a stir. In about 30 seconds or so, add the can of Fire Roasted Tomatoes and your thoroughly rinsed and drained peppers. Finally, add 2 cups of your favorite Low Sodium Veg Broth, a 1 peeled and diced potato, and cover.
Any potato will do - I used a Russet but a Yukon Gold would make it even creamier.
Bring all that up to a high simmer / low boil and let it cook covered for about 10-15 minutes, or just until that potato is nice and tender.
Now....we blend.
I use an Immersion Blender that I love dearly. I have a few listed on my Amazon Shop Page if you're interested. They are SO handy! Oh and remember that these are Amazon Affiliate Links, meaning I will make a small percentage if you buy one.
Otherwise, you'll have to carefully transfer this soup to your stand blender and process it until smooth.
Please be careful blending hot liquids!
Pour your blended soup back into the pot and taste for seasonings.
I used:
a pinch of Koser Salt
a few grinds of freshly ground Black Pepper
a dash or two of Cayenne
a pinch of Brown Sugar (it helps cut the acidity but you can leave it out if you want)
and finally about ½ teaspoon to 1 whole teaspoon of Italian Seasoning
Taste as you go, adding more or less to make it just right for you. Oh one last thing, and this is totally optional but IS really good. Stir in 1 Tbs of your favorite non-dairy Vegan Sour Cream.
Bam! Wasn't that EASY?! And it's SO GOOD TOO!
Very light, very flavorful, and chocked full of healthy Vitamins, Minerals, and Fiber.....just what the plant-based doctor ordered.
I garnished my bowl with chopped Green Onions and some homemade toasty croutons.
And I HIGHLY recommend cutting your favorite toasted bread into strips for dunkin'. Om...my.....gosh.
Hope you enjoy this as much as we did and don't forget to leave those comments!

Print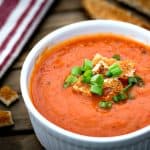 Vegan Roasted Bell Pepper Soup
Author:

Prep Time:

10 minutes

Cook Time:

15 minutes

Total Time:

25 minutes

Yield:

6

1

x

Category:

Soup/Stew

Cuisine:

Gluten-Free, McDougall, Oil-Free, Vegan
---
Description
A rich and flavorful Roasted Bell Pepper Soup that is 100% Vegan, uses NO added oil of any kind, and comes together in just minutes. Perfect for a light and tasty meal.
---
1

med Onion ((diced))

2

ribs Celery ((diced))

2

cloves Garlic ((minced))

1

can Fire Roasted Tomatoes ((

15 oz

can))

1

jar Roasted Bell Peppers (water packed) ((

16 oz

jar))

2 cups

Vegetable Broth ((low sodium))

1

Potato - Russet or Yukon ((peeled & diced))

½ tsp

Italian Seasoning

1

pinch Kosher Salt

1

pinch Black Pepper

1

pinch Cayenne

1

pinch Brown Sugar ((optional but cuts the acidity))
---
Instructions
Saute onion & celery in a few tablespoons of water or broth until softened.
Add minced garlic and simmer until fragrant - about 30 seconds.
Add tomatoes and stir
Drain & rinse the peppers and add them to the soup.
Add broth and the peeled and diced potato. Stir to combine.
Cover and bring to a low boil. Cook 15 minutes, covered.
Remove lid and check potatoes for doneness. Then carefully blend either using a regular blender or an immersion blender.
Add seasonings to taste. (Optional but good - stir in 1 Tbs of your favorite dairy-free Vegan Sour Cream. )
---
Notes
Garnish with chopped Green Onions, Homemade Croutons, and/or Vegan Sour Cream.  Serve with your favorite crusty bread. 
---
Donations are always welcome!
[paypal_donation_button]
SaveSave
SaveSave
SaveSave
SaveSave
SaveSave
SaveSave
SaveSave
SaveSave
SaveSave
SaveSave
SaveSave
SaveSave
SaveSave
SaveSave
SaveSave
SaveSave
SaveSave
SaveSave
SaveSave
SaveSave
SaveSave
SaveSave
SaveSave