I have lived here in the Pacific Northwest for the last 20 years or so but my roots are definitely southern.
I was born in the beautiful state of Kentucky, and between my mom, grandmother, and all those aunts, cousins, and uncles – well let's just say I was introduced to southern cooking at a very early age.
And they all shared one thing in common… Soup beans.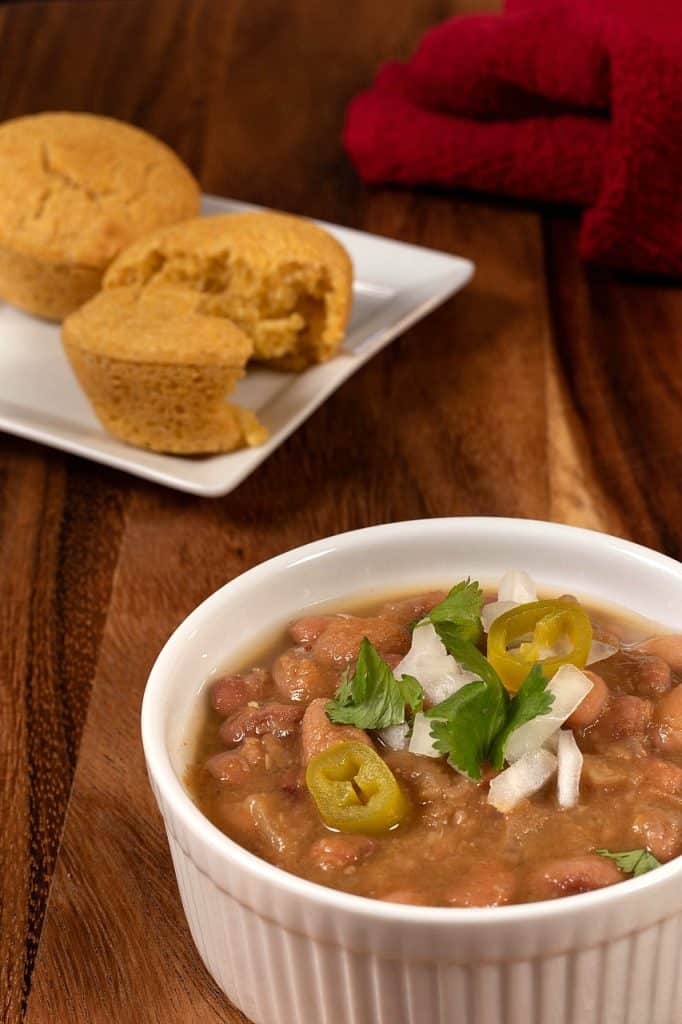 Soup Beans is just the Appalacian way of saying "a big old pot of Pinto Beans", slow cooked in their own broth, usually flavored with either a ham hock or a piece of salt pork, and served with a big ole hunk of homemade cornbread.
Oh and don't forget the ice-cold glass of buttermilk…
It didn't matter who we were visiting, there was always a big pot of soup beans simmering on the stove. Sure you can buy a can of pinto beans at the store, but there's just something about cooking them the old-fashioned way, like grandma used to, that makes them taste like home.
I'll admit, it's a fairly long process, cleaning, sorting, soaking, rinsing, and then an all day simmer, but let me tell you it's SO worth it.
And inexpensive?
Dried pinto beans are one of the least expensive items you can buy in the store. A 1lb bag has ELEVEN 1/4 cup servings. That's like .22 cents a serving. And they say eating plant-based is expensive.
They're loaded with protein, fiber, natural fats, calcium, and even iron too.
So although this recipe isn't exactly like grandma used to make – since she wasn't vegan (and would probably make me go and get a switch for saying I was) – there are pretty darn close.
So get out the bean pot and let's make some soup beans!
Vegan Soup Beans
This is the stovetop version.
In other word – this method is "slower than a whole month of Sundays" as grandma used to say. So if "yer itch'n to get 'er done fast" …. right 'ere is the Instant Pot version.
Otherwise, add a 1lb bag (16oz) of pinto beans to a large soup pan. I use a 6qt dutch oven. Pick through the beans to remove any sticks, pebbles, or whatnot – then cover them with at least 2 inches of water, put on the lid and forget about them until the next day. I soaked mine a good 24 hrs.
Then we drain them, rinse the beans and rinse the pot, than put the beans back in.
To that we're gonna add 1 white or yellow diced onion, a few cloves of minced garlic, 4 cups of water, 4 cups of low-sodium vegetable broth, and a little seasoning. Then we turn up the heat and bring that to a boil. Once you have a good rolling boil, turn down the heat to a simmer, add the lid, and we wait….
I told you this is not a fast recipe.
Check your beans every hour or so to make sure there's still plenty of liquid covering them. In about 3 – maybe 4 hours they should be tender enough to eat.
A quit word on the seasonings: Do NOT add the salt till AFTER the beans are cooked. It makes them tough. Also, I used liquid smoke to get that 'smoky' flavor a ham hock would give, but I know some can't find it or don't like it. You can either use smoked paprika instead or just leave it out.
This recipe was first published in April of 2014 so I hope you like the updates. I'll put my original photo I took with my smartphone at the bottom.
Hope you enjoy and if you do, leave those comments below and be sure to share it with your friends.
This recipe is dedicated to both my mom and my grandma. Miss you both.

Print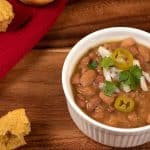 Vegan Soup Beans
Author:

Prep Time:

Overnight

Cook Time:

Till they're done

Total Time:

Probably 3-4 hrs

Yield:

A lot

Category:

Beans, Soup, Rice

Method:

Stovetop

Cuisine:

American

Diet:

Vegan
---
Description
My recipe for real, down home, simmer all day, kentucky style soup beans – made for vegans of course. Just add cornbread 🙂
---
16oz

(1lb) bag of pinto beans

1

diced onion

3

cloves minced garlic

4 cups

water

4 cups

low sodium vegetable broth

1 tsp

onion powder

1/2 tsp

ground cumin

1 tsp

liquid smoke (or smoked paprika)

3/4 tsp

salt
black pepper to taste
---
Instructions
Pick over beans removing any twigs, deformed beans, dirt, etc.   Rinse well and then place in a large pot and add just enough water to cover.  Let soak overnight.
The next day, drain beans, rinse well, and return to pot
Add onion, garlic, water, broth, and all the seasoning EXCEPT the salt
Bring to a boil, reduce heat to a simmer, and cover
Check beans every hour to ensure there's plenty of liquid
Beans should be tender in 3-4 hours
Season with salt and pepper
Stir and serve…..  preferably with a big 'ole hunk of vegan cornbread and a Loretta Lynn CD playing in the background 🙂  
---