I know a lot of you have brand new Instant Pots, but have no idea how to use them. So in this recipe I want to show how easy it is to make something incredibly delicious and healthy in your Instant Pot, like these Instant Pot Soup Beans.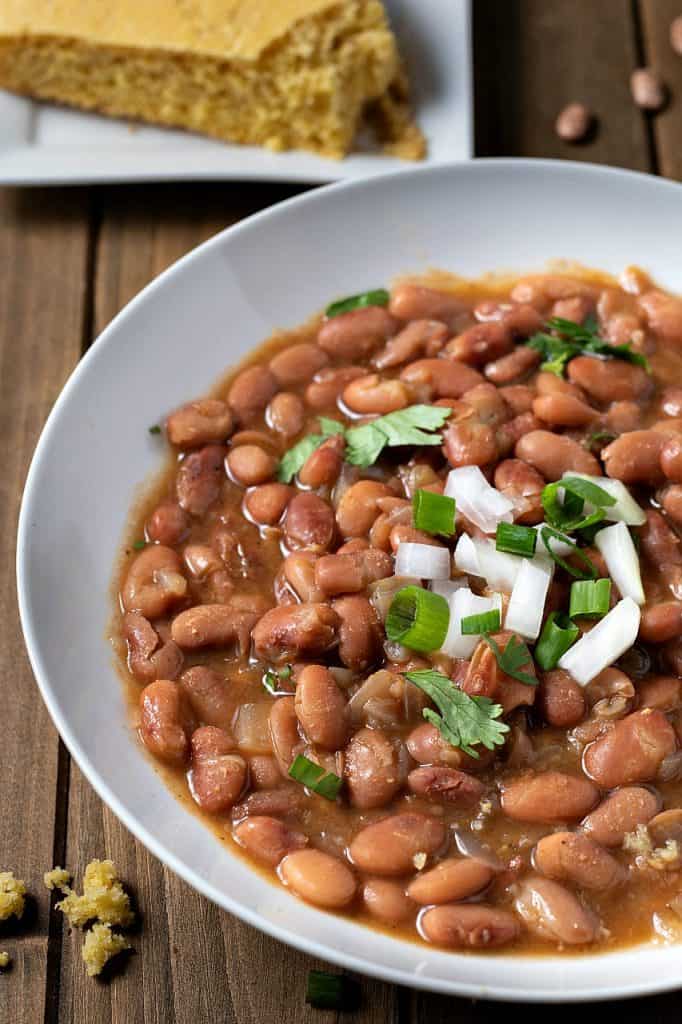 So what are soup beans?
Soup beans are simply Pinto Beans that have been slow-cooked in a pot all day. Every single time my mom and I would visit her relatives in Kentucky, there was ALWAYS a big pot of these on the stove with a pan of cornbread somewhere close by.
Soup beans and cornbread were staples in my mom's family so it was something I learned to love early on. I mean dried beans are CHEAP, so what better way to feed a gang of kids (and my mom came from a VERY large family) than with a pot of beans, some homemade cornbread, and a big mess of greens?
My mom used to crumble her cornbread into a big glass of buttermilk and eat it with a spoon too..... I never went THAT far, but I did love my soup beans so I posted my original stove-top recipe back in April of 2014, right after I started this blog.
You can find that recipe for Vegan Soup Beans here.
And since then, many of you have asked for an Instant Pot Version. And with the recent questions about how to USE an instant pot in my BNV Community Facebook Group, I thought I'd kill two birds with one stone.
Now I will say that even though this is an Instant Pot recipe, it's not necessarily a FAST recipe, as I did soak my beans first. Also, you want to give the Instant Pot plenty of time to cook the beans and to vent naturally, so this will take some time.
But, the nice thing about using your Instant Pot is you can pretty much set it and forget it and let the appliance do all the work for you.
A few simple ingredients and seasonings and about an hour later you have some of the best beans you have ever tasted that literally melt in your mouth.
I hope you enjoy them as much as I do so let's get to it.
Instant Pot Soup Beans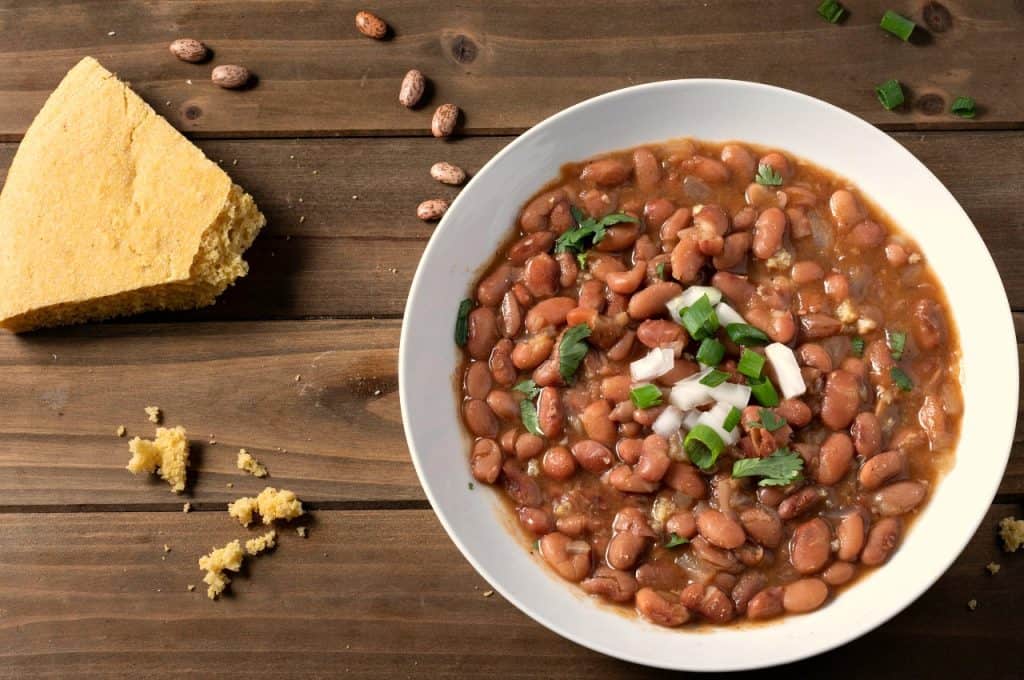 Start by picking over 2 cups of dried pinto beans. We're just looking for any deformed beans or the occasional rock or twig that makes it way into the beans during processing.
Now, to soak? Or not to soak?
I was always taught by my mom and grandma to soak your beans first. They say it helps with that unpleasant "after-effect" of eating a lot of beans. Namely gas. But now there are just as many articles saying it's not necessary anymore so I will leave it up to you.
I did NOT soak mine overnight, but rather I covered mine with about 2" of water, first thing in the morning, and then drained and rinsed them very well before I started cooking. So mine soaked 3-4 hrs total.
Again, totally up to you.
Then we place our well-rinsed beans into our instant pot along with a diced onion, several cloves of minced garlic, and a few simple seasonings (all listed in the recipe box below), and cover with ½ cup of water and 32oz of low sodium Veg Broth. (I used a 1 qt box of Pacific Veg Broth)
Stir well and DO NOT ADD ANY SALT. We will add salt AFTER they are cooked.
Attach the lid to your Instant Pot and make sure the vent dial is turned to SEALING.
I have a 6qt IP Duo so mine has a MANUAL setting. The newer models have a different setting so in that case, you'll want the PRESSURE COOK button instead.
Set the timer to 30 minutes by using the + and - buttons, and walk away. That's all there is to it.
When it is done you will hear a beep, and the display will switch to KEEP WARM/CANCEL and will show you how many minutes have passed since it completed. You should also notice the little silver button next to the vent dial on top is still in the raised position, meaning your Instant Pot is still pressurized.
The 'L' on the display stands for Lapsed (time), and is followed by the number of hours:minutes since a cooking cycle has finished. So when it finally counts up to L030, the silver pressure peg should have fallen, meaning you can now safely remove the lid.
If that silver peg is still in the UP position, do NOT try and remove the lid yet. You can instead take a wooden spoon handle and gently pry up on the vent dial to release any remaining pressure (but after 30 min there shouldn't be much if any).
Now you can stir your beans, check for doneness, and add a little salt to taste. Serve with your favorite garnishes like diced onion, green onions, and maybe a little cilantro or hot sauce if you are into that sort of thing.

And don't forget the cornbread!!! Which is a must have side dish for these beans. You can find my recipe for Vegan Country Cornbread here.
Oh and you can find the Instant Pot I use in my Cooking Gadget Kit. This is an affiliate link so I will get a small kickback if you purchase one but at no extra cost to you.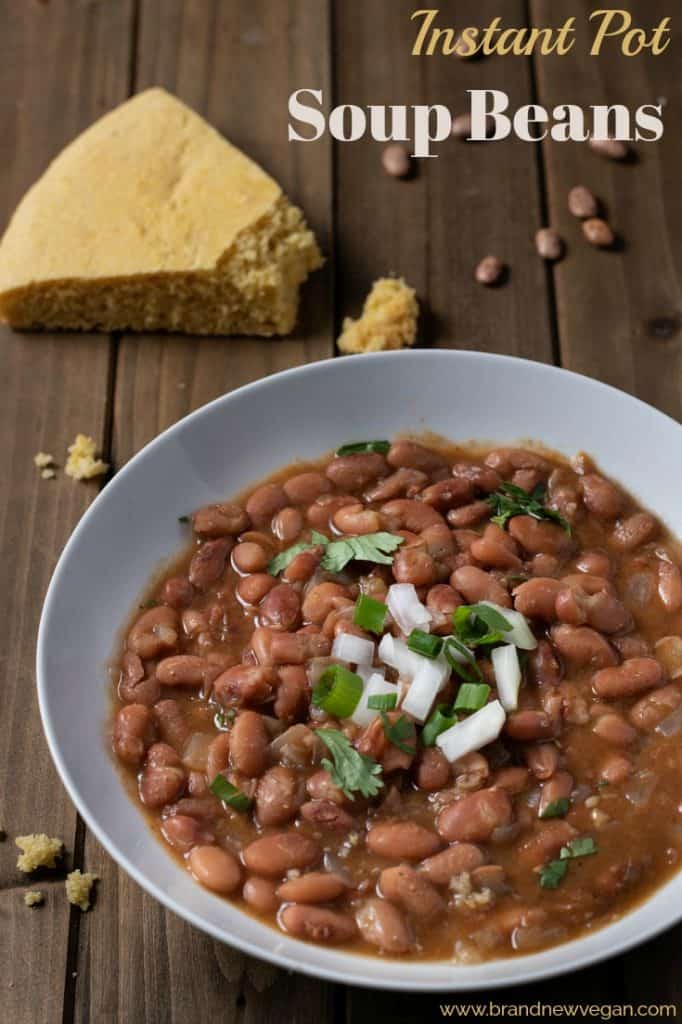 Print
Instant Pot Soup Beans
Author:

Prep Time:

120 min

Cook Time:

60 min

Total Time:

3 hours

Yield:

4

-

6

servings

1

x

Category:

Beans

Method:

Instant Pot

Cuisine:

American, Vegan
---
Description
This week I wanted to show all the new IP owners how easy it is to make something incredibly delicious and healthy, like these Instant Pot Soup Beans.
---
2 cups

dried Pinto Beans

4 cups

low sodium Vegetable Broth

½ cup

water

1

onion, diced

3

cloves garlic, minced

1 tsp

onion powder

1 tsp

ground cumin

½ tsp

smoked paprika

¼ tsp

black pepper

¾ tsp

kosher salt
---
Instructions
Sort beans and remove any debris
Cover beans with 1-2" of water and allow to soak at least 2 hrs
Drain and rinse beans thoroughly and add to the instant pot
Add onions, garlic, water, broth, and all the seasoning EXCEPT the salt and stir to combine
Attach lid, set vent to SEALING, and cook on MANUAL for 30 minutes
Allow to naturally vent for another 30 minutes before carefully removing lid
Season with salt and garnish as desired
Garnish suggestions:  diced onion, green onions, jalapenos, cilantro, or hot sauce
Oh, and don't forget the cornbread 😉
---
Notes
Keywords: instant pot soup beans