Black beans and sweet potatoes come together in this sweeter, milder version of my Vegan Sweet Potato Chili.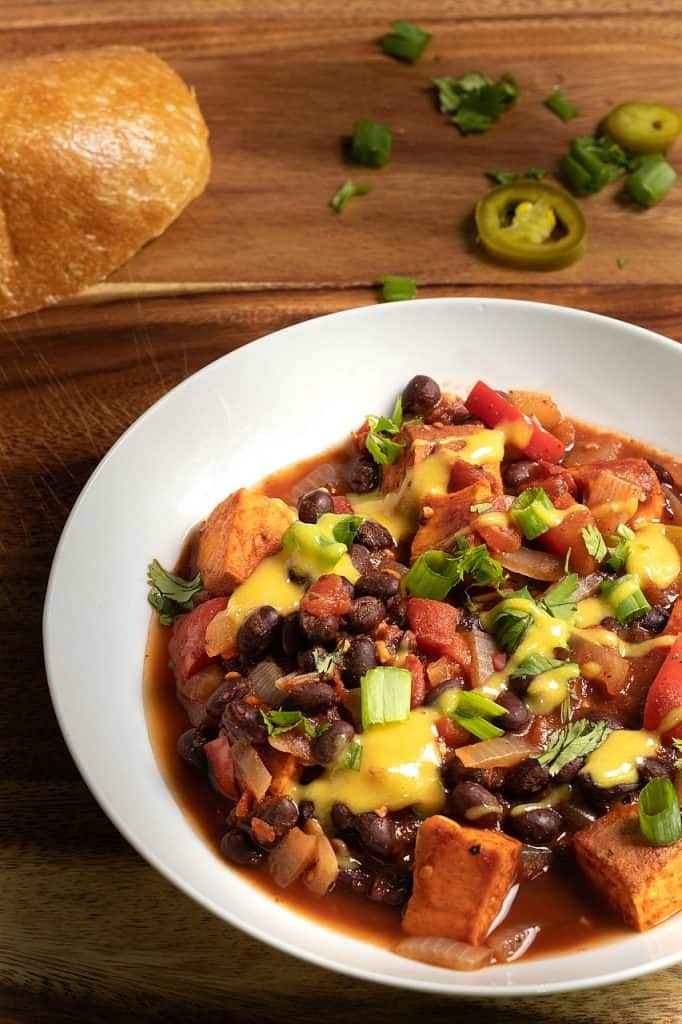 I know many of you absolutely LOVE my award-winning Best Damn Vegan Chili as much as I do. But shockingly..... there are some of you out there who think it's actually too spicy .... ?
I'm looking at you Mrs. BNV.
So for those of you who just can't handle anything remotely spicy, I rebooted this 5 yr old recipe - just for you.
That's right, I originally posted this recipe in January of 2018. But to be honest, it never got much attention. Only 1 comment and 468 shares (compared to thousands of shares on my BDVC)
Was it a bad recipe?
Not even, but I'm sure my lack of photography skills had something to do with it. Here's a quick before and after.
My what a difference 5 years can make!
That's almost embarrassing, but hey - we all have to start somewhere, right?
Actually, the real reason I wanted to remake this recipe, is the Blue Zones.
For those of you who don't know, The Blue Zones are 5 areas of the world where people just naturally live longer, healthier lives, oftentimes well into their 90's and 100's.
These areas are
Ikaria, Greece
Sardinia, Italy
Okinawa, Japan
Nicoya, Costa Rica
Loma Linda, California
What these areas all have in common, is they get some kind of daily exercise, whether it be walking to town, or digging in their gardens - and they all eat predominantly a high carbohydrate, plant-based diet.
Okinawa, for example, gets 85% of their daily calories, from sweet potatoes and rice (sorry Atkins).
So I love this recipe because it combines the staples of two of these areas: Sweet potatoes from Okinawa, and black beans from Costa Rica - to make this incredibly simple but flavorful chili.
Okinawa's sweet potatoes ARE purple, but even our orange variety is packed full of nutrition.
So whatever your reason for trying this recipe, I do hope you enjoy it and I hope you leave a comment down below.
Let's get cooking....
Vegan Sweet Potato Chili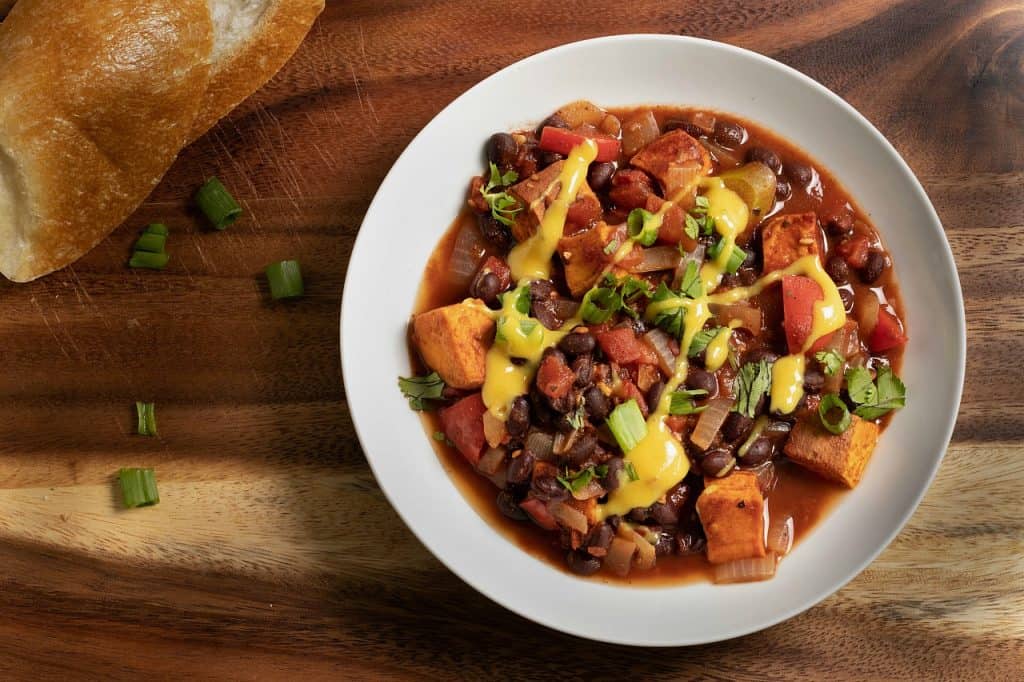 The Potatoes
We're going to start off by roasting our sweet potatoes. This will help them retain their shape and texture when we eventually add them to our chili.
I cut 2 sweet potatoes into cubes and added them to a bowl (about 1.5 - 2 pounds)
Now add 1 Tbs of the juice from a can of black beans.
This is called AQUAFABA in the vegan world, and it will replace the oil we traditionally use when roasting. We're going to add those beans later, so no waste.
It allows our spices to stick, and speaking of spices, it's time to add a little smoked paprika and salt.
Toss to coat - then roast the potatoes in a 400° F oven for 20 minutes. When they're done, set them aside and let them cool.
As you will see in the video below, I used my Cuisinart Convection Oven/Air Fryer to roast them. There are a few products I show off in the video and if anyone is interested, I'll add some Amazon Affiliate Links after the recipe.
The Chili Base
Next we move on to our soup base.
In a dutch oven, we are going to saute a white onion, a red bell pepper, some garlic, and of course - some mild or tamed jalapenos (optional - but so good).
All the amounts are listed below in the recipe box.
As for the liquid to saute them in, you can use some more of that aquafaba, some veg broth, or even water - just enough to keep things from sticking - about a tablespoon or two.
Add the cumin, chili powder, and oregano, and stir well. We'll let those veggies soften over medium-low heat for about 5 minutes or so.
Finally, we add 2 cans of fire-roasted tomatoes (28oz total), and a cup of water.
The final 3 ingredients we're going to add might seem strange, but they are going to add to the body, the texture, and the flavor of our chili.
I like to add Masa Harina to help thicken my chili. Masa Harina is a fine Mexican flour made of corn used to make tortillas and tamales. If you can't find it, you can also add regular cornmeal.
A bit of Molasses to sweeten it and cut the acidity.
And a small amount of unsweetened cocoa, for that extra depth of flavor.
Stir all those ingredients to the soup, bring up the heat to med-high, and let that simmer for 30 minutes.
Finishing Up
The last two ingredients are our beans and sweet potatoes.
As you saw in the video, I use NO SALT ADDED black beans from Kroger. Simply drain the rest of the aquafaba (some people save it by freezing in ice cube trays) and add the drained beans to the soup.
If you beans are salted, drain AND rinse before adding. Then add the now-cooled sweet potatoes. Stir well.
We have not added any salt at this point, so taste and adjust for seasoning.
Let that simmer on low heat for an additional 15 min and serve with your favorite garnish. As you can see, I love to add cilantro and a dollop of my Amazing Vegan Cheese...
That's it for this week and I hope you enjoy it. Drop me a line and let me know.
And if you don't see the video, come back a day or so as it usually takes me about 24 hrs to edit a video.
Thanks and I'll see ya next week!

Print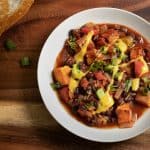 Vegan Sweet Potato Chili
Author:

Prep Time:

15 min

Cook Time:

50 min

Total Time:

1 hour 20 minutes

Yield:

8

-

10

Servings

1

x

Category:

Soup, Stew

Method:

Stovetop

Cuisine:

American

Diet:

Vegan
---
Description
Black beans and sweet potatoes are popular in the Blue Zones - so why not combine them in this delicious Vegan Sweet Potato Chili?
---
2

-

3

sweet potatoes (orange flesh - about

1.5

to

2

lbs)

1

Tbs aquafaba (juice from a can of black beans)

½ tsp

salt

½ tsp

smoked paprika

1

large white onion (diced)

1

red bell pepper (diced)

3

-

4

cloves garlic (minced)

1

-

2

tbs mild pickled jalapenos (optional)

1

Tbs chili powder (McCormicks®)

¾ tsp

cumin

½ tsp

oregano

2

cans fire-roasted tomatoes (

28oz

total)

1 cup

water

1

Tbs masa harina (or cornmeal)

1 tsp

molasses (or other sweetener)

1 tsp

unsweetened cocoa

2

cans black beans, drained  (rinsed if they are salted)
---
Instructions
Cube sweet potatoes and add to a bowl
Add aquafaba, salt, and paprika and toss to coat
Roast at 400° F for 20 min - set aside to cool
In a large dutch oven, saute onion and pepper until softened
Add jalapeno if desired and garlic - stir to mix well
Stir in cumin, chili powder, and oregano - simmer 5 min
Add tomatoes, water, masa, sweetener, and cocoa
Bring heat up to medium and simmer for 30 min - stirring occasionally
Drain and rinse black beans and add to chili
Add roasted sweet potatoes and taste for seasoning
Add salt is needed and serve with your favorite garnish 
---
Notes
Keywords: vegan sweet potato chili
Products I Used
Note: As an Amazon Affiliate, I earn from qualified purchases but at no extra cost to you.