I LOVE a good Reuben Sandwich...... don't you?   And once you find a good Vegan Corned Beef Recipe (which I did, thanks Vegan Dad), all you need is some fresh Sauerkraut, and this homemade, Vegan Thousand Island Dressing.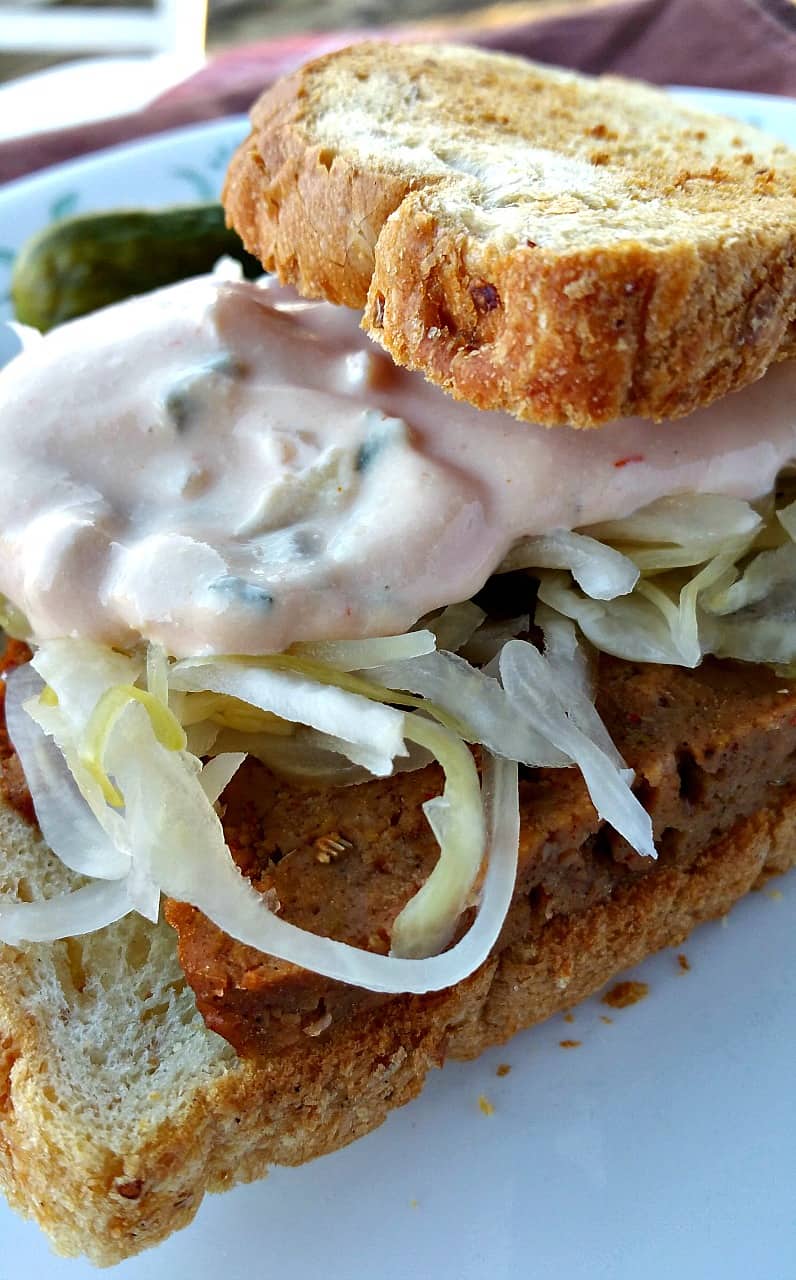 I've been on a probiotic kick lately, so I picked up a jar of real Sauerkraut made from a San Fransisco Company called Bubbies.
And  I mean REAL Sauerkraut - not that canned stuff you see in the store.  
You see REAL Sauerkraut is full of healthy probiotic cultures -  kind of like Yogurt - that are super important for building the good kind of microbiotic bugs that live in our gut.
During digestion, these gut bacteria (which number in the trillions) perform all kinds of functions - like make vitamins , send signals to the immune system, and even help your brain work.
The wrong kind can also make you sick - so it's imperative you are feeding these little guys the right stuff to encourage the beneficial ones to grow.
Naturally fermented foods - like Sauerkraut is one way of doing just that.
Vegan Corned Beef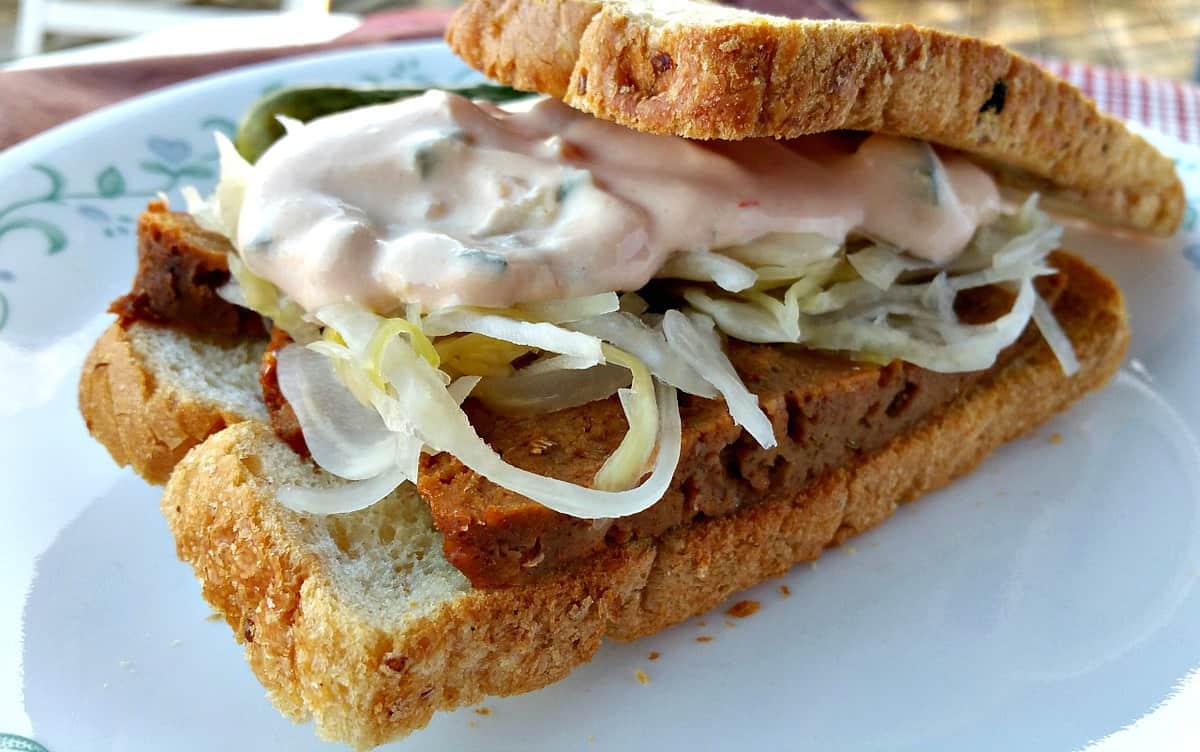 Since the Corned Beef part of this sandwich is NOT my recipe, I'll post a link here to Vegan Dad's Reuben Sandwiches.
Vegan Dad has been around for quite a while so even though I tweaked his recipe a bit - he deserves the credit.
One thing I will say - ELIMINATE THE SALT - maybe even some of the Seasoned Salt as well.  Trust me .... the Kraut is going to be salty enough - no need to add any more.
Other than that - it was really good.  I did add some additional Fennel Seeds for flavor, and I cut back on the Cloves (I hate cloves) but otherwise I followed the recipe exactly.
The flavor was really good, and the texture was awesome.  So good job Vegan Dad!
Vegan Thousand Island Dressing
Ah - here's where I come in.
I needed a Thousand Island Dressing for these sandwiches and since store-bought dressing is based on Mayonnaise - I was going to have to make my own.
And it's super easy.
Tofu, Lemon Juice, Vinegar, Ketchup, and some Dill Pickles and you're set to go.
This is a blender recipe too - so cleanup is a breeze.
Now I've always been a Thousand Island fan.
Sure Ranch is ok -  occasionally.  And I absolutely LOVED Blue Cheese - but we know how unhealthy THAT was, so I usually stuck with my tried and true Thousand Island.
And THIS Vegan Thousand Island Dressing is everything I remember - and more.
I hope you enjoy it as much as I do - especially when it's spread on some Hearty Rye Toast piled high with Vegan Corned Beef and Sauerkraut.  
YUM.

Print
Vegan Thousand Island Dressing
Author:

Prep Time:

10 minutes

Total Time:

10 minutes

Yield:

0

About

1 pint

1

x

Category:

Dressing

Cuisine:

American
---
Description
This Vegan Thousand Island Dressing tastes so much like the original, you'll be putting it on everything. Perfect for Salads, as a Dip, or slathered on some Homemade Reubens.
---
14 oz

Tofu ((Silken or Firm))

3

Tbs Lemon Juice (+

1

additional tsp)

1

Tbs Apple Cider Vinegar

1

Tbs Dill Pickle Juice

1 tsp

Soy Sauce ((low sodium))

¾ tsp

Yellow Mustard

½ tsp

Garlic Powder

½ tsp

Onion Powder

¼ tsp

Salt

3

Tbls Ketchup

½ cup

Dill Pickles ((diced))
---
Instructions
Drain Tofu and add to blender.
Add all remaining ingredients to blender except for Ketchup and Pickles.
Process until smooth
Turn out into a small bowl and stir in ketchup and diced pickles.
Refrigerate until ready to use
---