Remember the broccoli & cheese potatoes we used to get at Wendy's? These Vegan Twice Baked Potatoes are WAY healthier because I'm using my own super creamy, fat-free Vegan Cheese Sauce. Yum!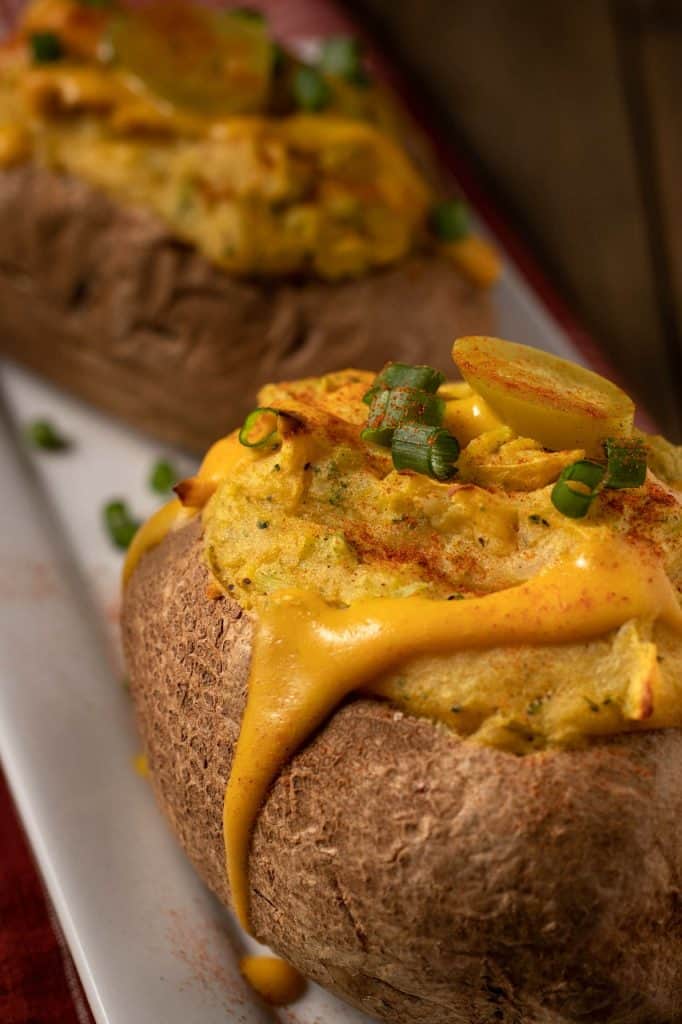 I'll admit, I have a love affair with Potatoes.
I mean what's not to love? They are absolutely delicious, full of vitamins, minerals, and fiber, and fill our bellies like no other foods can.
Potatoes are like nature's perfect food!
So this week I want to show you how easy it is to jazz them up a little and make them even healthier than they already are. And we're going to do that by adding broccoli.
What's does Dr. John McDougall like to say? Just eat starch with the addition of green and yellow vegetables? Well, here you go.
But wait, a plain potato with broccoli doesn't sound that appetizing you say?
So let's add my super creamy Amazing Vegan Cheese Sauce to the mix! I bet it sounds appetizing now! And no worries, my cheese sauce is very low-fat made from .... you guessed it..... potatoes and carrots.
We'll bake our potatoes first and then scoop out all that fluffy potato goodness. Then we'll take those mashed potatoes and add some cooked broccoli, a few spices, and my cheese sauce ... and then stuff it all back in and bake them again.

Crispy, chewy potato skins, stuffed with cheesy mashed potatoes and broccoli, then drizzled with even more of my creamy cheese sauce and topped with whatever garnish you like.
How does THAT sound? I can personally tell you how they taste - and that is DELICIOUS!
Comfort food at it's finest. Let's make some, shall we?
Here we go.
Vegan Twice Baked Potatoes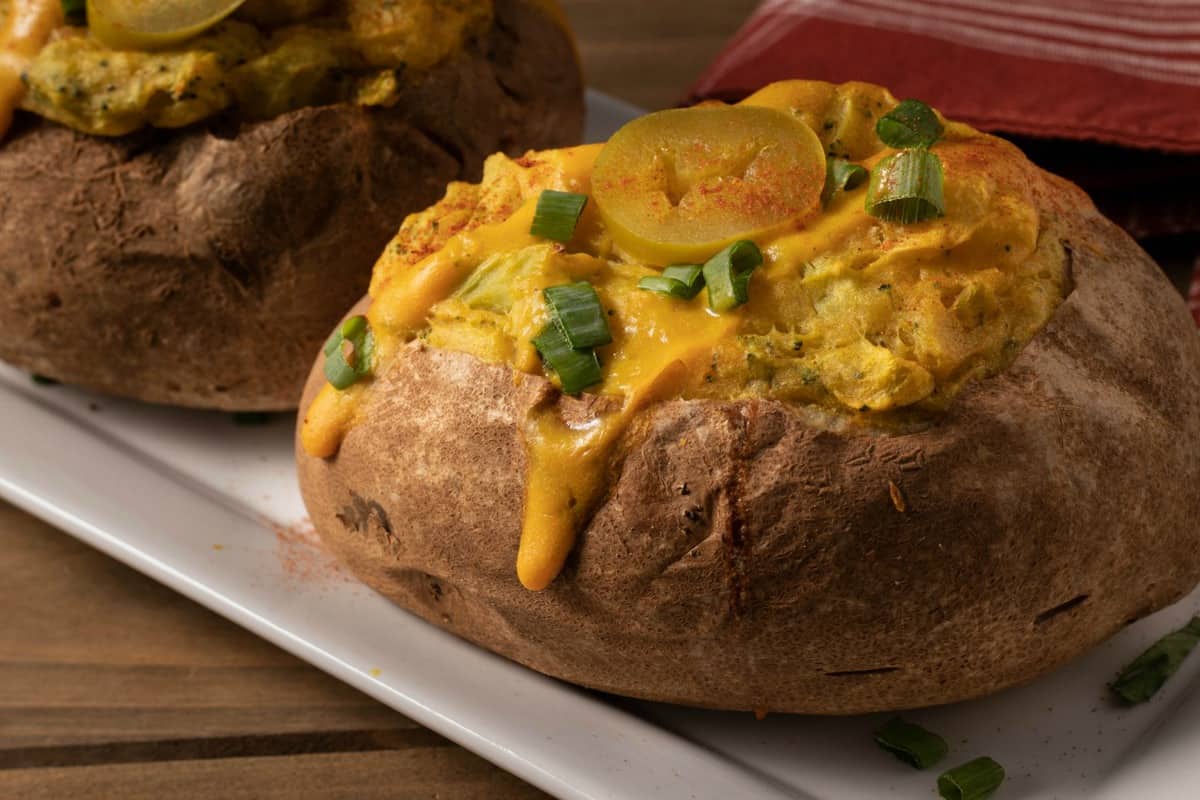 First off, this recipe serves 2 people but can easily be doubled.
Now onto our taters....
Pick out 2 large Russet Potatoes. I weighed mine and they were roughly 1.5 lbs each. Prick them a few times with a fork to keep them from bursting in the oven and then give them a quick rinse.
Place them on your favorite cookie sheet and pop them into a 400° F oven for about 1 hour. If a fork will not poke into the center easily after the hour is up, go ahead and continue baking them another 10-15 minutes.
Next, the cheese...
While the potatoes are baking, you have plenty of time to whip up a batch of my Amazing Vegan Cheese Sauce. I use my Instant Pot and have got the whole process down to about 20 minutes, but you can just as easily make it on the stovetop.
The recipe makes a little over 3 cups, and you'll only need about 1 cup for this Vegan Twice Baked Potato Recipe, so you'll have some leftover for Mac & Cheese or whatever. I store mine in a 1 qt Mason Jar and always have some in the fridge.
Then, the broccoli....
So the cheese sauce is made and the potatoes have just come out of the oven.
Now we wait for them to cool because they are going to be HOT. I let them cool about 20-30 minutes, enough so you don't burn yourself holding them in your hands.
While they are cooling, I microwaved a 10oz bag of Steamfresh Broccoli. You could just as easily boil or steam some fresh broccoli on the stove if you want - but the microwavable bags are super easy and convenient.
Allow your cooked broccoli to cool as well, and then give it a rough chop into uniformly small pieces.
Next, the potato skins...
Now that our potatoes have cooled, take a small paring knife and cut about the top ⅓ of our potato off lengthwise, angling the knife inwards at about a 45° angle. Note: You could just cut them in half - but I'd rather have 2 BIG potatoes rather than 4 smaller ones, so...up to you.
Now we just scoop out the cooked potato flesh to within maybe ¼" of the skin - and place it in a bowl. Make sure you scrape any potato flesh off the top you cut off too (then you can eat the tops - yum)
Now we simply combine our potato flesh, a little salt & pepper, some garlic powder, and 1 cup (packed) of our chopped broccoli, and ½ cup of the cheese sauce. If it looks a little dry, add 1 tablespoon of unsweetened Almond Milk and stir/mash until creamy.
All that's left to do now is to pack our skins with the mashed potato mixture and bake them for an additional 20 min or so in that same 400° oven.
I garnished mine with additional cheese sauce, some freshly chopped green onions, and a little pickled jalapeno (because you know me - I love jalapenos). A shake or two of ground Paprika will look pretty too.
And THAT is how easy it is to make Vegan Twice Baked Potatoes. They are so good it's unreal. Creamy, cheesy mashed potatoes inside a chewy potato skin. And we even have our greens mixed in there as well.
Feel free to experiment with your own fillings or toppings and be sure and let us know how they turned out in the comments below.
See y'all next week!

Print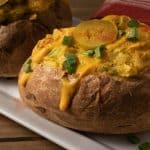 Vegan Twice Baked Potatoes
Author:

Prep Time:

5 min

Cook Time:

75 min

Total Time:

1 hour 20 minutes

Yield:

2

servings

1

x

Category:

Appetizer, Potato, Mary's Mini

Method:

Oven

Cuisine:

Vegan, American
---
Description
Remember the broccoli & cheese potatoes we would get at Wendy's? These Vegan Twice Baked Potatoes are WAY healthier! And delicious too!
---
2

large russet potatoes (about 1.5lbs ea)

1 cup

steamed broccoli (chopped)

½ cup

vegan cheese sauce

1

Tbs unsweeteend almond milk

½ tsp

garlic powder

¼ tsp

salt

¼ tsp

pepper
chopped green onion & ground paprika for garnish
---
Instructions
 Scrub potatoes and prick several time with a fork.  Bake in 400° F oven for 1 hr 15 min.  
Remove potatoes when a fork will insert smoothly.  Allow to cool 20-30 min. 
Prepare cheese sauce according to recipe.  Reserve 1 cup and store the rest in an airtight container.
Microwave broccoli and chop uniformly.  Pack a 1 cup measuring cup and set aside. 
Remove top ⅓ of potato (lengthwise) and discard (or eat).
Scoop out flesh to within ¼" of the skin and place in a bowl.
Mash potato flesh with ½ cup cheese sauce, broccoli, garlic powder, salt, & pepper.
Pack mashed potato mixture back into the potato skins and bake an additional 15-20 min.
Drizzle with additional cheese sauce if desired and garnish. 
---
Keywords: twice baked potatoes