I kind of felt like some chef in Chopped this week, as a dear friend of mine challenged me to make something with mushrooms, rice, and turnips. So I made this Vegan Wild Rice Mushroom Stew, with plenty of carrots, celery, mushrooms, and of course - turnips. And wow - talk about hearty!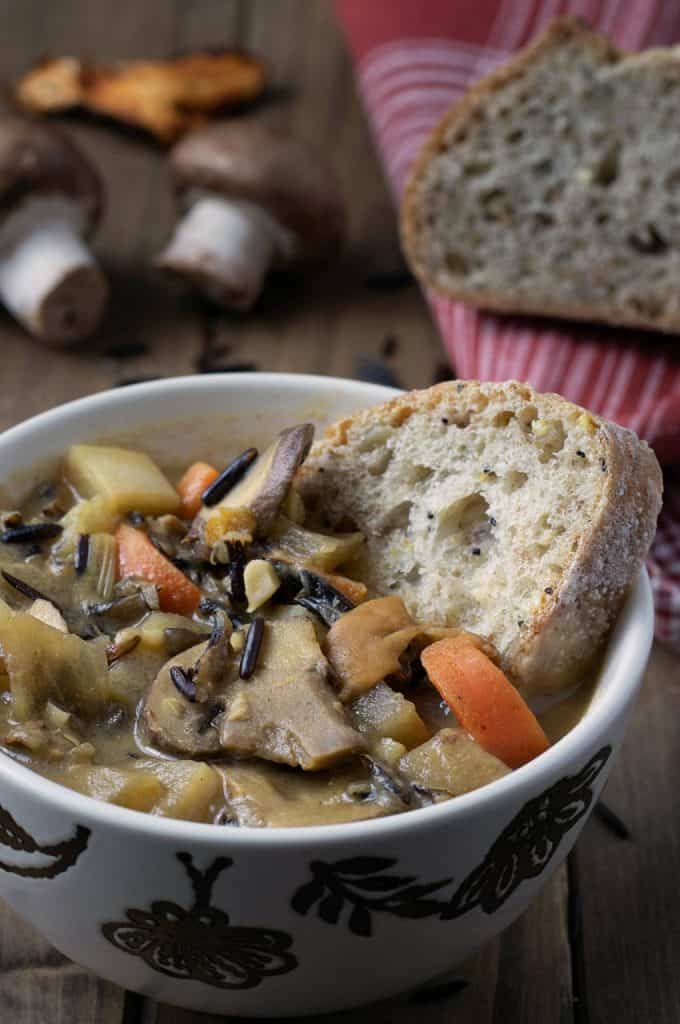 This challenge was something new for me and I want to make sure that if any of YOU have something you'd like me to make (within reason of course) - be sure and leave a comment below.
No guarantees obviously.... but if it's comfort food to you, and can easily be made into a whole food, plant-based, no oil recipe, I will certainly do my best.
I have tried a few attempts of making reader requests, and some turn out, and others don't. As I have said many times now, I am not a culinary trained chef - just a guy who likes to cook (and eat).
But regardless, I will try.
Anyway - let's get on with making this delicious stew.
Vegan Wild Rice Mushroom Stew
Like any good soup, I started with a mirepoix of onion, carrots, and celery. Then I added a generous helping of minced garlic and of course - the turnips.
Not too many people I know eat turnips anymore, which is kind of sad. Even the grocery clerk had to ask me as she was scanning my groceries - "These are turnips, right?"
Maybe because they were considered peasant food in years past? I don't know. But what I DO know is that they are super healthy for you and full of nutrients, vitamins, and fiber.
Known primarily for its root, the turnip is actually a part of the Cruciferous family of veggies - like kale, brussel sprouts, and broccoli. And even though we mainly eat just the bulb - just one cup of the cooked turnip greens will give you 229mg of Calcium.
Turnips are loaded with fiber and vitamins K, A, C, E, B1, B3, B5, B6, B2 and folate (one of the B vitamins), as well as minerals like manganese, potassium, magnesium, iron, calcium and copper. They are also a good source of phosphorus, omega-3 fatty acids and protein.

Pritikin Longevity Center
Once my veggies had cooked down a bit and softened, I added my mushrooms. For this stew I used Baby Bellas, to give it that meaty texture we like so much, some dried Porcini mushrooms for even more earthy richness, and some dried Chanterelles a friend gave me in exchange for helping her with her blog, because - why not?
Of course, I realize Porcinis and Chanterelles do not come cheap - so they are completely optional in this recipe and you can just use Portobellas - but they do add a LOT of flavors if you can find them. Mine were dried and I used about an ounce of each.
For the rice in this dish, I went with Wild Rice simply because I found out those Wild Rice "blends" I had been using were mostly brown rice. And I wanted to see what REAL wild rice actually tasted like.
Wild rice is another one of those Native American staple foods I wrote about in my Three Sisters Recipe. Native to North America, wild rice was originally grown and harvested by Native Americans, who have used the grain as a staple food for hundreds of years. It has fewer calories than brown rice, more protein, and tons of fiber making it the perfect choice for this stew.
I found Wild Rice at our NW Grocery chain called WINCO, in the bulk food section. Check your stores bulk bins if you have trouble finding it, or you could use the Wile Rice Blends that are very popular in most grocery stores.
Once I added the rice to the pot, I added 4 cups of low sodium veggie broth, some seasoning and put on the lid for a long, 45-minute simmer.
I stirred in some lemon juice right before serving.
Now I'm going to leave the finishing touches of this stew up to you. You can:
Eat it as is - as more of a soup
Thicken it with arrowroot or corn starch
Thicken it with dried potato flakes
Make it creamy with unsweetened almond milk
Or take it over the top by adding some of my fat-free gravy
I added some Almond Milk and Bob's Red Mill Potato Flakes to mine to make it thick and creamy. And it was delicious!
But the next day the rice had absorbed even more liquid and there wasn't much "stew" left, only mushrooms, rice, and veggies. So I added a few spoonfuls of some gravy I had left over and OH - MY - GOSH !!
That gravy took a GOOD stew and made it an INCREDIBLE STEW!
The choice is yours and I can't wait to hear how you liked it (and served it) in the comments below. I'll be coming back to this one for sure as we head into the soup & stew season this Fall.
That's it for this week! I'll leave some Amazon links down below for some of the ingredients you may have trouble finding. These are of course affiliate links - meaning I do make a small commission with each purchase at no extra cost to you.
Have an AWESOME weekend and I'll see you soon!

Print
Vegan Wild Rice Mushroom Stew with Turnips
Author:

Prep Time:

30 min

Cook Time:

45 min

Total Time:

1 hour 15 minutes

Yield:

6

-

8

servings

1

x

Category:

Soup, Stew

Method:

Stovetop

Cuisine:

American, Vegan
---
Description
I felt like a chef in Chopped this week, as I was challenged to use mushrooms, rice, and turnips. So I made a Vegan Mushroom Wild Rice Soup and wow! - talk about hearty!
---
2 cups

onion, diced

2 cups

celery, diced 

2 cups

carrots, diced 

2

turnips, diced

4

-

5

cloves garlic, minced

8 oz

baby bella Mushrooms

1 oz

dried porcini mushrooms (optional)

1 oz

dried chanterelle mushrooms (optional)

1 cup

wild rice

1 tsp

 poultry seasoning

½ tsp

dried thyme

4 cups

low sodium vegetable broth

¼ cup

lemon juice
Optional ingredients after the soup is done
1 ½ cups

unsweetened Almond Milk  (and/or)

¾ cup

dried potato flakes (and or)

¾ cup

Fat-Free Vegan Gravy
---
Instructions
Dice onion, carrots, celery, and turnips into equal size pieces and add to a large soup pot
Add a splash of water or veg broth to saute - just until softened
Add the minced garlic and stir until fragrant - about 30 seconds
Add the fresh, sliced mushrooms and simmer until softened and liquid is released
Add the seasoning and stir
Add the wild rice and broth and stir to combine
Add the dried mushrooms if using
Bring just to a boil and then turn down the heat, cover, and let simmer 45 minutes.
Stir in lemon juice and add salt & pepper to taste
For a creamier soup, you can add the optional almond milk
For a thicker stew, you can add the potato flakes and/or the gravy
---
Keywords: vegan wild rice mushroom stew