What do you call a Shepherd's Pie topped with fresh homemade biscuits instead of potatoes?  Is it still a shepherd's pie?  Or is it now a pot pie?  How about a Biscuit and Vegetable Pot Pie?
Whatever you want to call it ....  I call it DELICIOUS!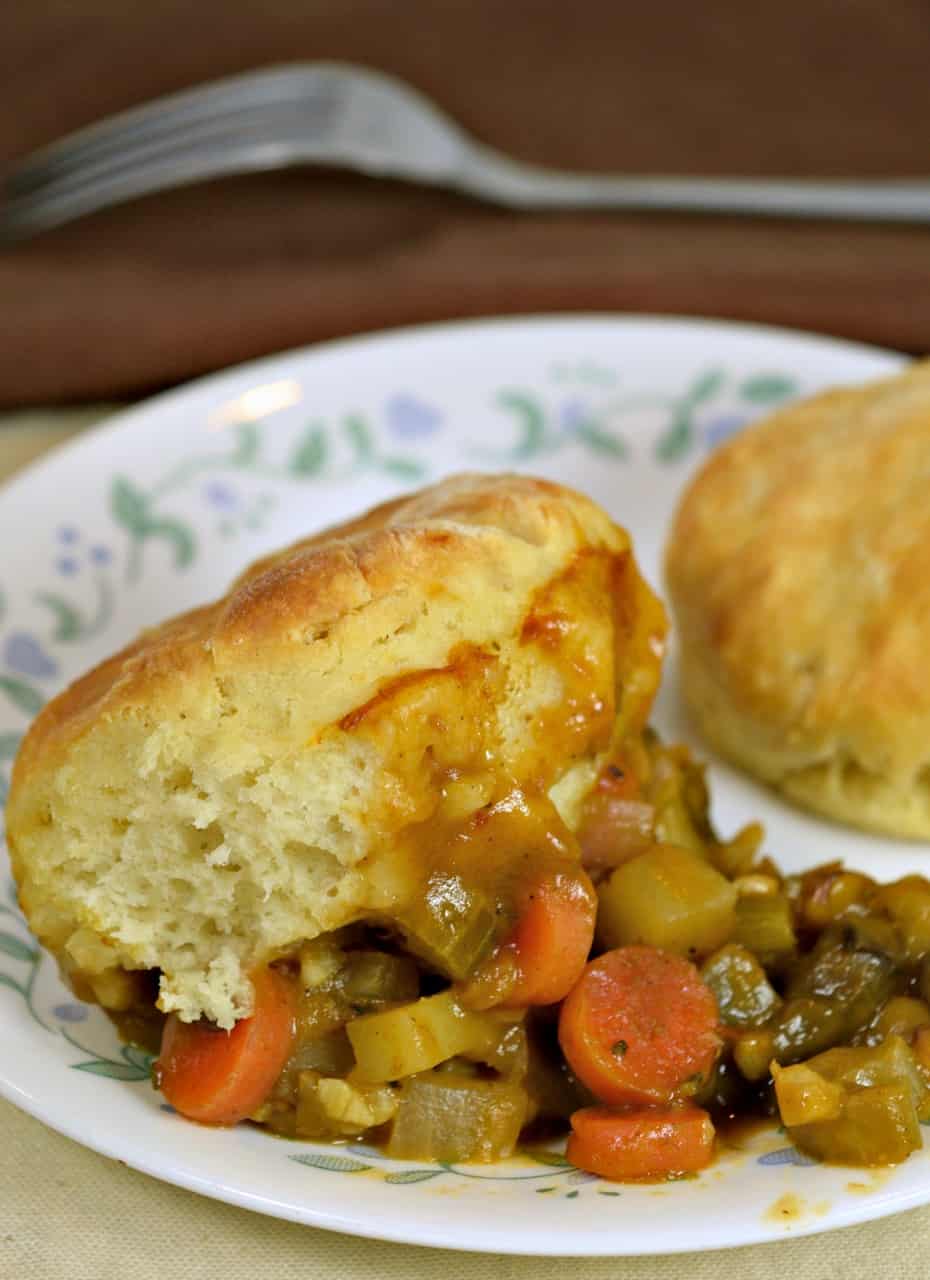 Fresh carrots
Celery
Garlic
Potatoes
Mushrooms
Lentils
All swimming in a rich, creamy gravy
Topped with my fresh Vegan Buttermilk Biscuits
Ooooh!  Can anyone say Ultimate Comfort Food?  This might be one of those dinners you make to impress your omni-friends.
You know the ones.  Those friends and family members who think we are all SOOO deprived?  Eating nothing but Tofu and Bean Sprouts?
Yeah - THOSE friends.
This recipe will show them how sadly mistaken they are!  Healthy, low-fat, high fiber, protein-rich, and DELICIOUS!  I'd say we eat pretty good - wouldn't you?
Biscuit and Vegetable Pot Pie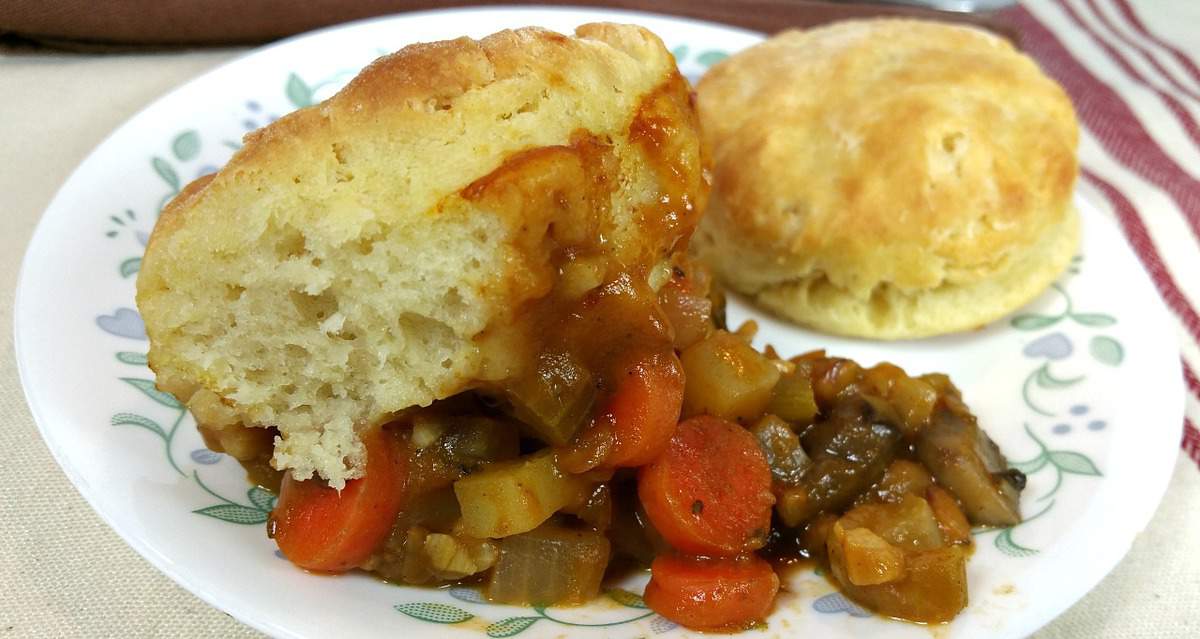 Before we get started, I just want to brag for a minute.
Both of the pictures you see were taken in my usual setup.
I normally try to snap a few Smartphone Photos right after I cook (and the food gets devoured), but by then it's usually dark outside.  And Oregon Winters are known for being dark, dreary, and grey - and that's in the daytime!  So using my newer dSLR Camera has been pretty much impossible.
Thanks to YouTube, (and Home Depot), I think I found a solution!
I bought two of those little clip on shop lights (the ones your hubby uses to work on the car), and 2 extra bright Daylight CFL Bulbs.  I stretched an old T-Shirt over both domes to diffuse the light, and also picked up a couple of white foam boards to use as reflectors.
Bam!  Instant daylight.  The photo on top was taken with my Nikon and the one just above with my smartphone.  Both photos (to me anyway) are way better than I could have taken otherwise, especially at 7:00 at night.
What do you think?  Better?  Worse?  Too much light?  Please let me know while I continue to adjust my setup.  Like I've said before, I am NOT a professional photographer.  I'm learning as I go.
As always, thanks for any and ALL comments!  I love hearing how much you and your family enjoy my recipes.

Print
Biscuit and Vegetable Pot Pie
Author:

Prep Time:

30 minutes

Cook Time:

1 hour

Total Time:

1 hour 30 minutes

Yield:

9

servings

1

x

Category:

Main

Cuisine:

American
---
Description
What do you call a Shepherd's Pie that's topped with Flaky Biscuits instead of Mashed Potatoes? Is it now a Biscuit Pot Pie? I call it DELICIOUS!
---
3

med Carrots ((diced))

3

ribs Celery ((chopped))

¼

med White Onion ((diced))

2

Yukon Gold Potatoes ((diced))

8 oz

White Mushrooms

3

cloves Garlic ((minced))

1

Tbs Tomato Paste

½ tsp

Dried Thyme

½ tsp

Dried Sage

¼ tsp

Garlic Salt

¼ tsp

Ground Pepper

1

Tbls Flour ((thickener))

2 cups

Vegetable Broth ((low sodium))

⅓ cup

Red Wine ((optional))

½ tsp

Vegan Worchestershire Sauce ( )

1

-

2

Tbls dried Lentils ((optional))
Flaky Buttermilk Biscuit Recipe ((see recipe below))
---
Instructions
Chop carrots, celery, and onion and add to large stewpot, saute in a little veggie broth until softened
Add mushrooms and garlic and cook until softened
Add Tomato Paste and spices and stir to combine
Sprinkle flour over veggies and stir it in
Slowly add Veggie Broth and increase heat to low boil
Add the potatoes, Worcestershire Sauce, and the wine (if using)
Add Lentls. Note: If you omit the wine - you may not need the lentils. Judge by the amount of liquid you have and if it has thickened or not. I used wine in my dish so added the Lentils to help absorb it. This will increase your cooking time by at least 20 minutes.
Cook until thickened and adjust spices to taste
Turn off heat and let stew cool so we can prepare the biscuits.
Preheat oven to 450 degrees F.
Prepare Biscuits as per RECIPE
Roll our dough and use a cookie cutter (or jar) to cut out 12 biscuits about ½" to ¾" thick
Pour Stew into an 8" square casserole dish and top with 9 of the biscuit rounds
You should have enough dough for 3 additional biscuits - simply cook them separately
(They won't go to waste) 🙂
Bake casserole (and biscuits) for 15-20 minutes or until biscuits have browned
Let sit for at least 5 minutes to cool and then serve
---