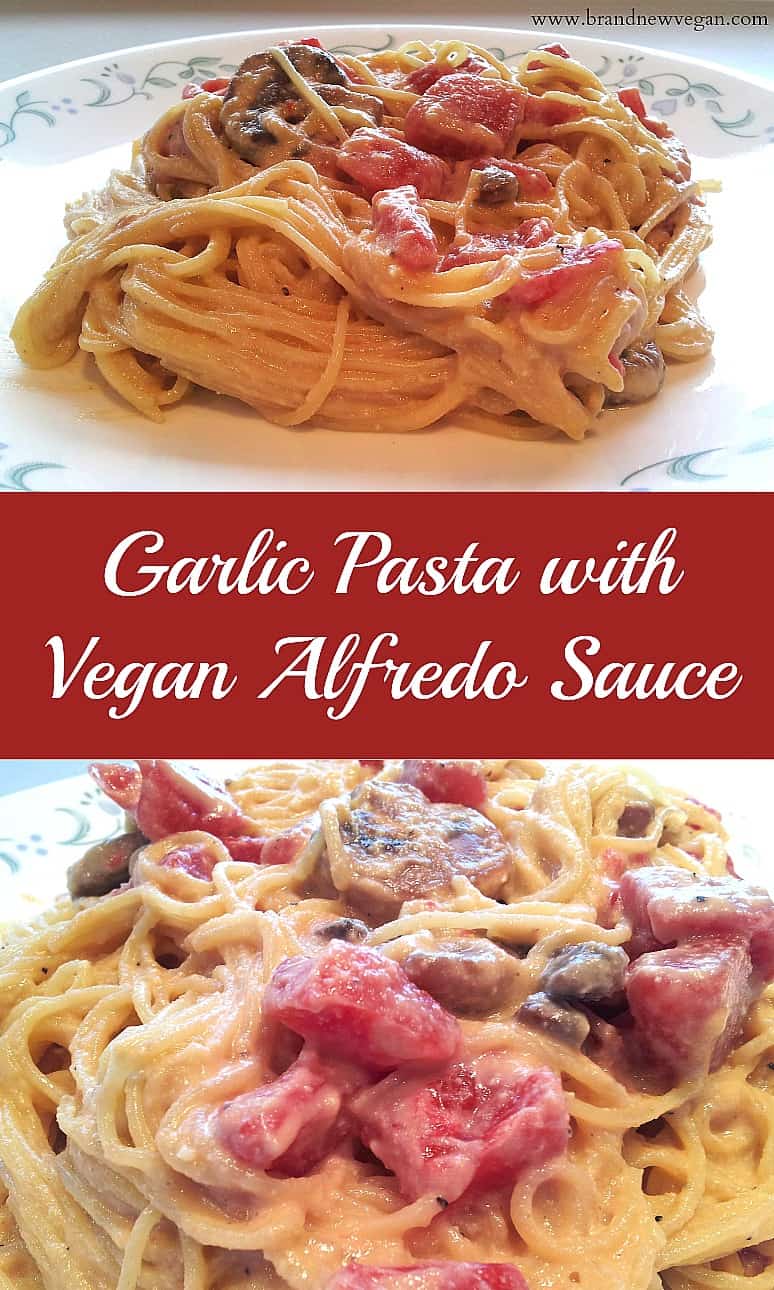 Who doesn't love pasta?
Creamy.  Garlicky.  Cheesey.  Oh my – looks decadent doesn't it?
And it's all yours, guilt-free,  as this version of the classic garlic alfredo sauce uses no dairy, cream, butter, or even cheese.
Instead I used a combination of onion, veggie broth, almond milk, cashews, and nutritional yeast that come together in a sauce you'd swear was store bought.
Judging from the reaction of my wife and daughter last night, this one's a definite keeper so you might just want to file this one away right now.  
The trick is giving the cashews a nice long soak which helps soften them up.
As my pasta was happily boiling away I sautéed a few mushrooms in a couple of tablespoons of white wine.
Mmmm – mushrooms.
And I didn't even cook the tomatoes at all – just folded them into the pasta.
Everything came together beautifully.
And it was delicious.
Prep time:
Cook time:
Total time:
A rich, decadent Vegan Alfredo without the dairy, fat, or cheese. Super creamy and super delicious this healthier version will curb your Alfredo cravings for sure. I served this sauce with Angel Hair pasta, sautéed mushrooms, and dices tomatoes.
Ingredients
1½ cups low sodium vegetable broth
¾ large onion, diced
4-5 large cloves of garlic, chopped
2 tbls flour
¼ cup unsweetened almond milk
½ cup raw cashews, soaked for at least 1 hour
3 tbls lemon juice
¼ cup nutritional yeast
½ tsp salt
½ tsp black pepper
½ tsp garlic powder
1 16oz box of pasta noodles (I used Angel Hair)
1 8oz container of white crimini mushrooms
2 tablespoons of white wine
1 can of no salt added tomatoes, diced
Instructions
Rinse cashews and soak them in clean water for at least 1 hour
Dice the onion and sauté in 1 cup of the vegetable broth until softened
Add the garlic and continue to sauté until the liquid is almost completely evaporated
Add the flour and stir to coat
Cook the onion/flour mixture for 1 minute and then scrape into blender
Add the remaining ingredients, including the cashews and process until smooth
Adjust salt and pepper to your taste
Prepare your pasta according to the package directions
Meanwhile sauté the mushrooms in the white wine until nicely browned
When the pasta is finished, drain and add it back into your pan
Fold in the mushrooms, tomatoes, and sauce
Enjoy!