Don't you just LOVE November?  That crisp, fall air?  Those beautiful colored leaves?  And of course the smells of all those yummy Holiday Recipes?   Like this Holiday Instant Pot Wild Rice.  
Ok, Wild Rice isn't really RICE at all....I knew that...did you?
it's more like grass seed.  Honest!   
But it's a super HEALTHY grass seed... that all of us should be eating more of.
Wild rice is packed full of protein, carbohydrates, fiber, and other nutrients and minerals....even more so that it's brown or white rice cousins...
Consider this...
It's naturally Gluten Free
It's Sodium Free
It's not a Grain....so no blood sugar worries for the Diabetics
It has 2x as much protein as Brown Rice
It has 30X the antioxidants as White Rice
It is high in Fiber
And for many of the nutrients, wild rice is equal to or superior to  - grass-fed beef
Yeah, it's all that and more.
So what do you DO with it?
Well, I took this super yummy, super healthy, slightly nutty, superfood ....and turned it into a new Holiday Favorite by mixing it with Mushrooms, Sage, and Cranberries, and cooking it in my Instant Pot Pressure Cooker.
That's what I did with it.
And it's amazing!
And I can guarantee it will definitely have a place on MY Holiday Table this year.
So you ready to start cooking?  Let's go.
Holiday Instant Pot Wild Rice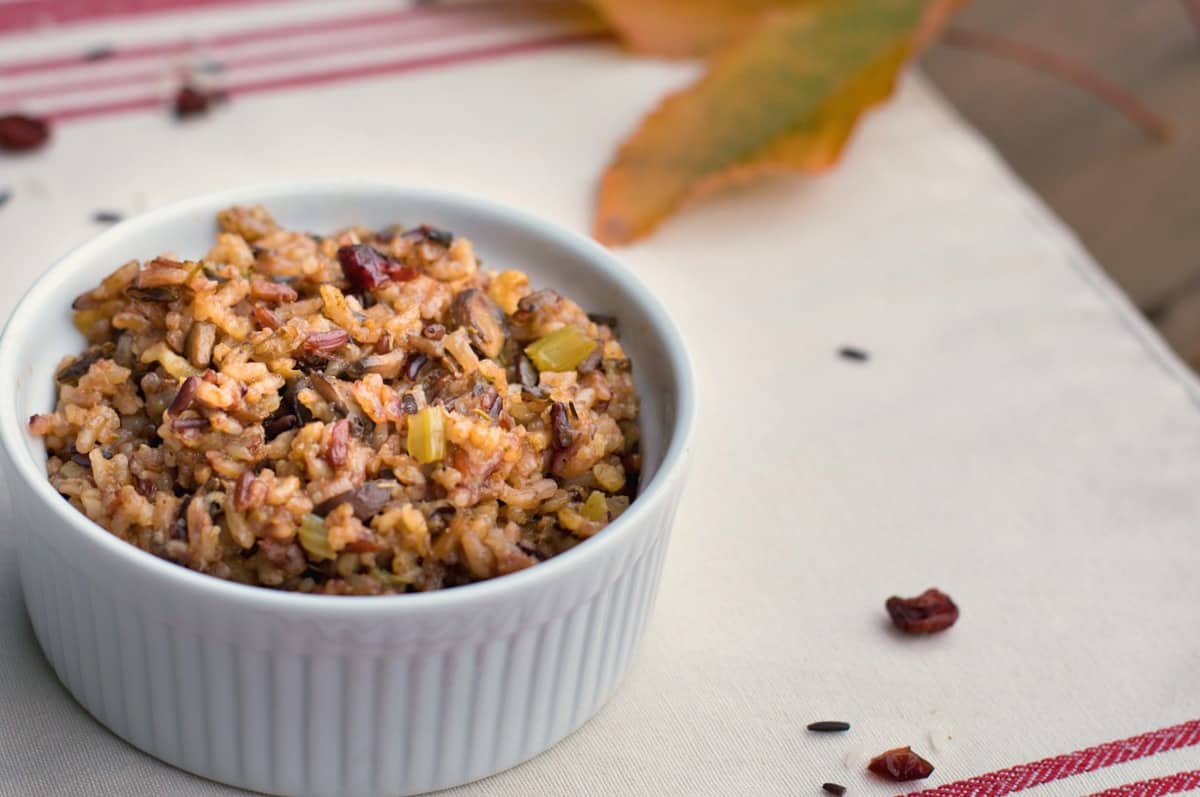 Start by dicing about ½ of a large Onion (1 cup) and 3-4 Ribs of Celery (1 cup) and lastly 6 medium-sized Criminy Mushrooms (8oz).  Toss the veggies into the Instant Pot and saute in a little water or broth until softened.
Now stir in some minced garlic (about 2 big cloves) and the seasonings...  (Sage, Rosemary, Thyme, and Pepper).  Continue to saute just until the garlic and spices get fragrant - then turn your IP off.
Stir in 2 Tbs of Soy Sauce and 2 cups of Low Sodium Vegetable Broth.
And finally, stir in 2 cups of Wild Rice that has been rinsed and drained.
Make sure everything is mixed together and attach the lid.  Make sure the vent valve is set to SEALING and press MANUAL.
We want to set it to HP mode (high pressure) and 25 MINUTES.
That's it....walk away for a while.  When the IP beeps, let it naturally vent for 10 minutes or so before carefully releasing any remaining pressure.
Remove the lid and set it aside.
Now personally I...... like to add dried Cranberries and chopped Walnuts to my Wild Rice.....along with a few tablespoons of Balsamic.
The Walnuts give it a little texture, the Cranberries a little sweetness, and the Balsamic adds a little twang.  But this is me.
If you can't have Walnuts....leave them out.  Don't like dried fruit?  Leave it out.  Need more salt?  Add it.  At this point, the rice is done and you can finish it off any way you like.  Just fluff with a fork and you're done.
Perfect..... ready to serve on YOUR table this Holiday Season.
As always - l hope you like this recipe as much as I do,  and be sure and look for many more Holiday Recipes this year from BNV.
Peace.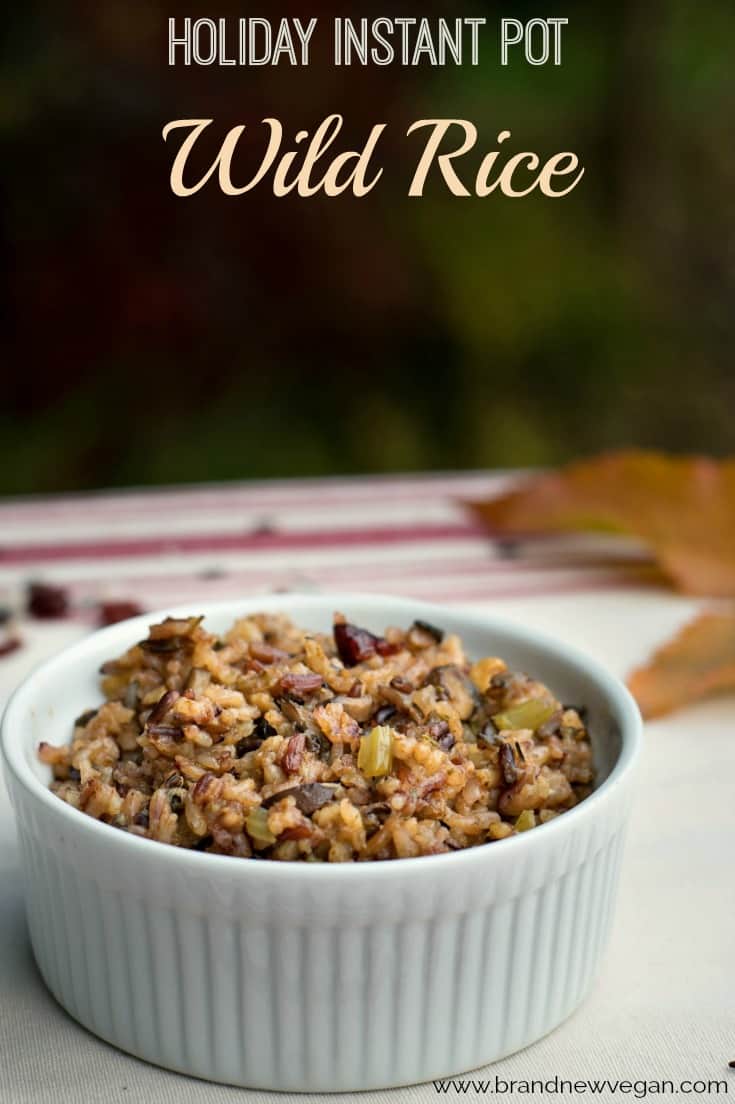 Print
Holiday Instant Pot Wild Rice
Author:

Prep Time:

15 minutes

Cook Time:

25 minutes

Total Time:

40 minutes
---
Description
This Instant Pot Wild Rice is my first Holiday Recipe of the year. Wild Rice, Mushrooms, Sage, and Cranberries make this perfect for any Holiday table.
---
1 cup

Onion ((diced))

1 cup

Celery ((diced))

8 oz

Crimini Mushrooms (baby bella) ((diced))

2

large cloves Garlic ((minced))

2 tsp

Rubbed Sage

½ tsp

Rosemary

¼ tsp

Thyme

¼ tsp

Black Pepper

2

Tbs Soy Sauce ((low sodium))

2 cups

Vegetable Broth ((low sodium))

2

cups Wild Rice Blend ((rinsed))

2

Tbs Balsamic Vinegar

½ cup

Dried Cranberries ((optional))

¼ cup

Chopped Walnuts ((optional))
---
Instructions
Dice onion, celery, and mushrooms. Add to instant pot.
Saute veggies on LOW using 1-2 Tbs water/broth until softened.
Stir in minced garlic and seasonings....simmer until fragrant
Turn off Saute Mode.....
Add vegetable broth, soy sauce, and rinsed wild rice. Stir to combine.
Attach lid, set vent valve to SEALING, and cook on MANUAL, HP for 25 minutes.
Allow to naturally vent for at least 10 minutes. Then release any remaining pressure and remove lid.
Stir in cranberries, walnuts, and balsamic. Fluff with a fork and serve.
---
Notes
Recipe Date:  November 3, 2017
---
All tips are appreciated!  
[paypal_donation_button]
SaveSave
SaveSave
SaveSave
SaveSave
SaveSave