What do you get when you combine a light & flaky crust, made right in the pan, with a super simple sauce, and a vegan mozzarella made out of .... what?!?
The BEST OIL-FREE VEGAN PAN PIZZA EVER! That's what!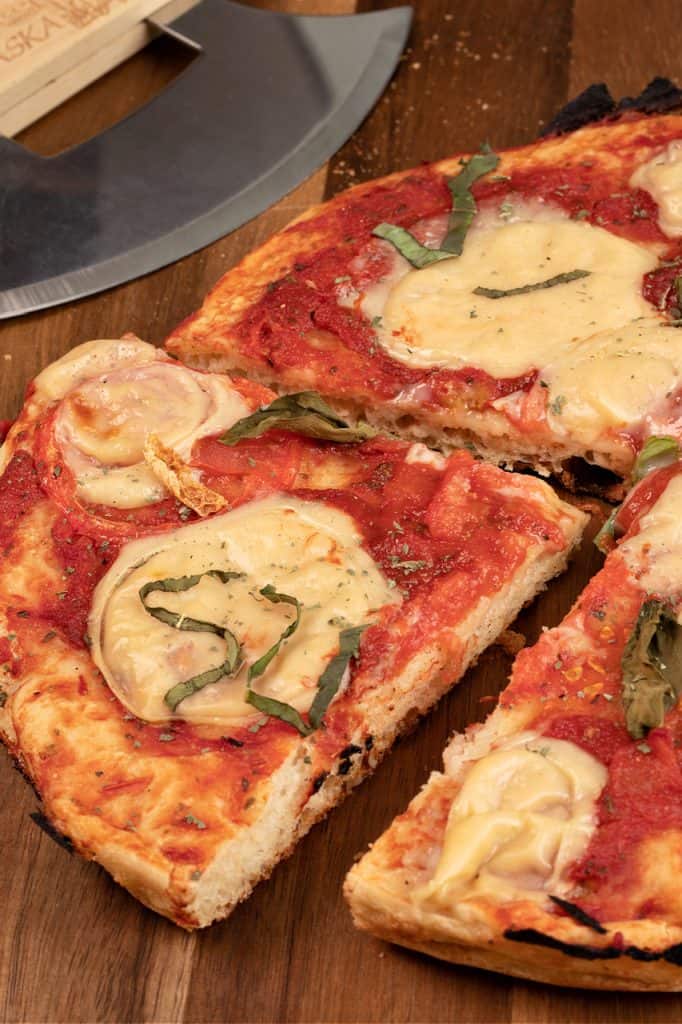 We'll get to the mystery ingredient in just a minute, but first...
Guys, I've been working on this one for a while now, and seriously, I'm not easily impressed anymore, but this has GOT to be my FAVORITE Vegan Pizza I have ever tried, hands down.
The crust is SO light and flaky, perfect for a pan pizza. Crispy on the bottom, soft and chewy in the middle, YUM!
And that sauce! Very basic with just a handful of ingredients. The simpler the better right? I could eat just these 2 things until next Christmas, and then some.
But when you add this "cheese sauce".... oh my gosh. You have the ultimate guilt-free pizza. And PIZZA is the ultimate comfort food!
Most vegan mozzarella recipes you see on the Internet have cashews and tapioca flour. The tapioca starch is what makes it stretchy and gooey.
But I did NOT want to use someone else's recipe and I REALLY did NOT want to use cashews. Not only are they high in fat, but there are also some ethical concerns as to how they are harvested and I would just prefer to not use them.
What else could I use? Tofu? Uh no. I've used tofu for a lot of things, but not pizza cheese. So I opened up my fridge to see what I had ... and there it was.
Tapioca happens to be pure starch, and so was the leftover white rice staring back at me.
Rice? It's white, and starchy, and has a very mild flavor... Could it work?
And you know what? It does work, beautifully. Your favorite plant milk, some tapioca, some cold leftover white rice, and a few spices make the most incredible gooey vegan cheese sauce you've ever tasted.
Who knew?
Does it taste like mozzarella? Probably not, but you know what? It's close enough for me. Even if you don't make the cheese, you still have a delicious crust and sauce to start with and you can add whatever toppings (and cheese) you like.
So who's ready for PIZZA!
Oil-Free Vegan Pan PIZZA!
The Dough
Take all the dry ingredients and whisk them together, either in a stand mixer, or a bowl if you are going to knead it by hand.
For the flour, I use the "scoop and scrape" method - meaning I will scoop a heaping cup of flour, use the edge of a knife to pack it in a little, then scrape off the excess level to the top of the measuring scoop. For all you who weigh their flour (which I recommend), it was 165g.
Mix the maple syrup and milk together then slowly, a little at a time, pour it into the flour and mix until a slightly wet dough ball forms.
A stand mixer with a dough hook is the easiest way to go, as it will do all the work, but you can mix and knead this by hand too. You want a smooth ball that's just slightly sticky to the touch, without sticking TO you - if that makes any sense. I have yet to use the entire ½ cup of almond milk, but depending on where you live, you may need less or you may need more. I usually have several tablespoons of milk left and the dough is perfect.
This is really a "get your hands in there and feel it" kind of thing. If the dough is caking all over your fingers and you have to scrape it off then it is too wet and needs a bit more flour. If it's dry and crumbly it needs a bit more milk.
If you knead by hand, knead it for at least 5 minutes. It should be smooth, not lumpy. If using a stand mixer - 1 minute or so with a dough hook should do the trick. Once you have your ball, put it back in the bowl and cover it. Then stash it away in a warm place for 1 hour.
PRO TIP: To create the perfect warm place to let your dough rise: Turn your oven on - ANY temp - for exactly 1 minute, then turn it OFF immediately. It will never reach the temp you set it to in just 1 minute - but it WILL warm the oven just enough to proof dough.
Now that you have an hour to kill - let's make the sauce and cheese.
The Sauce
I love this sauce as it's so dang simple but also delicious, and it makes just enough to cover a 9" pizza pie.
I used a JAR of diced organic tomatoes I found in the store by a brand called JOVIAL. Just pour ⅓ of a cup into a measuring cup and store the rest in the fridge for another pizza. So convenient.
Anyway, whisk all the sauce ingredients together and set aside.
By my timer, it's been around 15 minutes and we have dough rising in the oven AND a sauce that's ready to go. Not bad.
On to the mozz.
The Cheese
If you have a favorite vegan mozzarella or vegan cheese in general, this step it optional. But if you want to try my nut-free mozzarella, read on.
The recipe calls for 5 Tbs of tapioca flour (tapioca starch). Add 4 Tbs to your blender now and save the 5th for just a bit. I found Bob's Red Mill tapioca flour at my local Fred Meyer (Kroger). Look in the baking aisle or wherever they keep all their Bob's Red Mill products.
Add all the remaining ingredients to your blender including the rice. I used cold, leftover, white rice because that's what I had in my fridge. Will brown rice work? Maybe, although I have no clue what color it will turn out to be. Brown cheese may not be visually appealing if you are trying to get someone to try it ?.
Blend well for 1 minute then pour the sauce into a saucepan.
Turn the heat on medium and start whisking. This will take a while so make sure you have nowhere to go as if you quit stirring and it scorches - it'll be game over.
I turned up the heat slowly as I was stirring until it started to thicken. When it looks like it will not thicken anymore, remove it from the heat and make a slurry with that last tablespoon of tapioca starch and 1 tablespoon of water and stir it in. You may need to set the pan back onto the heat for a minute but that should thicken it the rest of the way.
I then poured the sauce into a 2 cup measuring cup and placed it in the fridge to cool where it will thicken even more.
Second Rise
Once the dough has finished rising, sprinkle a tablespoon or so of cornmeal into a well-seasoned 9" cast iron skillet. Remove the dough and if it is sticking to the bowl, dip your fingers into some flour to easily remove it and form the dough into a flat oval.
Lay this in your cast iron skillet, moisten your fingers in water, and gently stretch the dough to cover the bottom all the way to the sides.
Then cover your skillet/dough (I used a dinner plate) and place it back in the warm oven for another 30-minute rise.
Pizza - Assemble!
I really have to stop using these Avenger references sigh
After the 30 minute rise, remove the cover from your skillet and set your stovetop burner to med heat. We are going to brown the bottom of the dough ON the stove first. At the same time, start heating your oven to 450° F.
PRO TIP: From this point forward the cast iron skillet will be HOT, including the HANDLE. ALWAYS use an oven mitt. Ask my Facebook Group what happens if you forget and yes, my hand is healing nicely.
Cook the dough, on the burner, on medium heat for about 10 minutes, while the oven is heating up. You can peek at the bottom with a spatula if you want. If it looks like it's sticking - no worries - it will be fine after it bakes.
After 10 minutes, carefully remove the pan from the heat, and then add your sauce and whatever pizza toppings you like. Because it's in a pan, you can really spread that sauce all the way to the edges where it will get really crispy and caramelized - yum!
And now we can remove our cheese sauce from the fridge and spoon that onto our pizza too. You should have enough cheese for 2 pizzas but you can use as much or as little as you want.
Now we can carefully pop the skillet into our heated oven and bake for 10-15 minutes.
Final Thoughts
When you cut into this pizza you will hear the crunch. I absolutely love this crust and the sauce is over the moon good. Simpler is always better. I may replace my old pizza crust and sauce recipes with this one.
And that cheese - I honestly had no idea how this "tapioca / rice" cheese would turn out but I was pleasantly surprised. I would love to hear your thoughts.
Overall I think this is definitely on my top 10 list, maybe top 5.
It's not a LOT of work really, and cleanup is a breeze as it's all in one pan. It's VERY low fat since we didn't use the typical cashew-based sauce. And since tapioca and rice are both starches - we can almost say this is a "Starch-Based Cheese".
Anyway - I'll add some Amazon Links for the items you may want to look at for this recipe and with that - I will see you next weekend.
Enjoy that pizza.
Equipment/Products Used

Print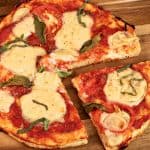 Oil-Free Vegan Pan PIZZA
Author:

Prep Time:

90 min

Cook Time:

15 min

Total Time:

1 hour 45 minutes

Yield:

Serves

2

-4

1

x

Category:

Main, Pizza

Method:

Stovetop, Oven, Blender

Cuisine:

American

Diet:

Vegan
---
Description
This oil-free vegan pan pizza is pure comfort food. It has a light flaky crust, simple sauce, and a nut-free cheese that will blow your mind.
---
Dough
1

cup

bread flour (165g)

1 tsp

active dry yeast

½ tsp

garlic powder

½ tsp

salt

½

cup

unsweetened almond milk

1 tsp

maple syrup
Sauce
⅓

cup

diced tomatoes

1

Tbs tomato paste

¼ tsp

red wine vinegar

¼ tsp

dried basil

⅛ tsp

dried marjoram

⅛ tsp

sugar
Cheese
1

cup

unsweetened almond milk

½

cup

cooked white rice (cold)

5

Tbs tapioca flour (divided)

1

Tbs white miso

1

Tbs lemon juice

1

Tbs nutritional yeast

1 tsp

apple cider vinegar

¼ tsp

garlic powder
Pizza
1 tablespoon

cornmeal
whatever toppings you like (optional)

mushrooms
pineapple
bell peppers
onions
etc
---
Instructions
Dough
Whisk all dry ingredients together
Whisk almond milk and maple syrup together and slowly pour into flour while mixing to form a slightly wet dough.  
Using a stand mixer knead for 1 minute - or 5 minutes if kneading by hand
Form a ball, place back in bowl, cover, and let rise in a warm place for 1 hour. 
Sauce
Whisk all sauce ingredients together and set aside
Cheese
Add 4 Tbs tapioca flour to a blender along with all remaining cheese ingredients
Puree for 1 minute until smooth
Pour into a saucepan over med heat while constantly stirring
Slowly increase the heat as needed for the sauce to thicken
Remove from heat, stir in a slurry of the final 1 Tbs tapioca and water -  until thick and creamy
Pour into a container and allow to cool in fridge
Pizza
Sprinkle cornmeal over the bottom of a well-seasoned 9" cast-iron skillet
After the dough has risen for 30 min, shape it to cover the bottom of the skillet, moistened fingers help
Cover and place back in a warm place for 30 additional minutes
Remove cover and place skillet/dough on a burner to brown the bottom - med heat - 10 min
Meanwhile preheat your oven to 450° F
Carefully remove the pan from the burner, and spread sauce evenly over the dough
Add whatever pizza toppings you like
Spoon ½ cup of the cheese sauce over pizza (or more) and bake for 10-15 min or until crispy
---
Keywords: oil-free, vegan, pan pizza