These days I eat very simply, namely starches such as rice or potatoes, and some veggies on the side. To spice things up, I just add different sauces, like my Red Chile Sauce, my Cheese Sauce, or my Vegan Gravy.
This Cauliflower Gravy is something I created with that in mind. It's completely vegan, gluten-free, and it's also fat-free. And with cauliflower as the base, you're getting lots of fiber and vitamin c too.
You can use it as a gravy, a sauce, or even alone as a healthy soup.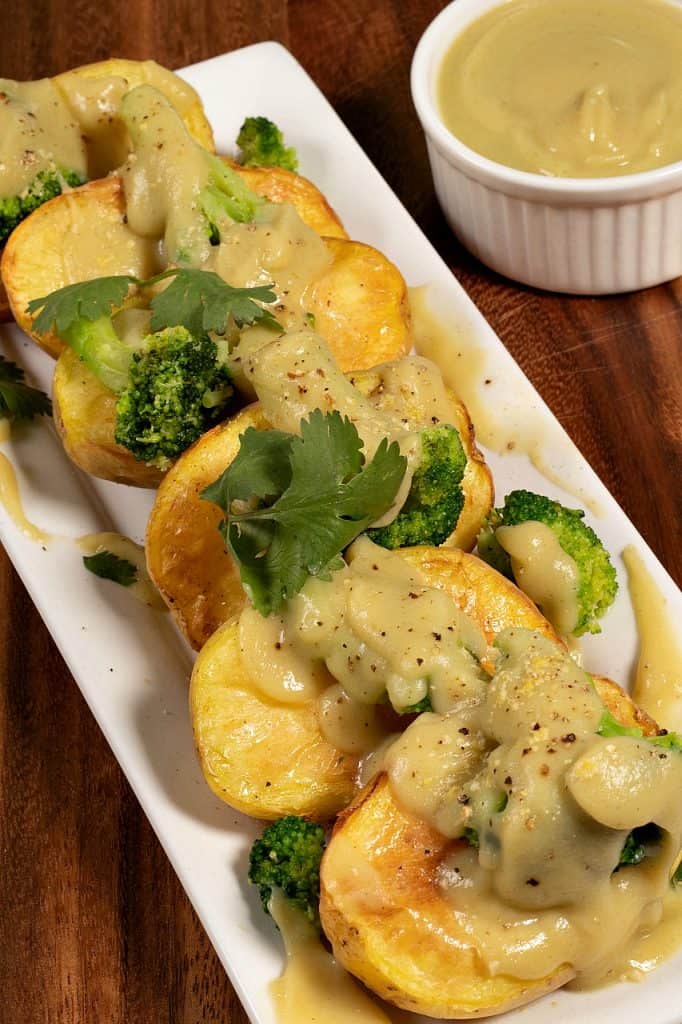 I was experimenting in the kitchen yesterday, and knew I wanted to make another sauce but this time use cauliflower as the base.
I cleaned up my cauliflower and broke into several large pieces, and made sure to weigh it this time so people would have a better idea other than my vague descriptions of the past ' add 1 head of cauliflower'.
It weighed exactly 2 lbs with the stem and leaves removed.
I then pressure cooked it in my Instant Pot and then added it to my blender along with some veggie broth and pureed it until it was super smooth.
And it tasted like....cauliflower.
I then added a little almond milk to make it creamier and add a little sweetness. Better - but still missing something.
So I added a good helping of garlic and a pinch of salt, and tasted again. Much better, but it still had that cauliflower taste. There's nothing wrong with that but I know some people do not like it, so I kept experimenting.
Next I cleaned up some frozen Hatch Green Chiles that I've had in my freezer for awhile and measured out exactly 4oz, the same as you would buy in one of those little store-bought cans.
Wow - that added a ton of flavor and a good amount of zing thanks to the Hatch. People liked my Green Chile Sour Cream so much - this might actually work!
I'm sure those little cans of store-bought chiles would tone down the heat a lot and I think you could probably use a Poblano too instead of the chiles.
I knew I did NOT want this to be another 'cheese' sauce, so I purposely did not use any nutritional yeast, but what else? Miso? I spooned some into a little cup and added a little miso...... uh no. Some flavors do NOT go together. Miso was definitely out.
I tried some lime juice next and that was when I knew I was onto something. This was starting to taste pretty good!
Finally I added a small handful of cilantro and a little cumin and bang.

This was pretty darn tasty. I could totally see using this as a soup or even as a sauce to pour over potatoes or rice.
I asked my wife to try it and she liked it... and she hates cilantro! I asked her what I should call it and she said it looked like gravy.....
So that is how Mexican Cauliflower Gravy came about. I hope you like it but I know it won't be for everyone.
But... if you ARE trying to eat simpler, find a few sauces you like and try eating just starches and veggies for a few days and see how you feel. I did this after my health scare, cutting out all nuts, seeds, peanut butter, tofu anything with a higher fat-content...
And lost 20 lbs without even trying. It works.
Mexican Cauliflower Gravy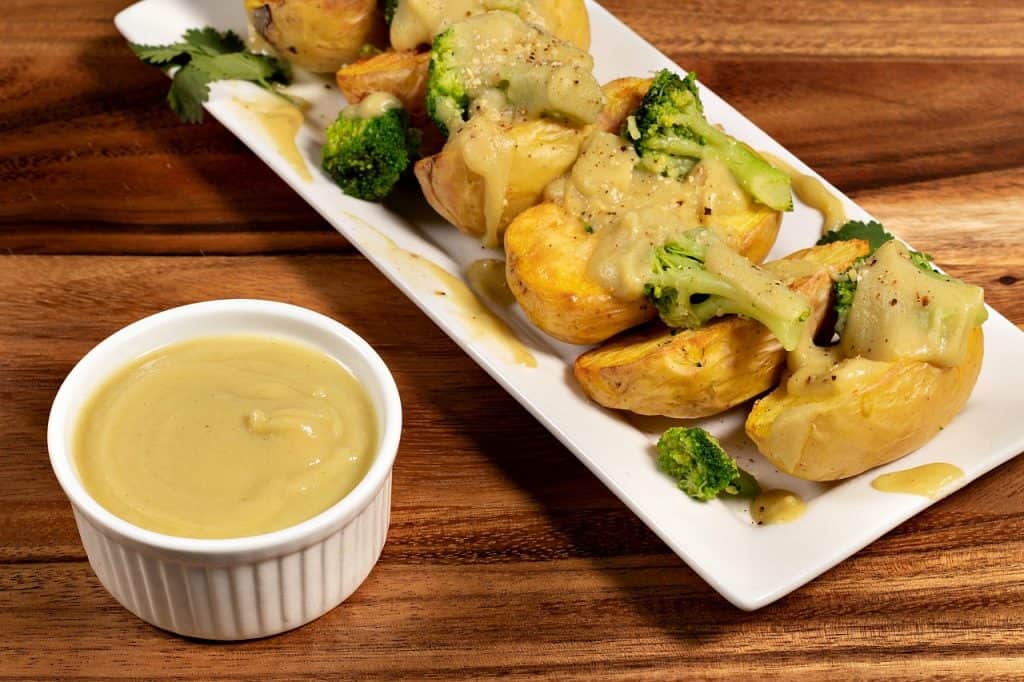 Everything in this recipe can be adjusted to your liking and will probably depend on the size of cauliflower you choose. Mine was exactly 2 pounds after I stripped away the leaves and removed the stem. I think that equals about 4 heaping cups.
I also chose to cook it using my Instant Pot to save time. I placed the trivet on the bottom, added a cup of water, and then the cauliflower and cooked it on MANUAL for 3 minutes. I let the pressure naturally release for 5 minutes before I flipped the vent knob to finish.
If you choose to steam your cauliflower on the stove instead, just make sure it's tender enough to blend.
To the blender I added the cauliflower and the unsweetened almond milk. I did NOT use the water from the Instant Pot, but there is no reason why you cannot. I chose to use low-sodium veggie broth instead and with my 2lb head of cauliflower I used about 1 cup. Again this may vary depending on the size of your cauliflower and how thick or thin you want the sauce.
Next I used 4oz of Hatch Green Chile, but one of those little cans from the store will work and not be nearly as hot. Remember if you ARE using fresh chile, the seeds and membranes are where the heat is so removing as many as possible will cut down on the spiciness.
And please be sure and wash your hands - the oil inside those chiles can burn you badly if you rub your eyes.
Again, I see no reason why a Poblano Pepper wouldn't work in place of or in addition to the chiles. A jalapeno may be TOO spicy - but I'll leave it up to you if your brave.
All the remaining ingredients are listed in the recipe box below and I suggest you taste as you go. Maybe you like a little more cilantro, or none at all. Maybe you like a lot of garlic, and maybe you hate it. It's all adjustable to your tastes.
Blend everything until it is super smooth. If it's too thick - add more water or broth. If it's too thin...maybe add it to a saucepan and add a chopped potato to it. Cook it until the potato is tender then re-blend it. That should thicken it up.
Note: Try NOT to blend very hot liquids. My Vitamix has a center cap you can remove to allow the steam to vent. If yours does not you may end up with an exploding mess of hot liquid.
Speaking of Vitamix and Instant Pot, I'll add my Amazon Links below if you are interested in the equipment I use. These are affiliate links so I will make a few pennies on every sale but at no extra cost to you.
With that - I hope you enjoy the recipe and please leave a comment and tell me what you think. If you modified it in any way I'd also be curious as to what you did.
Until next time.

Products I Recommend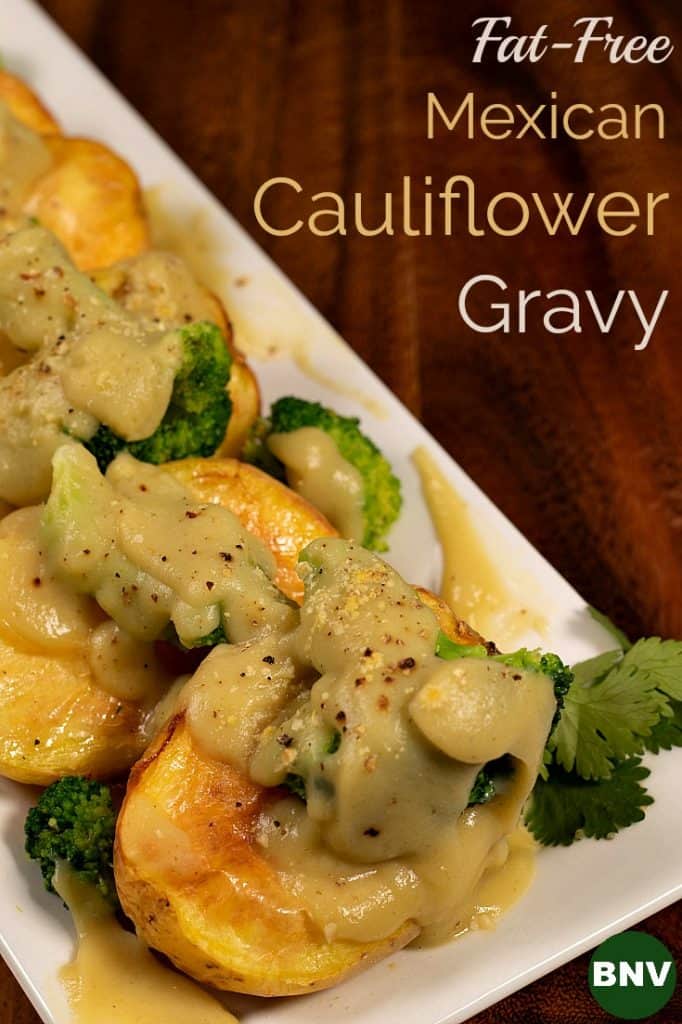 Print
Fat-Free Mexican Cauliflower Gravy
Author:

Prep Time:

30 min

Total Time:

30 minutes

Yield:

About

5 Cups

1

x

Category:

Sauce, Gravy, Soup

Method:

Blender

Cuisine:

Mexican, Southwestern

Diet:

Vegan
---
Description
This gravy is completely vegan, gluten-free, and fat-free.  Use as a gravy, sauce, or even alone as a healthy soup.
---
1

head cauliflower (

2

lbs)

1 cup

low-sodium vegetable broth

½ cup

unsweetened almond milk

4 oz

roasted green chiles

1

Tbs lime juice

3 tsp

minced garlic

1 tsp

ground cumin

½ tsp

salt

¼ cup

cilantro (loosely packed)
---
Instructions
Wash cauliflower and remove leaves and stem
Break into large pieces
Add your instant pot trivet and 1 cup of water
Add cauliflower and cook on MANUAL for 3 minutes
Let pressure release naturally for 5 then vent remaining
Discard water and add cauliflower to your blender
Add remaining ingredients and blend until smooth
Taste and adjust any seasonings
---
Notes
If you do not own an Instant Pot - you can always steam the cauliflower on your stovetop.  Cook until very tender - about 5 to 10 minutes.   Note:  Smaller uniform pieces cook faster and evenly. 
Keywords: cauliflower gravy