I have always loved a little sauerkraut and mustard on my hash browns, so it was only a matter of time before that combo ended up on a bun to make these incredible Cheezy Potato Sliders. And wow! Are they tasty!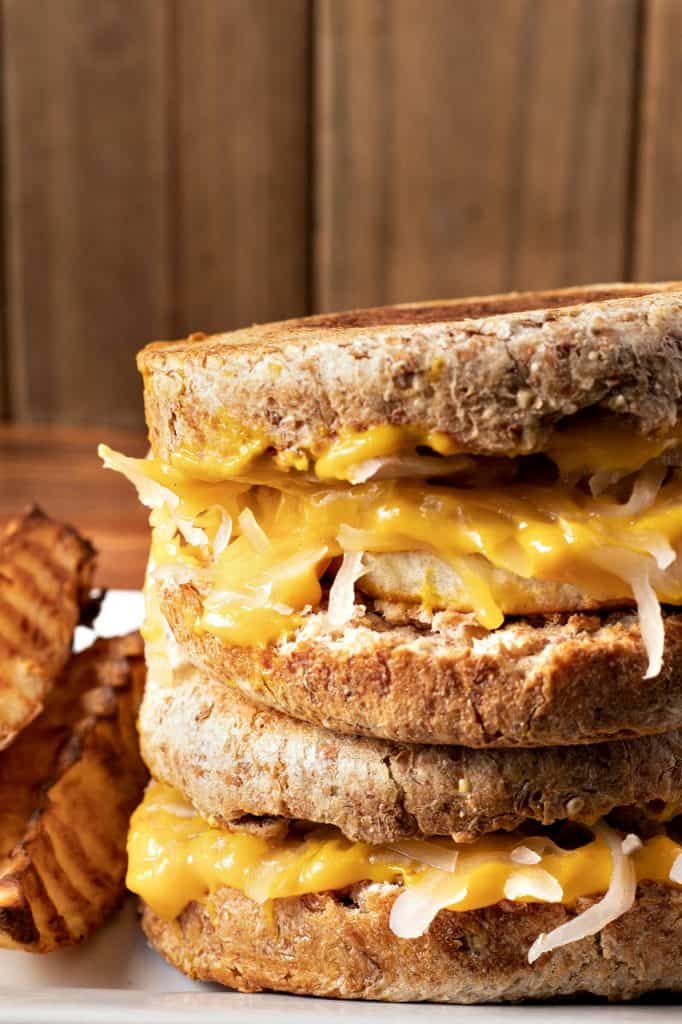 For many of you, sauerkraut on potatoes may sound a little .... weird.
But for those of us who have done Mary's Mini Potato Diets to reset our taste buds - let me tell you after 3-4 days you are frantic to find some new way to make potatoes taste better! lol.
And as strange as it may sound - sauerkraut and a nice Dijon or spicy mustard tastes really good together! It's like a little explosion of flavor in every bite.
So, when I saw this Facebook photo the other day, of a grilled cheese sandwich, with sauerkraut and mustard on it.... well for one - I knew I would have to make it using my own Amazing Vegan Cheese Sauce.
And then I remembered my hash browns and I thought to myself - why not put a nice, thick slice of potato on that grilled cheese, with all that sauerkraut and mustard? Man - I bet that would be good!
And it was.
So this is not so much of a new recipe, but a way to put ingredients together you may not have thought of before, to make something incredibly new and delicious.
Hope you enjoy them as much as I did.
Cheezy Potato Sliders
The Cheese
Ok so let's start with the obvious, you're going to need a thick, gooey, Vegan Cheese, and I haven't found one yet that matches my very own BNV Cheese Sauce so I'll put a link to that right here. Make this first and then let it chill in the fridge while we prep everything else.
The Bun
Not so much a bun, but an English Muffin. The bread I used is made by a company called Food For Life, and you can find them in the freezer of many grocery stores. Look for Ezekiel 4:9 Sprouted Grain English Muffins. I like them because they use whole ingredients and are completely fat-free.
(and no - this is not a paid endorsement for Food For Life - I just like them)
INGREDIENTS

Organic Sprouted Wheat, Organic Sprouted Barley, Organic Sprouted Millet, Organic Malted Barley, Organic Sprouted Lentils, Organic Sprouted Soybeans, Organic Sprouted Spelt, Filtered Water, Fresh Yeast, Organic Wheat Gluten, Sea Salt.
Since they come frozen - I was able to separate the two halves by carefully using a buter knife, then just placed them in my toaster on low heat.
The Mustard
This is an easy one, use whatever you have in your fridge. I personally like spicy horseradish mustard or a spicy stone-ground mustard - but that's me. Plain old yellow mustard will work just fine.
The Sauerkraut
Again, this is not a paid endorsement, but I just love Bubbies Sauerkraut. They are fresh, organic, and contain natural probiotics - so very, very healthy for you. You can find their products in the refrigerated section in many grocery stores. If not - any naturally-fermented sauerkraut will work.
And - just so you know - I just bought some fermentation tops for my mason jars so I WILL be making some homemade sauerkraut soon (Kimchi too!)
The Potato
And finally - our spud. As you can see in the photo, I served my sliders with some homemade french fries. So to prep - I just tossed a couple of Russetts and Yukons into my Instant Pot and zapped them on MANUAL for 7 minutes then did a QR to relieve the pressure.
After that I cut them into fry shapes and AIR FRIED them for 10 min at 425 deg F or until they were nice and browned.
I ALSO cut one of my potatoes into ¼" thick ROUNDS, and air fried them too - flipping them over after 5 minutes.
No IP? No Air Fryer?
Boil your potatoes until they JUST begin to soften, say maybe 15-20 minutes, then cut them to shape and place on a parchment-lined baking sheet and bake in a conventional oven for 10-15 minutes at 425 or until browned.
(or - just leave the potato completely out and you'll have that grilled cheese I spoke about earlier)
And finally - the assemble
You now have all the pieces - all that's left is to make these awesome sliders.
I toasted my muffins, then spread some mustard on each half, placed my potato round in the center, smothered that with sauerkraut, and then drowned all of that in a good helping of my cheese sauce.
To make it extra special - maybe add some dill pickles or a big slice of tomato (which I was going to do myself but completely forgot).
There you have it - my Cheezy Potato Sliders. Might I suggest an extra napkin or two because these ARE kind of messy. But oh boy - they are good.
As always - leave those comments below and let me know your thoughts and we'll see you next week. Maybe I'll have a recipe for all those Chanterelles you saw me pick on Facebook, or maybe I'll start that Kimchi I've been wanting to do.
And yes - videos ARE coming back.
Promise.

Print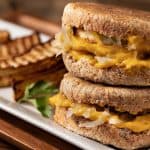 Cheezy Potato Sliders
Author:

Prep Time:

30 min

Cook Time:

15 min

Total Time:

45 minutes

Yield:

4

-

6

sliders

1

x

Category:

Sandwich

Method:

Instant Pot, Air Fryer

Cuisine:

American, Vegan
---
Description
I have always loved a little sauerkraut and mustard on my hash browns, so it was only a matter of time before that combo ended up on a bun to make these incredible Cheezy Potato Sliders. And wow! Are they tasty!
---
1

Potato cut into

¼

" rounds
Your favorite mustard
Your favorite sauerkraut
Fat-free Ezekiel English muffins
---
Instructions
Prepare cheese sauce
Prepare potato by boiling on stove until just softened (15-20 min) OR steaming in an IP with the trivet, 1 cup of water, and 7 min on MANUAL.  Carefully Quick Release pressure and allow to cool to touch
Cut potato into ¼" thick rounds and bake/air fry until browned.
 Toast muffins and spread each half with mustard
Cover with potato round, sauerkraut, and a generous helping of cheese sauce
Serve with fries, chips, or a salad
---
Notes
Keywords: Cheezy Potato Sliders