Remember cocktail weiners? Or little smokies? Those little sausages we used to simmer in BBQ sauce every New Year's? This Holiday I converted an old recipe to make Cocktail Carrots instead, and they turned out fantastic!
I know, you're probably saying, "Carrots....really? " Trust me, I KNOW! But wait until you try them!
Carrots actually can taste just like hot dogs, thanks to my Smoky Vegan Carrot Dogs recipe. So all I had to do to recreate this recipe was to use baby carrots instead and cook them just like my Carrot Dogs.
Then it's just a matter of simmering them in my secret sauce until they are super sweet, super tangy, and ready to be devoured by your holiday party guests.
But hold on, I can hear the comments now:
"But I don't eat hot dogs anymore Chuck. I've Vegan. Why do you keep creating recipes that mimic all the things I gave up? "
Because that's what I do.
I recreate all our old comfort food recipes - to make it as easy as possible to switch to a plant-based diet.
Because we all know, food addiction is a very real and very powerful thing. We have become so used to these foods, that the thought of never having a hot dog again, or cheese, or tacos, or whatever it is, is so frightening to some people, they will never make the switch at all.
And that's not good.
I want to show them that you CAN have your favorite foods, satisfy those old cravings, and not give up a thing when it comes to flavor, but without using any meat, dairy, or oil.
And by using ingredients made from whole, natural foods, allow them to continue to enjoy their favorite comforts foods, but in a much healthier way.
I will be the first one to admit, I used to LOVE sausages. Hot dogs, brats, kielbasa, smoked sausage, polish dogs, little smokies, even those little cans of Vienna Sausages....
I know, I ate a horrible diet when I was younger.
And if it wasn't for recipes like this, or my Tacos, or my Cheese Sauce, or my French Fries, I may have never made the switch myself. These recipes are what made it possible to keep me on track and judging from the number of emails, comments, and messages I get every day - I know they help a lot of other people too.
THAT .... is what Brand New Vegan is all about.
SO....if you're still with me... 😉
Speaking of that secret sauce....let's go make some Cocktail Carrots for that big New Year's Eve party or potluck.
Little Smokies Cocktail Carrots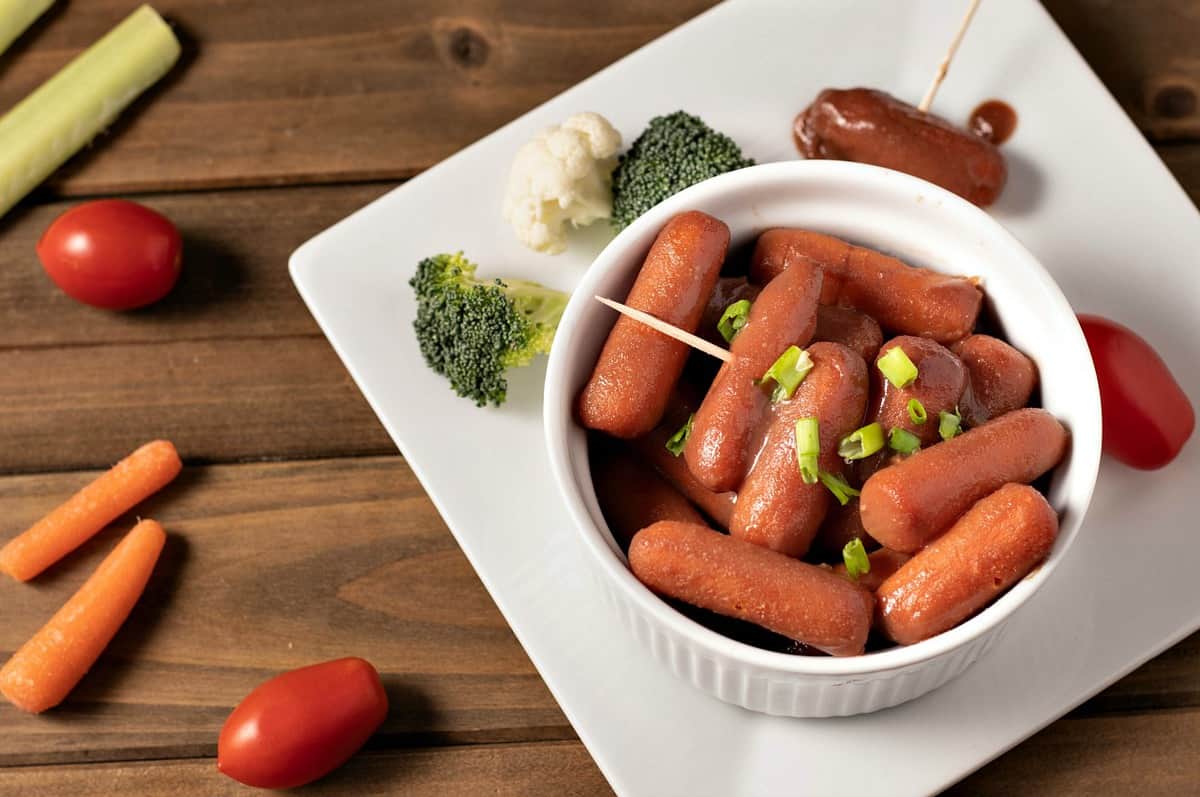 As I said, we are going to use baby carrots to make this recipe. I used a small, 16oz bag that will easily serve 3-4 people.
Head on over to my Smoky Vegan Carrot Dog Recipe to get the marinade ingredients (and I'll list them below in the recipe box too) and make a batch of the marinade.
To cook your carrots, you can either boil them on the stove until they are fork-tender (about 10-15 minutes), OR ...
You can also cook them in your Instant Pot, WITH the marinade, for 3 minutes on MANUAL. (my preferred method)
If you boil them: Drain them when they are done cooking and add them to a large ziplock freezer bag or covered bowl, along with the marinade. Let them sit as long as you can (overnight is best), but at least several hours to allow that smoky flavor to permeate the carrots. The longer the better.
If you use your Instant Pot: Do a Quick Release after 3 minutes and then just transfer the carrots and marinade to a covered bowl and let them marinate in the fridge for several hours or until you are ready to finish them in the sauce.
Speaking of Sauce
Now that the carrots are finished and are happily marinating, we can make our sauce.
I would start the sauce just a few minutes before you are ready to finish the carrots, as the sauce comes together VERY quickly.
And that is because we only need 2 ingredients.....Grape Jelly & Dijon Mustard. I know, just go with me on this...
For a small bag of carrots like this, I would use ½ cup of Grape Jelly and ¼ cup of Dijon. I know it sounds like a weird combination, but you have to try it. This is exactly how I made them in the past using the little smokies. Some people have used Red Currant Jelly too, but old-fashioned Grape Jelly will work just fine.
Don't skimp out on your Grape Jelly either. Try and find a good Organic or 'natural' brand of Grape Jelly. Why? Because 99% of the Grape Jelly in the stores now is made with High Fructose Corn Syrup - and we don't want that.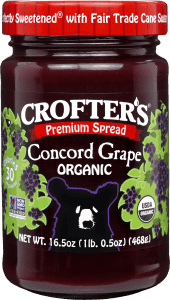 I used a Canadian brand called Crofter's that I found at my local Fred Meyer (Kroger). Their website has a handy "Where To Buy" link that should help you find it near you. This is not a sponsored post, I just really like their products. https://croftersorganic.com
Now we just mix in your favorite mustard. I used Grey Poupon but any dijon mustard will work. In fact, plain yellow mustard will work too.
Just whisk the jelly and the mustard together until smooth. That's it.
Once you have marinated your carrots as long as you want, drain the marinade (yes, you can save the marinade and reuse it for more carrot dogs, and it does freeze well), add your carrots to a large saucepan and stir in the sauce.
Heat until bubbly and the carrots are cooked all the way through.
You can also use your favorite BBQ sauce, or add more mustard, or use spicy horseradish mustard, or use Currant Jelly instead of Grape - use whatever sauce you want as this recipe is very flexible.
Feel free to adjust it to your own taste.
And that is my old Cocktail Weiner recipe, revived to make these incredibly tasty Cocktail Carrots.
I hope you enjoy the recipe and if you do, please be sure and let me know down in the comments below.
Have a Happy and SAFE New Year's everyone, drink responsibly if that is your thing, and don't forget to call one of the free ride services or taxi if you have a bit too much. Whatever you do - please be safe.
That's it for 2019 and wow, what a year! I can't wait to see what 2020 has in store for us.
See y'all next year!

Print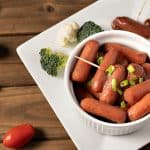 Little Smokies Cocktail Carrots
Author:

Prep Time:

60 min

Cook Time:

30 min

Total Time:

1 hour 30 minutes

Yield:

3

-

4

servings

1

x

Category:

Appetizer, Snack

Method:

Stovetop, IP

Cuisine:

American, Vegan
---
Description
Remember little smokies? Those little sausages we used to simmer in BBQ sauce every New Year's? This Holiday I converted an old recipe to make Cocktail Carrots instead, and they turned out fantastic!
---
Marinade
¼ cup

low sodium soy sauce

¼ cup

apple cider vinegar

¼ cup

low sodium vegetable broth

2

Tbs maple syrup

1

Tbs liquid smoke

1 tsp

yellow mustard

1 tsp

minced garlic

1 tsp

pickled jalapeno juice

½ tsp

onion powder
Sauce
½ cup

grape jelly

¼ cup

dijon mustard
---
Instructions
Whisk all marinade ingredients together and set aside. 
Stovetop
Cook carrots by boiling on the stove for 10-15 min until just fork tender. 
Drain and mix with marinade.  Allow to marinate in the fridge overnight or at least several hours. 
IP
Add carrots AND marinade to your IP and cook on MANUAL for 3 minutes.
Carefully release the pressure (QR - quick release) and transfer carrots and marinade to a bowl. 
Allow them to marinate overnight or at least for several hours. 
Sauce
Drain your marinated carrots (save marinade for another use) and add to a large saucepan.
Whisk the jelly and mustard together until smooth and stir into the carrots. 
Heat gently until bubbly and carrots have heated through. 
Serve to your guest with toothpicks for skewering. 
---
Keywords: cocktail carrots, little smokies