Who the heck, thought of making a CARROT, taste just like a HOT DOG? Well after seeing all the hoopla last year I finally tried my hand in making some..... and DANG are they good! You gotta try my new Smoky Vegan Carrot Dogs! They're INSANE!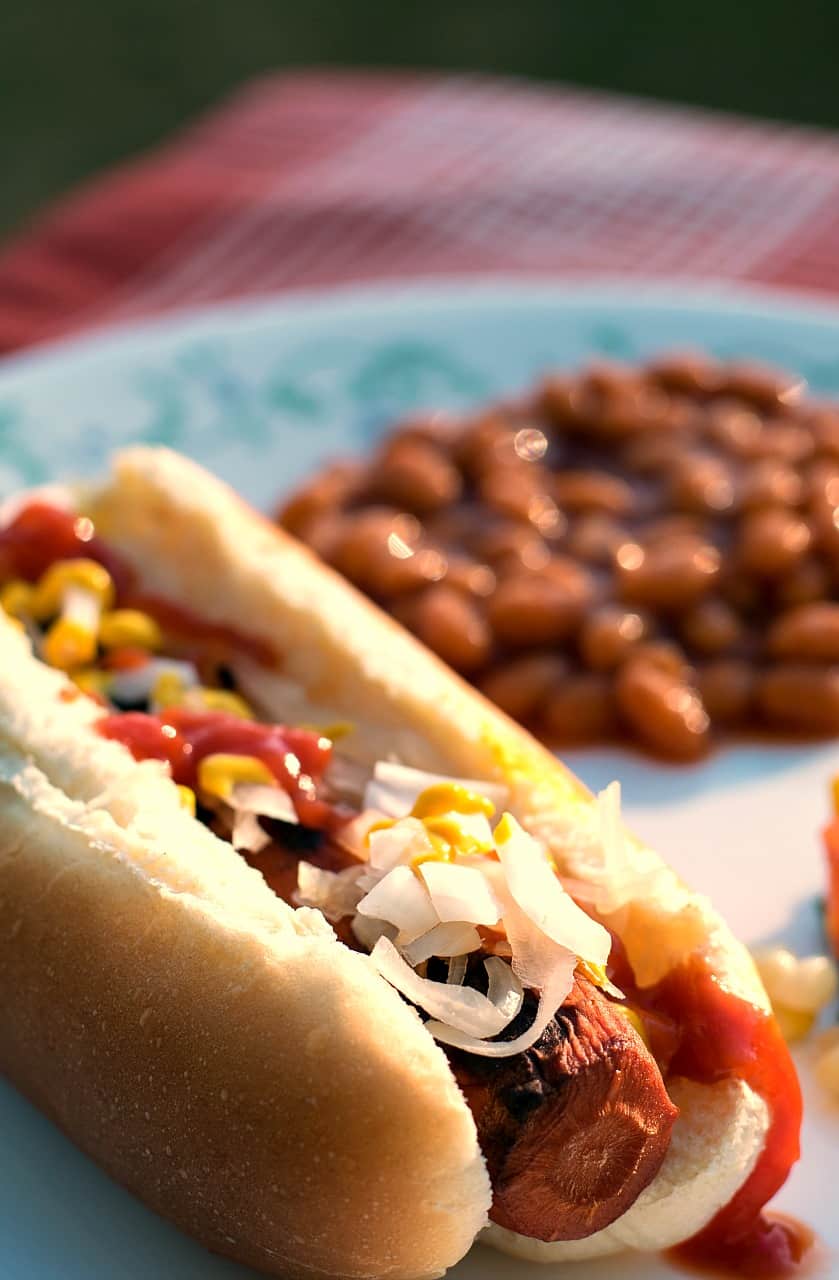 I seriously had my doubts on these...
I mean really....how in the heck can a CARROT.... of all things... taste like a hot dog?!
But I will admit, they WOULD be convenient, for say, a 4th of July picnic, where there will be people grilling burgers & hotdogs...right?
Now you can fit right in....as long as they taste good that is.
Well make no mistake.... these Smoky Vegan Carrot Dogs DO taste good.
Ridiculously good!
But it's weird.....the whole time my mouth is saying "man, this is one great hotdog"....my EYES are seeing a stupid carrot on a bun. It's just CRAZY..... but it works.
I know I'm a little late to the whole 'carrot dog' party, but I knew this holiday weekend people are going to be asking for them, so I might as well come up with my own recipe.
And what I did was scour the internet, looking at many of the various carrot dog recipes (and there are LOTS), and kind of made a mental list of what seemed to be the key ingredients.....soy sauce, liquid smoke, vinegar, etc. and made up my own recipe using what I thought would taste good, including a few ingredients none of the others had.....
Well all I can say is I am dang impressed. My very first try and both of us were running back for seconds.
It's crazy, it's weird, it's fat-free, and it's VEGAN......
And it's a CARROT.....that happens to taste like a hot dog.
Smoky Vegan Carrot Dogs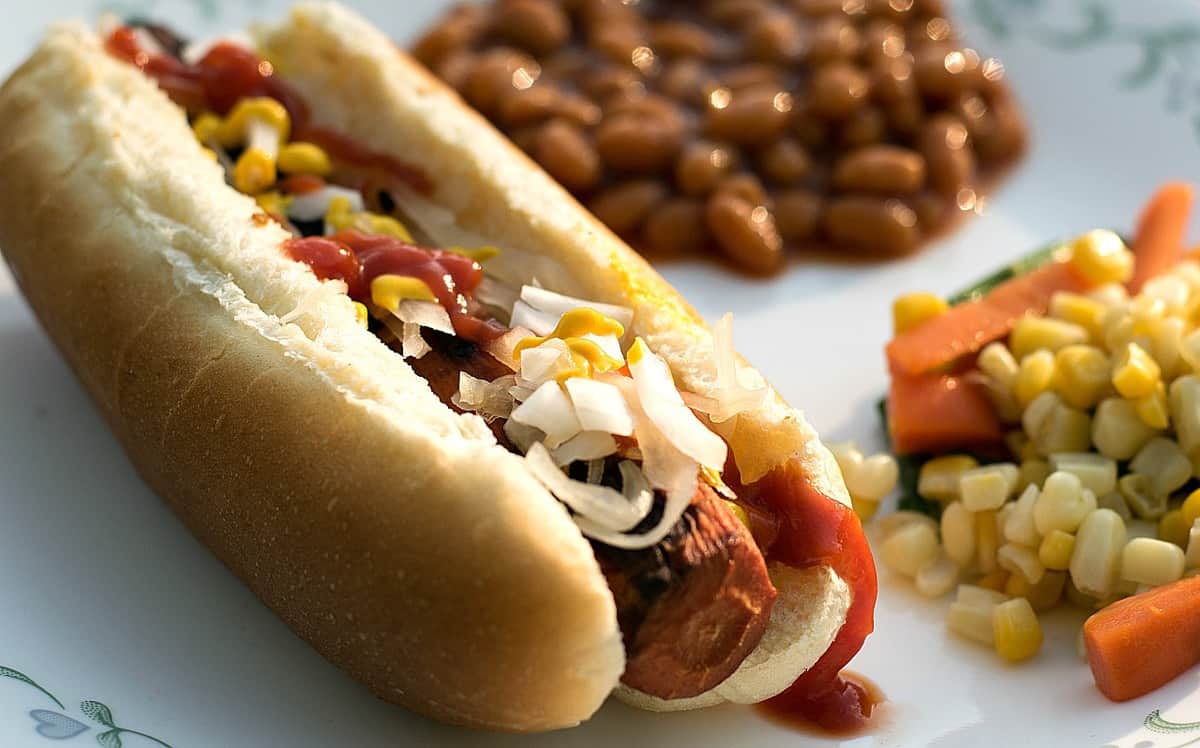 Start with about 6 (or more) fairly straight carrots, and cut off the tops. Cut off the bottoms to make them 'bun length'. And by all means, if you have a favorite, healthy, hot dog bun...use it. I used regular, every-day, hot dog buns... because that's all I could find on such short notice (and I got the last package at that!)
Peel your carrots and place them in a pan of water. Bring to a boil and simmer them just until they are fork tender.....about 10-15 minutes. We do NOT want mushy dogs here, just tender enough to push a fork through.
Drain the carrots and rinse really well with cold water (so they'll stop cooking). Drain again and place them in a ziplock freezer bag.
For the marinade, whisk all the marinade ingredients together until well blended and then pour that into the bag with the carrots.
I used soy sauce, apple cider vinegar, veg broth, and liquid smoke - as these seem to be the key ingredients. I also added a teaspoon of minced garlic (fresh, not the powder), a teaspoon of yellow mustard, and a teaspoon of my secret ingredient....pickled jalapeño juice.
All those ingredients are pretty acidic, so to balance that out I wanted to use a little sweetener. I had Maple syrup in my fridge, so that's what I used. You could probably use date syrup too if you choose, or agave - but I can't guarantee the results.
Seal the bag and place it on a plate in your fridge. Let that sit and steep for about 6 hours. Remember to turn the bag over occasionally to keep things mixed up.
UPDATE:
You can speed this whole process along by using your Instant Pot! Simply add your raw carrots and marinade to your Instant Pot and cook on MANUAL for 3 minutes. I did a Quick Release to release the pressure - and then just left my carrots in the pot until I was ready to grill that afternoon.
SUPER easy and saved a LOT of time.
PS. I would still marinate the carrots in the IP after cooking for at least an hour for maximum flavor.
And then to cook your dogs I did what any guy would do on a 4th of July weekend....I fired up my trusty grill.
I know I'll get questions......
Can you bake these? Don't know.
Can you pan fry them? Don't know.
Can you microwave them? Don't know.
I grilled them and they were awesome.
I also basted them occasionally with my remaining marinade to keep them 'juicy'.....because...well..... they're carrots. There's not going to be any fat sizzling down into the flames. I just grilled them long enough to get some blackened char, those lovely grill marks we love so much on several sides.
Like I said, I had my doubts and I'm sure to my neighbors I looked pretty silly.....grown man, beer in hand, grilling......
WTH!? Is he grilling CARROTS?
Yep. Life of a Vegan.
But man........ when you put these babies on a bun, with a little mustard, ketchup, sauerkraut, maybe a little chopped onion....
Oh man Magic happens.
Happy Holidays!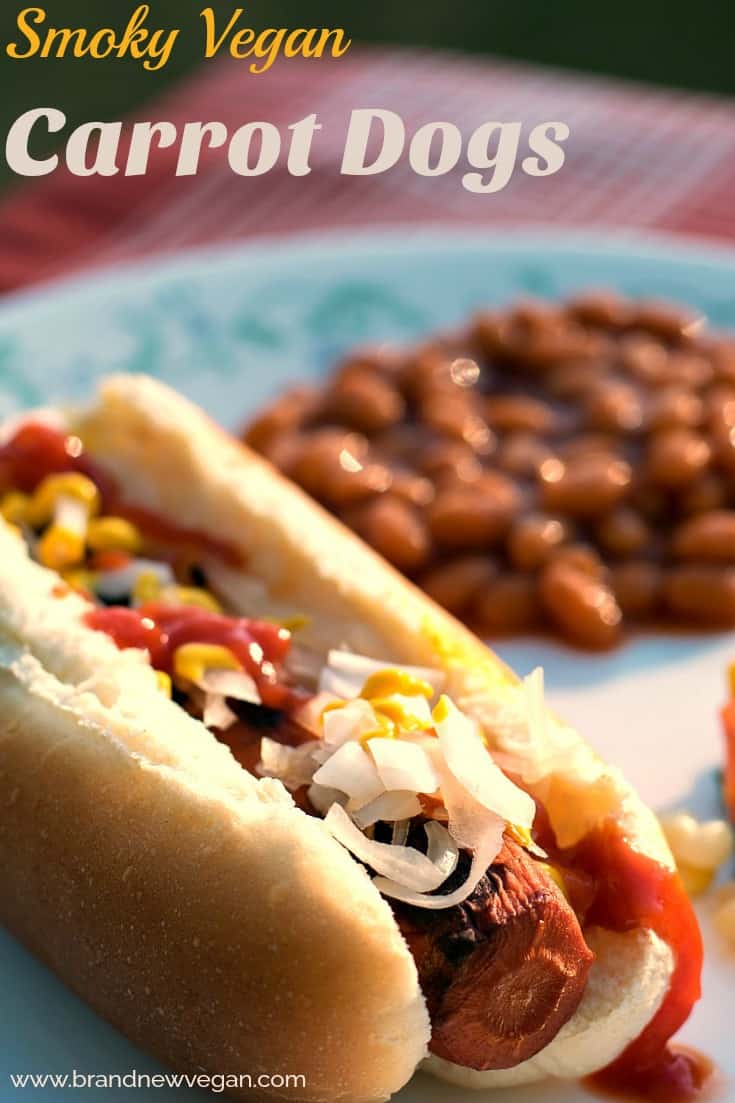 Print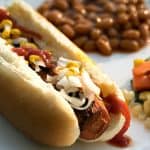 ---
Description
Don't you just hate Summer Picnics where everyone is grilling burgers and dogs? Well take these Smoky Vegan Carrot Dogs and join right in!
---
Marinade
¼

cup Soy Sauce (low sodium)

¼ cup

Apple Cider Vinegar (Braggs)

¼

cup Vegetable Broth (low sodium)

2

Tbs Maple Syrup

1

Tbs Liquid Smoke

1 tsp

Yellow Mustard

1 tsp

Fresh Garlic (minced)

1 tsp

Pickled Jalapeno Juice

½ tsp

Onion Powder
---
Instructions
Cut and peel carrots to make them "bun length'.
Boil carrots in water until just fork tender. About 10-15 minutes.
Drain carrots, rinse with cold water, and drain again. Place carrots in a ziplock freezer bag.
Whisk all marinade ingredients together and pour into bag with carrots.
Marinate for 4-6 hrs.
Grill carrots on an open grill, basting occasionally.
Grill to heat all the way through and to get some blackened grill marks on each side.
UPDATED INSTANT POT INSTRUCTIONS
Add cut carrots and marinade to Instant Pot. Attach and seal lid, then cook on MANUAL for 3 minutes. After doing a Quick Release you can then leave the carrots in the pot until you are ready to grill.
I would marinate the carrots after the pressure has been released for at least 1 hour. If not grilling soon - remove carrots and marinade and transfer to a container you can store in the fridge.
---