If you're new to this way of eating and start telling your family you LOVE hummus now....well they make just look at you a little funny. Because Hummus is either one of those things you absolutely adore .... or have never tried because it sounds a little too 'hippiesh'.
But if you tell them it tastes like PIZZA...... well they might just grab a cracker and join you, especially the little ones.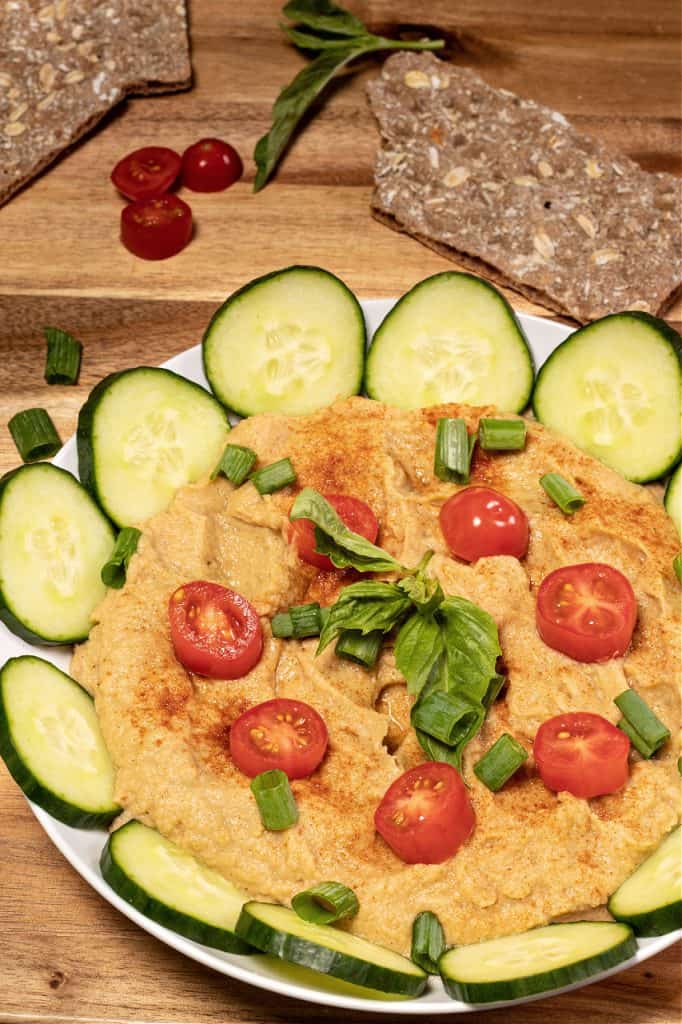 Because who doesn't like Pizza? Am I right?
Hummus is basically a dip and is very popular in the Middle East. It's made from Garbanzo Beans (or Chickpeas) and is usually flavored with Tahini (sesame seed paste), garlic, and lemon juice.
It's widely available in grocery stores but if you're watching your fat intake, sadly you're out of luck as most popular store brands contain olive oil.
And tahini is pretty high in fat content too. A healthy fat sure, but those calories do add up.
So my standard hummus recipe is made without tahini or oil, and in this recipe, I change up the spices a little to give it more of an Italian pizza-like flavor.
No oil, no tahini, no fat of any kind except what's naturally in the beans. And if you're not a fan of nutritional yeast - you can simply leave it out. I was going for that cheesy taste because - well pizza.....cheese.... you know.
This recipe for Pizza Hummus was originally published on July 15, 2015, and those old photos - oh my. It was TIME for an upgrade. Add the fact that we're in the middle of yet another triple-digit heatwave and I did NOT want to cook and .... well it does taste pretty amazing...so....
Enjoy.
Pizza Hummus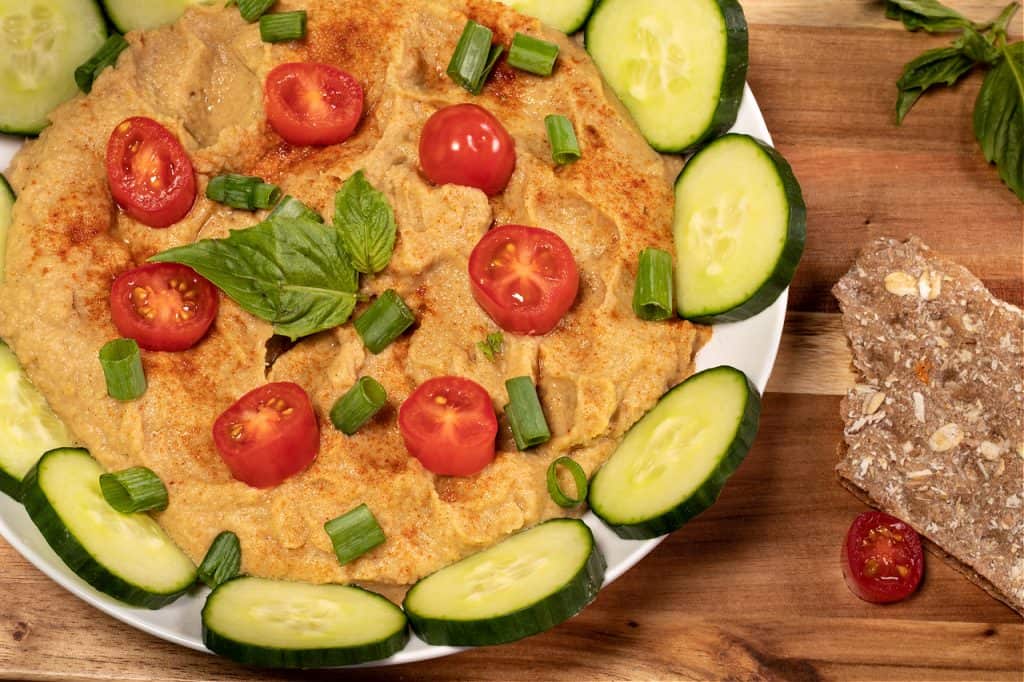 Drain two cans of chickpeas and save the juice. We'll need some for the recipe and you might want to save the rest for another, so don't just pour it out. Apparently, this magical elixir is taking the vegan world by storm and even has its own name - aquafaba.
Aquafaba is being used as the perfect egg replacer and whips up the prettiest meringues you've ever seen. Who knew this liquid we've all been dumping down the drain could be used to make everything from incredibly chewy brownies, pies, even mayonnaise? Weird huh?
Look it up - it's all over the net. And it does freeze well, so there's also that.
Anyway, after you drain your chickpeas, rinse them and set them aside.
Next, add about 6 Tbs of that bean juice, along with 4 Tbs of lemon juice, a good heaping tablespoon of minced garlic, one tomato, and all the spices listed below to your blender, and process until smooth.
The idea here is to mix those spices into the liquid as much as we can.
Then add your chickpeas and continue blending. It might take several minutes to get a smooth, fluffy, hummus, but it will eventually get there. If you need more liquid, add 1 Tablespoon at a time of the reserved bean juice to get the consistency you like.
I have a high-speed Vitamix and it took several minutes of continuous blending to get it the way I like it. It may seem that at times it's just not moving....if that happens either use the tamper (my Vitamix came with one) or stop and scrape down the sides.
Here's a link to the one I have and remember, as an Amazon Affiliate I do earn from qualified purchases but at no extra cost to you.
That's it - seriously.
I told you this was insanely easy. And the pizza spices just moved this everyday Hummus recipe to the top of my "I have to eat this every day" list.
I know a lot of you are not fans of Nutritional Yeast - but seriously combined with the tomato it adds a "cheese pizza" kind of flavor you may not get without it.
Hope you enjoy it!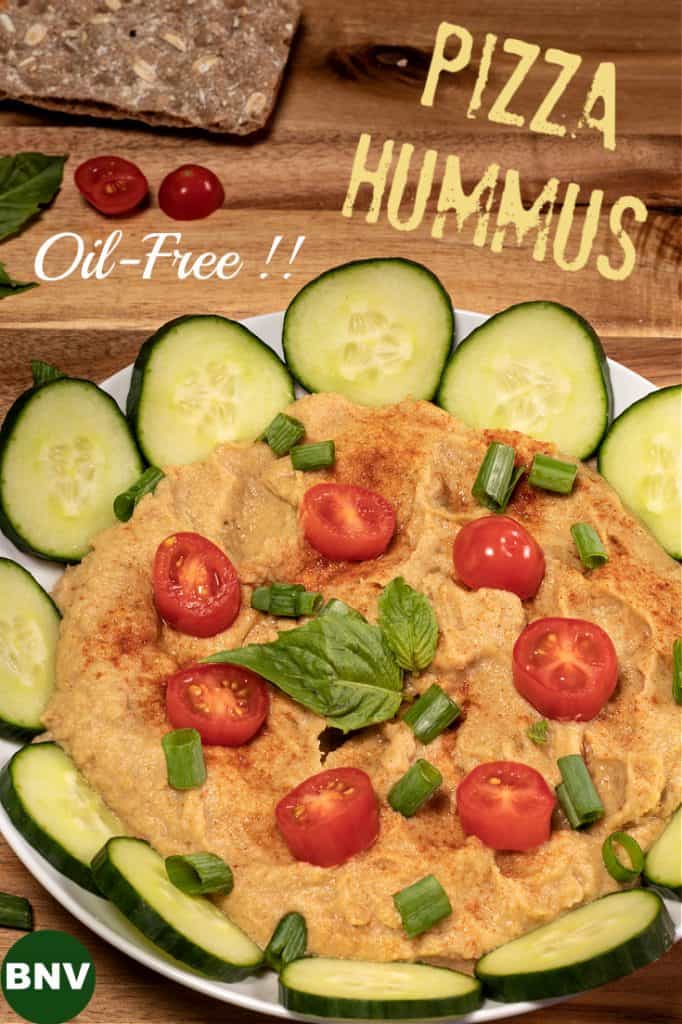 Print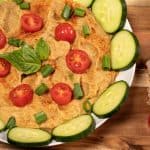 Pizza Hummus
Author:

Prep Time:

15 minutes

Total Time:

15 minutes

Yield:

4

-

6

servings

1

x

Category:

Appetizer

Method:

Blender, NO COOK

Cuisine:

Middle Eastern

Diet:

Vegan
---
Description
A smooth, creamy, fat-free hummus dip with the addition of pizza spices will be sure to please. Pizza Hummus? Yes, please!
---
2

can chickpeas (

15oz

ea)

6

Tbs reserved bean juice (called aquafaba)

4

Tbs lemon juice

1

Tbs minced garlic

1

ripe tomato

1

Tbs nutritional yeast

2 tsp

oregano

2 tsp

basil

1 tsp

onion powder

1 tsp

garlic powder

¾ tsp

salt
---
Instructions
Drain the chickpeas reserving the juice
Add 6 Tbs of that bean juice, the garlic, lemon juice, tomato, and all the spices to a blender
Process until well mixed
Add the chickpeas and blend until smooth and creamy 
This may take several minutes and you may have to stop and scrape down the sides
Use as a dip, sandwich spread, or whatever you like
I garnished my bowl with English cucumber slices, cherry tomatoes, green onions, and fresh basil.