Remember my Cauliflower Taco 'Meat'? Well once again, by changing the spices you can make something totally different, like Vegan CHORIZO! Which goes perfectly with my Instant Pot Charro Beans. Talk about a match made in heaven!
I made this an Instant Pot Recipe - because while the dried Pintos are doing their thing in the pressure cooker - I had plenty of time to make a batch of Vegan Chorizo!
And oh - my - goodness...... this homemade Vegan Chorizo is GOOD!
Chorizo - for those of you not 'in-the-know' of Mexican ingredients, is a spicy Mexican Pork Sausage. They use it for Tacos, Burritos, and all manner of tasty Mexican dishes.
But we're going to make it from my Cauliflower/Mushroom 'hamburger' that's become so popular thanks to my Amazing Cauliflower Tacos recipe.
We're just going to replace the Soy Sauce with Apple Cider Vinegar, and change up the spices a little.
In fact, now that I have this homemade Vegan Chorizo down........ I may have to look for a few more Mexican Recipes I can use it in.
Oh my - I see (and smell) a whole new world of Vegan Mexican Food coming!
So in this recipe, I added it to a pot of Pinto Beans to make what is known as Charro Beans (aka Coyboy Beans). I think traditionally bacon is used in making Charro Beans, but I wanted to try out this Chorizo instead.
And I am SO glad I did!
These beans are honestly amazing, and if I do say so myself - some of the BEST beans I've ever had !!!
Please leave those comments and let me know what you think of them (or the Chorizo).
I honestly read every single comment....and actually get a lot of ideas from all of YOU! So keep them coming, please!
Ok - jabbering finished - let's go make our kitchen smell AMAZING!
Instant Pot Charro Beans with Vegan Chorizo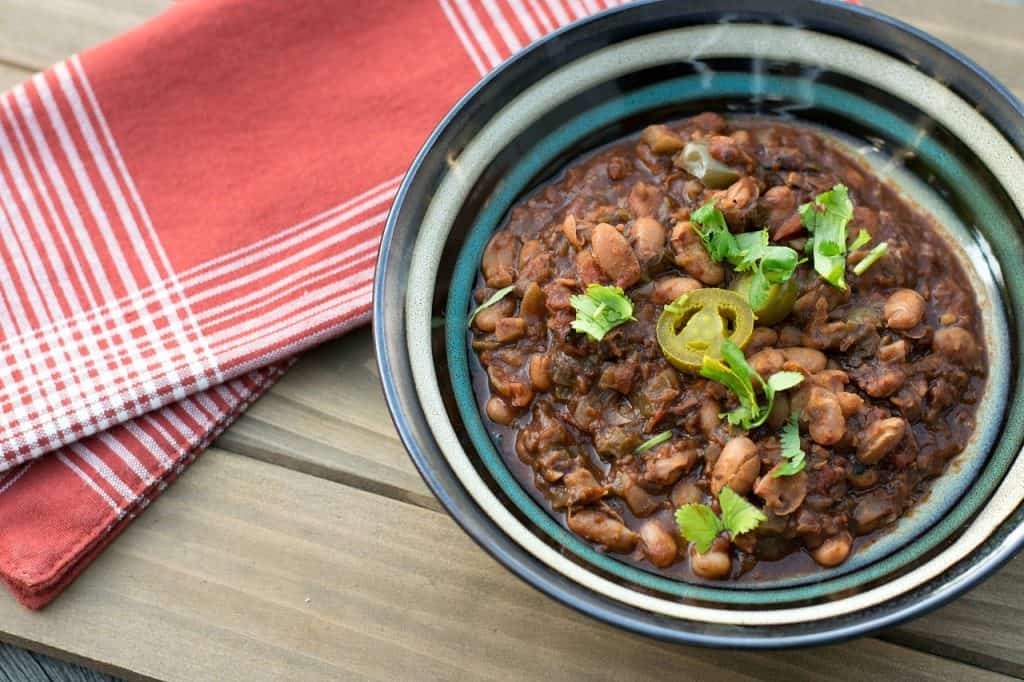 To make the best use of our time - we'll get the beans started first. That way we can make our Chorizo while they are cooking.
So rinse and clean 2 cups of dried Pinto Beans and add them to your Instant Pot. We're also going to toss in 2 small onions that have been diced, a diced Green Bell Pepper, three cloves of minced Garlic, and a minced Jalapeno.
For the liquid - add 2 ½ cups of Low Sodium Vegetable Broth, a 12oz Dark Beer, and stir.
(Note: Now I know people are going to ask - what can I sub for the beer? My answer would be water - but the beer really adds another depth of flavor to the beans. As for variety - any Stout or Porter would work.)
Finally, pour a 15oz can of Fire Roasted Tomatoes right into the center of the beans. And do NOT stir anymore. (Tomatoes can scorch easily if they are touching the sides or bottom of the Instant Pot)
Now, attach the Instant Pot lid making sure it's set to SEALING and we're going to pressure cook the beans on High Pressure (HP) for 45 minutes.
When they're done - allow them to vent naturally for at least 10 minutes.
The Chorizo
The Chorizo also takes about 45 minutes to make, so ideally the beans and the Chorizo should be done at the same time - and then we just mix.
(Note: Although I've never tried it - I don't cook the Chorizo "meat" in the IP along with the beans because I'm afraid the high-pressure cooking would turn the cauliflower or mushrooms into mush - totally ruining the texture).
Add about 2 cups of finely chopped cauliflower to a large bowl. (Note: Riced Cauliflower is great for this). Next, add about 1½ cups of finely diced mushrooms, and then ¼ cup of finely chopped walnuts.
Give the 'meat' a good stir and then mix in ¼ cup Apple Cider Vinegar. Stir well to coat.
In a separate bowl - whisk all the spices together until they are mixed thoroughly and then stir them into the cauliflower mixture. Stir very well to make sure everything is coated evenly.
Finally - turn this out onto a parchment-lined baking sheet and bake for 30 minutes in a 350° F oven. After 30 minutes, stir the mixture up a little and then bake for an additional 15 minutes.
Charro Beans
By now the beans should be finished, so carefully release any pressure that may be left, and then remove the lid. Give the beans a good stir and then add in the Chorizo we just made.
Stir well and taste for seasoning. I added a few grinds of Black Pepper and a generous pinch of salt. I also squeezed a fresh lime into the beans as well.
Serve with your choice of garnish. I like fresh Cilantro, additional Lime, Jalapenos (of course), and maybe a dab of my Green Chile Sour Cream.
Perfect.
Be sure and let me know how you like them, especially if you have a different recipe you've made from my Cauliflower Crumbles.
Mmm......good beans.
See you next week!

Print
Charro Beans with Vegan Chorizo
Author:

Prep Time:

15 minutes

Cook Time:

45 minutes

Total Time:

1 hour

Category:

Beans and Legumes, Instant Pot

Cuisine:

McDougall, Mexican, Oil-Free, Vegan
---
Description
I changed the spices in my Cauliflower Tacos and made Vegan CHORIZO! Which happens to go perfectly with my Instant Pot Charro Beans. Talk about a match made in heaven!
---
Beans
2 cups

Pinto Beans ((dried))

2 ½ cups

Low Sodium Vegetable Broth

1 ½ cups

Dark Beer ((

12 oz

Porter, Stout, etc))

2

small Onions ((diced))

1

Green Bell Pepper ((diced))

1

Jalapeno ((minced))

3

-

4

cloves Garlic ((minced))

1

can Fire Roasted Tomatoes ((

15 oz

))

½

bunch Cilantro
Chorizo
2

cups Cauliflower ((riced or diced small))
1 ½ cups Portobello Mushrooms ((diced small))

¼ cup

Walnuts ((chopped small))

¼ cup

Apple Cider Vinegar

2

Tbs Chili Powder

1

Tbs Paprika

1 tsp

Cumin

1 tsp

Garlic Powder

½ tsp

Salt

½ tsp

Coriander

½ tsp

Mexican Oregano

¼ tsp

Red Pepper Flakes

⅛ tsp

Ground Pepper

⅛ tsp

Ground Cloves
---
Instructions
Beans
Rinse and pick over beans and add them to your Instant Pot. Add chopped onion, green bell pepper, garlic, and jalapeno.
Add broth and beer and stir to combine.
Add tomatoes to center (DO NOT STIR) and attach lid. Set to SEALING.
Pressure cook on HP for 45 minutes. Allow to vent naturally when finished.
Chorizo
Add riced cauliflower, diced mushrooms, and chopped walnuts to a bowl.
Add vinegar and mix well.
In s small bowl - whisk the spices together until mixed, then stir into cauliflower. Stir to make sure everything is evenly coated.
Place 'chorizo' onto a parchment lined baking sheet and bake for 30 minutes. Stir when finished and then bake for an additional 15 minutes.
When beans have finished and lid is removed, carefully stir Chorizo into the beans and mix well. Season with salt and pepper.
---
Notes
Garnish with chopped cilantro, a squeeze of lime, additional jalapenos, or vegan sour cream. 
---