Move over Col. Sanders, my Kentucky Fried Cauliflower is the new kid in town, and you know what?
Cauliflower doesn't have feathers!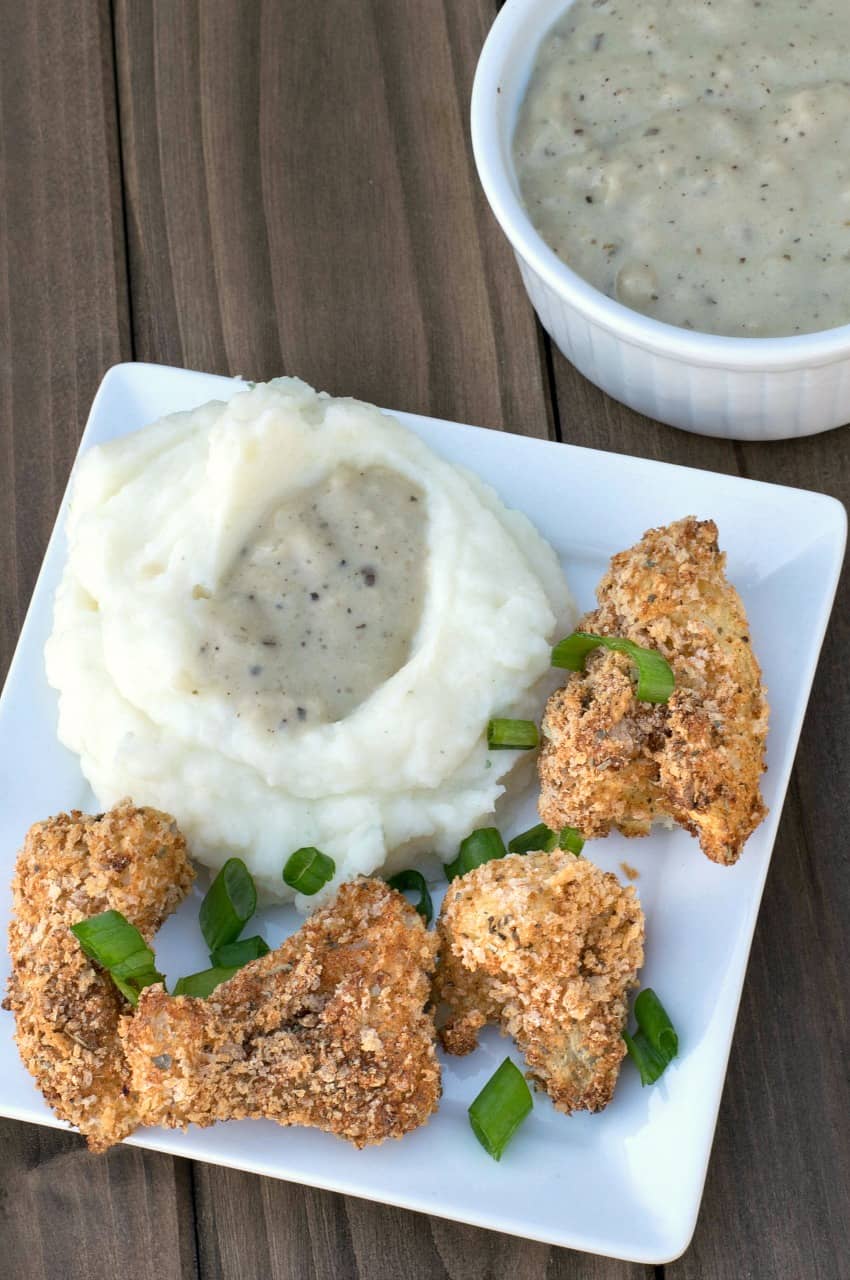 I've heard that Cauliflower is the new 'Chicken' when it comes to a plant-based diet. Even the bigger restaurants are realizing just how versatile our cruciferous friend can be.
Think cauliflower steaks, barbecued cauliflower, whole roasted cauliflower, or even my own copycat recipe for Vegan Orange Chicken (cauliflower).
No doubt about it - the once lowly Cauliflower is rapidly climbing up the food chain. And for good reason:
Cauliflower is very nutrient dense, and not calorie dense like most our Standard American Diet foods.
It is also low in calories, low in fat, and high in fiber, Vitamin C, and Vitamin K
And full of healthy antioxidants and anti-inflammatory compounds, which lower oxidative stress and helps prevent cancer.
But the one thing about Cauliflower that was hard for me to come to terms with..... was its taste.
I just didn't like it!
Probably because as I was growing up, it was always served WAY over-cooked (mom would literally boil it to death), so it was mushy, tasteless, and just plain nasty!
But NOW...... we've learned how to dress it up a little.
Like dredging it in those 11 secret herbs & spices that made that Kentucky gentleman in the white suit so famous. (Did I really see a KFC commercial with Reba McEntire dressed up as Col. Sanders? I love Reba, but no.....just.....just.... NO!!!)
So even if you're a glorified Cauliflower hater (like I used to be), I ask that you simply give this a try. I guarantee that when its spiced up a bit it will soon become one of your new favorites and you won't be able to get enough of it.
Fair?
Now let's go fry some Cauliflower.
Kentucky Fried Cauliflower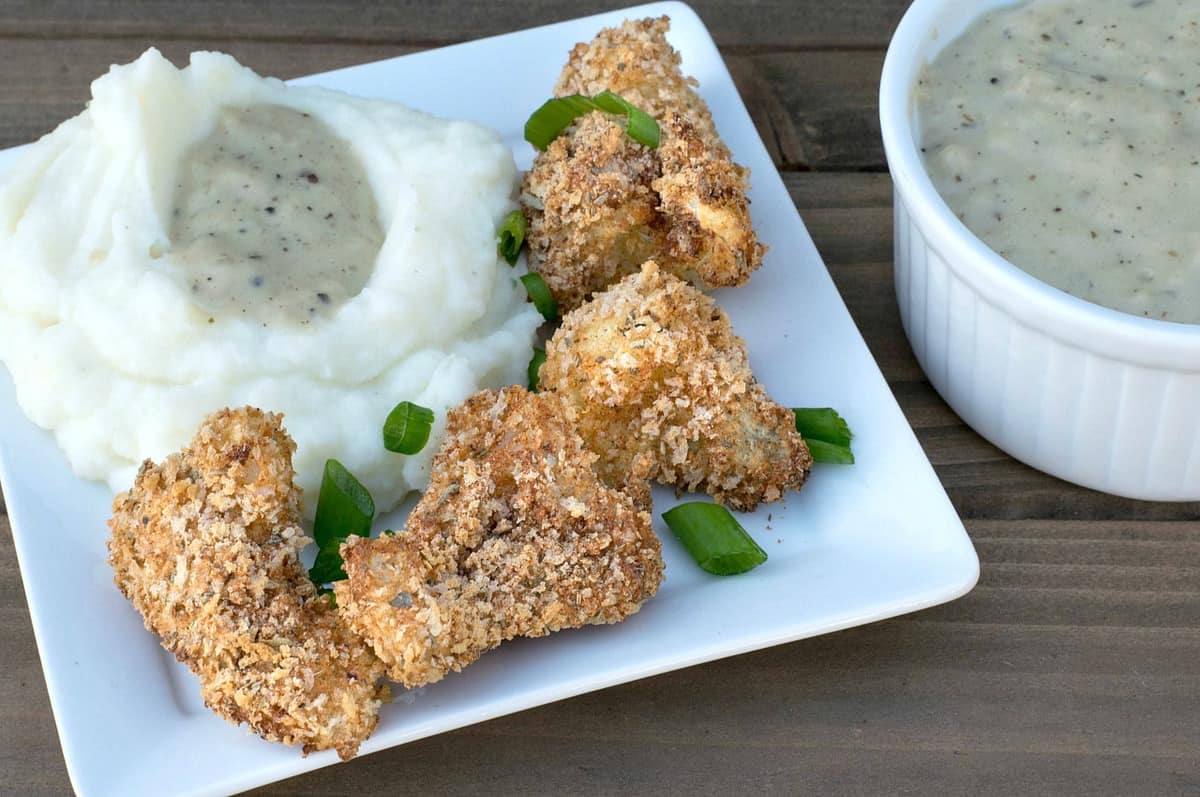 AIR FRY I should say.
This is a NO OIL, Air Fryer recipe. But if you don't have an Air Fryer, a convection oven (that blows hot air around the food) should work too.
And if you just have a regular oven - I think this will still work, but you will have to watch it closely and probably turn the pieces often to get them crispy.
I personally use a Cuisinart Toaster Oven/Air Fryer which I have listed in my Amazon Store.
Ok so first, let's make the breading
Combine the Panko, and all the dry breading ingredients together in a small bowl. Whisk thoroughly and then pour this into a flat, shallow pan we can use for dredging.
Next, let's get the gravy started
Now, this is a traditional cream gravy, and it does contain flour.
So for you Gluten-Free folks, you can just skip this part, or substitute your own favorite GF gravy. You can even use a Vegan Ranch Dressing if you'd prefer, like my Cool Vegan Ranch Dressing.
We're going to whisk ¼ cup of flour, the nutritional yeast, sage, salt, pepper, and thyme together in a small bowl and pour this into a large frying pan. We want to toast the flour and spices just slightly (1 min or so) before slowly whisking in 3 cups of Unsweetened Almond Milk.
Simmer over med-low heat, stirring often, until it thickens to a gravy-like consistency (it will thicken even more when it cools).
Now the batter
Because so many of you have asked for GF options, I decided to give Chickpea Flour a try.
Mine was made by Bob's Red Mill so look in that section of your grocery store. If you can't find it, regular flour will work too.
Whisk ½ cup of chickpea flour (or regular flour), the onion powder, salt, and pepper in a small bowl. Meanwhile, whisk 2 teaspoon of either lemon juice or apple cider vinegar together with 1 cup of unsweetened almond milk to make the 'buttermilk'.
Pour the wet ingredients into the dry and mix to make a thin, pancake-like batter (it should not be thick). Pour this into another flat, shallow pan and let's start dipping.
The dredging process
I used frozen cauliflower for this because it's already cooked and will not take too long in the air fryer. Besides, frozen cauliflower pieces are already broken up into florets, and are usually way cheaper than buying fresh.
For the actual dredging process, professional chefs will use what is known as the "wet/dry hand" method here. Meaning use one hand to grab a piece of cauliflower and roll it in the wet batter. Then with the same hand - place it in the breading.
Now using your DRY hand - sprinkle the breading all over/roll it around until the battered cauliflower is now evenly coated with breading.
Place the coated pieces directly into your Air Fryer Basket (if using a convection oven, place on a cookie sheet instead).
There is enough batter and breading to easily coat a 12oz bag of frozen Cauliflower (and probably more) but my Air Fryer Basket is only so big so I stopped here. If you want to start a 2nd bag of cauliflower, it's up to you.
We want to Air Fry these at 390° F for about 20 minutes. After 10 minutes or so pull them out and give them a shake/turn/flip.
*
And that my friends.... is it.
Crispy, crunchy, Kentucky Fried Cauliflower.....
With all the health benefits of eating our vegetables, and all the taste and texture of eating one of our favorite comfort foods from the past....
Without using any oil, and not a single feather shed.
How's that for a win-win?
Let me know how you like them and until next week.....
Eat Your Veggies!

Print
Kentucky Fried Cauliflower
Author:

Prep Time:

40 minutes

Cook Time:

20 minutes

Total Time:

1 hour

Category:

Comfort Food

Cuisine:

American, Oil-Free, Vegan
---
Description
A southern-fried treat using Cauliflower instead of chicken, and air-frying to eliminate the oil. Same great taste, only a whole lot healthier. Move over Col. Sanders, there's a new kid in town!
---
1

bag Frozen Cauliflower ((

12 oz

bag))
Batter
1 cup

Unsweetened Almond Milk

2 tsp

Lemon Juice ((or ACV))

½ cup

Garbanzo Bean Flour ((chickpea))

½ tsp

Onion Powder

¼ tsp

Salt & Pepper
Breading
1 cup

Panko Bread Crumbs

1

Tbs Paprika

2 tsp

Garlic Salt

1 tsp

Ground Ginger

1 tsp

Dried Mustard

1 tsp

Celery Seed

½ tsp

White Pepper

½ tsp

Salt

½ tsp

Ground Thyme

½ tsp

Dried Basil

½ tsp

Oregano

¼ tsp

Black Pepper
Cream Gravy
¼ cup

Flour

1

Tbs Nutritional Yeast

1 tsp

Rubbed Sage

½ tsp

Salt

½ tsp

Black Pepper

1

pinch Ground Thyme

3 cups

Unsweetened Almond Milk
---
Instructions
Breading
Whisk all dry ingredients together in a bowl, then spread evenly in a flat, shallow pan for dredging. Set aside.
Gravy
If not using gravy - you can skip this section. Otherwise:
Whisk all dry gravy ingredients together and then pour into a large skillet.
Toast dry ingredients for 1-2 minutes over med-low heat, then slowly stir in 3 cups of almond milk.
Whisk to remove any lumps and stir often as it begins to thicken.
Once gravy has thickened to a thick, gravy-like consistency, remove from heat and set aside. ( It will thicken even more - thin with more almond milk if necessary)
Batter
Whisk all dry ingredients together in a small bowl.
Also whisk either lemon juice or vinegar into almond milk to make the 'buttermilk'. Pour into the dry ingredients and mix until smooth.
Pour batter into a flat, shallow pan.
The Assembly
With one hand, place several pieces of cauliflower into the wet batter and turn to coat evenly, then place them into the breading.
Using your OTHER hand, sprinkle breading on battered pieces and turn to coat evenly before placing into Air Fryer Basket. (or cookie sheet)
Air Fryer / Convection Oven:
Air fry at 390 degrees F for 20 minutes. Check after 10 minutes and shake.
Regular Oven:
Bake at 390 degrees F for 20-30 minutes. Check and flip/turn every 10 minutes until crispy. This may take longer.
---
Notes
Serve with Cream Gravy for dipping, or your favorite dressing. 
---
Tips are always appreciated!
[paypal_donation_button]