One of my wife's favorite places to eat, before we went plant-based that is, was Panda Express.  There's something about that greasy, deep-fried, Chinese Takeout that tastes SO good!
While I usually went for the spicer Kung Pao or Schezwan dishes, my wife's favorite was always Orange Chicken.
So as I was headed to the grocery store one night, I passed a brand new Panda Express and thought, "I wonder if I could make a healthier version of Orange Chicken, using something else besides chicken"?
A Vegan Orange Chicken?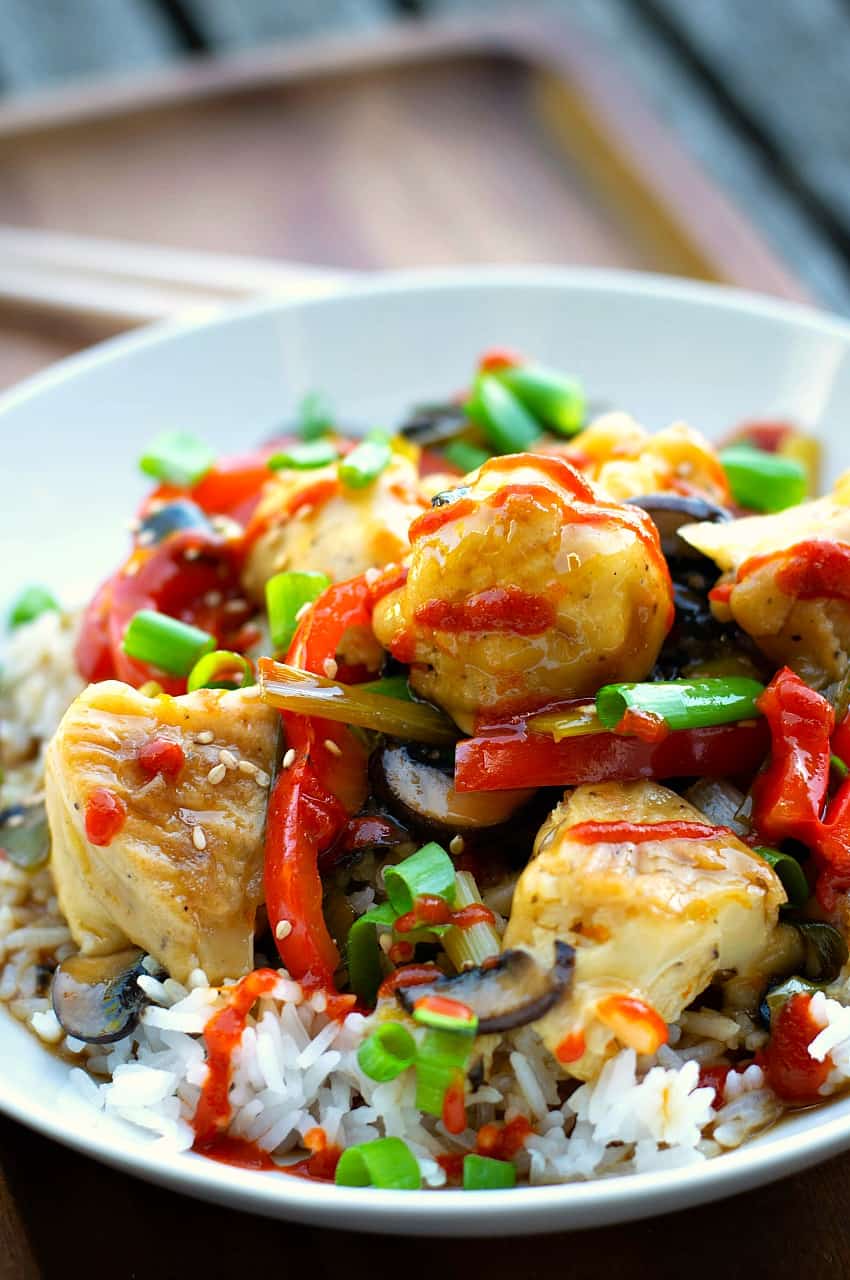 Well, the answer is definitely yes !!!
And let me tell you this is WAY BETTER than the original!
Baked Crispy Cauliflower Bites
Stir Fried Mushrooms
Red Bell Pepper
Green Onion Garnish
Steamed Brown Rice
And a homemade Orange Sauce that is out of this world!
Did I mention no oil?
Now I'm not a huge cauliflower fan - never have been.  I think it's a texture thing.
But THIS!  This was amazing!  And with that Sauce?  Psssssssh....
Get ready to treat yourselves, you're really going to like this one.
Vegan Orange Chicken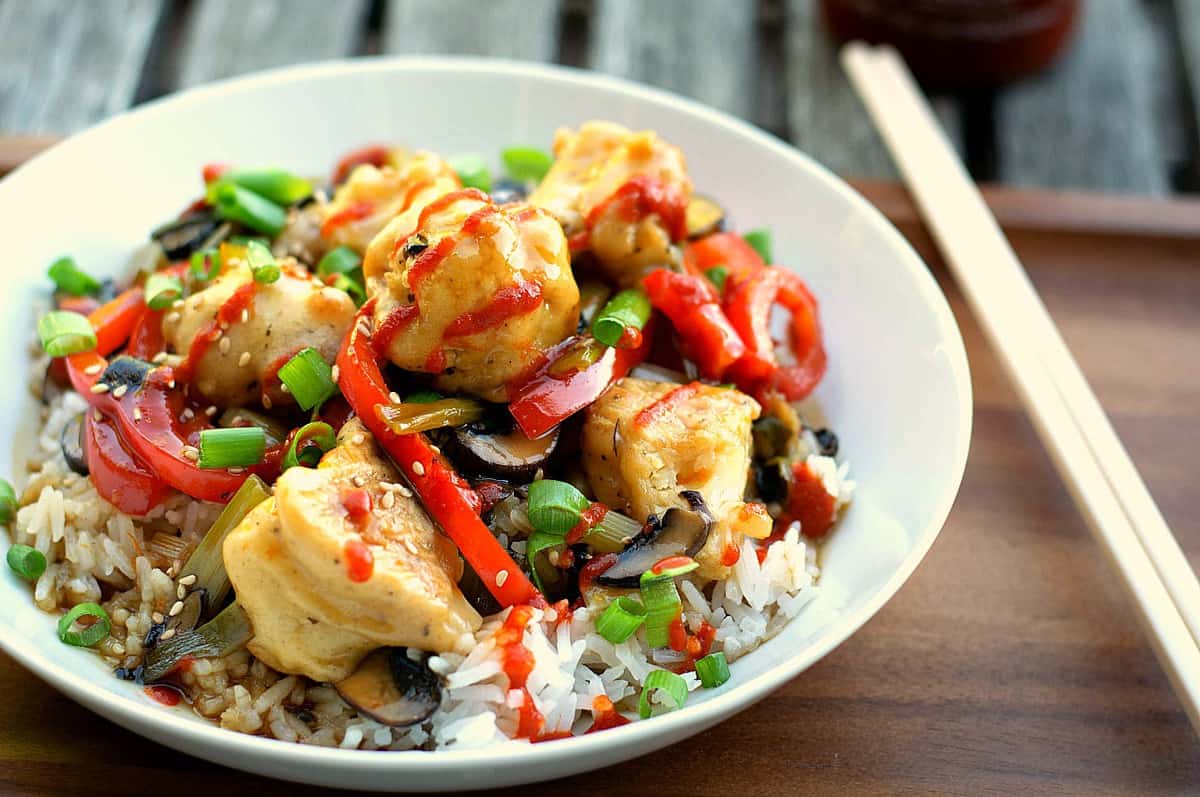 The Cauliflower in this recipe is so easy to make.  I was surprised at how good they were!
Simply make a batter of flour, almond milk, and some seasoning, and roll your cauliflower bites around in it until they're completely smothered.
Then line them up on a parchment lined baking sheet and bake for 20 minutes at 450 degrees.
Seriously how easy was that?
While they're happily baking away there's plenty of time to make the sauce.
The Orange Sauce
We're going to add the following ingredients to a medium-sized saucepan.
Vegetable Broth, Rice Wine Vinegar, Soy Sauce, Orange Juice, Orange Zest, Garlic Powder, Ground Ginger, and Sugar.
Everyday ingredients we all probably have in our pantry, but when combined make the most amazing Orange Sauce you've ever tasted.
To zest an Orange, simply wash an unwaxed orange really well and then take your favorite grater and grate about a teaspoon of the orange part of the peel.  Make sure you stop when you get down to the white pithy part -  it's usually really bitter.
Now there is sugar in this sauce - so for those of you who try to watch your sugar intake, you could try a substitute although your results will probably vary.  
You could also try to add the sugar a tablespoon at a time until you find just the right level of sweetness for you.   
Once your sauce has started simmering, add your arrowroot powder (or cornstarch) to some COLD water and make a slurry.  Add this to your sauce to thicken.  One of my readers corrected me in a past recipe and mentioned cornstarch works better in COLD water - and he was right.  So thank you for the tip!
The Stir Fry
Once your sauce and cauliflower are done, simply prepare your rice, and start stir frying a package of White Button Mushrooms.
I added a clove of garlic and a splash of veggie broth to keep things from sticking.  Once they started to release their own liquid I tossed in some red bell pepper rings and chopped green onions for garnish.
That's one of the questions I get asked a lot when people discover I avoid oil.  How do you stir-fry without oil?
Easy!  Just use veggie broth, or water, or wine, or just about any liquid you want!  The trick is use just enough so that your veggies won't stick.  Many veggies (like mushrooms) have a high water content so they'll release their own liquid as they're cooking.  Just keep things moving around and you won't have a problem.
Once the veggies are softened it's time to add in you cauliflower bites and the sauce.
Give it a good stir so everything is coated in the sauce and then let it simmer a minute or two until it's heated through.
Serve over brown or white rice, and dinner is ready!  chopsticks are optional 🙂
Enjoy!

Print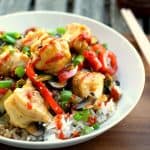 Vegan Orange Chicken
Author:

Prep Time:

10 minutes

Cook Time:

30 minutes

Total Time:

40 minutes

Yield:

4

servings

1

x

Category:

Main

Cuisine:

Chinese
---
Description
A Vegan Orange Chicken Stir-Fry that tastes just like Panda Express only using Baked Cauliflower Bites instead. Completely Vegan and Fat-Free.
---
1

head Cauliflower ((small))

8 oz

Mushrooms

1

Red Bell Pepper

1

bunch Green Onions ((sliced into 1" pieces))
The Batter
1 cup

Flour

1 cup

Unsweetened Almond Milk

2 tsp

Garlic Powder

¼ tsp

Salt

¼ tsp

Ground Pepper
The Sauce
½ cup

Vegetable Broth ((low sodium))

⅓

cup Rice Wine Vinegar

¼ cup

Brown Sugar

¼ cup

Soy Sauce ((low sodium))

2

Tbs Orange Juice

2

Tbs Maple Syrup

1 tsp

Orange Zest

¼ tsp

Garlic Powder

¼ tsp

Ground Ginger

2

Tbs Cold Water

1

Tbs Arrowroot Powder ((or Cornstarch))
---
Instructions
Prepare rice as directed.
Preheat oven to 450 degrees.
Wash and cut a small head of cauliflower into bite-sized chunks.
Prepare batter in a large bowl and dip cauliflower pieces in batter until completely covered
Place the cauliflower pieces on a parchment-lined cookie sheet and bake for 20 minutes
Place all sauce ingredients except arrowroot and water in a medium-sized saucepan and bring to a simmer.
Mix arrowroot and water to make a slurry and add to sauce to thicken
Add mushrooms to a Wok or large pan and stir fry in a little veggie broth until softened
Add red bell pepper and green onions and continue to stir-fry until softened
When the cauliflower pieces are baked, stir them into the stir-fry and add sauce.
Stir well until everything is completely coated and simmer for a few minutes until heated through.
---
Notes
Tips Are Always Welcome
---
[paypal_donation_button]