Looking for something healthy, gluten-free, and FUN to make this week? Try the Oil-Free Gorditas! These chubby little tortillas can be filled with all kinds of yumminess! Perfect for grab & go!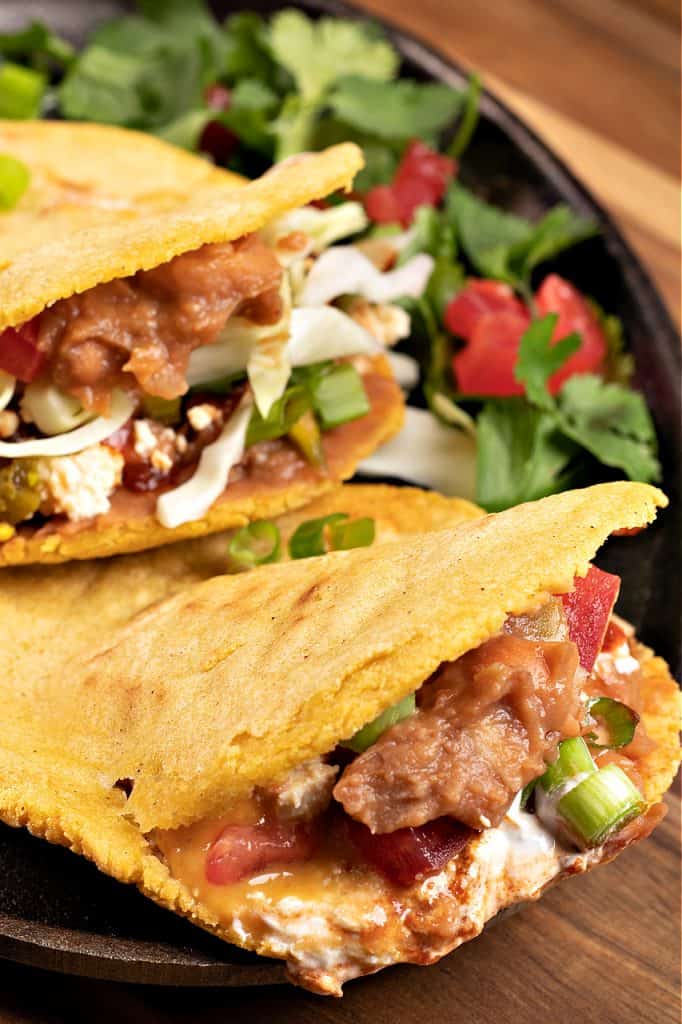 If you translate Gorditas into English it literally means "chubbies" ?. And that's exactly what these are - little chubby corn tortillas, hot off the griddle. You then cut a pocket into them and fill them with whatever yumminess you happen to have on hand.
I used my souped-up refried beans and a little vegan cheese sauce, and then the REALLY good stuff - the garnishes.
Shredded cabbage, tomatoes, salsa, red chile, green onions, cilantro - whatever you want! Load these little guys UP!
Oh, and I made some Vegan Queso Fresco too - simply because my wife loves it.
Traditionally, tortillas and gorditas were cooked over an open fire on a "comal", which is really handy because you can cook more than one at a time. But for me, I simply used my cast-iron skillet and it worked just fine.
The dough is a bit tricky - not too wet - not too dry - but you quickly get a feel for it. Just remember all those times as a kid, playing with a brand new container of PlayDough.... that's the consistency you're after.
These might seem like a lot of effort, just to get 5 little pockets of goodness, but as I said, they ARE fun and extremely tasty when they are homemade. In addition, it gives my gluten-free friends another option.
Hope you enjoy.
Oil-Free Gorditas
Step 1: If you want to use the Queso Fresco (Mexican "fresh cheese"), make it now so the flavors have time to meld together. The recipe makes more than you will use for these little gorditas, but it keeps in the fridge and can be used on all kinds of things, tacos, tostadas, beans, etc.
Step 2: If you want to use my refried bean filling, that's next. Simply add one 15oz can of refried beans to a medium saucepan along with ¼ cup of your favorite salsa. When warm and bubbly add a 15 oz can of rinsed pinto beans and mix. Simmer until bubbly then remove from heat and set aside.
Step 3: I like to have everything ready before I start the gorditas, because you will be a slave to the stove for a while, so go ahead and gather all your garnishes now. The possibilities are endless. Really it just depends on what you like and what you have in your pantry.
Here is what I used:
shredded cabbage
diced tomatoes
diced jalapenos
diced green onion
cilantro
queso fresco
Step 4: And finally, the dough.
First, we should talk about the flour, as THIS IS NOT CORNMEAL. I used Maseca, a popular brand of Corn FLOUR, which is not the same thing.
Cornmeal is simply ground-up dried corn and is usually a lot courser.
Masa is made by treating the dried corn with an alkaline solution (lime). It dissolves the outer skin and improves the nutritional content of the corn. This is called "nixtamalization". After rinsing, the 'hominy' is ground up and you have masa dough. Dry it out and you have Masa Harina like Maseca.
Different tastes, different uses, and they are generally NOT interchangeable.
When you go to the store to buy Masa Harina (corn flour), especially the Maseca brand, you will see different kinds.
Maseca Tamal is a little more course and is used to make tamales.
Masa Harina is white corn flour (used to make tortillas)
Maseca Amarillo is yellow corn flour (what I used in this recipe).
So be sure you are buying Masa Harina or Amarillo.
Add 2 cups of the flour to a large bowl along with ½ teaspoon of salt and mix. Slowly, a little bit at a time, add up to 1 ¾ cup of very warm water (almost too hot to touch) and use your hands to form a very smooth dough. I say to use your hands because you really want to be able to feel the consistency.
If it breaks apart and is crumbly - it is too dry. If it's "squishy" then obviously it is too wet.
You want smooth and pliable - like a freshly opened container of PlayDough.
If you can form a small ball and not see any cracks - you're probably just about right. Now cover the dough and let it rest for 15 minutes. Meanwhile, heat up your griddle or pan on med-high heat.
Take some dough and roughly shape 5 balls of equal size. This was about 90 grams each for me if you're weighing. Flatten each ball into a round disk about ⅓" thick. Remember, these are not tortillas, so not too thin, but not too thick either or they won't cook properly and will end up raw inside.
One by one, cook these for 1 minute then flip. After another minute flip again and this time cook for an additional 3-4 min per side. You want to see those brown spots forming, then's when you know to flip or when they are done. Place them in a covered bowl or tortilla warmer and continue until they are all cooked.
Step 5: Gorditas...Assemble
Take a small paring knife and cut a slit into the gorditas, about a third of the way around, maybe half, to form a pocket. Then stuff with all the goodies you have standing by, the beans, leftover tacos, Gallo pinto, whatever. Then add all the garnishes and you're all set.
I'll add some Amazon Links below if you have trouble finding anything, including a tortilla press which you don't necessarily need for this recipe, but are nice for making homemade tortillas.
Hope you enjoy this fun little recipe and be sure and let me know how they turned out.
Amazon Links:
As an Amazon affiliate, I do earn from qualified purchases but at no extra cost to you.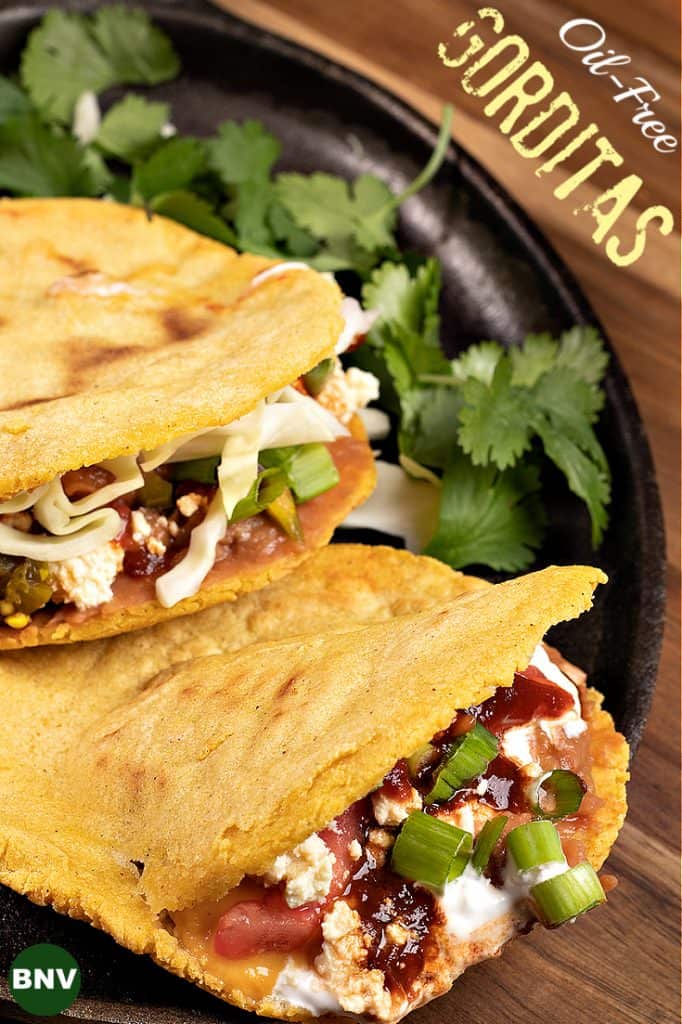 Print
Oil-Free Gorditas
Author:

Prep Time:

30 min

Cook Time:

40 min

Total Time:

1 hour 10 minutes

Yield:

5

Gorditas

1

x

Category:

Main, Beans, Breads

Method:

Stovetop

Cuisine:

Mexican

Diet:

Vegan
---
Description
Looking for something gluten-free and FUN? Try the Oil-Free Gorditas! These chubby little stuffed tortillas are handy when you're on the go!
---
Filling
15 oz

can refried beans

15 oz

can pinto beans

¼

cup

salsa
Queso Fresco
14 oz

package extra-firm tofu

2

Tbs freshly squeezed lime juice

1

Tbs apple cider vinegar

1

Tbs nutritional yeast

¾ tsp

salt

¼ tsp

garlic powder
Gorditas
2

cups

Maseca Amarillo

½ tsp

salt

1 ¾

cup

very warm water
---
Instructions
Prepare Queso Fresco by pressing the tofu until very dry, then crumbling into a container.  Add the rest of the ingredients and mix well.  Store in refrigerator until needed. 
Prepare filling by heating refried beans and salsa until bubbly.  Rinse and drain pinto beans and stir them in.  Simmer until heated through -  then set aside. 
Chop and dice any garnish you may be using.  Set aside.
Add 2 cups of maseca to a large bowl along with ½ teaspoon salt and mix. 
Slowly add the warm water, a little at a time, and using your hands, mix to form a soft, pliable dough.
Knead and mix until flour is fully hydrated and smooth, then cover and let rest 15 minutes. 
Form 5 equally sized balls of dough roughly 90g each. 
Flatten each ball to form a smooth round disk
Cook each gordita for 4-5 minutes per side, flipping often. 
Keep warm while cooking the remaining gorditas.
Cut a slit into each gordita and stuff with filling and garnishes. 
---
Keywords: oil-free gorditas