Papas con Rajas might just become your new favorite taco! Savory potatoes with roasted poblanos simmered in a decadent Vegan Avocado Crema.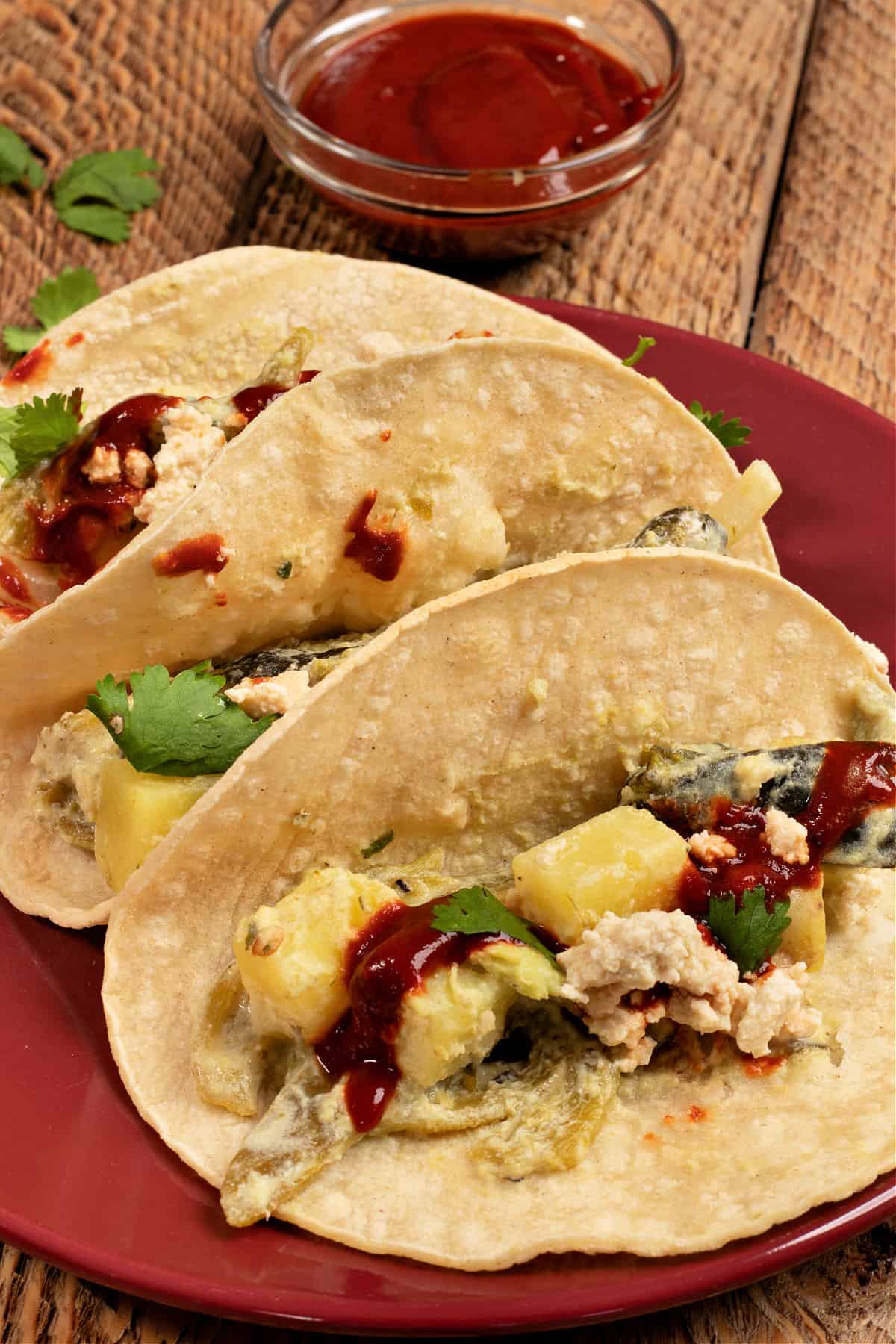 A nearby Mexican Restaurant has these on their menu, but they are vegetarian as they used Mexican Crema and Queso Fresco. Well you know I love a challenge, so I decided to recreate them vegan style and the results are out of this world good!
Papas is the Spanish word for potatoes, and rajas translate to "strips", as in strips of roasted poblanos or green chiles. They are then simmered with strips of onion in a cream sauce (crema) and served in warmed corn tortillas with a soft Mexican cheese called queso fresco along with a spicy Chipotle sauce.
I already have a Queso Fresco recipe and a New Mexican Red Chile Sauce, so my challenge was to:
Find a way to roast my poblanos indoors as it is WAY TOO DRY here in Oregon to roast them on a charcoal grill.
Make a vegan crema without using any dairy, tofu, cashews, or almonds.
I spent the entire day playing with this recipe, and I am happy with the results. My wife loved them, so there's that too.
Note: It's not a recipe you can whip up quickly, and I ended up washing a lot of dishes so be forewarned. But if you have company and want to impress them, this might be something you can try.
This is not a low-fat recipe either, for those of you who follow Dr. McDougall or Dr. Essesltyn - as I used tofu, sunflower seeds, and avocado. But as I said, for an occasional treat while entertaining company - they might really enjoy these tacos.
If you're still interested - let's keep going and make some Papas con Rajas!
First steps in making Papas con Rajas
1. You will need ½ cup of unroasted, hulled, sunflower seeds. Add enough water to cover them and let them soak until we make the crema later.
2. If you want to use Queso Fresco (a soft crumbly Mexican cheese I add as a garnish), make that now and set it aside in the fridge to let the flavors come together.
3. If you want to use my New Mexican Red Chile Sauce, make that next. Alternatively, you could use hot sauce or salsa.
How To Roast Chiles Indoors
I used 4 poblano peppers in this recipe, and they are available in the produce section of most grocery stores here in Oregon. You want to roast them, over or under heat until the outer skin blackens and blisters, so you can peel it off.
Obviously, an outdoor grill is ideal, or maybe you have a gas stove and can roast them over a burner. But it is EXTREMELY dry where I live, and I have an electric stove, so I had to look for alternatives.
My solution was to use my toaster oven set to broil.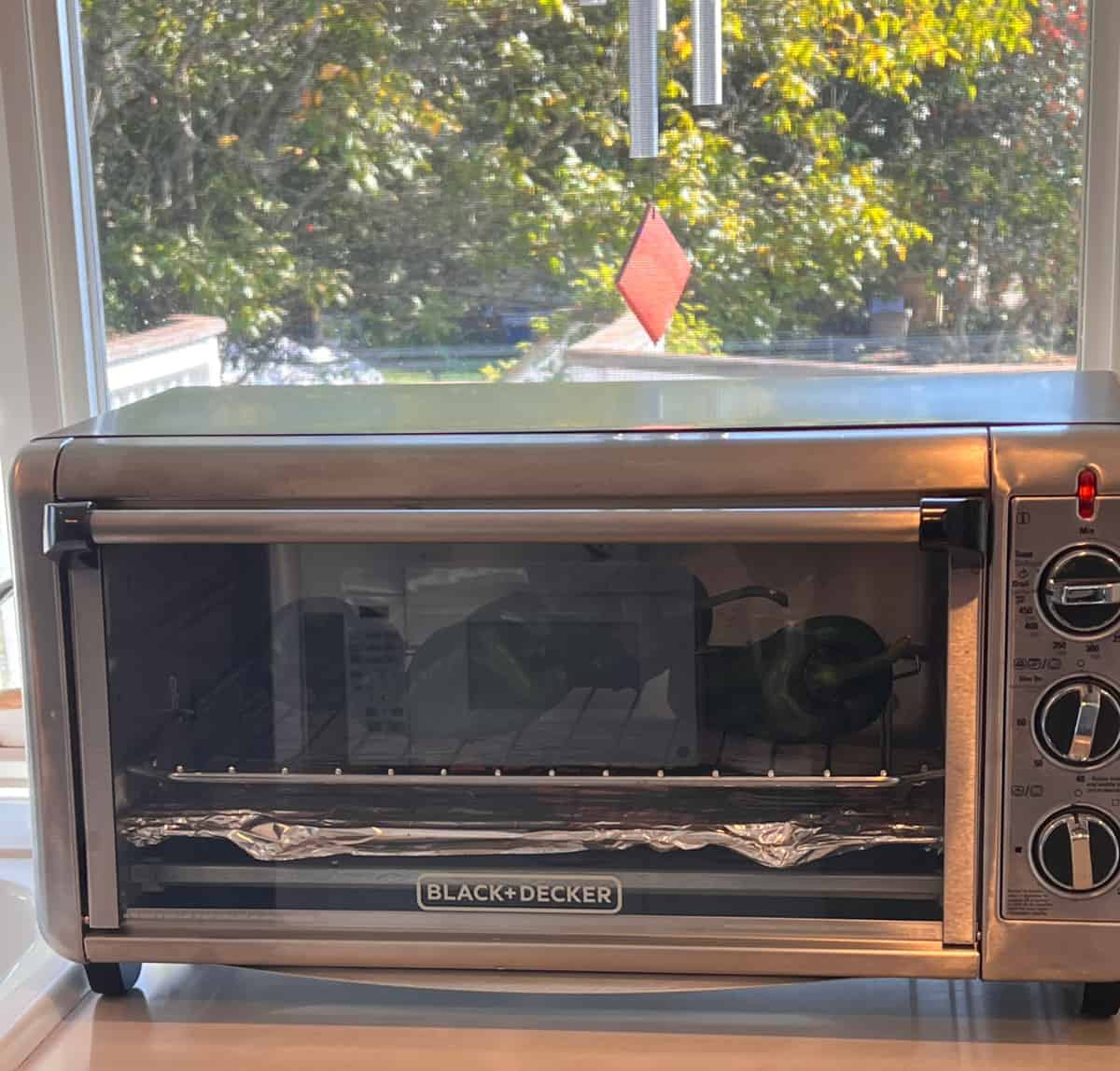 Set the rack as close to the upper broiler element as you can, set the controls to broil, and rotate the peppers often. The time it takes will vary so watch them closely.
Alternatively, you could use your oven or your air fryer/toaster oven if you have one.
After they have broiled, place them in a covered dish or paper sack and let them steam for 10-15 minutes as this will help loosen the skin so we can peel it.
After they cool, peel the chiles, remove the stems and seeds, and cut them into strips. You should end up with approximately 1 cup of poblano strips. Set these aside.
Option #2. If this seems like a lot of work, you can substitute an 8oz can of the whole, fire-roasted green chiles and cut them into strips.
Making the Avocado Crema
Drain the sunflower seeds we've been soaking and add them to a blender along with the crema ingredients listed below: the water, oat milk, cilantro, avocado, garlic, and salt.
I used this particular brand of oat milk because it is thick and creamy, like crema, and because my wife buys it for her coffee creamer and loves it.
YES, IT DOES CONTAIN SOME OIL.
So if that bothers you, feel free to substitute with whatever plant-based milk you use or just add more water.
Blend on high speed, pausing every so often to scrape down the sides, until your crema is thick and creamy. Set aside.
Making the Papas Rajas
Cube 2 medium Yukon Gold Potatoes and boil them for about 5 minutes then drain and set aside.
Then cut ½ of a large white onion into strips and saute over med heat until they begin to soften and turn translucent. You can add a few tablespoons of water or veg broth to keep them from sticking. Add the pepper strips and continue sauteing for a few minutes before adding the drained potatoes. Stir well.
Reduce the heat and stir in the crema (I ended up with about ¾ cup) and stir to thoroughly combine until it's hot and bubbly.
Serve with your choice of tortillas and garnish with the queso fresco, fresh cilantro, and red chile sauce or salsa.
I know - a lot of work - but I hope it was worth it. This is not something I will make often but it IS a nice recipe to impress your family & friends once in a while.
For me: it was the challenge that made it enticing.
Can I make that Vegan?
YES! Just WATCH me!
😁
Until next time....

Print
Papas con Rajas
Author:

Prep Time:

90 min

Cook Time:

30 min

Total Time:

2 hours

Yield:

4

-

6

servings

1

x

Category:

Main

Method:

Stovetop, Blender

Cuisine:

Mexican

Diet:

Vegan
---
Description
Papas con Rajas might just become your new favorite taco! Savory potatoes with roasted poblanos simmered in a decadent Vegan Avocado Crema.
---
3

corn or small "street taco" flour tortillas per person

2

large Yukon gold potatoes

4

poblano peppers OR

8oz

can whole, fire-roasted green chiles

½

large white onion
queso fresco (optional)
red chile sauce (optional)
cilantro for garnish (optional)
Avocado Crema
½

cup

unroasted, hulled sunflower seeds

1

clove garlic

¼

cup

water

¼

cup

oat milk

½

avocado

2

-

3

Tbs lime juice

¼

cup

loosely-packed cilantro
salt to taste
---
Instructions
Soak sunflower seeds in water for at least 1 hour
Prepare queso fresco if using
Prepare red chile sauce if using
Roast poblanos until skin becomes blistered and charred
Allow poblanos to steam in a covered dish for 15 min to make peeling easier
Peel poblanos, remove stems & seeds, and cut into strips
Prepare crema by draining the sunflower seeds and then adding all the crema ingredients to a blender
Blend crema until smooth and creamy then set aside
Cube potatoes and boil for 5 minutes, then drain
Cut onion into strips and in a large skillet, saute until softened, using a small amount of water or veg-broth to prevent sticking if needed
Add pepper strips and continue to saute for 1-2 minutes
Add drained potatoes and stir to mix
Reduce heat and stir in crema until everything is mixed well and evenly coated
Simmer until hot and bubbly
Serve on tortillas and garnish with queso fresco, cilantro, and red chile
---
---
Keywords: potatoes with roasted poblano pepper, papas con rajas, tacos,