In preparation for Cinco de Mayo, I made these incredible Vegan Enchiladas Mineras, which are popular in the Mexican city of Guanajuato. Potatoes, carrots, and a Guajillo Chile Sauce are the stars of the show and they - are - delicious.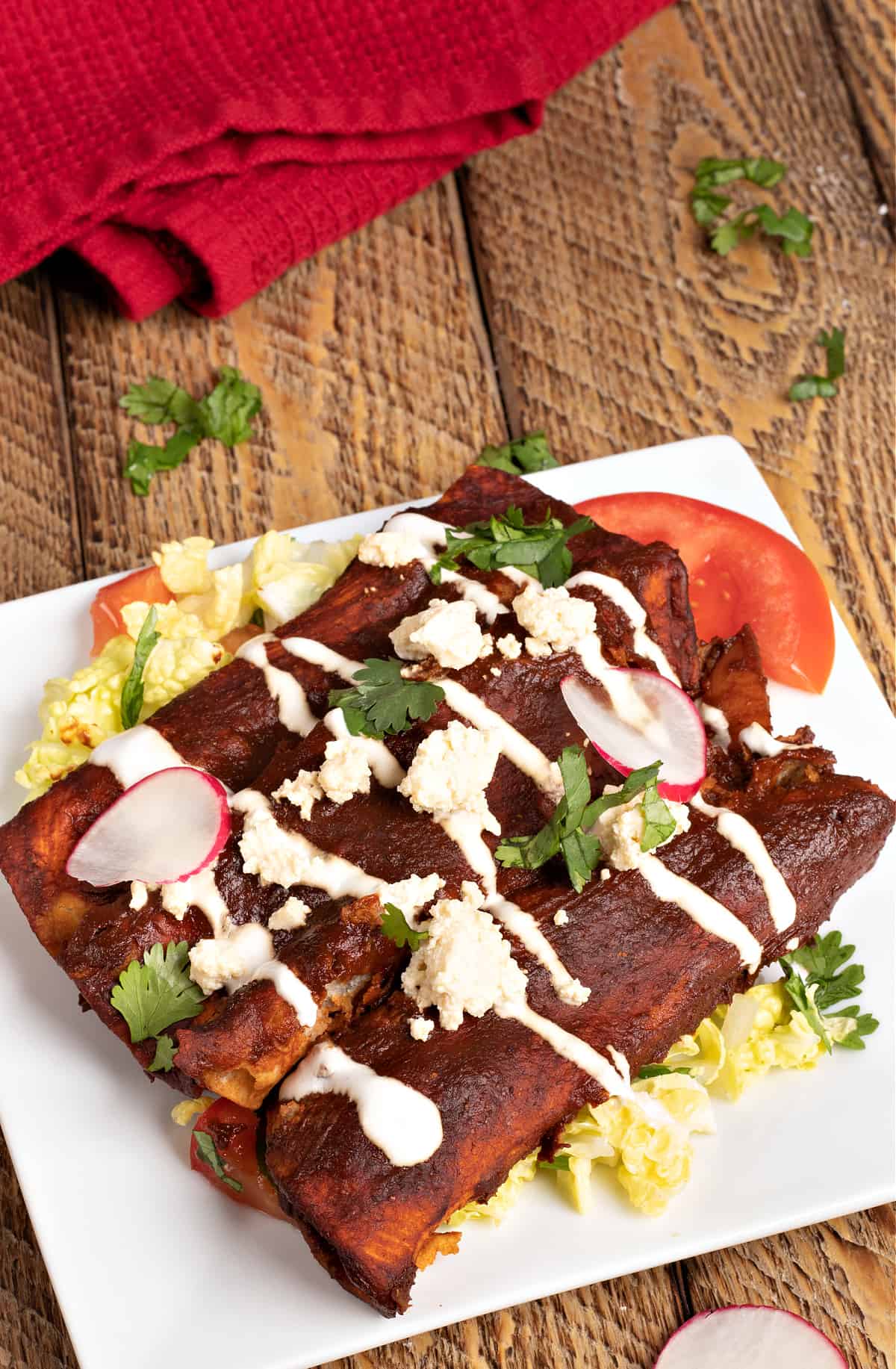 When you hear the word enchiladas, the first thing that probably comes to mind are those big plates of stuffed, rubbery tortillas drowning in tomato sauce and American cheese that most restaurants serve.
Not so with THESE enchiladas.
These enchiladas are MEXICAN enchiladas and use just enough sauce to dip the tortillas into and then are traditionally fried in oil before plating. Then they are simply folded in half and the stew-like mixture of potatoes & carrots is ladled on TOP of the tortilla, followed by a mixture of greens, fresh queso fresco cheese, and onions.
Of course, to keep this oil-free I had to modify that tradition a bit, but they are nonetheless still delicious and a whole lot healthier than our American versions.
It is said that during the Guanajuato mining boom of the 18 century, this is what the wives would bring their husbands to keep them full after a long day of mining for silver, hence the name "Mining Enchiladas" or Enchiladas Mineras.
I like this recipe because it uses simple ingredients.
potatoes
carrots
cabbage
corn tortiilas
And it uses a chile sauce made from dried Mexican guajillo & ancho chiles that I can find in many of my nearby grocery stores. Guajillos have a bright, fruity flavor while the anchos bring a sweet, smoky flavor - and when combined.... wow.
Now I LOVE my New Mexico Hatch Chiles, but guys - this sauce is REALLY GOOD. Not quite as spicy as Hatch - but with just enough heat to make me come back for more and with a deep, rich flavor that I haven't found replicated in any restaurant yet.
If all the talk of chile peppers has you curious, see my Chile Peppers 101 post I just published a few days ago. It's a guide I wrote that explains the different kinds and where to find them.
Thanks to my goto chef for anything Mexican, Rick Bayless, for the inspiration!
Vegan Enchiladas Mineras
I made my own queso fresco for this recipe and if you want to use it, start here. It only takes a few minutes to crumble the tofu and add the spices, and by making it first we're giving it lots of time for all those flavors to mingle.
Oh and I love using a ziplock baggie to make this in - you can knead and shake and flip until you are ready to use it.
Next make the chile sauce.
This is really the heart of the recipe so I really recommend you at least try it first before substituting some canned enchilada sauce.
I used a combination of guajillo and ancho dried chiles which you should be able to find in the Mexican Aisle of your grocery store. If not, I have them in my Amazon Store.
Remove the stems, veins, and as many seeds as you can and lay the chiles on a baking sheet.
Remember to always wash your hands after handling any chile pepper, that capsaicum will burn your eyes if you don't get that oil off your fingers.
Toast the chiles in a 250° F oven for 5 minutes, just enough to wake up those chile flavors. Then place them in a bowl and cover them with hot water. Let them soak to rehydrate for 20-30 minutes. A small plate or bowl laid on top will keep them submerged.
Then drain them and place them in your blender along with 1.5 cups of fresh water and all the remaining sauce ingredients. Blend until smooth. I like to then strain it with a fine-mesh sieve to make sure I remove any stray seed or chile skin.
Next we make our filling.
I cubed 2 large(ish) carrots and 2 small red potatoes (about 8oz each) and tossed them into a saucepan with just enough water to cover. Add the vinegar and salt and boil them until they are soft - about 10 minutes.
Drain the veggies and using the same saucepan, add about ¼ cup of that chile sauce. Turn up the heat to med-high and we're going to sear that sauce into our veggies for just a minute or two. Then set it aside.
Next let's make our salad.
I really like the crunch from fresh cabbage, and any kind will do, savoy, napa, etc. But you could use lettuce if that's your thing. I added a diced tomato, onion, and a small bunch of cilantro and just squeezed a fresh lime over the whole thing for the dressing. I could eat this as my daily salad it's so simple and good.
And now we come to the enchiladas.
I used a 2qt pyrex baking dish and it held 7 rolled tortillas. Feel free to adjust according to your individual bakeware.
You have to heat the tortillas before you roll them or they will crack. I just laid them in a dry skillet over med-high heat for a few seconds on each side. Just long enough to get soft and pliable.
Then I laid one in the bottom of my baking dish and I used a pastry brush to paint the sauce on, completely covering the tortilla. Flip it over and then lay about 1 tablespoon of the potato filling down the center and roll it up. Rinse and repeat.
One thing I should mention about ANY chile sauce. Don't wear your Sunday best white shirt or blouse.....
Chile stains..... easily.
It will stain your clothes, your counter, your sink, basically whatever it touches. So just be careful.
Now that your enchiladas are assembled, you can ladle on some extra chile sauce if you want, or not. Using my brush, I painted the tops really well and then baked them in a 350° F oven for about 15 minutes.
You can plate your enchiladas by laying 2 or 3 enchiladas on TOP of a bed of salad, or arrange the salad on top - your choice. Again, use as much or as little of that sauce as you want. It's fat-free and pretty low in sodium.
Garnish with extra tomatoes, maybe some sliced radish, some cilantro, and of course that queso fresco. You can even thin down some Vegan Sour Cream and use that too.
And that is my Enchiladas Mineras.
True story - I went to a new Mexican Restaurant that just opened near me the night before I made these. And they had them on their menu so I HAD to try them. I remember 2 specific tastes that stood out..... tomato and vinegar. That's it. Everything was WAY TOO vinegary and the sauce was basically tomato sauce with a few spices.
These enhiladas, my friends, are the real deal. They have FLAVOR. So I hope you enjoy them as much as we did.
Enjoy your Cinco de Mayo, May the 4th be with you, and all that jazz and I'll see you next week.

Print
Vegan Enchiladas Mineras
Author:

Prep Time:

60 min

Cook Time:

30 min

Total Time:

1 hour 30 minutes

Yield:

2

-

3

Servings

1

x

Category:

Main Dish

Method:

Stove, Blender

Cuisine:

Mexican

Diet:

Vegan
---
Description
In preparation for Cinco de Mayo, I made these incredible Vegan Enchiladas Mineras, which are popular in the Mexican State of Guanajuato. Potatoes, carrots, and a Guajillo Chile Sauce are the stars of the show and they - are - delicious. 
---
Vegan Queso Fresco
12

oz

super-firm tofu

2

Tbs lime juice

1

Tbs apple cider vinegar

1

Tbs nutritional yeast

½ tsp

salt

¼ tsp

garlic powder
Guajillo Chile Sauce
5

guajillo chiles

4

ancho chiles

2

cloves garlic

1 ½

cups

water

¼

small onion

½ tsp

salt

¼ tsp

cumin

¼ tsp

black pepper

¼ tsp

mexican oregano
Cabbage Slaw
1 ½

cups

shredded cabbage (any kind)

½

small onion, diced

¼

cup

chopped cilantro

1

tomato, diced
Juice of

1

lime
Enchiladas Mineras
7

corn tortillas

2

large carrots (

8 oz

)

2

small red potatoes (

8 oz

)

1

Tbs apple cider vinegar

¼ tsp

salt
---
Instructions
If using my Queso Fresco - make it first
Crumble the tofu into a large ziplock
Add the remaining queso ingredients and seal - shake occasionally
Next make the chile sauce 
Remove the stems, veins, and seeds
Remember to wash your hands after handling any pepper
Bake in 250° F oven for 5 minutes
Place chiles in a bowl and add enough hot water to cover
Let soak for 20-30 minutes then drain
Add chiles to a blender along with remaining sauce ingredients and blend until smooth
Strain sauce through a fine-mesh sieve and set aside
Dice potatoes and carrots and add to a saucepan with enough water to cover
Add salt and vinegar and boil for 10 minutes or until soft
Drain and return to pan with ¼ cup of the chile sauce
Cook on med-high and mix thoroughly to coat for 1-2 minutes, set aside
Chop slaw ingredients and add to a large bowl, mix well and set aside
Preheat oven to 350° F
Warm tortillas in a dry skillet until soft and pliable
Lay one tortilla in a 2 qt rectangular baking dish and brush on chile sauce to cover completely
Flip the tortilla over and lay a small amount of filling in the center, roll the tortilla, and repeat
Brush additional chile sauce on to tortillas (as much or as little as you like) and bake 15 minutes
Serve enchiladas with slaw either on top or underneath and garnish with cilantro, tomato, queso fresco, or thinned down vegan sour cream
---
Keywords: vegan enchiladas, enchiladas mineras,