This Green Chile Chicken Enchiladas dish has been a long time coming.
It was easily one of my family's favorite dishes back in New Mexico - especially this time of year when the first batch of Hatch Green Chiles would appear in the stores.
But since becoming Vegan, it has sadly been forgotten in our kitchen.  We no longer eat cheese, or sour cream, or chicken - so into the archives it went.....
Until now.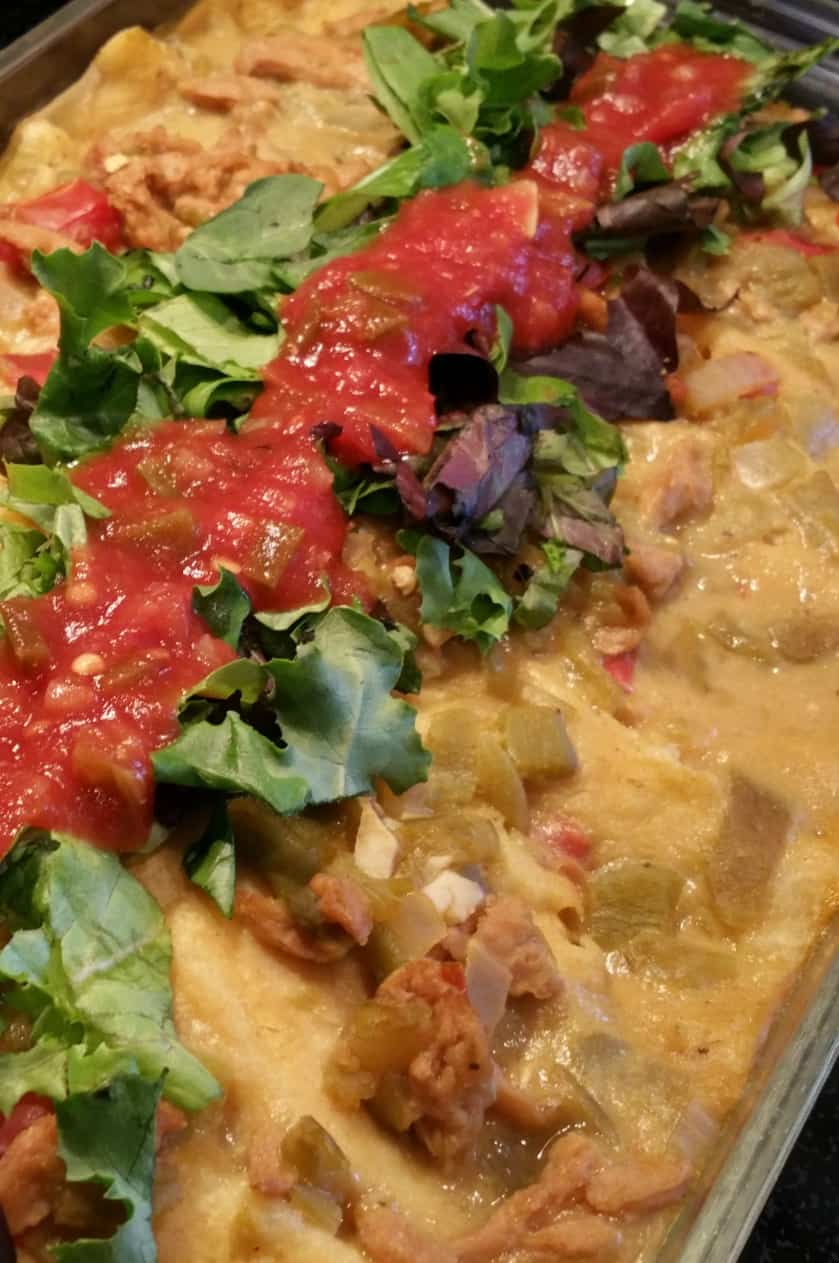 I popped into our local Whole Foods one weekend and saw that the first batch of Green Chiles had made it in.  Yay Green Chiles!
Ask any New Mexican what makes his or her state so special and I guarantee it will always be the Chile.  Their spicy Green or Red sauce is put on everything from tacos and burritos to hamburgers and pizza.  And this time of year the chile roasters are on every street corner - wafting that incredible smell of roasting chiles into the air.
But as I was picking up that first package of Chiles, I happen to walk down the aisle and noticed this package also.....
(note...that's an affiliate link to Amazon...meaning I will make a small commission on every sale...thanks) 
Now I've been hearing about these things, and knew that soy curls were the 'in thing' in the vegan world, I had just never seen them before.
I mean what in the heck were they?  What made them so popular?  Why was everyone ranting and raving over these things?
And then I read the back of the package.
Made right here in Oregon
Whole Soybeans
Non GMO
Good source of Protein
High in Iron & Omega 3
No additives or preservatives
Wow, these actually look pretty healthy.  But what do you do with them?
Well let me tell you - pour in some hot water to let them rehydrate - and magic happens.  I kid you not -  they look and have the exact same texture as shredded chicken!
And right then and there, with my Green Chiles already in hand, I knew EXACTLY what I was going to do with them.
Vegan Green Chile Chicken Enchiladas
You're going to need some Sour Cream for this recipe.  Either buy your favorite Vegan Sour Cream - or make your own.  I have a very easy recipe for Vegan Sour Cream right here.
You're also going to need some cheese - so again you can add your favorite Vegan Cheese Shreds or you can easily make your own healthy cheese with my Amazing Vegan Cheese Sauce Recipe.
For the Green Chile Chicken Enchilada Filling:
Start by adding 2 cups of hot water to 2 cups of soy curls.  I added a few tablespoons of soy sauce to my water along with some typical chicken seasoning like thyme, garlic powder, and sage, just to add some flavor.  Let them sit and soak while we prepare the sauce.
Saute 2-3 cloves of garlic and ½ an onion in a little veggie broth until softened.
Whisk 3 Tbls of flour into 1 cup of veggie broth and pour that in with your onions, it will start to thicken immediately.  Add 2 more cups of veggie broth and your chile. and stir to combine.
If you cannot find fresh Hatch Green Chile - those little 4oz cans of green chile you see in the grocery stores will work.  The flavor is not quite as intense, and the spice factor will be next to 0, but it's still green chile.  I would use 3 to 4 of those little cans and adjust from there.  Some fresh jalapeño would also add some heat if you like your enchiladas spicy.
If you DO have fresh Hatch Green Chile, start with about 7-8 chopped chiles and adjust from there depending on how spicy you want it.
Now drain your soy curls (chicken) thoroughly, squeezing as much water out as you can and add to your broth.  I also like some tomato in my sauce, but this is entirely optional.  I just happened to have a couple sitting on my counter so I threw them in.
Once the sauce has cooked down a bit, drain the 'meat' and veggies, but save the liquid.
To assemble the enchiladas, pour a little of that liquid we saved into the bottom of a casserole dish, enough to cover the bottom.
Heat 6-7 corn tortillas in the microwave until soft and pliable.
One at a time, spread a little cheese sauce down the center of a tortilla followed by some sour cream.  Then add some of the 'chicken'  mixture and roll.  Place seam side down
Once all the enchiladas have been made, spread some additional cheese on top followed by any remaining sauce.
Bake in a 350 degree oven for 20 minutes or until bubbly.
Garnish with shredded lettuce and salsa.
This recipe might seem like a lot of work - and it is.  But I managed by making the cheese sauce and sour cream one day, and the enchiladas the next.  I hope your family enjoys it as much as mine.

Print
Vegan Green Chile Chicken Enchiladas
Author:

Prep Time:

45 minutes

Cook Time:

20 minutes

Total Time:

1 hour 5 minutes

Yield:

8

servings

1

x

Category:

Main

Cuisine:

Mexican
---
Description
A New Mexico favorite - only Vegan! Green Chile Chicken Enchiladas with Soy Curls, Fresh Hatch Green Chile, Tofu Sour Cream and a creamy Potato Cheese Sauce. Spicy goodness!
---
3

cloves Garlic ((minced))

½

Onion ((diced))

2 cups

Butler Soy Curls

2 cups

Hot Water

3

Tbls Low Sodium Soy Sauce ((divided))

¼ tsp

Garlic Powder

¼ tsp

Onion Powder

¼ tsp

Thyme

¼ tsp

Sage

3 cups

Vegetable Broth ((divided))

3

Tbls Flour

3

-

4

cans Green Chile ((4 oz cans OR

7

-

8

fresh Hatch Green Chiles0)

½ tsp

Oregano

¼ tsp

Cumin

2

small Tomatoes ((optional))

7

-

8

corn Tortillas

1

batch Vegan Sour Cream ((recipe link below))

1

batch Amazing Vegan Cheese Sauce ((recipe link below))
---
Instructions
Place 2 cups soy curls in 2 cups hot water to rehydrate - 10 min
Season water with soy sauce, garlic powder, sage, and thyme
In a large pan, saute garlic and onion in several Tbls of veggie broth until softened
Whisk flour into 1 cup veggie broth and add to sauce to thicken
Add remaining veggie broth and chiles and stir thoroughly
Drain and press out any liquid from soy curls - add to broth
Add tomatoes if using
Season with soy sauce, oregano, and cumin
Drain mixture and save the liquid
Preheat oven to 350 degrees
Add enough broth to cover bottom of a large casserole dish
Preheat 7-8 corn tortilla sin microwave until soft and pliable
Roll enchiladas with cheese sauce, sour cream, and soy mixture
Place seam side down in casserole dish - repeat.
Spread additional cheese sauce on top of dish along with any remaining broth
Bake at 350 degrees for 20 minutes or until bubbly
Garnish with shredded lettuce and salsa
---