I have ordered Vegan Fajitas in a restaurant before, and they came drenched in oil and wait...was that a carrot? In Fajitas?! THESE Vegan Portobello and Poblano Fajitas have NO OIL and are absolutely delicious using the most basic ingredients. And the taste? Yum!
Who puts carrots in Fajitas anyway? I mean I like carrots and all....but....in fajitas? Just NO.
So today I took another older recipe from the archives, and trash canned it because these are just SO much better, easier to make, and have fewer ingredients.
Plus those 7 yr old photos.....good grief I'm surprised I made it this far as a blogger ?.
The old recipe used refried beans, which you can certainly still use if you want, but these Portobellos REALLY make these fajitas pop. Of course, if you are not a mushroom lover....beans it is.
And in that old recipe, I had a TON of spices, which you only used a small portion of, and you really don't need that many! I used a pinch of several spices in this recipe and the flavor was really good. I think over the years, my taste buds have improved to the point I just appreciate the flavor of the food itself...not all that extra spice.
And I eliminated those flour tortillas....because I really don't eat them anymore. You can if you wish, but for something as simple as a flour tortilla.....why is it that the ingredient box on the back of the package reads like a novel? Do you really need ALL of that? To make a tortilla?
Speaking of which, I do have a homemade CORN tortilla recipe that is out of this world ....click for the recipe.
Ok enough yammering....let's make fajitas.
Vegan Portobello and Poblano Fajitas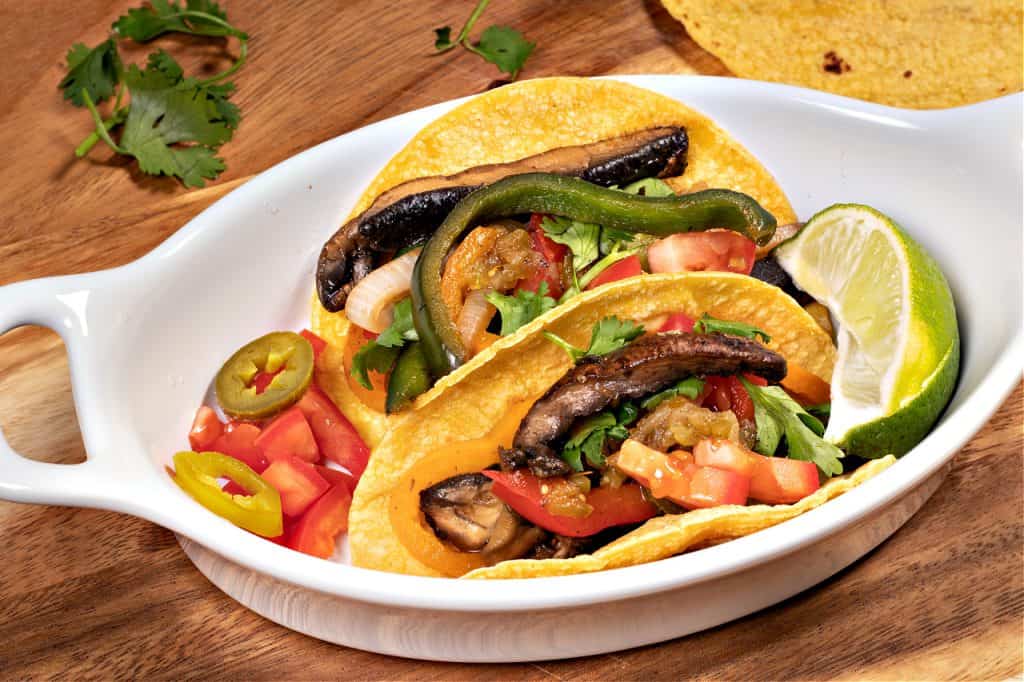 Let's talk veggies.
I used white onion, red bell pepper, orange bell pepper, and poblano pepper. Use whatever veggies you like (yes - even carrots) but these are the more traditional fajita veggies.
Poblano peppers DO have a little heat to them, especially compared to a Red Bell Pepper, so use accordingly. There is a scale called the Scoville Heat Unit (SHU) that we chileheads use to rate how spicy a pepper is, the larger the number, the hotter ...so just for comparison sake:
Red Bell Pepper - 0
Banana Pepper - 500
Poblano - 1000 to 2000
Hatch Green Chile - 1000 to 8000
Jalapeno - 2500 to 8000
Habanero - 100,000 to 350,000
Ghost Pepper - 1,000,000 plus
Carolina Reaper - 2,000,000 plus
So you see, a Poblano IS spicier than a Bell Pepper, but nowhere near as hot as a Jalapeno.
And no, no ghost peppers for me as I can hardly handle a Habanero ...but my son ....he loves them all. I swear I think he burned off his taste buds years ago...
So, I like the Poblano in this recipe as they have a really good flavor, but if you think it will be too spicy for you...you could substitute a Green Bell Pepper instead if you want.
On a side note: if you DO use the poblano - wash your hands after handling it. You'll be glad you did if you ever once get hot pepper oil in your eye. It DOES burn.
Cut all your veggies into ⅓" to ½" strips and set them aside.
Now the 'shrooms.
I used 2 big Portobello Caps. Remove any dirt or grime and cut them into ½" strips. You can remove the gills if you want, sometimes I do, sometimes I don't.
You can always use Baby Bellas too - but they obviously won't be the big, fajita-sized strips.
Cooking the fajitas
Heat a large skillet on medium and add the mushrooms. You can add a tablespoon or two of water or veggie broth to keep them from sticking if you want. I just added a few splashes of low-sodium soy sauce and that did the trick for me. Keep them moving so they don't burn and cook until they reduce in size a little and are almost done. Then I like to stir in a teaspoon of Vegan Worcestershire for a bit more 'meaty' flavor.
Remove your mushrooms from the pan and keep warm.
Now add your veggies and again a little water, broth, or soy sauce. I used 1 white onion, separated into rings, 1 red, and 1 orange bell pepper cut into strips. And 1 poblano, also cut into strips.
I seasoned my veggies with about ¼ teaspoon each of ground cumin, smoked paprika, and garlic powder, plus a pinch of salt and pepper.
Cook on medium until they are cooked through but still firm, then add your mushrooms back in.
Add 1 tablespoon of lime juice and give the whole thing a stir.
That's all there is to it. Use your favorite tortilla and garnishes. I used corn tortillas (because they're oil-free), salsa verde, tomato, jalapenos, and cilantro.
Easy enough? Took me less than 30 minutes from start to finish and tasted a million times better than those oily things from the restaurant.
Hope you enjoy them too.

Print
Vegan Portobello and Poblano Fajitas
Author:

Prep Time:

10 min

Cook Time:

20 min

Total Time:

30 minutes

Yield:

2

-

4

Servings

1

x

Category:

Tex-Mex

Method:

Stovetop

Cuisine:

Mexican

Diet:

Vegan
---
Description
These Vegan Portobello and Poblano Fajitas have NO OIL and are absolutely delicious using the most basic ingredients.
---
2

large portobello caps

1

white onion

1

red bell pepper

1

orange bell pepper

1

poblano pepper

1 tsp

vegan worcestershire

¼ tsp

cumin

¼ tsp

smoked paprika

¼ tsp

garlic powder

1

Tbs lime juice
salt and pepper to taste
your favorite tortillas
Garnish ideas
I recommend tomato, jalapeno, cilantro, salsa verde
guacamole would be good too!
---
Instructions
Prep onions by cutting thin slices and separating them into rings.
Prep the peppers by removing seeds and membranes and cutting into ⅓" strips
Prep mushrooms by cleaning any dirt, removing stems, and cutting into ½" strips
Cook mushrooms in a large skillet over med heat until reduced in size.  Add a tablespoon of water, broth, or soy sauce if needed to keep them from sticking. 
When almost done, stir in the vegan Worcestershire and cook for an additional minute, then remove to a covered dish
Now add the onions and peppers to the pan.  Add seasoning and cook until heated through but still firm. Again use water, broth, or soy sauce to keep from sticking if neccessary. 
Add mushrooms back into the pan and add lime juice
Stir and cook an additional minute
Serve on your choice of tortillas
Garnish with lettuce, tomato, avocado, cilantro - basically any of your favorites
Keywords: vegan portobello and poblano fajitas