With Cinco de Mayo coming up, I thought I might as well create a new recipe or two, like this Easy Pico de Gallo. I mean why not? As many potatoes and rice that we eat - why not having something fast and delicious to put on them? Right?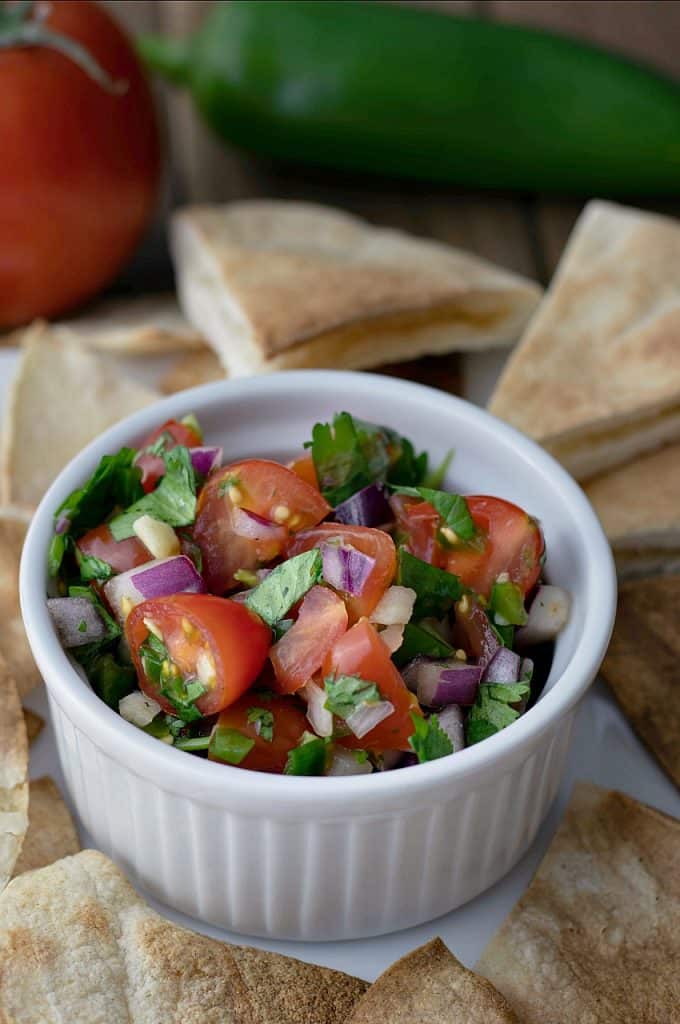 The best part of all - is that this recipe requires NO cooking! I mean none, zilch, nada.
Slice up some tomatoes, onions, and a little garlic. Then add as much heat (via jalapenos) as you like and then toss in some cilantro (again, as much or as little as you like).
About as easy as it gets. AND.... you can literally spoon this on just about anything.
Add a little to your baked potato. Use it in place of those boring tomatoes you put on my Cauliflower Tacos every Tuesday night. Add it as a garnish to rice or pasta. The possibilities are endless.

What I like most about this recipe (besides how fast it is to make) is how FRESH it is. No bottled sauce or salsa can come close to the taste of something you made yourself with good, fresh, quality ingredients
Yeah, even if it's made in New York City 😉
Before we start, and for those of you who want to know.... pico de gallo literally translates to "roosters beak". Nobody's sure why - but one theory is the way people used to eat it - by pinching pieces between their thumbs and forefingers.
Thankfully for us, we have much better methods. Like dipping our own baked, oil-free corn tortilla chips.
Ok, with the history lesson out of the way, let's go make some salsa.
Easy Pico de Gallo
You know those little pint boxes of Cherry Tomatoes you see in the grocery store? Yeah those...you'll need 2 of them. Get the Cherry or the Grape, or both. Yes, you can use Romas or those 'bland as heck' hothouse tomatoes in the grocery store. But the cherry tomatoes seem to have a lot more flavor so I used those. And it's easier to guess how many tomatoes to use - use them all!
So we're going to rinse those tomatoes and then slice them up. Simply cut them in half, or even into fourths (if you want smaller pieces), then toss them into a strainer to drain while we continue.
Next, dice up about half of a medium-sized red onion. I measured it and it was about 1 cup. Try to match the size of the dice to the same size you cut your tomatoes. Add the onions to a large bowl.
Now we add some green onions too. I only used the green parts and a simple method of cutting them is just by using your kitchen scissors. I used about ¼ of a cup. You don't have to add green onions, but I like them and I like the color contrast between the red onion and the green. Your choice.
Next comes the heat. I know my tolerance to heat is probably different than yours. What tastes perfectly fine to me makes my wife go running for a jug of water. So feel free to adjust this to your own liking.
I used two large jalapenos. If you remove the seeds and membranes, it really cuts down on the heat. I cleaned one and left the other as is, seeds and all, and it was just right for me - but I do like spicy. You can always sub canned green chiles or green bell pepper. Make it the way you like.
Almost done - now add a little garlic. I used two large cloves that I minced pretty fine. You can always use a garlic press too if you have one.
Now comes the cilantro. Obviously, if you're one of THOSE people that hate cilantro, leave it out. But I used about ½ a bunch. Rinse it first and then give it a good chop.
Don't forget to add the tomatoes too at some point. Almost forgot. They should be drained by now.
Finally comes the lime. I zested about half of my lime, so I'm guessing about a 1 teaspoon or so, and added that to the mix. Then I cut my lime in half and squeezed the juice from both halves into the salsa - so about 1 -2 Tbs.
Now we season. I like to add a little Mexican Oregano and a pretty good pinch of kosher salt. Stir and adjust the seasoning to taste.
You can eat it right now, but it IS more flavorful if you cover it and let it chill in the fridge for an hour or so. THEN it's fantastic!
Simple recipe - told you so. And no cooking involved!
That's it for this week, keep the comments flooding in, and be sure and give this a like or share in Facebook and in YouTube. The vid should be out Monday.
See ya next week!

Print
Easy Pico de Gallo
Author:

Prep Time:

30 min

Total Time:

30 minutes

Yield:

3 pints

1

x

Category:

Sauce, Dip

Method:

No cook

Cuisine:

Mexican, Vegan
---
Description
No bottled sauce or salsa comes close to the taste of something you made yourself with good, fresh, quality ingredients, like this Easy Pico de Gallo.
---
24

-

32

oz cherry and/or grape tomatoes (about

2 pints

)

1 cup

diced red onion

¼ cup

diced green onions

1

-

2

diced jalapenos

2

cloves minced garlic

½

bunch chopped cilantro

1 tsp

 lime zest
juice from

1

lime

¼ tsp

 Mexican oregano

½ tsp

salt - or to taste
---
Instructions
Slice tomatoes into small halves or fourths.  Place in strainer to drain.
Add 1 cup finely diced red onion to a large bowl
Add green onions and mix
Add jalapenos and mix.  Note:  If you like it spicy, leave the seeds and membranes in one or both jalapenos.  And if you REALLY like it hot - sub in a Serrano or Habanero Pepper) 
Add cilantro and mix.
Add drained tomatoes and mix.
Add lime juice, lime zest, and mix.
Add oregano and salt and adjust to taste.
---
Notes
Keywords: pico de gallo, salsa