I know right?  Cauliflower Tacos?  Seriously?  But dude - I'm not kidding, you have GOT to try this "taco meat" mixture of cauliflower and mushrooms.  With just the right amount of spices, you will NOT believe you're eating a vegetable.  It's uncanny!  And it's SO GOOD!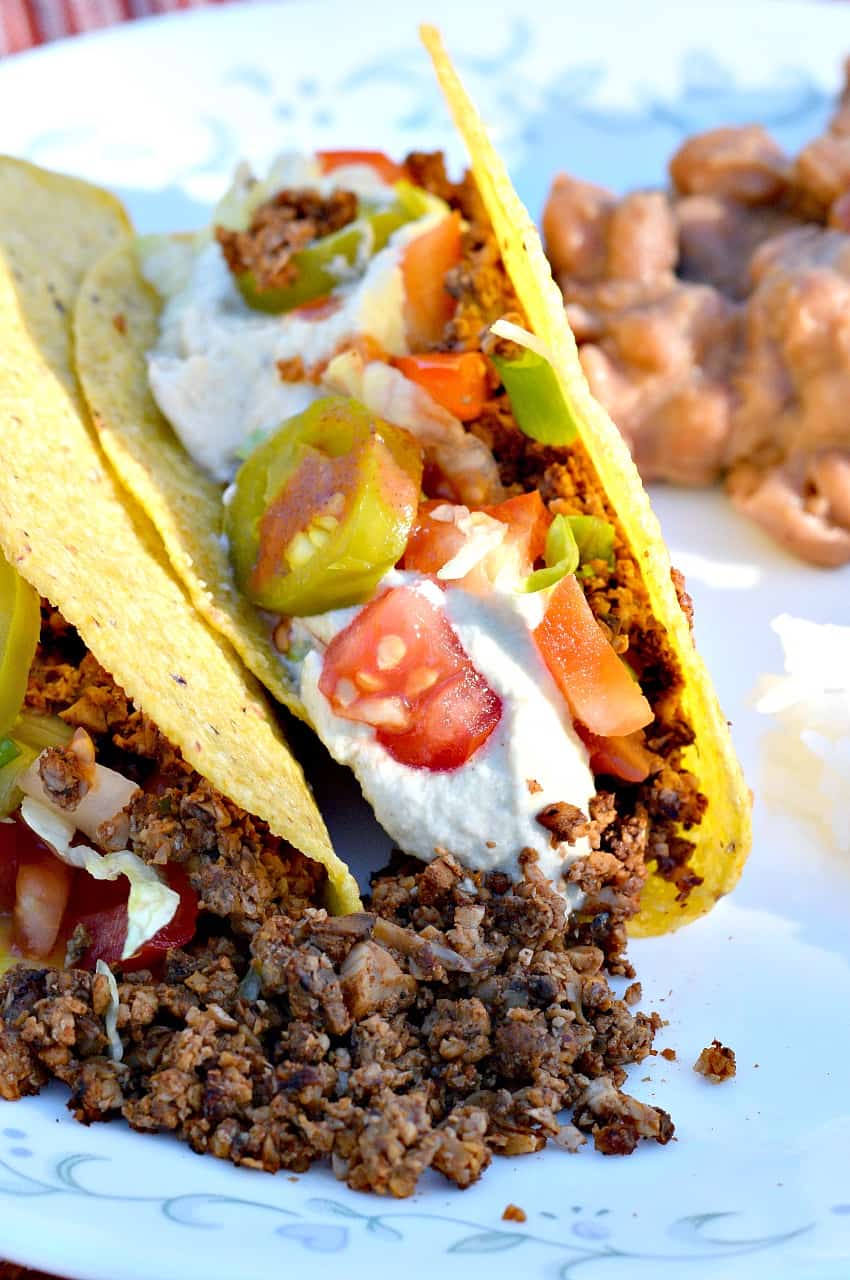 Cauliflower is simply amazing.  
And for all you men folk out there - Guys,  I hear you.  I HATED cauliflower too before I went Vegan.
I was a strict corn, peas, and potatoes kind of guy.  But when I first started messing around with baked cauliflower - like in my Orange Chicken Recipe.....I thought to myself.......hey - this stuff really ain't half bad.....
And now?  With this recipe for making Cauliflower Tacos?
I am a complete convert!  Brothers and sisters, can I get an amen?  I mean this stuff is flipping AWESOME.  It even LOOKS like hamburger meat!
I know, I know - people are going to be like  "Why do WANT something that looks like meat?"  Or....."You vegans say you give up meat, and then try to copy it...yuk yuk..."  
Whatever.....
For those of you "Not in the Know".....That's what Brand New Vegan is all about.  I make recipes that allow you to ease your way into a plant-based diet.   And I do that by making the foods you're already used to a whole lot healthier.
I call it "Vegan comfort food" and I guarantee it's a whole lot healthier than any of that pre-packaged stuff in the store.
And to me - nothing says comfort food like homemade Tacos.  Throw on some fresh tomatoes right out of the garden, and some of that Green Chile Sour Cream I made a while back?   Maybe a splash or two of my homemade Taco Bell Fire Sauce?
Man....I'm there.
Cauliflower Tacos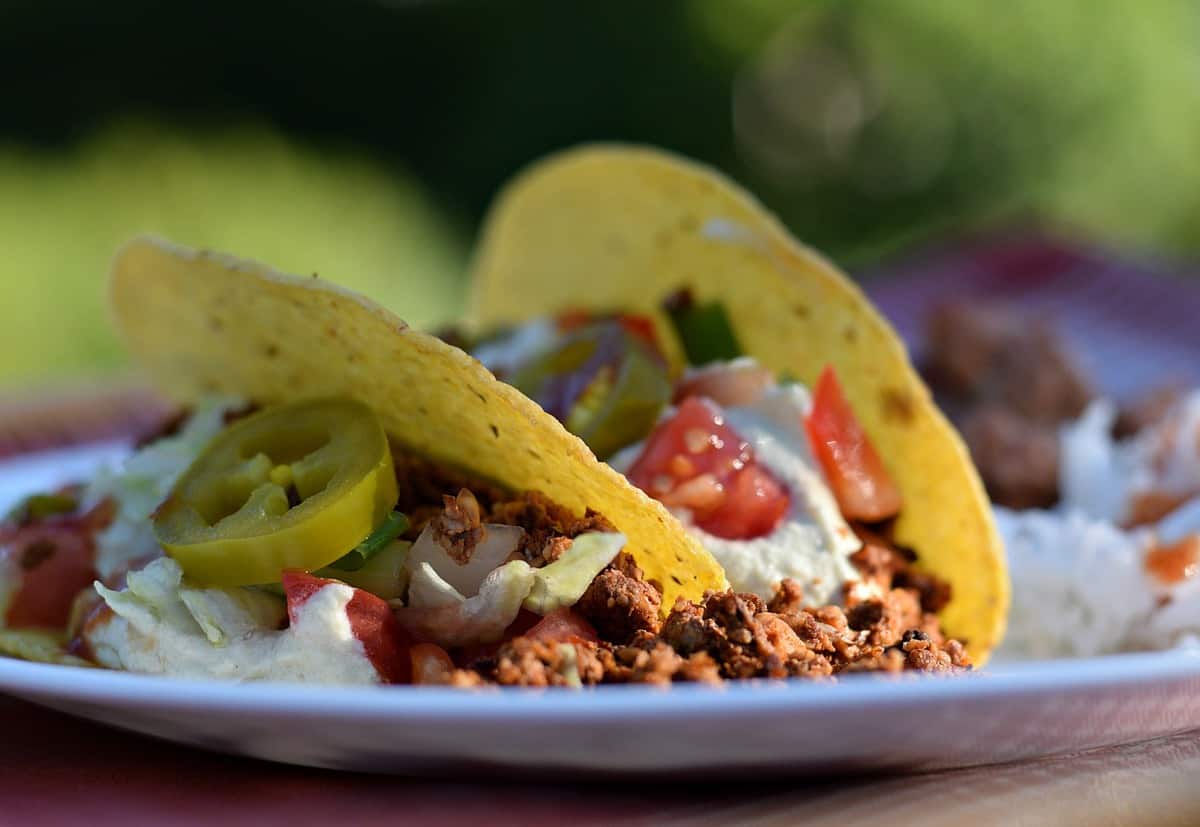 If you have a food processor - this is going to be REALLY easy.  And if not - well you can still do it, but you'll have a lot of chopping to do.
We're going to process a small head of cauliflower until it resembles the size and texture of ground beef - or rice if that's easier to picture.  Same with the mushrooms, and I used about 4 oz of Cremini Mushrooms.  That's about half of one of those packages you see in your grocery store.
And I also added 1 cup of Walnuts to my mixture for even better texture.  Walnuts also add a healthy dose of Omega 3 Fatty Acids but if you're allergic to nuts or just don't want the added fat - leave them out.
Once you've got everything processed in a large bowl, stir in 2 Tablespoons of Soy Sauce and mix well.
And then stir in all the spices, making sure everything's mixed thoroughly.
Now we just spread our mixture onto a parchment lined cookie sheet and bake at 350° F for 30 minutes.  Remove from the oven and stir things up a bit and then bake for an additional 10-15 minutes.
I could not believe how much it looks like hamburger.  And taste?  It tasted just like taco meat.  I was carrying spoonfuls out to my wife and daughter......and yes there were a few "omg's" and "wows" in there......
Someone has already asked me about compliant Taco Shells.....and by compliant, I am assuming they meant "oil-free".
You can buy Oil Free Corn Tortillas at just about any grocery store.  Then it's just a matter of shaping them and baking them until they're crispy.  One popular method is to drape a corn tortilla over several rungs of your oven rack - letting them hang upside down - and bake until crispy.
Google Oven Rack Taco Shells.....the photos are everywhere, or if nothing else you could just bake them flat and make Tostadas.
Now let's go make some Tacos!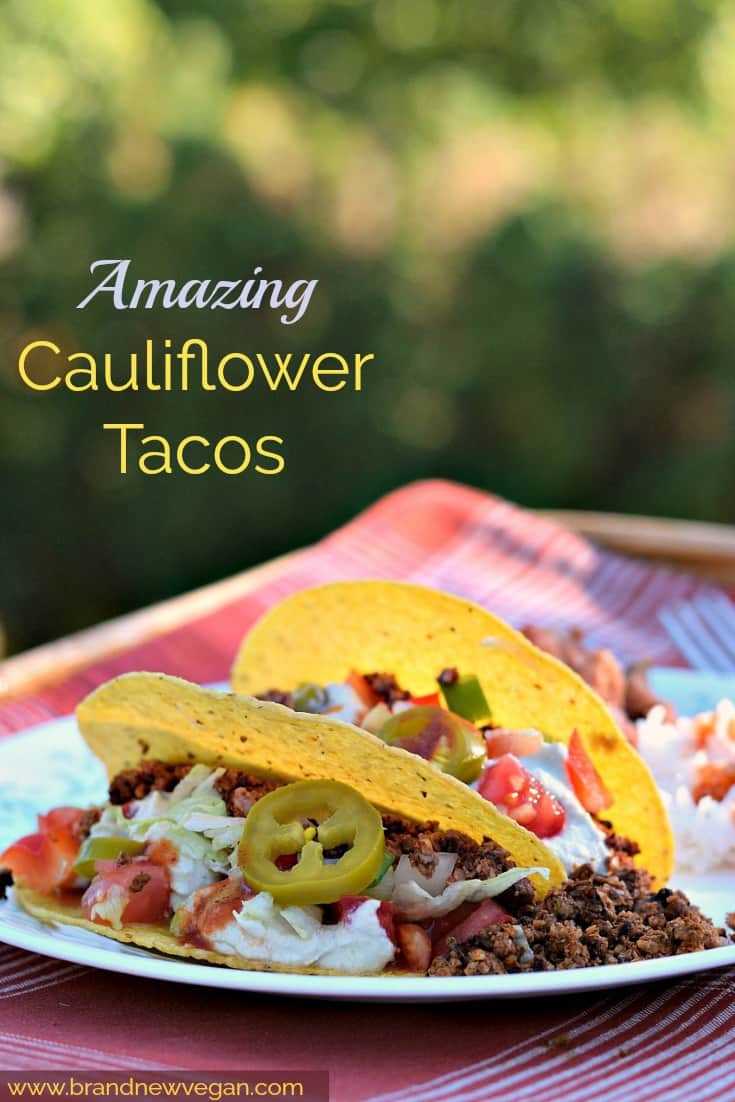 Print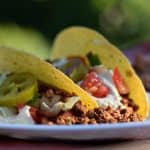 Amazing Cauliflower Tacos
Author:

Prep Time:

15 minutes

Cook Time:

45 minutes

Total Time:

1 hour

Category:

Main

Cuisine:

Mexican
---
Description
These Cauliflower Tacos will blow your mind they are so good. Trying to get your picky eaters to eat more veggies? They'll never know the difference !
---
1

small Head Cauliflower ((about

1 ½ cups

))

4

oz

Fresh Mushrooms

½

cup

Walnuts ((use less or omit if watching fat intake))

2

Tbs Soy Sauce

2

Tbs Chili Powder

2 tsp

Ground Cumin

1 tsp

Smoked Paprika

½ tsp

Garlic Powder

½ tsp

Onion Powder

¼ tsp

Ground Pepper

¼ tsp

Salt
---
Instructions
Preheat oven to 350 degrees F
Lightly pulse the mushrooms in a food processor until you have a rice like consistency
Now pulse (or chop) the walnuts to the same consistency and mix in a large bowl
Remove the core and leaves of your cauliflower and cut into small pieces
Pulse the cauliflower to the same consistency and add to bowl
Stir in soy sauce and mix
Stir in spices and mix well, making sure everything is mixed thoroughly
Spread mixture onto a parchment lined baking sheet and bake for 30 minutes
Stir lightly and continue baking for an additional 10-15 minutes
Keywords: cauliflower tacos, brand new vegan, bnv