I love fresh veggies. And I love rice. And I love a spicy Vegan Sausage. And when you mix all these together you get this wonderful Vegan Jambalaya with Andouille Sausage recipe I made last night. And let me tell you, it was AWESOME!!!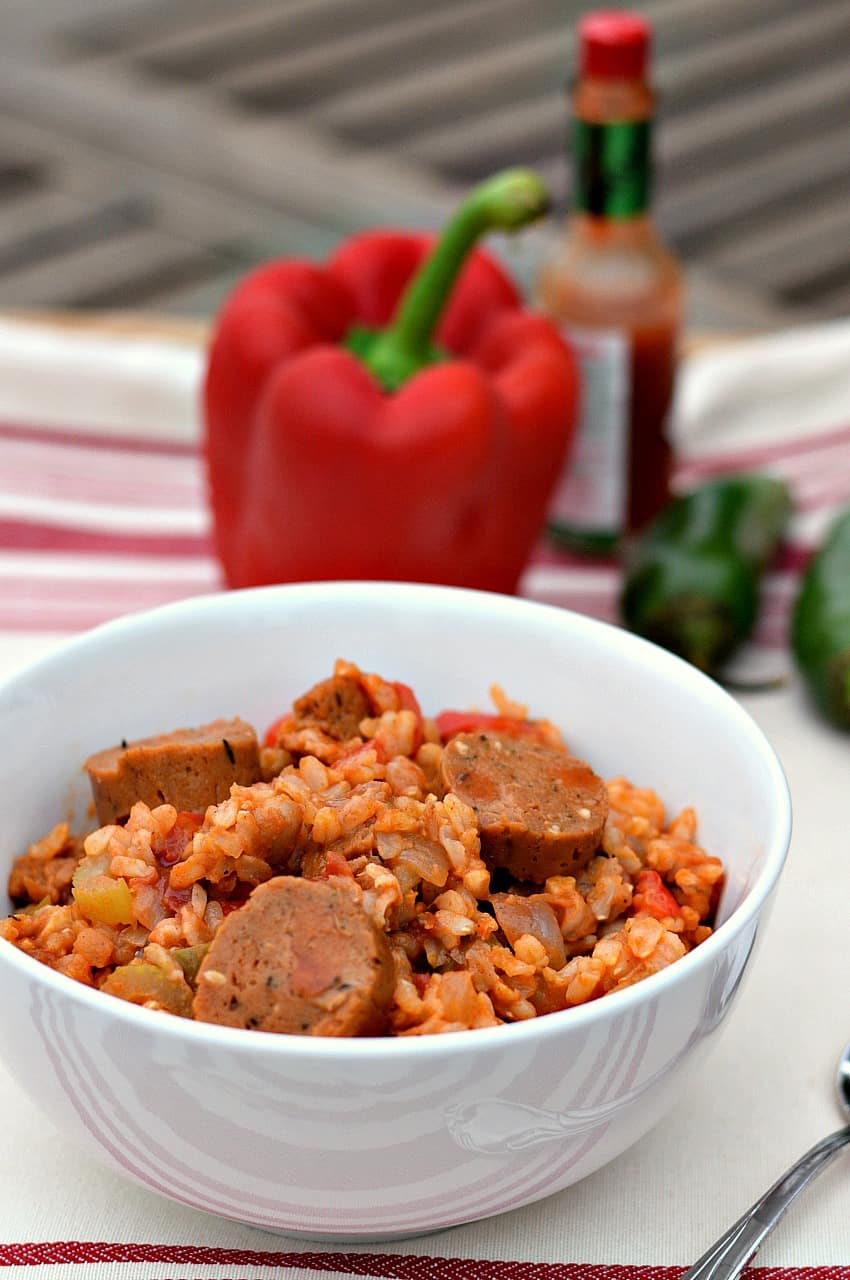 No worries - this is not a "OMG my tongue is burning off!" kind of spicy, but there is a nice warm afterglow when you take that first bite - and trust me, if my wife (who hates all things spicy) likes it, then you're going to be just fine.
Since I only get to cook on the weekends now, this is actually bonus day as you get TWO recipes in one.
The Andouille Sausage and the Vegan Jambalaya.
Each recipe takes about an hour to make so plan ahead.
And of course the Vegan Jambalaya can me made without the sausage but let me tell you, it does add some really good flavor and texture to the dish.
And to all my men readers out there.....guys, you're really going to love this.
Andouille Seitan Sausage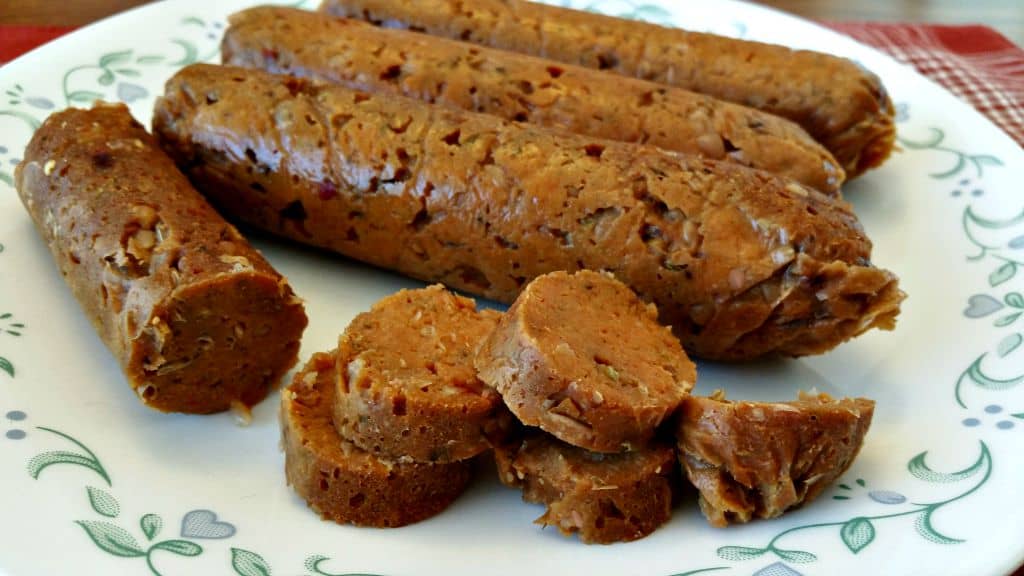 The Sausage Recipe for this dish is intended to replicate Andouille Sausage - a famous Louisiana Cajun Sausage known for it's spiciness. I definitely toned down the heat on this one, but if you like it really authentic - feel free to add a bit more Cayenne Seasoning to get the heat level you like.
I used my Italian Sausage Recipe to make the Seitan, which is simply a mix of white Cannelloni Beans, Veg Broth, and Vital Wheat Gluten as the base of this recipe, only I modified the spice mix to try and create a more Cajun Flavor.
To make Seitan Sausage, simply mash the beans with a potato masher or fork, and then mix the mashed beans, the wet ingredients, and the spices in a large bowl. Then slowly mix in the Nutritional Yeast and Vital Wheat Gluten until you have a soft, spongy dough.
Knead the dough for a minute or two, and then cut it into 4 equal sized pieced. Roll and stretch each piece into a rough sausage shape and then seal tightly in Aluminum Foil, like a big Tootsie Roll.
Steam for 45 minutes.
My first bite told me this recipe was going to be good, and trust me - it was. This sausage is easy to make and really adds just the right oomph to send this Vegan Jambalaya over the top.
Keep scrolling down to see the Jambalaya Recipe.
Print
Andouille Seitan Sausage
Author:

Prep Time:

15 minutes

Cook Time:

45 minutes

Total Time:

1 hour

Yield:

4

Sausages

1

x

Category:

Main

Cuisine:

American
---
Description
A spicy Seitan Sausage that replicates the famous Cajun Sausage used in the south, Great in Gumbo, on a roll with some hot mustard, or especially sliced up in my Vegan Jambalaya recipe.
---
Andouille Saugage
1 ¼ cups

Vital Wheat Gluten

¼ cup

Nutritional Yeast

½ cup

White Beans

1 cup

Veg Broth

4

cloves Garlic ((minced))

2

Tbs Soy Sauce

1

Tbs Tomato Paste

1

Tbs Maple Syrup

2 tsp

Smoked Paprika

1 tsp

Thyme

1 tsp

Sweet Paprika

1 tsp

Rubbed Sage

½ tsp

Salt

½ tsp

Liquid Smoke

¼ tsp

Black Pepper

¼ tsp

Cayenne Pepper ((adj to taste))
---
Instructions
Warm up your steamer.
In a large bowl mash beans with a potato masher or fork until smooth.
Add in veg broth, soy sauce, tomato paste, and all the spices until mixed well.
With a fork, mix in Nutritional Yeast and Vital Wheat Gluten until a dough forms
Knead dough for a minute or two and then cut into 4 equal pieces
Stretch and roll each piece until a sausage shape is formed
Roll tightly in Aluminum Foil and seal ends by twisting
Steam for 45 minutes.
---
Vegan Jambalaya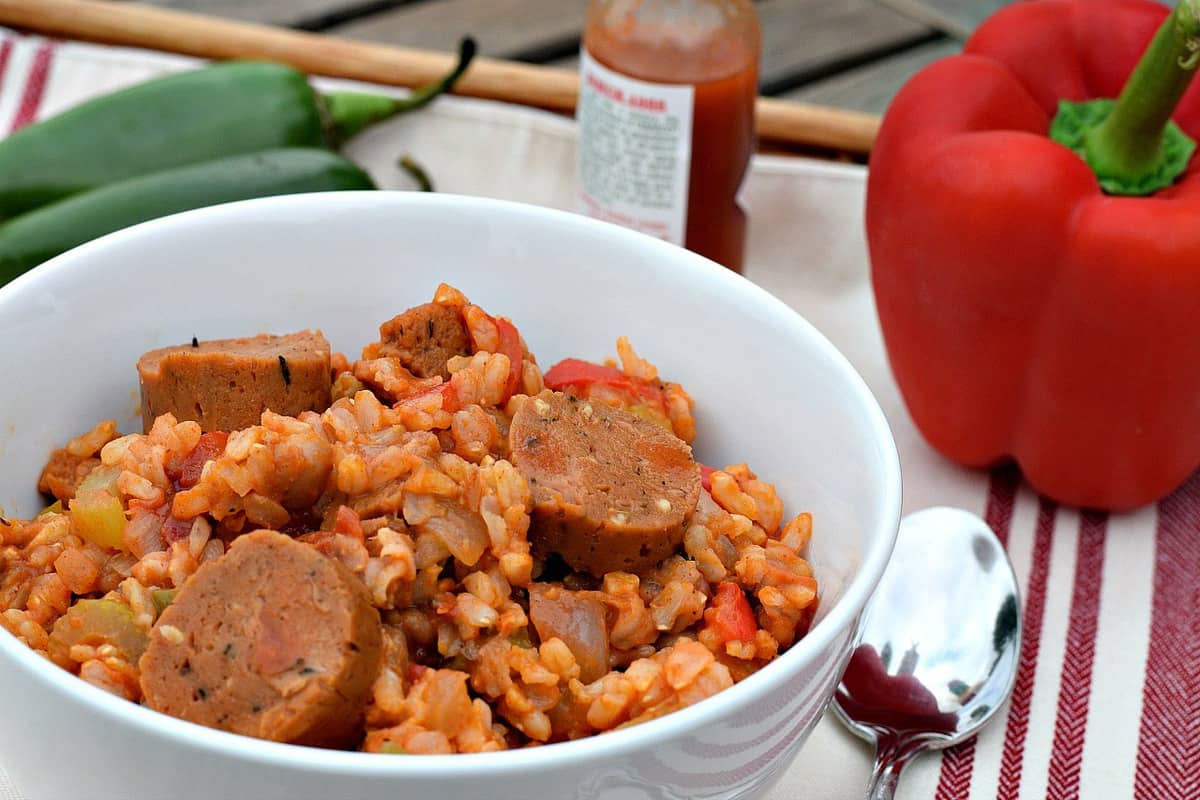 The Jambalaya portion of this recipe is the easy part.
One pot, no muss no fuss. It could probably be adapted easily for a crock pot as well.
Simply saute all your veggies, and when softened, add your tomatoes and spices, mixing well to distribute. When bubbly, add in your Brown Rice and Veggie Broth and bring to a boil.
Once it comes to a boil, cover and reduce the heat for 45 minutes or so until the rice is done. Stir in the sausage right before serving and mix well.
Again, there is a tiny bit of heat from the spices in this recipe, but the heat can easily be adjusted up or down by playing with the amount of Cayenne Pepper you use.
My wife was really surprised as to how good this was and like I said - she does NOT like spicy AT ALL.
Give me a yell if you make this and please tell me what you think.
I think this is going to become a new favorite!!
Print
Vegan Jambalaya
Author:

Yield:

8

Servings

1

x

Category:

Main

Cuisine:

American
---
Description
Rice, Veggies, and just the right amount of spice brings this Vegan Jambalaya to the plant-based world. Add in my Andouille Seitan Sausage and you can almost hear the band down on Bourbon Street!
---
2

Ribs Celery (chopped)

1

White Onion (diced)

1

Green Bell Pepper (diced)

1

Red Bell Pepper (diced)

1

Jalapeno (chopped finely (add more to taste))

4

Cloves Garlic (minced)

3 Cups

Veg Broth

1 ½ Cups

Brown Rice

14 oz

Can Diced Tomatoes

½ cup

White Beans (I added what was left over from the sausage)

2 tsp

Vegan Worcestershire Sauce (can be omitted if you can't find it)

1 tsp

Tabasco

2 tsp

Smoked Paprika

2

Bay Leaves

½ tsp

Oregano

½ tsp

Thyme

½ tsp

Ground Cumin

½ tsp

Salt

¼ tsp

Cayenne Pepper (more if you like it spicy)

2

Vegan Andouille Sausages (sliced (or more to taste))
---
Instructions
Chop all veggies and saute in ¼ cup Veg Broth until softened
Add in tomatoes and beans, and stir well. The beans are totally optional - I just had ½ can remaining from the sausage and didn't feel like storing them)
All all spices and mix well
Heat until bubbly and then add in Veg Broth and Rice.
Bring to a boil.
Reduce heat to low and cover for 45 minutes.
Stir in Sausage during last 5 minutes or so if using.
---
Enjoy!