I lived in Texas for 5 years and came to really appreciate good BBQ.   Now that I'm Vegan, I have been experimenting a lot with VEGAN BBQ and I think I may have found the absolute best replacement for Vegan Pulled Pork yet....   mushrooms.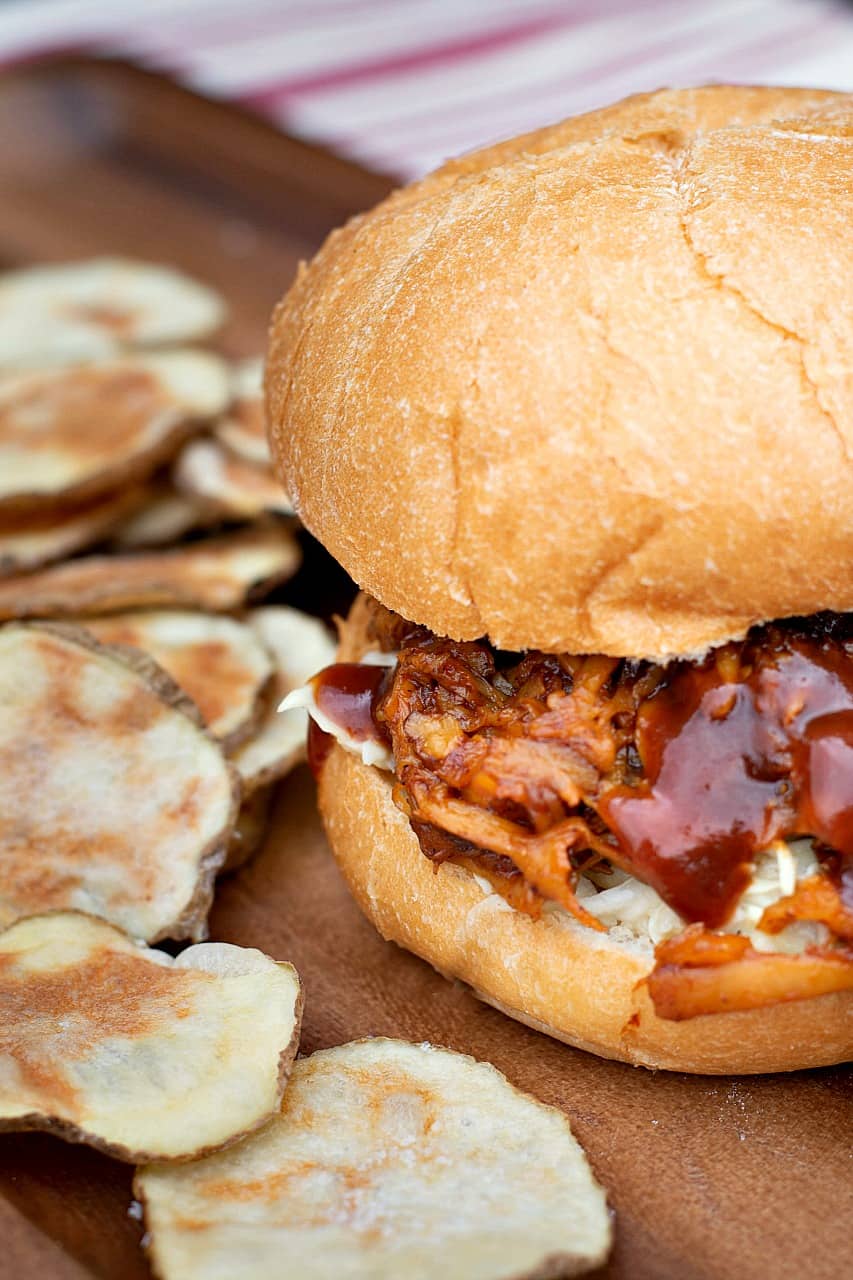 Yes, I've tried BBQ Soy Curls, and they were pretty good...... but not everyone can tolerate Soy.
I've even tried BBQ Jackfruit, since that was the up and coming thing last year..... and it was pretty good too.  But a common question I got was "What exactly IS a jackfruit anyway and where in the heck do I buy it?"
So the search for the ultimate Vegan BBQ Sandwich continued....
I even tried using mushrooms once in my Texas Style Vegan BBQ Recipe,  and THEY were good too (especially the homemade sauce), but to me - the texture ...wasn't ...exactly ... right. Not like the pulled pork I remember from my favorite Texas BBQ joints anyway.
Don't misunderstand me, any of these 3 recipes will give you an amazing sandwich with that great BBQ flavor we all know and love.   But recently?  Just recently I think I have finally found .... the ultimate replacement....  for pulled pork yet.
And yes it's a mushroom, but a very special mushroom.
I'd like to introduce to you the King Trumpet Mushroom.
What I found unusual about this particular mushroom, is it's mostly stem and not much of a cap.
Not only that, that stem shreds!  Look at that - does that not look like shredded pulled pork?   Craziness!
So I created this particular recipe based on these King Trumpet Mushrooms, which I found at our local Whole Foods.
But first - a disclosure:
These are kind of pricey - I paid $14.99 for a pound of them.
1 lb of the shredded mushrooms in this recipe will give you about 3 regular sandwiches.....or maybe 4- 5 small sliders.
I found them at Whole Foods but I realize not everyone lives close to one.  So - you could also try Trader Joes, Sprouts, or any Asian supermarket.
Bottom line - if you don't want to spend the money on these mushrooms, or can't find them - you can STILL use the recipe for the marinade and just choose a different 'meat' replacement.  (Soy Curls, Jackfruit, or regular Mushrooms, etc.) 
But if you ever get a chance to TRY the King Trumpet Mushrooms.....they will blow your mind.
Ok - enough chatter - here's how I made my Best Vegan Pulled Pork yet. 
Vegan BBQ:  Best Vegan Pulled Pork Yet
I started with one pound of King Trumpet Mushrooms.
Wipe off any dirt or debris, and then cut about ¼" off of the very end of the stem.   (the very end is usually pretty yucky looking anyway).  
Also, cut off the cap, and then using a fork, begin to shred the stem by pulling the fork across it from one end to the other.  The cap can also be shredded and smashed with the tines of your fork.
Place all your mushroom shreds into a bowl and set aside while we make the marinade.
Carolina Style Marinade 
Since pulled pork is traditionally a Carolina BBQ specialty, I went with a thinned down, vinegary sauce I adapted from an episode of Diners, Drive-Ins, and Dives.
In a small bowl were basically going to mix some of your favorite BBQ Sauce (I used Stubbs), some Apple Cider Vinegar, Soy Sauce, Vegan Worcestershire, Yellow Mustard, and a touch of Liquid smoke.  We whisk that until smooth and then pour over our mushrooms and mix until thoroughly coated.
That's it.
That's the entire recipe. Simple, but tasty.
Let that marinate for at least an hour (or longer) and right before cooking - we are going to strain the mushrooms (as we no longer need the marinade).   Pour the whole mixture into a seive and let the mariade strain off leaving you just the mushrooms.
To cook:  
Place your marinated mushrooms into a non-stick skillet and add ½ cup or so of your favorite BBQ Sauce and stir.  Let that simmer over med-high heat until it begins to caramelize and brown, adding additional sauce if necessary.
I served these on some toasted whole wheat buns with a big helping of my Creamy Vegan Coleslaw and they ... were ..... amazing.
Taste.  Texture.  Mouthfeel.
Everything about this sandwich screams Pulled Pork.  But they're mushrooms!  Crazy! 
Have a finicky meat-eater or BBQ aficionado in your family?  Give these a whirl and see what they think.
I bet they won't be able to tell the difference!
Until next week:  Happy Vegan BBQing..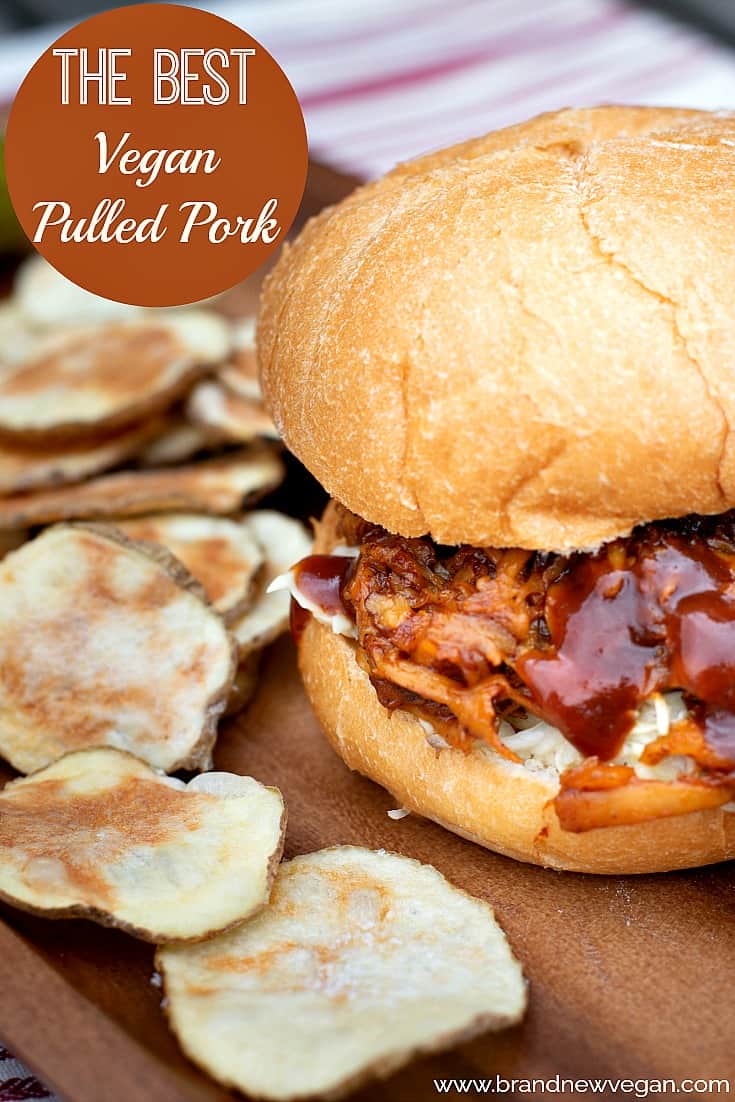 Print
Vegan BBQ: Best Vegan Pulled Pork Yet
Author:

Yield:

3

1

x

Category:

BBQ, Summer Picnics

Cuisine:

American, BBQ, Vegan
---
Description
I think I may have found the absolute best replacement for Vegan Pulled Pork yet.... mushrooms. This meaty mushroom shreds just like pulled pork and with my tangy marinade makes for one AWESOME sandwich. Oh boy oh boy oh boy.
---
1

lb King Trumpet Mushrooms ((shredded))

1

batch Creamy Vegan Coleslaw
Marinade
½ cup

BBQ Sauce ((any))

½ cup

Apple Cider Vinegar

¼ cup

Soy Sauce ((low sodium))

¼ cup

Worcestershire Sauce ((vegan))

¼ cup

Prepared Yellow Mustard

1 tsp

Liquid Smoke
---
Instructions
Prepare Coleslaw and set aside in fridge. (not necessary - but really, really good!)
Shred mushroom stems and caps into a bowl.
Mix all marinade ingredients to make the marinade, then pour over shredded mushrooms and mix.
Allow the mushrooms to marinate at least 1 hour (but longer is better) - then strain.
Add strained mushrooms to a non-stick skillet and heat over med-high heat.
Add ½ cup of your favorite BBQ Sauce and cook until mushrooms caramelize and begin to brown.
Serve on bread or bun of choice with a good dollop of coleslaw on top. Yum!
---
Notes
Tips are always welcome!
---
[paypal_donation_button]
Keywords: vegan pulled pork