It was a beautiful Spring Day here in the Pacific Northwest - and as I was cleaning up the old BBQ I knew exactly what recipe I had to make next....BEER BRATS!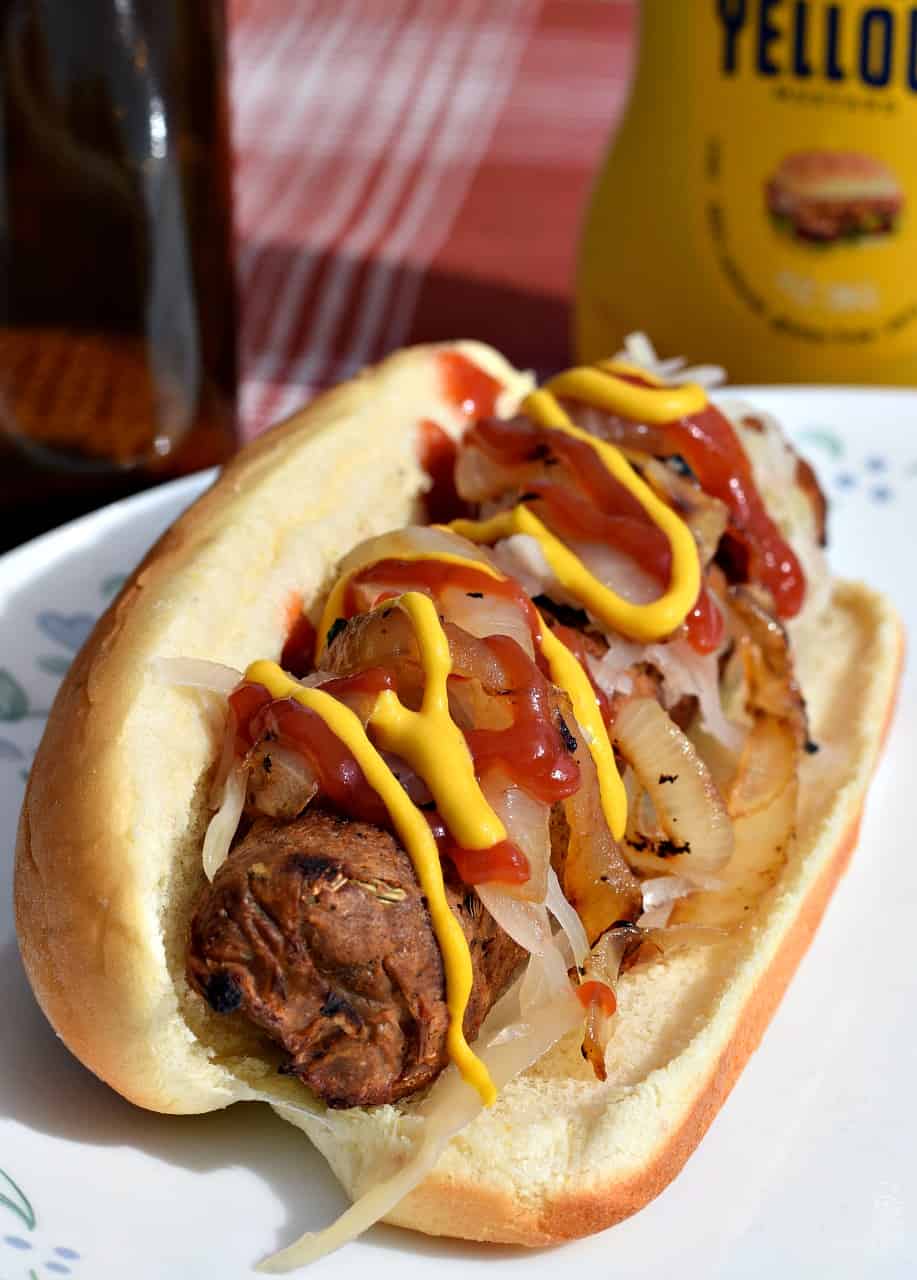 Who doesn't love a good Beer Brat smothered with a little mustard and relish?  Maybe some grilled onions and sauerkraut?   Oh man.....my mouth is watering already.
So get ready guys - this is one I think you're going to really like.
What....you didn't think you're grillin' days were completely over now did you?
These Beer Brats are super easy to make, and with ingredients you probably already have.  And the spice mixture on these in my opinion is dead on perfect.
You'll need a large bowl for the dry ingredients, a blender for the wet, and a steamer to cook your dogs in.
They're super moist and flavorful right out of the steamer, and hold up well on the old BBQ to get those perfect char marks we all love so much.
Vegan Beer Brats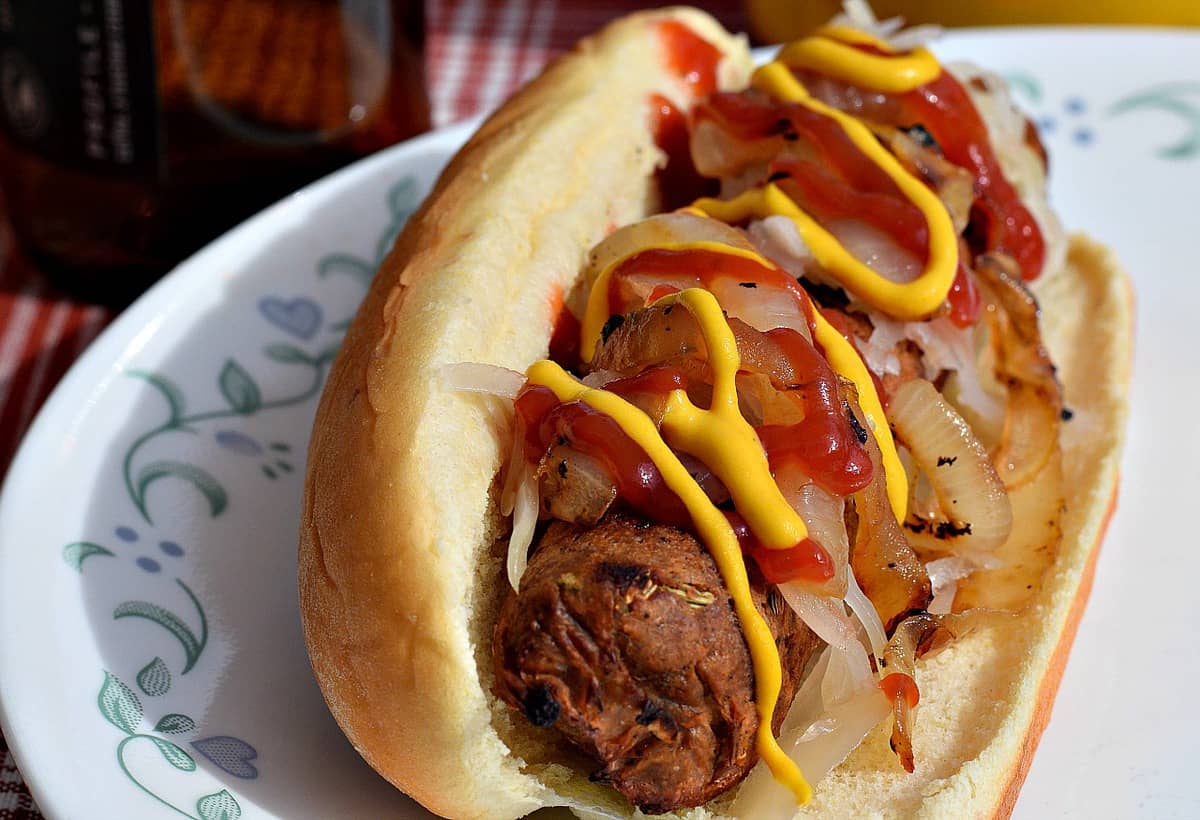 You will need some Miso Paste which is now available at many grocery stores.  Take a look in the "Healthy" section next to the Vegan Cheese, Tofu, Tempeh, and the like.  White Miso is what I used.
You'll also need some Vital Wheat Gluten which I personally have to go to Whole Foods to find.
Gluten is the protein found in wheat and is what makes your bread and pizza dough stretchy.   Vital wheat gluten is just that protein in a powdered form,  and although it may look like flour, it's not -  so don't get them confused.
I'll include an Amazon Link in case you can't find it anywhere else.  Keep in mind this will be an Affiliate Link so if you do make a purchase using my links, I do make a couple of pennies on the sale.  Just so you know.
You won't need a whole lot for this recipe, so be sure and seal up you bag and save it for another recipe.
Link to Vital Wheat Gluten on Amazon.com
The Prep
The prep on these homemade Beer Brats is easy.  You add all the dry ingredients, including the spices -  to a large bowl and whisk thoroughly.
Then we're going to add some White Cannellini Beans, Miso Paste, Soy Sauce, Liquid Smoke, and beer to your blender and mix that up until it's nice and smooth.
I used a dark Porter beer for my recipe (as that's what I like to drink).  Use whatever beer you have on hand.  I couldn't taste the beer at all in my finished Brats- so maybe one with a higher Hop content - like an IPA - will bring out some more beer flavor if that's what you like.
Now we just mix the wet ingredients into the dry until we get a wet, loose dough.
Knead the dough for a few minutes (it won't be sticky at all) and cut it into 5 equal balls.
Cover those with a towel and let them rest while you prepare your steamer and get it heated up.  I use my rice cooker which has a steamer basket.  I just pour about an inch or two of water in the bottom and then turn it on.  When you see steam coming out of the vent hole in the lid you're ready.
Cut 5 squares of Aluminum Foil and place a dough ball into each one.  Stretch the dough out a bit so it kind of resembles a Beer Brat and then roll them up in the foil, twisting each end like a Tootsie Roll.
Now I know some people do not like to use aluminum with their food, but we need it to retain the shape of these dogs while they're steaming.....so simply place a small piece of parchment paper between the foil and the dogs...problem solved.   
Place those brats in the steamer and forget about them for 45 minutes.
Beer Brats on the Grill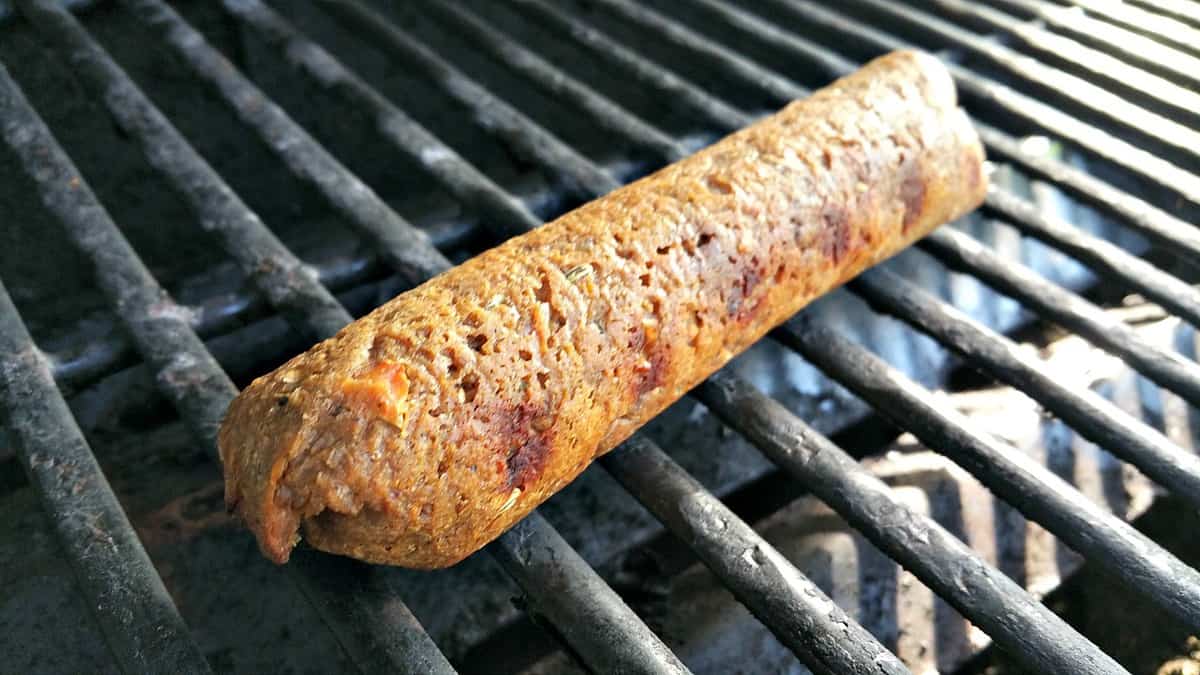 Now comes the hardest part - seriously.
Waiting.  
When you're Beer Brats are done steaming - carefully remove them from the steamer and place them on a plate to cool.
Now - forget about them again for another 30 minutes.
Oh I know - you want to taste one NOW.  And I did too - but seriously, the longer you let them rest the firmer they will become.
The Brats at this stage are done - but if you're like me and want to grill them - use this time to get your grill ready.  You can also dry fry them in a pan too - whatever you like.  Or eat them as they are now.  It's all good.
But if you DO grill them, go ahead and get the grill ready and heating up while you wait the 30 minutes for them to rest.
Note to the Men:  Guys - remember these are NOT meat dogs, they are basically 'dough' dogs.  So there is no fat that will melt and sizzle to keep these dogs juicy like a regular dog or brat.  In other words: these Beer Brats will become pretty DRY if you grill them too long.  
So heat up the grill now - get it nice and hot - and then when it's time - plop on the dogs just long enough to get some good grill marks and a little smokey flavor.  If nothing else, have a cup of beer and a brush handy to baste your dogs while they're grilling to keep them moist.  
That's it!  Vegan Beer Brats hot off the grill.
These can me made ahead of time and taken to camp outs and parties for grilling later.  Just toss on some French Fries and Baked Beans and you got yourself the perfect summertime picnic.
Enjoy and keep those comments coming in!

Print
Vegan Beer Brats
Author:

Prep Time:

20 minutes

Cook Time:

40 minutes

Total Time:

1 hour

Yield:

5

Brats

1

x

Category:

Main

Cuisine:

American
---
Description
Get your Vegan Beer Brats! Hot off the grill. Completely fat-free these Vegan Beer Brats have amazing favor and hold up very well on the grill. Perfect for summertime BBQs!
---
Wet Ingredients
½ cup

Cannellini Beans ((rinsed and drained))

1

Tbls White Miso Paste

2

Tbls Soy Sauce ((low sodium))

1 cup

Beer

¼ tsp

Liquid Smoke
Dry Ingredients
1 ¼ cup

Vital Wheat Gluten

¼ cup

Nutritional Yeast

1 tsp

Fennel Seeds

1 tsp

Garlic Powder

1 tsp

Onion Powder

1 tsp

Rubbed Sage

½ tsp

Dry Mustard Powder

½ tsp

Smoked Paprika

½ tsp

Salt

½ tsp

Ground Pepper

¼ tsp

Allspice
---
Instructions
Whisk all dry ingredients together in a large bowl until thoroughly combined
Blend all wet ingredients until thoroughly mixed and smooth
Add wet ingredients to dry and mix to form a loose dough
Cover and let rest while preparing foil sheets and steamer
Add 1-2 inches of water to steamer and turn it on
Pull off 5 sheets of Aluminum Foil, making them square
Cut dough into 5 equal pieces and shape into logs 5-6" long
Roll each log in Foil and twist edges to seal. (You can use parchment paper in between the brats and the foil if you wish.)
Steam for 45 minutes
Let rest 30 minutes if you can
Enjoy as is, dry fry in a pan, or grill for additional browning
---
Notes
Garnish with your favorite condiments. Ketchup, Mustard, Pickle Relish, Grilled Onions, Sauerkraut.
Add Baked Beans and French Fries for the perfect picnic meal!