Summertime is right around the corner.  And that means BBQs!
Hey now, don't be sad or feel left out.  Just because we're vegan doesn't mean we can't enjoy BBQs too.  Oh heck no.
As a matter of fact, with THIS recipe for Vegan Baked Beans, you may well be the STAR of the party.
Yep, they're that good, even without the bacon.
But don't just take my word for it, whip up a batch and take it to your next outdoor gathering.  Chances are the bowl will be so licked clean, you won't even have to wash it……  (but I would anyway 🙂 )
Best Dang BBQ Vegan Baked Beans
Fair warning, this is not one of those 'quick' bean recipes.
Nope.  This is one that will take all.  day.  long.  
But believe me, the wait is worth it.  Melt in your mouth BBQ beans are SO worth waiting for.  And the SMELL as they are slow cooking?  Daaaaang.
Overnight Soak & Quick Soak
Start with 3 cups of dried, white beans.  I used Great Northern.  Give them a nice long bath in a few inches of water for the night and forget about them.
Next morning, drain and rinse.  Be sure and pick out any weird-looking beans or twigs or whatever.  Now let's put them back in the pot with a few more inches of clean water and bring them to a boil.
Once they start bubbling, turn off the heat and let them sit and rest for about 30 minutes.
Yep, I did both the 'overnight soak' method AND the 'quick soak' method.  Both.
Trust me, they will be very tender when we're all through.
First Boil
After 30 minutes, drain the beans again, but save about 2 cups of the bean juice.  Give them a good rinsing and plop them back into the pot.  Add that bean juice back in with them along with the onion, garlic, peppers, salt, and veggie broth and bring the pot to another boil.
Now once they start bubbling, turn the heat down low and let them simmer for 1 hour.
The thing is, the acidity of the tomatoes can make your beans tough.  So by cooking them without any of the sauce ingredients first, we really give them a chance to become nice and tender.
The Crock Pot
Now, after the hour is up, carefully transfer the contents of the pot to a crock pot and add the rest of the ingredients.  Add the lid and turn the switch to LOW.
And now we wait.
After about 4 hours if it looks like there's still a ton of liquid, take off the lid and let them keep simmering.  The longer you can wait the thicker they'll become.
Torture?  Maybe.  But worth it?  Oh yeah.
These beans are literally the bomb.  I gave my wife a taste last night after they had been simmering all day and her only words she could mutter were……   MMMMMMmmmmmmmmm.
A thumbs up from the wife usually means a keeper.
Never be afraid of a BBQ again.  With these beans, some Vegan Potato Salad, and Jeff Novick's Bean Burgers you'll be the most popular (and healthiest) person at the BBQ.
Happy Summer.
🙂
Print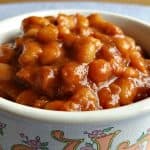 Best Dang Vegan BBQ Baked Beans
Author:

Prep Time:

30 minutes

Cook Time:

6 hours

Total Time:

6 hours 30 minutes

Category:

Side

Cuisine:

American
---
Description
Slow cooked, BBQ Vegan Baked Beans - from scratch. It's an all day process, but oh - the flavor is out of this world. You'll be the star of the cookout. Who says Vegan's can't go to BBQs!
---
3 cups

Dried Great Northern Beans

2 cups

Reserved Bean Liquid

2 cups

Low Sodium Vegetable Broth ( )

1 tsp

Salt

1

Onion ((diced))

1

Green Bell Pepper ((diced))

4

cloves Garlic ((minced))

½

Jalapeno ((minced))

1

can Tomato Paste ((

6oz

))

¼ cup

Molasses

¼ cup

Dark Brown Sugar

1

Tbs Yellow Mustard

1 tsp

Apple Cider Vinegar

¼ tsp

Ground Pepper

¼ tsp

Chipotle Chili Powder
---
Instructions
Soak beans overnight in several inches water
Drain and rinse beans next morning
Add enough water to cover and bring to a boil
As soon as the beans begin to boil, remove from heat and cover
Let rest 30 minutes
Drain and rinse beans, reserving 2 cups bean juice
Add beans back into pot, with 2 cups bean juice
Add vegetable broth, onion, garlic, peppers, and salt
Bring to a boil again and simmer on low for 1 hr
Add mixture to crock pot
Add remaining ingredients and slow cook on low 4-6 hrs
---