Growing up in Indiana, my mom would fry a bunch of 'taters (usually in a ton of bacon grease) and then add onions and whatever veggies were left in the fridge.  She called it HASH.  And despite all the grease, it was pretty tasty.  So I decided to make this oil-free Vegan Breakfast Hash to continue that family tradition.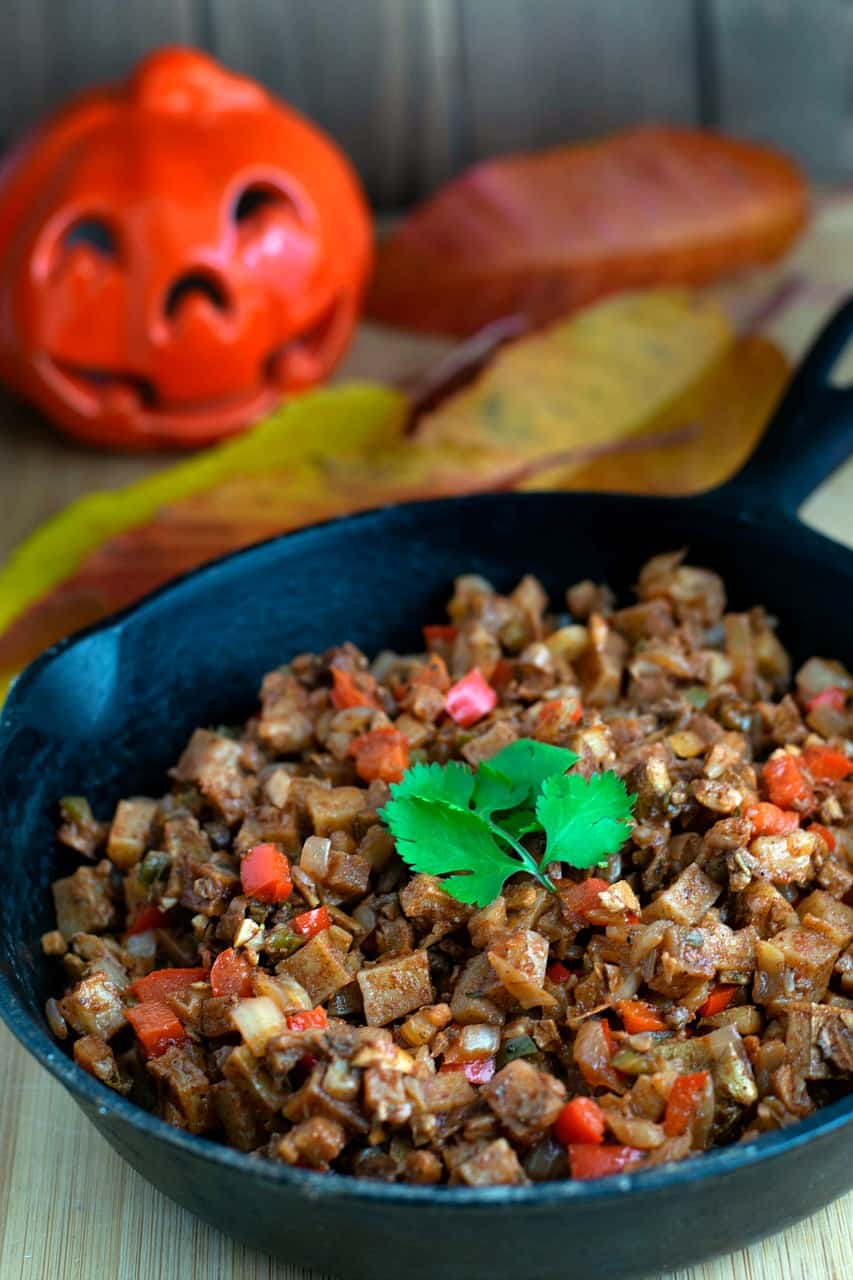 Years later I found out my Father In Law made something similar for my wife when she was a little girl.  Kitchen Sink Hash is what they called it, because he would literally add everything but the kitchen sink when he cooked 🙂 

Corn, peas, that last piece of celery or that last tiny carrot.  As Guy Fieri says "Everybody into the pool".  
I made this version with Russet Potatoes, an Onion, a Red Bell Pepper, and a Jalapeno.  I also used my Amazing Cauliflower Taco mixture as the 'meat' in this recipe and I spiced it up a bit with some Chili Powder and Smoked Paprika.   

But the real beauty of using my Cauliflower Crumbles for meat is you can spice them up any way you want!  Don't like the sound of a Taco Hash?  Then use the seasoning from my Vegan Sausage Gravy instead!  Make it more of a traditional breakfast sausage hash instead of a southwestern taco hash!  
The possibilities are endless! 
"But Chuck, how do you fry potatoes without oil or fat"
You BAKE them instead.  Cubed potatoes in one pan, seasoned cauliflower meat in another - into the oven for 30 minutes or until golden brown and then you just mix everything together in a big skillet (don't forget the gravy or ketchup).  
It's easy, it's TASTY, and it's a perfect way to get your daily dose of starch AND use up some leftover veggies.  And yes, I can see this being perfectly legit on a Mary's Mini diet. 
Waddya say?  Ready to go make some HASH?  Let's go! 
Vegan Breakfast Hash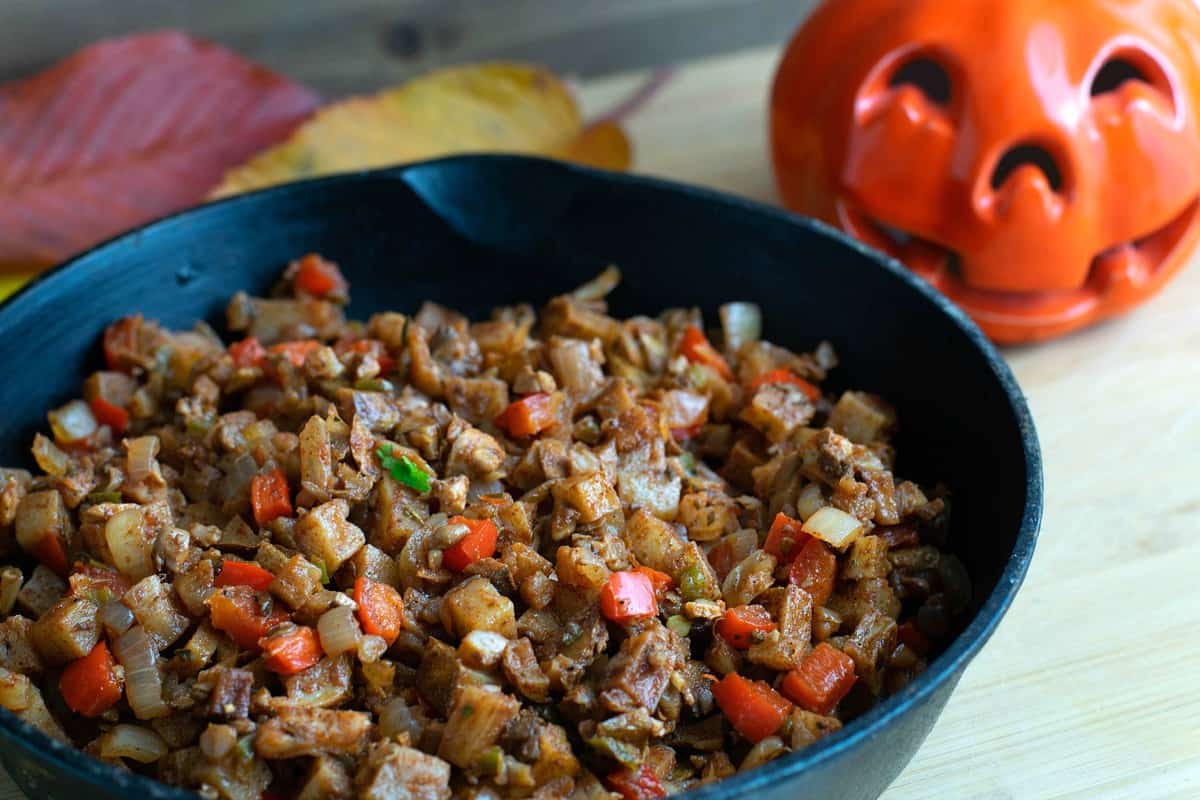 Start with 2 medium-sized Russet Baking Potatoes.   I scrubbed them first and then carefully cut them into ⅜" sized cubes that I then placed in a bowl of cold water.
Meanwhile, heat up your oven to 400 degrees F. 
While my oven was heating up, I also prepped my 'meat' mixture by mixing 1 ½ cups of riced cauliflower, ¾ cup chopped mushrooms and a few tablespoons of chopped walnuts (optional). 
I stirred in 1-2 Tablespoons of low sodium soy sauce to give the seasoning something to stick to and then added 1 ½ tsp of chili powder and ½ tsp smoked paprika.   As I said earlier, you can add whatever seasoning you like. 
Stir that up really well and then spread evenly on a parchment-lined baking sheet.  
Turning back to the potatoes - rinse and drain the potatoes and spread them evenly on another parchment-lined baking sheet as well.  Pat dry as much as you can.
Place both pans into the oven and bake for 30 minutes.  Pull them out at the 30 min mark and stir them around (both pans) and then bake for an additional 10-15 minutes. 
While the veggies are baking, dice a large yellow onion and begin softening it in a large skillet with a few tablespoons of low sodium vegetable broth.  When the onion has softened, add a diced red bell pepper and stir to mix well.  (for the southwestern flavored taco meat you could also add a minced jalapeno but it's completely optional)
When the potatoes and cauliflower meat have finished baking, add them to the pan with the onions and stir to mix well.
At this point, I added ¼ cup of ketchup and a little oregano & thyme, but take a taste and add whatever seasoning you think you'd like.  Add ½ cup of my Vegan Gravy if you want - that would be a good binder and taste amazing too.
And that is hash, my friends.
You can top it with gravy, ketchup, hot sauce, whatever you like - or just eat it as is.  It's basically potatoes mixed with non-starchy veggies so I think this would be perfect for those trying a Mary's Mini Potato Diet.  
As always, please comment below if you enjoy this recipe or tag me in IG.  Love to see those comments. 
See ya next week!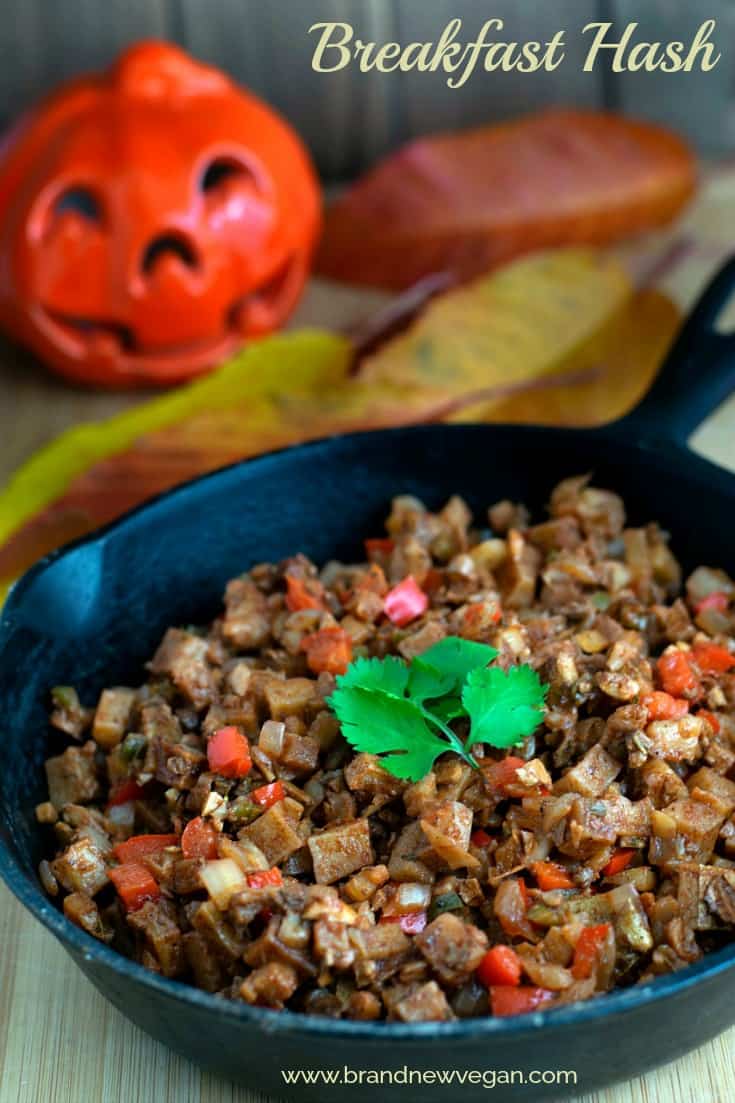 Print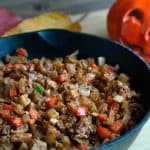 ---
Description
Remember Hash? Fried potatoes, onions and whatever was left in the fridge? I made this oil-free Vegan Breakfast Hash to continue that family tradition.
---
2

Russet Potatoes, cubed

1 ½ cups

Cauliflower, riced

¾ cups

Mushrooms, diced fine

2

Tbs Walnuts, chopped fine (optional)

2

Tbs Low Sodium Soy Sauce

1 ½ tsp

 Chili Powder

½ tsp

 Smoked Paprika

1

Yellow Onion, diced

1

Red Bell Pepper, diced

1

Jalapeno, diced (optional)

¼ cup

Ketchup

½ tsp

Oregano

¼ tsp

 Thyme
Black Pepper to taste
---
Instructions
Preheat oven to 400 degrees F
Scrub potatoes and cut into ⅜" cubes, place in bowl of cold water
Mix riced cauliflower, chopped mushrooms, and optional chopped walnuts in a separate bowl
Stir in soy sauce, chili powder, and paprika
Spread taco mixture on one parchment-lined baking sheet
Rinse and drain potatoes and spread on a 2nd parchment-lined baking sheet
Bake both pans of veggies,  stirring after 30 minutes, and then baking an additional 10-15 min
Meanwhile, dice the onion and saute in a large skillet until softened.
Use 1-2 Tbs of veg broth or water to prevent sticking
Add diced Red Bell Pepper and jalapeno (if using) and simmer gently.
When potatoes and the taco meat are finished, add to the skillet and stir to combine
Add ketchup, oregano, and thyme and stir to mix
Add a few grinds of black pepper to taste
Simmer until heated through and serve with additional ketchup or gravy
---