A staple in many Mexican Restaurants, these Vegan Enfrijoladas have all the taste and flavor, but without any of the oil or fat!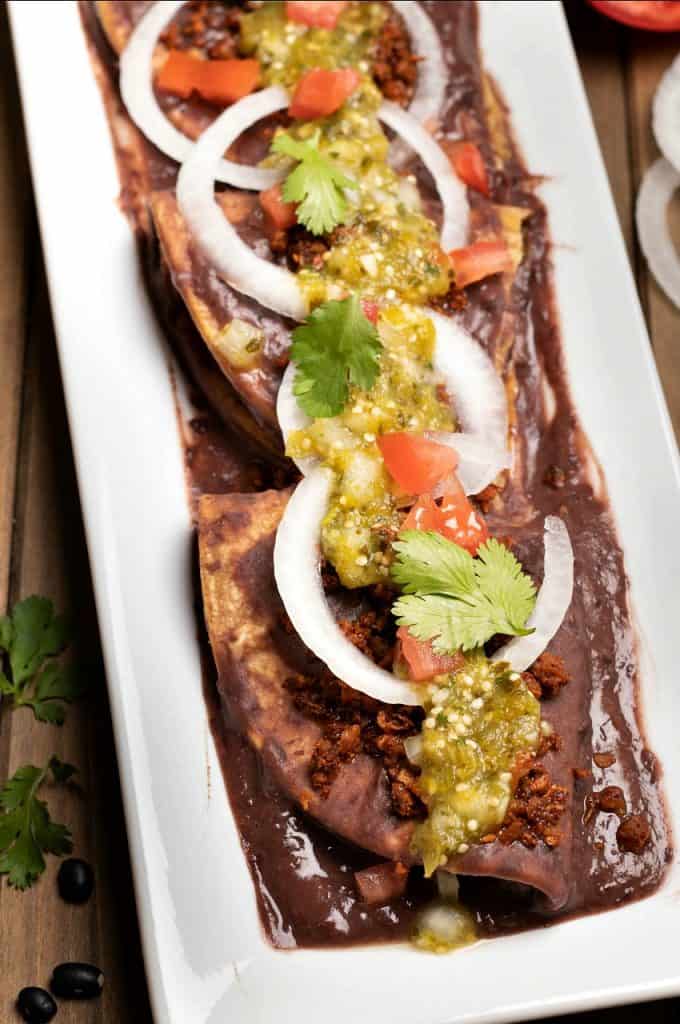 What are Enfrijoladas?
Enfrijoladas literally translates to "in beans" or "beaned".
So think of traditional enchiladas, but instead of a spicy pepper-based enchilada sauce, we use a smooth, black bean sauce instead. And trust me, this velvety smooth bean sauce ladled over fresh corn tortillas - it's like a little slice of heaven.
The state of Oaxaca (wa-ha-ka) in Southern Mexico is believed to be among the oldest continually inhabited areas of the Americas - possibly dating back as 11,000 BC. The area is rich in tradition and culture, and of course, as Dr. McDougall has told us many times, two of its main food staples were corn and beans. (people of the corn!)
So this recipe is the perfect marriage of the two, combining a rich black bean sauce and freshly made corn tortillas. It is a traditional Oaxacan recipe and is commonly served as breakfast.
I first learned about Enfrijoladas after watching one of my favorite Mexican Food Chefs - Chef Rick Bayless prepare them. I thought to myself, not only does that look really good (I love Mexican Food), but that it would be very simple to make Vegan.
If you know me, "Can I make that Vegan?" is sort of my motto, taking traditional comfort foods and recreating them with plant-based ingredients and no oil.
So I accepted the challenge and this recipe is the result. Feel free to use whatever toppings you wish, but let me just say that my Cauliflower Taco Crumbles do make a tasty addition.
And while most store-bought Corn Tortillas are compliant, I really recommend you try my Homemade Corn Tortillas - at least once - as they really send this recipe over the top.
Let's make some Enfrijoladas.
Vegan Enfrijoladas
This recipe comes together very quickly, so if you are going to use my Cauliflower Taco Crumbles, make them first. I had some leftovers in the fridge, so for me - that part was easy.
Also, if you want homemade Corn Tortillas, now's the time to make them too. Keep them covered and warm until we're ready for them. Otherwise, store-bought will work too.
Now let's make our Salsa Verde.
I roasted 6 tomatillos and one poblano pepper. You have to remove the papery skin from the tomatillos first, then give them a quick rinse as they are kinda sticky. Now slice them in half and arrange them on a parchment-lined cooking sheet.
I used my Cuisinart toaster/convection/air fryer on the broil setting for about 10 minutes on each side. I use this kitchen gadget a lot as it has freed up so much counter space for me. I'll include a link below as many of you have asked what air fryer I use.
Keep in mind that as an Amazon Affiliate, I do earn from qualified purchases but at no extra cost to you.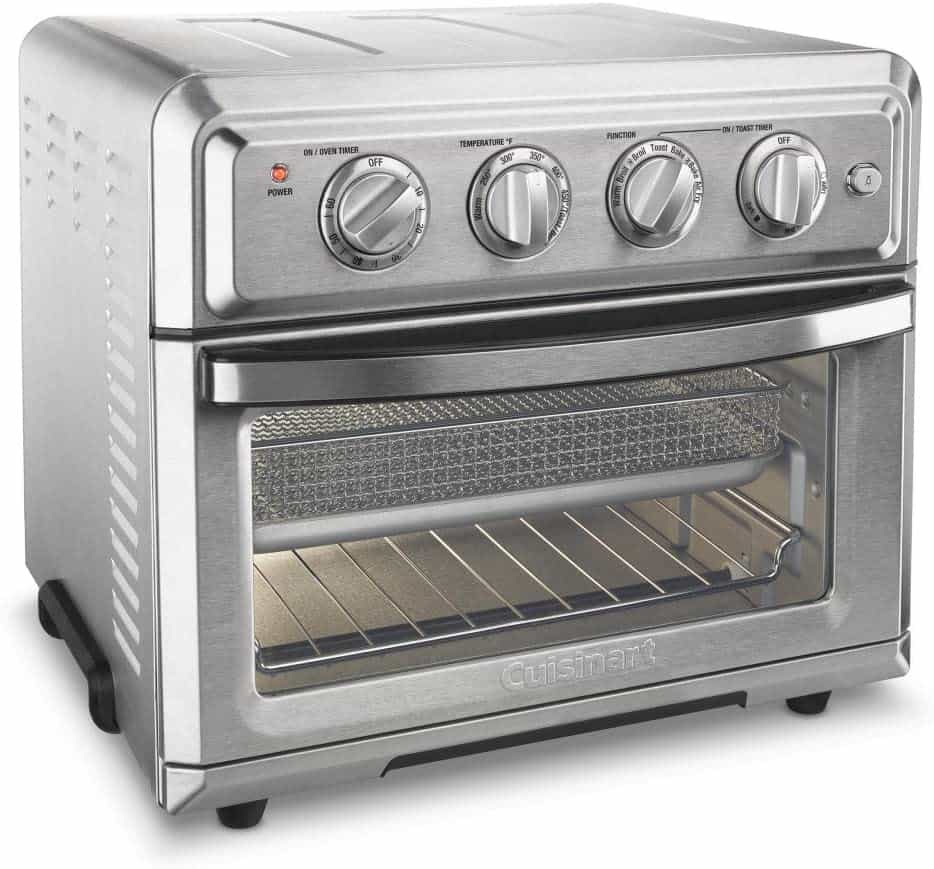 Cuisinart TOA-60 Toaster/Convection/Air Fryer
---
Rick Bayless roasts his tomatillos in a non-stick pan, and if that's easier for you, then do that. The idea is to soften them up and get a little color on them from the roasting.
A also roasted a poblano pepper, and the goal with that is to blister and slightly blacken the outer skin so we can remove it later. After you roast it, place it in a plastic baggie to steam for a few minutes, and that'll help the skin loosen up.
Remove that outer skin from the poblano, along with the stem, and the seeds - then add the pepper to your blender with the tomatillos, garlic, lime, and cilantro.
Note: Remember to wash your hands after handling spicy peppers and do not touch your eyes!)
Poblanos are not that spicy, but if spicy isn't your thing, you could start with half, or maybe used a few tamed jalapenos instead.
Let the salsa cool, then stir in the diced onion.
Note: I learned something from Chef Bayless I did not know,. If you RINSE your diced onion, it helps with the onion tears, onion breath, and also the upset stomach some of you get when you eat onions. Try it and let me know if it works.
Set the salsa aside and let's move on to the beans.
The Black Bean Sauce
This is the easy part, simply open two 15oz cans of low-sodium Black Beans and add them to your blender (with the broth) - along with a little water and a few spices. Details in the recipe box below.
Now blend until silky smooth and pour into a skillet.
I used NO SALT beans and added my own salt when I cooked them. That way I control the amount.
Heat the pureed beans until bubbly, and now we're ready to assemble our Enfrijoladas.
To Plate
One serving is three tortillas. So one by one, or all at once, we want to dip our tortillas in the black bean broth until they become soft and pliable.
Then arrange them on your plate. I folded each tortilla in half, then again into quarters. You could simply roll them up too, like you're making enchiladas.
Ladle a little more bean broth over the top, then add a few tablespoons (or more) of the cauliflower taco crumbles. Garnish however you please but I used sliced white onion and some chopped tomato.
Finally, add a little Salsa Verde on top and you're finished.
I know it doesn't sound like much - some tortillas dipped in a bean sauce, what's the big deal.
But the flavor of the black beans, contrasting with the tartness of the Salsa Verse, and some fresh veggies on top?
It is SO good!
I hope you enjoy it as much as I did, and if so please tell me about it in the comments below.
Until next week - stay safe everybody!

Print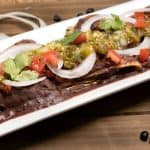 Vegan Enfrijoladas
Author:

Prep Time:

30 min

Cook Time:

30 min

Total Time:

1 hour

Yield:

4

Servings

1

x

Category:

Main, Breakfast

Method:

Stovetop, Blender

Cuisine:

Mexican, Vegan

Diet:

Low Fat
---
Description
A staple in many Mexican Restaurants, these Vegan Enfrijoladas have all the taste and flavor, but without any of the oil or fat!
---
Salsa Verde
6

tomatillos

1

poblano pepper

2 tsp

minced garlic

1 tsp

lime juice

6

sprigs cilantro

¼ cup

diced onion (rinsed)
Black Bean Sauce
2

cans black beans (

15oz

, no salt if possible)

½ cup

water

½ tsp

cumin 

¼ tsp

smoked paprika

½ tsp

salt (if using no-salt beans)
Enfrijoladas
---
Instructions
Prepare taco crumbles (if using) and set some aside (see recipe)
Prepare fresh Corn Tortillas (if using) and keep warm (see recipe)
Roast tomatillos and pepper under broiler until softened, blistered, and slighty blackened
Add to blender along with garlic, lime, and cilantro
Pulse to a course consistency
Stir in diced onion and set aside
Meanwhile blend Black Bean Sauce ingredients in a blender until smooth
Pour into skillet and heat until bubbly
Dip 3 corn tortillas into sauce unil softened (per serving)
To plate, fold each tortilla in half (or into fourths, or roll them like enchiladas)  
Spoon additonal sauce over tortillas and spinkle taco crumbles on top
Garnish with fresh onion slices and salsa verde
Add your favorite toppings (tomatoes, avocado, cilantro, etc.)
---
Notes
Keywords: Vegan Enfrijoladas