I was going to call this amazing Potato Casserole I made for the Mary's Mini crowd, "Cheesy Green Chile Potato Casserole", but I think they are also widely known as Vegan Funeral Potatoes.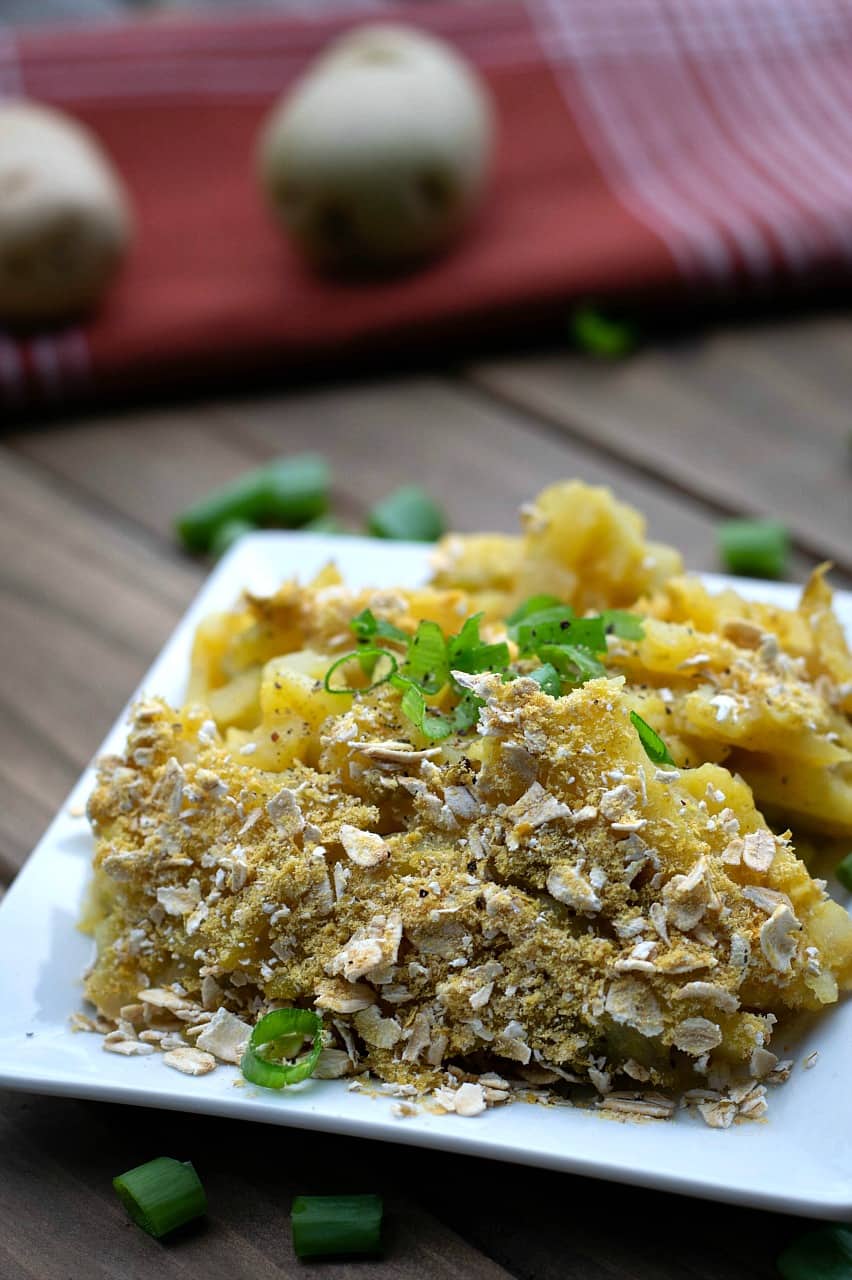 I know crazy name.  What in the heck are Funeral Potatoes? 
As the name implies - it is a popular potluck dish taken to gatherings (especially amongst the Church of LDS) after a funeral. 
Thankfully, no one had to pass for me to make this incredibly tasty casserole.  I just wanted a way to combine my 3 favorite things...
Potatoes
Cheese
Green Chiles
Of course, I used my very own Amazing Vegan Cheese Sauce, so you get DOUBLE the potatoey goodness.....  potatoie?   potato - ee?  potato....  well you know what I mean!
Just think of it as a Hash Brown Casserole, with onions and fresh Hatch Green Chiles, with my creamy cheese sauce holding it all together.  I made a crunchy topping with a little Nutritional Yeast and Oatmeal - but it can be left off altogether for those of you following the Mary's Mini diet. 
Speaking of Mary's Mini - I am SO impressed with all the weight-loss stories I am seeing in my BNV Community.     I also lost 8 lbs and dropped my annoyingly bothersome high blood pressure LIKE A ROCK, when I did the diet several weeks ago.  You can read all about that in my post:
How I Lowered My Blood Pressure Naturally with a Mary's Mini Diet.
But now - before we end up with one of those annoying 10-page essays I read about this morning (let's see how many actually read this 😉 )..... on to the recipe. 
Vegan Funeral Potatoes
The very FIRST thing you need to do, is go make some of my Amazing Vegan Cheese Sauce.  You'll need about 1 ½ cups, and the rest can be stored in the fridge for other uses (trust me, leftovers never last very long)
Next, for convenience's sake, I used a large 28oz bag of Frozen Hash Brown Potatoes.  I know there are several brands that are made without oil.  Mrs. Dells is one brand I have seen at Walmart., and another is these thick cut hash browns by Lamb Weston that I get at my local Kroger.
I let my bag begin to thaw while I was making my cheese sauce and preparing my onions and chiles. 
On to the veggies - dice a medium yellow onion and saute it in a few tablespoons of veg broth or water until softened.  At this point, you could add a few cloves of fresh garlic, or simply use garlic powder like I did. 
As for the chiles, if you know me at all,  you KNOW I love freshly roasted Hatch Green Chiles.  Right now, it IS Green Chile season, so if you look, you may just find some nearby.  If they are not roasted, you can easily roast them yourself either under your broiler or on your BBQ.
Look for YouTube videos to show you how.
If fresh Chiles are not an option - you can certainly use canned.  I would use two of those 8oz cans you see in your grocery store.  And if you cannot find ANY Green Chiles where you live (England, etc), you could add whatever vegetable you like.  Maybe some Kale?  Spinach?  Jalapenos?  Get creative!
Ok, so we have our cheese, our potatoes, our chiles, and our softened onion.  Now we put it all together. 
In a large bowl, add the potatoes, chopped chiles, cooked onions, 1 ½ cups of the cheese sauce, and a litle cumin, salt, and pepper.  I also added garlic powder - but if you used fresh garlic you can skip the powder).
Mix well and turn out into a 13" x 9" Pyrex Casserole Dish.  Smooth out the top evenly and cover with foil.  If you're not liking the foil idea, you can cover with parchment paper first, then foil.  
Bake in a 375 degree oven for 30 minutes.  
While it's baking, mix ½ cup Old Fashioned Rolled Oats, 2 Tbs Nutritional Yeast, and ½ teaspoon Garlic Powder.  You can use it as is, or whiz it a few times in your food processor or old cofffee grinder to make it more of a powder. 
Once the casserole is finished, remove the foil, and sprinkle the topping evenly over the top and continue baking an additional 6-8 minutes.  (for an even browner / crispier top, turn on the broiler for the last 5 minutes)
That's it.  Funeral Potatoes.  
Cheesy, gooey, slightly spicy, gobs of hash brown potatoes.  Perfect as a main meal on its own, side dish, potluck, or dare I say it ......even a funeral.
Let me know how you like them by commenting below!  
And as always,  until next week.....
Keep On Cookin' !

Print
---
Description
Vegan Funeral Potatoes? This Potato Casserole will be the talk of the potluck! Gooey, cheesy potatoes with a little kick! Perfect for a Mary's Mini!
---
Casserole
28oz

bag Frozen Hash Browns

16oz

 Green Chile (freshly roasted or canned)

1 ½ cups

Amazing Vegan Cheese Sauce

1

med Onion, diced

½ tsp

Cumin

½ tsp

Garlic Powder

½ tsp

Salt

½ tsp

Pepper
Green Onions (chopped) for garnish
Topping
½ cup

Old Fashioned Rolled Oats

2

Tbs Nutritional Yeast

½ tsp

Garlic Powder
---
Instructions
Preheat oven to 375 degrees F
Begin thawing Frozen Potatoes
Make the Cheese Sauce according to recipe instructions.
Clean (if using fresh) and chop Chiles
Dice and saute onion  in 1-2 Tbs of veg broth or water
In a large bowl, mix potatoes, chiles, cooked onion, cheese sauce, cumin, garlic, salt, and pepper
Pour out into a 9" x 13" Casserole Dish
Cover with foil (parchment paper under foil if desired)
Bake for 30 minutes
Mix topping ingredients and grind if you want more of a powder
After 30 minutes, remove foil from casserole, sprinkle topping evenly over top, and continue baking an additional 6-8 minutes (for a crispier topping, turn on broiler for the last 5 minutes - watching carefully)
---