Cheeseburger Macaroni was one of those easy meals I made when I first started learning how to cook. It was easy, it was cheezy, and it tasted pretty darn good. So this weekend I wondered, "Could I make this plant-based? How hard could it be to make a Vegan Hamburger Helper? "

Let's find out.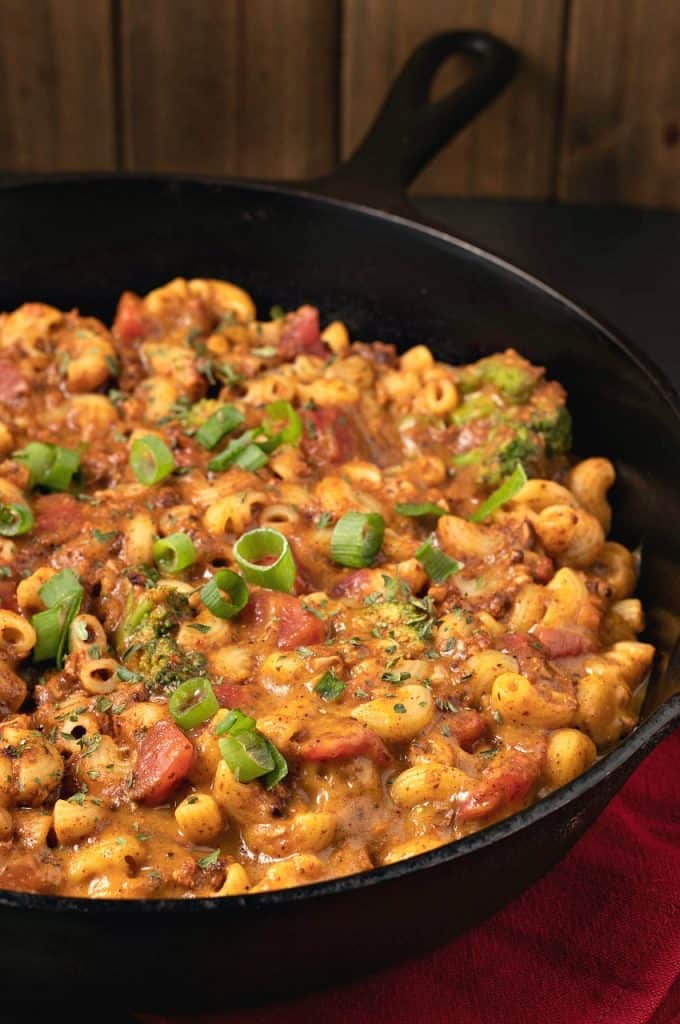 This recipe actually started with my Vegan Mac and Cheese. I always add a bag of frozen vegetables to it and it is a regular part of our weekly rotation.
The other day I asked my wife, "I wonder what this would taste like if I added some of my Cauliflower Taco Meat to it?"
Bam, Hamburger Helper, that's what.
It reminded me instantly of those little boxes of HH I used to make when I was younger.
For those of you who have never heard of Hamburger Helper, it's an American thing for sure. It's a little box of pasta, dried cheese mix, salt, and tons of other chemicals and preservatives that you just add water and hamburger to in order to make a one-skillet meal.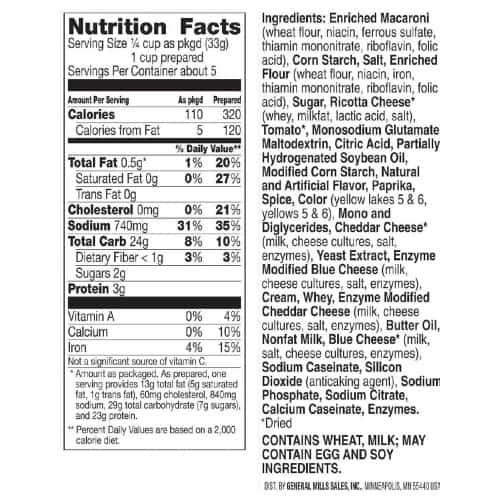 And, as most American ultra-processed foods, it is NOT the healthiest thing to eat. But back in the 70's, it was VERY popular. In fact, in 2005, Food Network rated it #3 on its list of "Top Five Fad Foods of 1970.
What a lovely list of ingredients, wouldn't you say?
White refined pasta, GMO corn starch, MSG, a little trans fat, some dyes, and other weird chemicals, plus all the nasty dairy products. And don't forget, we still have to add hamburger to it for some extra-goodness and nutrition.
And Silicon Dioxide? Because we have to have a little sand in our food?
Yeah, not the healthiest choice for sure.
But back then none of us knew any better, right? And we made this stuff all the time. It was cheap, it was tasty, and it filled bellies. That was the main purpose.
And ..... more importantly ..... people loved it. It was comfort food to them. And since I am all about healthy comfort foods, I decided to try and put a vegan spin on it to hopefully make it a tad bit better.
And THIS is the result. Hope you enjoy.
Vegan Hamburger Helper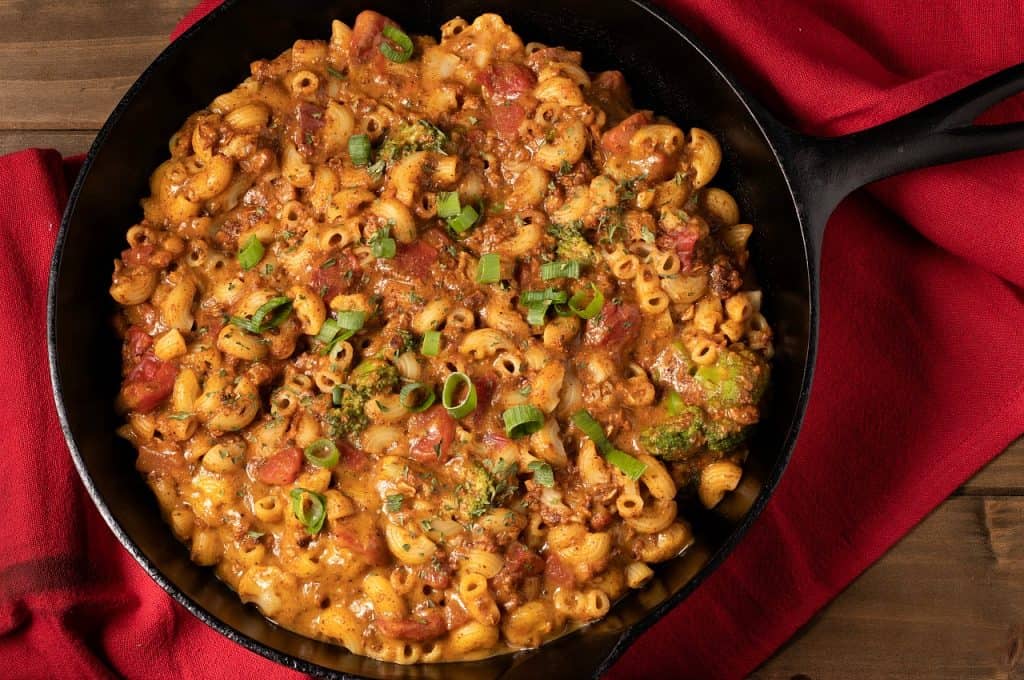 So we approach this recipe by looking at the name - cheeseburger macaroni.
So first we make the cheese, then we make the 'burger', then we make the macaroni. And then we just mix the 3 together.
The Cheese
So you're going to need a batch of my Amazing Vegan Cheese Sauce. With my Instant Pot and Vitamix, I have reduced that process down to about 15 min.
I place my potatoes and carrot into my IP, set it for 7 minutes, and then add all the remaining ingredients to my blender while it's cooking. Then all I have to do is toss in the cooked veggies and a little water and blend. Super quick and super easy.
This will make about 3 cups of cheese sauce. Set this aside for now.
The Burger
Next, you'll need a batch of my Taco Meat which is just a combination of riced cauliflower, mushrooms, and a few walnuts for texture. Add some taco-like spices and you have my Taco Crumbles that everybody raves about.
Not a fan of Cauliflower? Me either but you cannot taste it - promise. But if you want - I have also subbed in Tempeh with the same results.
Don't like Mushrooms or can't have Walnuts? Leave them out. I have made Tempeh Tacos and they were just as good. Tweak it as you need to but you'll want about 2 ½ cups of the 'mixture' when you're done - equivalent to about 1 lb of hamburger.
I cook mine in my Convection Oven and it takes about 10 minutes to brown up nicely. Of course, you can use your regular oven too.
Set this aside once it's done and let's move on.
The Macaroni
This one is completely up to you. I like elbow macaroni for this, but feel free to use what you have. I also exclusively use Brown Rice Pasta now to keep it Gluten-Free, but again, use what you have on hand or whatever you personally like. You'll need about a 12 oz package of whatever you choose.
Here's my trick though with making my pasta. I will microwave a bag of frozen veggies (usually broccoli and cauliflower) for a few minutes, then toss that into my boiling pasta during the last minute or two of boiling to make it easier. I'll only have one pot to clean up, and I can just drain the pasta and veggies together.
Finishing Up
To finish this recipe, add your drained pasta and veggies back into the pasta pan, stir in one 14oz can of Diced Tomatoes, the finished taco meat, and finally the cheese sauce.
Stir and gently heat until warm and bubbly.
Super easy right? If you have finicky eaters in your house (maybe a husband or teenagers who are not quite on-board the Vegan Bandwagon yet), I bet they will still love this.
Give it a try and be sure and let me know how it turns out in the comments below.
Happy New Year's everyone and I'll see you next week.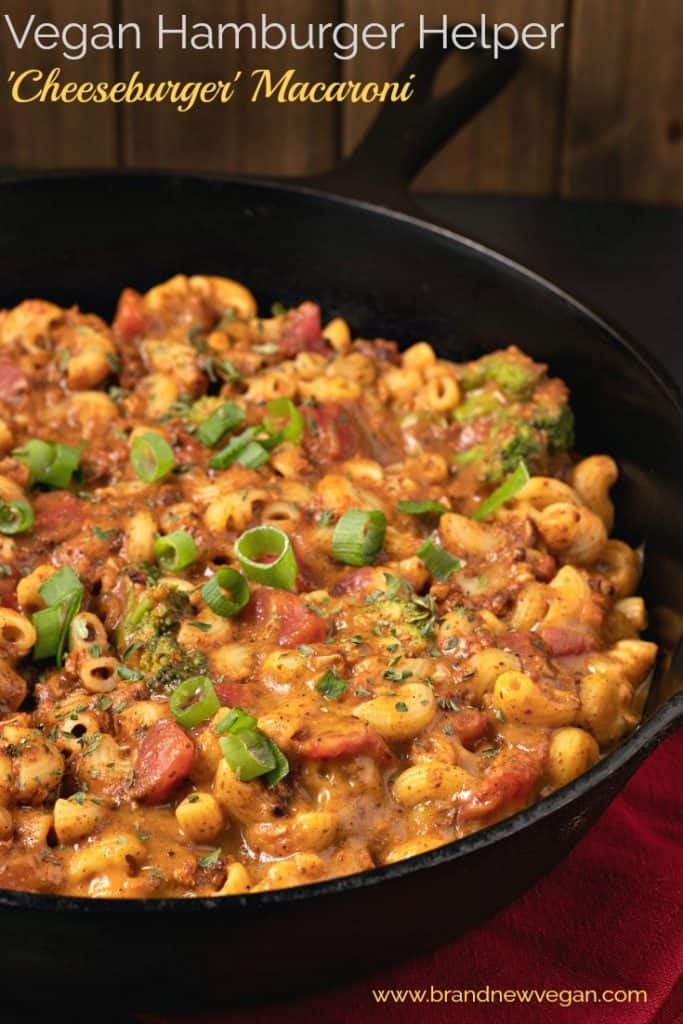 Print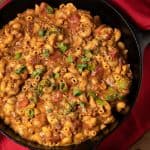 Vegan Hamburger Helper
Author:

Prep Time:

30 min

Cook Time:

15 min

Total Time:

45 minutes

Yield:

3

qts

1

x

Category:

One Pot Dishes, Pasta

Method:

Stovetop, IP, Blender

Cuisine:

American, Vegan, GF, Oil-Free
---
1

batch Vegan Cheese Sauce (about

3 cups

)

1

batch Cauliflower Taco crumbles (about

2 ½ cups

)

12 oz

bag of your favorite pasta

10 oz

bag of frozen Broccoli/Cauliflower mix

14 oz

can Diced Tomatoes
Salt, Pepper to taste
Green Onions or Parsley for garnish
---
Instructions
Prepare Cheese Sauce according to directions and set aside
Prepare Taco Meat according to directions and set aside
Prepare Pasta according to package instructions.  
Add frozen veggies to pasta water to cook with pasta once it's boiling.
Drain pasta and veggies and return to pan
Stir in tomatoes, taco meat, and finally the cheese sauce
Adjust any seasoning and heat until warm and bubbly 
---
Notes
Tips Are ALWAYS Appreciated! 
Keywords: hamburger helper, cheeseburger macaroni, vegan