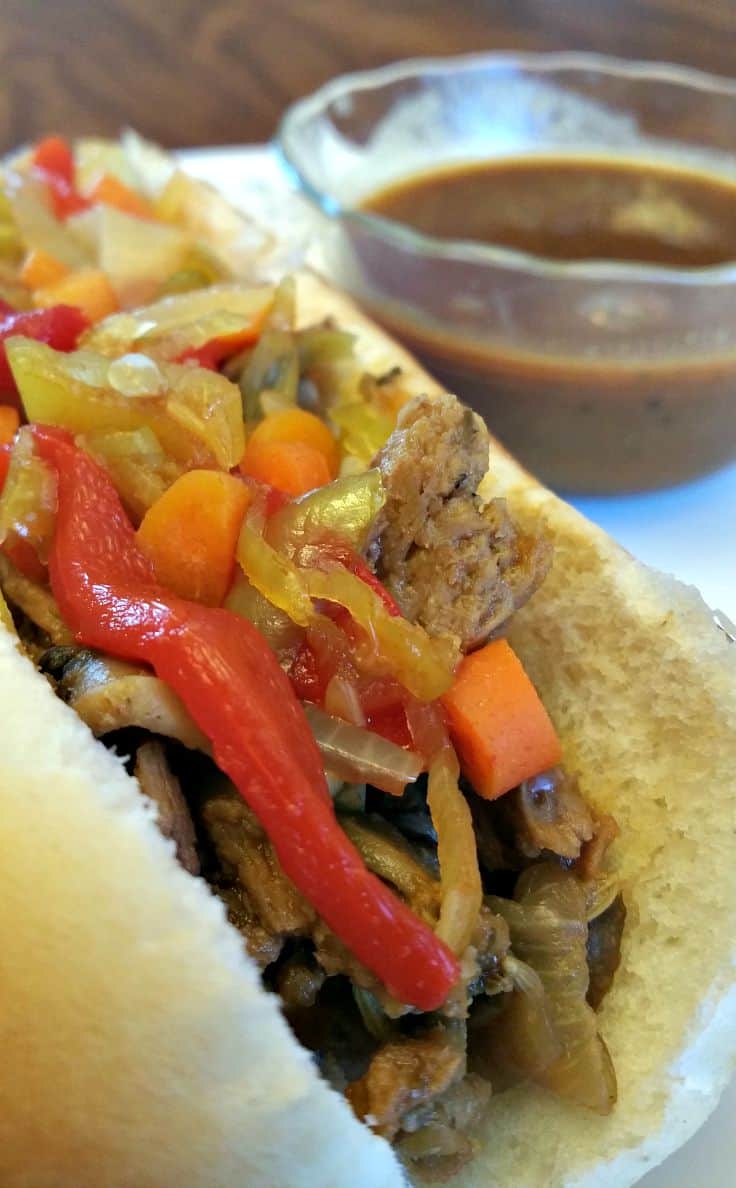 Come on
Oh baby don't you want to go
Come on
Oh baby don't you want to go
Back to that same old place
Sweet home Chicago  (Blues Brothers)
Anyone who was born or raised in the Midwest knows that Chicago is known for many unique food choices - their Chicago Dogs, their Deep Dish Pizza, and best of all - their Italian Beef Sandwiches.
An Italian Beef Sandwich is thinly sliced roast beef, literally melting in it's own Au Jus, and thrown down on a hoagy roll and smothered in hot Giardiniera.
And yes personally, I like mine wet - I'll dip later (it's a Chicago thing).
So at the request of one of my fellow Midwestern readers, this is my vegan attempt to recreate that wonderful taste of Chicago.
Don, this one's for you.
Vegan Italian Beef 
I'm using Butler Soy Curls for this recipe today.
Soy Curls are non-GMO soybeans that have been dried and textured to resemble shredded meat.
Soy Curls are 100% Natural, contain the whole soybean, are high in protein and fiber, are Gluten-free and Vegan, and are 100% non-GMO - which means they contain no chemical pesticides.
As usual, the link and photo are Affiliate Links - meaning if you click on them and buy them from Amazon, I will make a penny or two.  They are also available at Whole Foods.  Check your closest natural food store for availability.
For those avoiding soy, thinly sliced Seitan would also work in the recipe - like this Meat Lover's  Seitan Meatloaf  I made last week.
The Broth
The broth is the main event in this recipe.  The star of the show.    And the challenge was to create a 'beef' broth - without using any real meat.
So although there are quite a few ingredients in this recipe - they are all necessary in order to create that Italian flavor profile we need for the Italian Beef.
I started by sautéing ½ an onion, 8oz of white mushrooms, and 3-4 cloves of garlic until softened in a tiny bit of Veggie Broth, and then slowly adding the remaining ingredients one by one.
Once the broth was combined and boiling, I added the 8oz package of Soy Curls to soak up some of the flavor.  I did not rehydrate them first - I just opened the bag and tossed them in.  Turn down the heat and let that simmer for 30 minutes or so,  and then drain the broth from the curls and save it.
You'll want that Au Jus for dipping later.
Giardiniera
Giardiniera is an Italian condiment of pickled vegetables, commonly used as a topping on Italian Beef Sandwiches.
Although there are bottled versions available in your Grocery Store (look in the pickle section) I decided to make my own.  That way I can leave out any oil that commercial varieties may contain, and I can control the sodium content.
I used the other ½ an onion, 5-6 baby carrots - sliced thinly, about half a jar of Roasted Red Bell Peppers, and half a jar of Pepperoncini Peppers (plus the juice).
Simmer in a small saucepan until the vegetables are soft and tender.
Feel free to add celery and/or cauliflower if you like.  (I'm not a cauliflower fan so I left them out).
And that's really all there is to it.
Pile your 'meat' on your favorite whole wheat Hoagy, add some veggies, and get dippin'.
Enjoy!

Print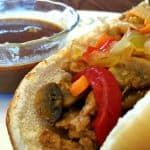 Vegan Italian Beef
Author:

Prep Time:

10 minutes

Cook Time:

30 minutes

Total Time:

40 minutes

Yield:

8

Sandwiches

1

x

Category:

Main

Cuisine:

Italian
---
Description
A Vegan Italian Beef Sandwich perfect for dipping. Marinated Soy Curls cooked in a homemade Italian 'beef' broth, and topped with spicy homemade Giardiniera. Not quite Chicago - but close!
---
The Beef
The Broth
½

Onion ((diced))

8 oz

Mushrooms ( )

3

cloves Garlic ((minced))

3 cups

Low Sodium Vegetable Broth ( )

1 cup

Water

½ cup

Dark Beer

4

Tbs Soy Sauce ((low sodium))

2

Tbs Tomato Paste

2

Tbs Pepperocini Peppers ((with juice))

2 tsp

Vegan Worcestershire Sauce

2

Tbs Nutritional Yeast

2 tsp

Oregano

1 tsp

Basil

1 tsp

Fennel

1 tsp

Salt

½ tsp

Thyme

½ tsp

Ground Pepper

½ tsp

Garlic Powder

½ tsp

Onion Powder

¼ tsp

Ground Ginger
The Giardiniera
½

Onion ((thinly sliced))

5

-

6

baby Carrots ((thinly sliced))

½ cup

Roasted Red Bell Peppers ((sliced))

½ cup

Peperoncini Peppers ((with juice))
---
Instructions
Saute onion, garlic, and mushrooms until softened
Add remaining Broth Ingredients and bring to a low boil stirring to combine
Add Soy Curls and simmer for 30 minutes
In a separate saucepan, combine all Giardiniera ingredients and simmer until tender
Drain soy curls from broth and save broth for dipping.
Add the cooked 'meat' to your favorite bun or roll and top with Giardiniera.
Dip in Au Jus and enjoy!
---