This Vegan Sopa de Fideo is pure Mexican Comfort food. It literally translates to Soup of Noodles, so think homemade Tomato Soup - with noodles of course. It can be made very easily without oil, and comes together in minutes for a quick and hearty meal.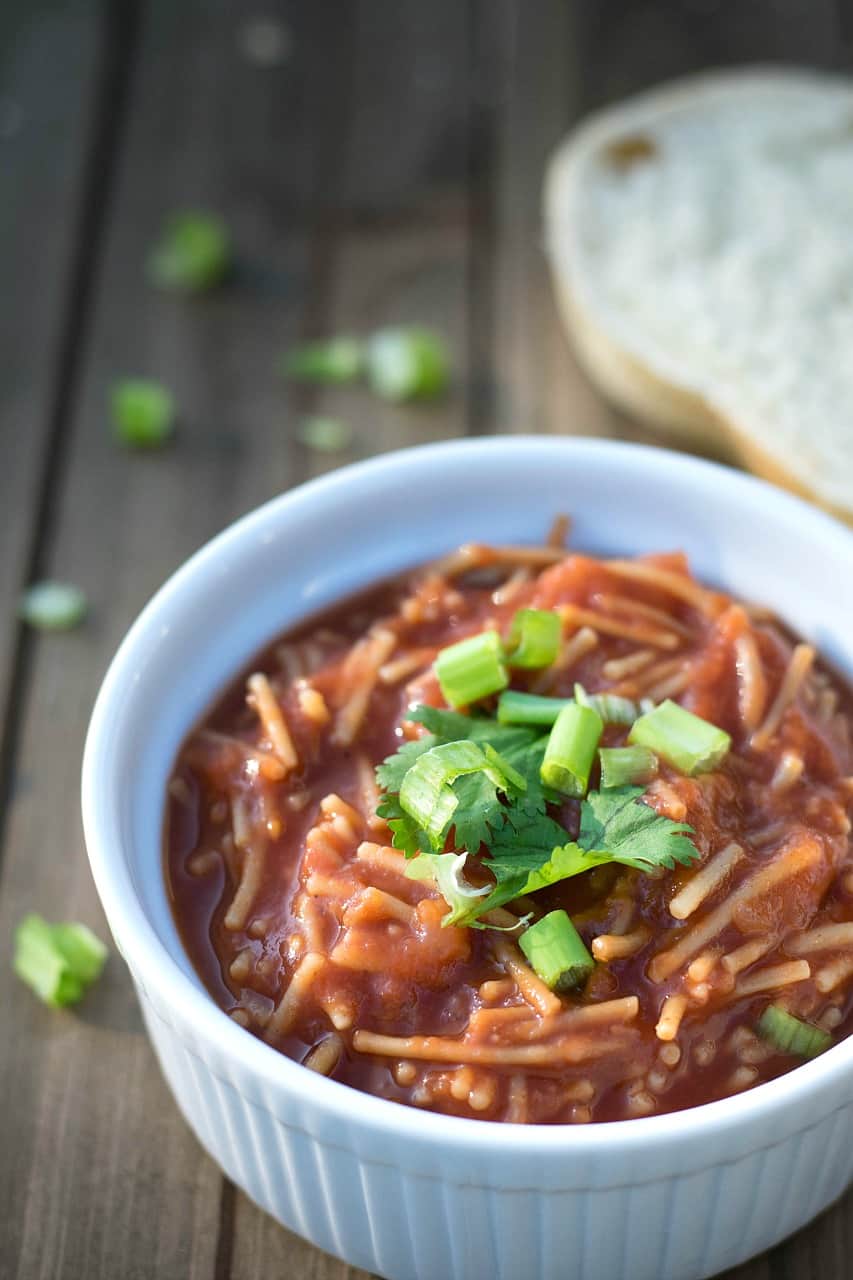 I honestly had never heard of this soup, even after living in New Mexico for 10 years. So a huge thanks to my favorite YouTube chef, Sam the Cooking Guy for introducing me.
As I'm watching his show I'm thinking, "Wow, this looks easy" and, "I bet I can totally make that without oil".
So I did....and it was AWESOME.
Traditionally, the noodles (Fideo) are browned in oil, because browning the pasta adds a whole new level of flavor. But instead of reaching for a bottle of olive oil (which I don't own anyway), I reached for my baking sheet and turned on my toaster oven.
No oil, no parchment paper, no extra pan - just a baking sheet and a 350° oven and in 10 minutes I had perfectly browned noodles.
As for the soup you'll need some canned tomatoes, a few cloves of garlic, an onion, and a few spices. This soup reminds me of those little cans of Chef Boy R Dee I loved so much when I was growing up, remember those?
Like I said - pure comfort food, and I bet your kids are going to love it!
Let's get crackin'.
Vegan Sopa de Fideo
Noodles: I went to the Mexican section of my grocery store and found little 7 oz bags of noodles that say "Fideo". If you can't find them, you can also use vermicelli, angel hair, or even plain spaghetti that has been broken into small 1" long pieces.
You'll need about 7 oz of noodles.
Note: These noodles are plain white pasta but I'm sure it would work with whole wheat or maybe even GF as well.
Tomatoes: For the tomatoes I bought a 28 oz can of whole, peeled San Marzano Tomatoes. These are seriously some of the best tomatoes I have ever tasted from a can and I highly recommend them.
Spread your pasta out on a dry baking sheet and toast in a 350° oven for 10 minutes. The pasta will begin to brown quickly so watch to make sure it doesn't burn. I used my toaster oven and it worked perfectly.
Meanwhile, dice a medium-sized onion and add it to a large soup pan. Saute onion in a 1-2 tablespoons of veg broth until softened.
Season the onion with 1 teaspoon Mexican Oregano, ½ tsp Cumin, and ½ teaspoon Chili Powder. Toss in 2-3 cloves of minced garlic and stir for 30 seconds or so, just until it becomes fragrant.
Add in a 28 oz can of whole, peeled tomatoes (juice and all), and stir to mix. Simmer for a few minutes and prepare to blend.
I use an immersion blender. They are handy little devices and I have a few I recommend in my Amazon Store. You can also do it the old-fashioned way with a regular blender. Process until smooth and then return the soup to the pan.
Add 3 cups of Low Sodium Vegetable Broth and stir to mix.
Finally, add your noodles and bring the heat up. Let that simmer for 20 minutes or until the noodles have softened. Add salt and pepper to taste, and serve.
I love a little Cilantro for garnish, and a few chopped green onions too. You could also add Avocado or my Green Chile Sour Cream.
I'll be anxiously waiting to hear what you all think, so please keep me in the loop.
Next up - I'll be continuing my Mexican theme by making homemade Tamales.
Until then.....

Print
Vegan Sopa de Fideo
Author:

Category:

Soup

Cuisine:

Mexican
---
Description
This Vegan Sopa de Fideo is pure Mexican Comfort Food. Think homemade Tomato Soup - with noodles. It comes together in minutes for a quick and hearty meal.
---
1

pkg Fideo Pasta (vermicelli or angel hair will work too) ((

7 oz

))

1

med Onion ((diced))

2

cloves Garlic ((minced))

1

can Peeled, Whole Tomatoes (San Marzano) ((

28 oz

))

3 cup

Vegetable Broth ((low sodium))

1 tsp

Mexican Oregano

½ tsp

Cumin

½ tsp

Chili Powder
---
Instructions
Toast pasta in a dry baking pan at 350 degrees for 10 minutes, or until browned.
Dice onion and add to a large soup pan. Saute in 1-2 Tbs Veg Broth until softened.
Add Oregano, Cumin, Chili Powder, and minced Garlic and stir until fragant. About 30 seconds.
Add Tomatoes with juice and stir to mix. Simmer for a minute or so and then blend entire contents of pan either in a regular blender, or with an Immersion Blender.
Add broth and stir to mix, then add noodles.
Simmer for 20 minutes, stirring occasionally, until noodles have softened.
---
Notes
Garnish with fresh Cilantro, chopped Green Onions, or Avocado. 
---
Tips are always welcome!
[paypal_donation_button]