Ever had non-vegan friends over for dinner that you really wanted to impress? Then you HAVE to try my Vegan Tempeh Chorizo, they may not even realize it's vegan!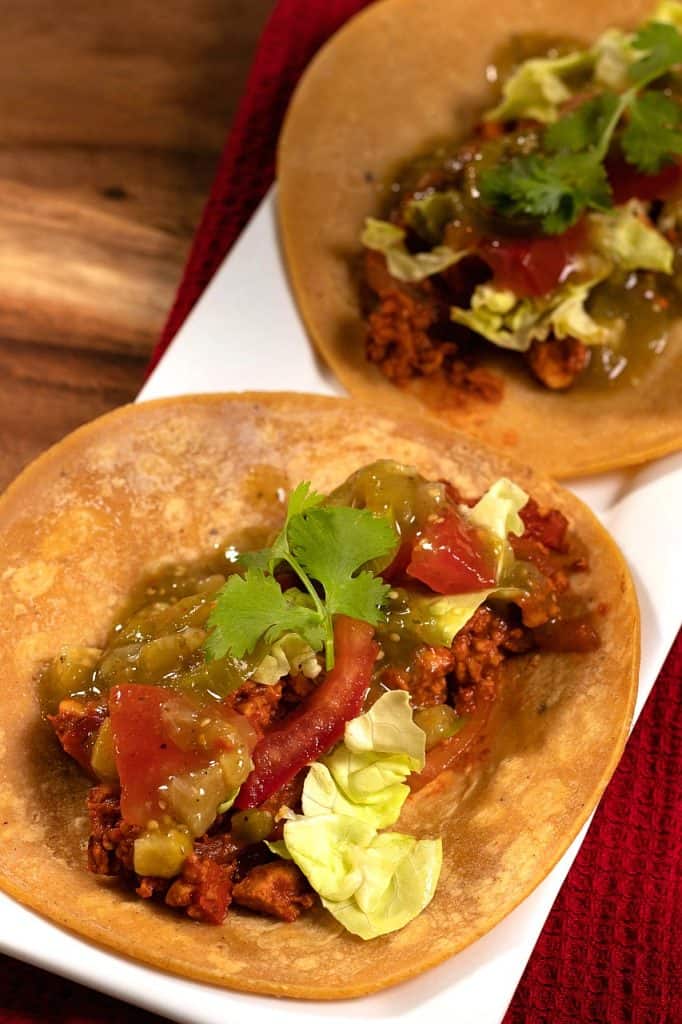 That's right, today we are making that wonderfully, spicy Mexican Sausage called Chorizo, only we're making it Vegan using Tempeh.
I was talking to an old high school buddy about this the other day, and he asked "What the heck is Tempeh?"
Now my buddy as it turns out is coming out to visit me next month. His story is similar to that of many people who grew up eating the Standard American Diet, especially in the midwest.
He is my age, extremely overweight, has high blood pressure, and type 2 diabetes.
BUT..... he is very interested in learning about this plant-based diet I keep raving about, so that's a good thing, and I want his first impression of our food to be a good one.
And for people like that - who want to at least TRY our food (because some just won't - no matter what), we want to cook them something that they at least will be familiar with, like my chili, or tacos, or this chorizo I just made.
You know - comfort food!
If I serve him some fancy-dancy dish like "Quinoa Cakes with Cream of Carrot Miso Sauce topped with Fresh Bean Sprouts" (yeah I made that up) - well I can picture him breaking down the door to the local burger joint and booking the first flight back that very night.
No, it's gotta be something familiar AND tasty. Something they may not even realize is vegan. And this chorizo I made (which is super easy I might add) fits the bill perfectly.
You can make tacos, burritos, tostadas, all kinds of things with it. A breakfast burrito with this chorizo and hash browns? Yes, please!
So what is Tempeh.
Tempeh (temp-pay) is an Indonesian product made from fermented soybeans. It's not like Tofu, which is made from the bean curd, Tempeh is made from the whole soybean, which is then fermented and pressed into a cake, which gives it a 'meatier' texture (and more fiber).
Tempeh is also a fermented food, which means probiotics that help us culture a healthy gut microbiome.
Before we get to the recipe I just wanted to say, Tempeh does have more calories and more fat than tofu - so for those of you who are already eating this way and may be trying to lose a little weight - treat this as an occasional food, not an everyday food.
Good for impressing the friends, but not for an everyday lunch or dinner.
I should also mention since this is a soy product, I always look for the organic (non-gmo) variety and have been able to find it in the refrigerated section of all 3 nearby grocery stores, Safeway, Walmart, and Fred Meyer.
Now, on to the recipe.
Vegan Tempeh Chorizo
The Marinade:
I am going to use my New Mexican Red Chile Sauce as a marinade for this recipe. It doesn't take that long to make and it's super easy using dried chiles from the grocery store.
You'll need about ⅓ cup, and no worries - whatever is left can be kept in the fridge for weeks and it also freezes well.
Now - the Tempeh
I used a 6oz package from a brand called Lightlife® Foods. Cut the pakage in half to make it easier to squeeze the blocks of Tempeh out of their packaging. Then, dice it into cubes.
We want this to resemble the texture of sausage, or ground beef, so I used my baby food chopper to make of quick job of this. You could also crumble it by hand, or chop it up finely using a knife.
Here is the baby chopper my wife gave me for Christmas, and I absolutely love it..... (affiliate links coming - I do earn a few pennies if you purchase one but at no extra cost to you...)
Pulse it a few times in the chopper until it's uniform and resembles ground meat - then, dump the crumbles into a large bowl and let's spice it up a little.
I'll have all the exact amounts down below in the recipe box, but I added a little water and apple cider vinegar for the liquids, and then a variety of spices like ancho chile powder, cumin, coriander, smoked paprika, sage, and oregano.
Mix that thoroughly, then add ⅓ cup of the red chile sauce I mentioned and mix again.
At this point, you could cover it with plastic wrap and store it in the fridge until you're ready to use it. The longer it marinates, the better it will be.
Simple Tacos
So how do you use it?
Any place you would use regular chorizo. Since this is a Mexican Sausage, think tacos, burritos, enchiladas, that sort of thing.
I made some simple tacos with it.
I sautéed ½ a white onion and ½ of a red bell pepper, and then added the chorizo and cooked it until it was heated through.
If the pan ever looks like it is getting too dry (because THIS chorizo has no grease), simply add a splash of water or veg broth.
Easy peasy.
I doctored some corn tortillas with fresh butter lettuce, chopped tomatoes, of course jalapeños and cilantro, and some of this chorizo and topped them with a roasted tomatillo salsa verde and they were outstanding.
If you REALLY want to impress, take the time to make my Homemade Corn Tortillas. The difference in taste is out of this world.
That's it for this week my friends, and I hope you enjoy the recipe. Be sure and tell me in the comments if you do! And don't forget to come back next week so we can do it all over again ...... same bat-time, same bat-channel.
Until then.....
Get in that kitchen and cook something healthy!
Seeya

Print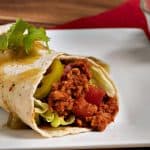 Vegan Tempeh Chorizo
Author:

Prep Time:

30 min

Cook Time:

15 min

Total Time:

45 minutes

Yield:

4

servings

1

x

Category:

Meat Replacement

Method:

Stovetop

Cuisine:

Mexican, Tex-Mex

Diet:

Vegan
---
Description
Ever had non-vegan friends over for dinner that you really wanted to impress? Then you HAVE to try my Vegan Tempeh Chorizo, they may not even realize it's vegan!
---
tempeh (6 oz package)

1

Tbls apple cider vinegar

1

Tbls water

1 tsp

ancho chili powder

1 tsp

smoked paprika

½ tsp

cumin

½ tsp

coriander

½ tsp

oregano

½ tsp

rubbed sage

¼ tsp

salt
pinch of red pepper flakes
---
Instructions
Prepare Red Chile Sauce ahead of time
Remove tempeh from packaging and chop into crumbles
Add tempeh to a bowl with the water and vinegar, mix thoroughly
Add all the spices and mix again
Finally, add the Red Chile Sauce and stir until combined.
Use in place of hamburger or sausage in any Mexican Recipes.
Can be heated in an oven or skillet
---
Keywords: vegan tempeh chorizo