What would Thanksgiving be without good old-fashioned dressing?
But it's usually made with STICKS of butter.....right? And even though we could use VEGAN butter.....that's still a LOT of fat! So I made my own Holiday Vegan Dressing this year, without any oil, butter, or fat.
And let me tell you....this.... stuff.....kicks..... butt.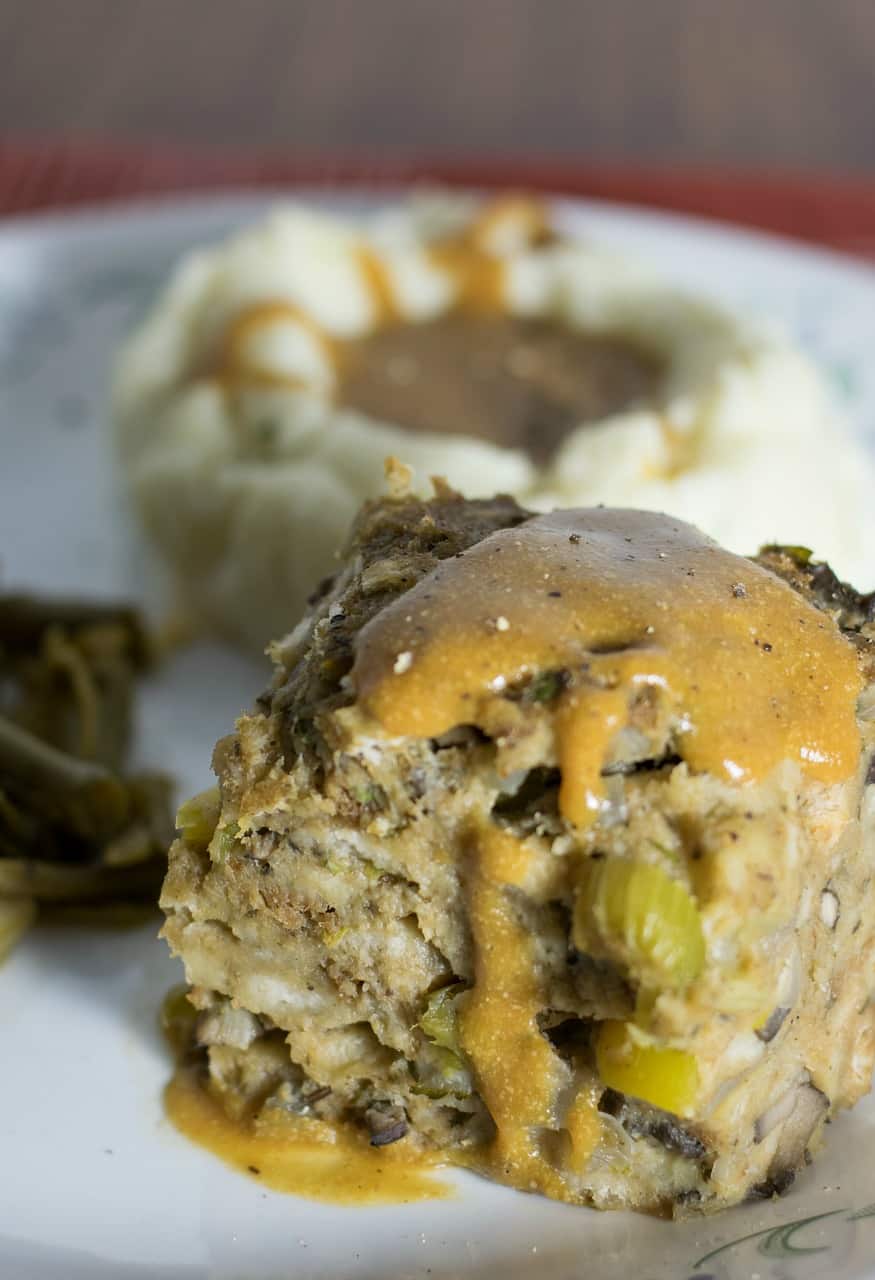 It's everything I remember in a Holiday Dressing....without all the fat that makes it so bad for us.
Yes, I know Vegan Butter is - well - Vegan. But it's STILL fat folks... as in 100% of its calories come from fat, and yes I realize that even as Vegans we do need fat - but trust me, not this kind.
The secret then, as explained by one of my readers, was to pretty much double up on the seasoning and broth.
And THAT combination seemed to work very well, as this Vegan Dressing is absolutely FULL of yummy Thanksgiving flavor.
Not too dry, not too moist, but just......right.!
I should also mention that this is a traditional Holiday Dressing. So nothing fancy here, no nuts, or apples, or cranberries.....just veggies, broth, and bread.
Speaking of Bread....
Since the bread is the STAR of our Holiday Dressing - you have a choice..... you can either buy one of those bags/boxes of Dressing Mix in the store (fast & convenient but just watch those labels for hidden ingredients you may not want)
OR you can prepare your own, and it's not that hard.
Use can use day-old, stale, white bread, like a loaf or baguette of French bread. Or ...you can use whole wheat, or even crumbled up cornbread. Some people may even like a mixture
Some of you will want oil-free bread too - so look for an oil-free bread like Ezekiel Bread.
Whichever kind you choose, just make sure it's DRY first!
Cut the bread into ½- to 1-inch cubes. Spread the cubes out on a baking sheet and dry, uncovered, overnight. Or dry them in the oven at a low temperature (about 200 degrees) for about an hour.
Dry bread soaks up moisture and makes a moist but not mushy stuffing.
You can dry the bread a day ahead and store it in a plastic bag.
Generally, a 1-pound loaf of bread will yield about 10 to 12 cups of bread cubes.
Ok now, let's go make some DRESSING!
Holiday Vegan Dressing
Finely chop a medium onion (white or yellow), 3-4 ribs of Celery, and about 4oz of Portabella Mushrooms. You'll need about 1 cup of each. I like Bell Pepper so I also added ½ of a Green Bell Pepper too.
In a large pot, sauté the veggies in a splash of water/veg broth, and let them soften. Then stir in ½ teaspoon Onion Powder, ½ teaspoon Marjoram, ½ teaspoon Oregano, ½ teaspoon Thyme, ¼ teaspoon Black Pepper, and 2 Tbs of Rubbed Sage.
Stir that all together and give the spices a minute to become fragrant, then remove the pan from the heat.
We're going to use 3 cups of Low Sodium Vegetable Broth and about 12 cups of bread cubes (or one 12oz package of stuffing mix.
Add some bread cubes to the veggies, and then a little broth and stir. Add a little more bread, a little more broth, and keep stirring. If the veggies are cool enough to handle without burning your fingers, you can use your hands to mix as well.
The key here is to make sure all of the bread is moistened...we don't want crunchy pieces anywhere, nor do we want wet sloshy dressing either.
Right before we turn this into our pan to cook, mix in about ¼ cup of chopped Italian Parsley.
Line a 9 x 13 glass baking dish with parchment paper, and then spoon your dressing into the pan. It's ok to smush it down to get it all to fit.
Now we want to cover this before we put it in the oven, but I don't like aluminum foil touching my food - so lay a sheet of parchment paper on top first, THEN cover with foil. We want to keep all that moisture in while it's baking.
Bake in a 350° F Oven for 30 minutes.
Then remove the foil and parchment paper and continue to bake uncovered for an additional 10 minutes. The top should brown nicely and form a little crunchy crust.
I really like this dressing, so be sure and leave those comments and tag me on Instagram too, letting me know how it went. I love to see your pictures! #brandnewvegan
Have a wonderful Holiday Season this year!

Print
Holiday Vegan Dressing
Author:

Cook Time:

40 minutes

Total Time:

40 minutes

Category:

Holiday, Side Dish

Method:

Oven

Cuisine:

American, Vegan
---
Description
The perfect Vegan Dressing for your Holiday Table......and without any oil, butter, or fat. Delicious & moist....it tastes just like Thanksgiving!
---
1 cup

Onion

1 cup

Celery

1 cup

Portabella Mushrooms

½

Green Bell Pepper

½ tsp

Onion Powder

½ tsp

Marjoram

½ tsp

Oregano

½ tsp

Thyme

¼ tsp

Black Pepper

2

Tbs Rubbed Sage

3 cups

Low Sodium Veg Broth

1

pkg Dressing Mix (

12 oz

) OR

12 cups

Stale, Day-Old, Bread Cubes

¼ cup

Italian Parsley
---
Instructions
Preheat Oven to 350 degrees F.
Dice onion, celery, mushrooms, and pepper and add to a large pot.  Saute in a small amount of water/broth until softened.
Add onion powder, marjoram, oregano, thyme, pepper, and sage and stir until fragrant - about 1-2 minutes.   Remove from heat.
Add a small amount of bread cubes/stuffing mix and broth at a time, mixing well.  Alternate bread/broth until all of the cubes and broth have been incorporated and there are no dry pieces of bread anywhere.  Use just enough broth to moisten.
Stir in chopped Parsley and line a 9x13 baking dish with parchment paper.
Spoon dressing into pan and smash down as necessary to get it all to fit.  Cover with additional parchment paper if desired, and aluminum foil to retain the moisture.
Bake covered for 30 minutes.
Remove foil/parchment and bake uncovered for an additional 10 minutes.
---
Notes
Keywords: Holiday Vegan Dressing
SaveSave
SaveSave
SaveSave
SaveSave
SaveSave
SaveSave
SaveSave
SaveSave
SaveSave
SaveSave
SaveSave