I know I'm a little late to the St. Patrick's Day party, but here is my Vegan Instant Pot Colcannon recipe than many of you have requested. It's got a ton of greens, it's completely oil-free, and you make it all in just one pot - nothing could be easier.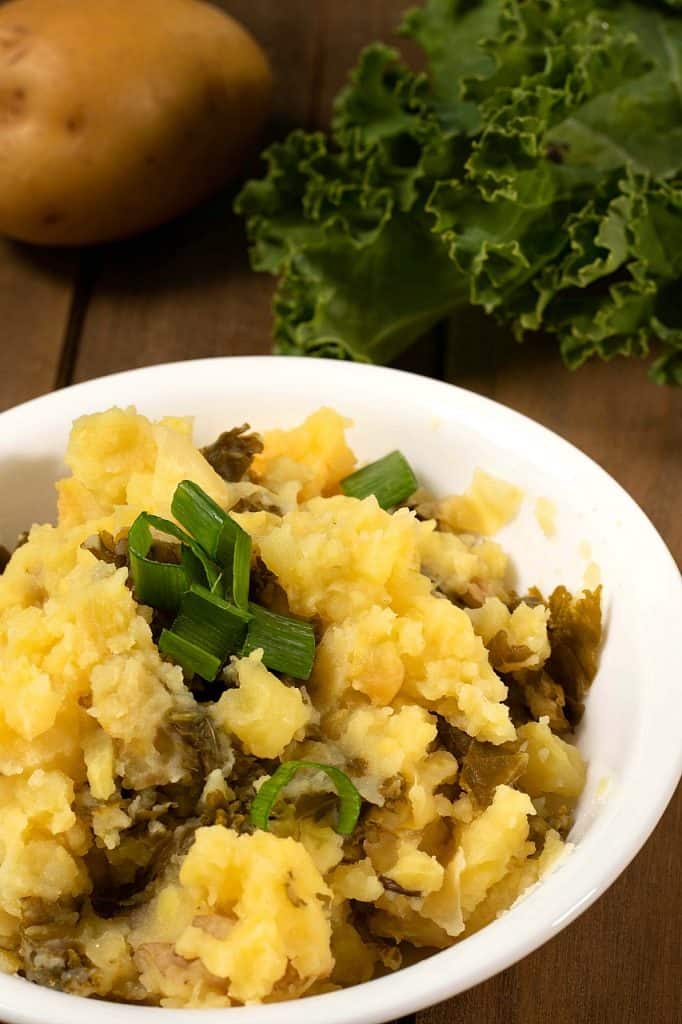 If you've never heard of Colcannon, it's a traditional Irish comfort food recipe that has been around for centuries.
During the 1700's, potatoes, cabbages, and leeks were very common in Ireland, so it was just a matter of time before a dish was created that combined all of them. The word colcannon is from the Gaelic term "cal ceannann" which means white-headed cabbage.
So basically, Colcannon is made of 4 simple ingredients.
Potatoes, in which I chose Yukon Golds because they make super creamy mashed potatoes.
Cabbage and/or kale - I think Dr. Essesltyn would approve.
Milk was also a common ingredient, and fortunately for us, we now have a wide variety of plant-milks that will do the job nicely.
And then there's butter. And while any of our modern plant-based butter brands would do the job, I chose another ingredient that still gives us that same umami flavor - but without all the artery-clogging fat.
Mashed potatoes with cabbage, and a little milk and butter - that's Colcannon. Pure 100% Irish comfort food.
I made it Vegan by eliminating the milk, I made it plant-based by eliminating the vegan butter, and I made it EASY by cooking the entire recipe in one pot - my Instant Pot.
Hope you enjoy.
Vegan Instant Pot Colcannon
For those of you who do not own an Instant Pot, I'm sure you can modify this recipe for your stovetop. Boil your potatoes, steam your greens, mix them together. Easy peasy.
But the Instant Pot is quicker and you'll have less of a mess to clean. If you're interested, I'll add my Amazon Affiliate Links below to both the Instant Pot I use as well as the steamer basket. Note that as an Amazon Affiliate I do earn from your purchases but at no extra cost to you.
We'll start my softening up our greens.
I chopped about 2 cups of green cabbage and added it to my Instant Pot. I bought a head of cabbage weeks ago to make fresh sauerkraut and never did, so I managed to salvage around 2 cups before it went entirely bad - oops.
Next, I bought a 12 oz bundle of Organic Kale from my local Kroger. So I took about half of that and stripped the leaves off of the stems. I then chopped the leaves and weighed them - approximately 3 ounces.
I don't think the amounts will matter much as we all know Kale will wilt down into basically nothing.
So with the cabbage and kale in my Instant Pot, I added ¼ cup of low-sodium vegetable broth and pressed the SAUTE button. I don't saute in oil - ever - so I use Veg Broth or Water instead. When the kale began to wilt I added 4 chopped green onions (scallions) and 3-4 cloves of minced garlic.
Stir for about a minute until the onions begin to soften - and then press CANCEL/KEEP WARM to turn off the heat.
Next, I added ½ cup of water to my Instant Pot along with my steamer basket. I don't add much water here so I won't have to drain any excess later. One-pot - easy peasy.
Then I added my potatoes, about 3 pounds of quartered Yukon Golds (about 8-9 potatoes).
Attach the lid, make sure the vent valve is sealed, press MANUAL, and set your timer for 7 minutes. When it finishes, let it naturally release the pressure for 10 minutes before carefully releasing any remaining pressure yourself.
Now - as Hulk would say - we SMASH - right in the Instant Pot. (Do remove the steamer basket is you used one first)
As you're mashing your potatoes, if they seem a little dry, simple add ¼ cup of Unsweetened Almond Milk. This will make them super creamy.
You may have noticed, up until now we have NOT added any butter or salt or any kind of seasoning. So let's add the secret ingredient now that will replace the butter, give us that Umami flavor we love so much, AND our sodium to season these potatoes.
Add one heaping tablespoon of White Miso.
Stir that in and give it a taste. You can always add more salt (and pepper) here if you need it.
Miso is a salty, fermented soybean paste that adds so much flavor to dishes I'm surprised it's not used more. I have found it in the refrigerated section of my grocery store (near the Tofu) and on the shelves (Asian food section). If your store doesn't carry it, stores like Whole Food, Trader Joes, and New Seasons will surely have it.
That's it. Another recipe to show you how EASY eating this way can be. You get your beloved McDougall Starch AND Esselstyn Greens in one easy recipe that can be made in minutes, and in one 'easy-to-clean' pot.
Hope you enjoy it and please be sure to leave those comments down below.
Until next week, have a Happy and SAFE Independence Day America and remember to wear your masks and keep your distance. This virus is still here and it looks to be gearing up for another wave.
STAY SAFE!

Print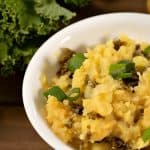 Vegan Instant Pot Colcannon
Author:

Prep Time:

15 min

Cook Time:

17 min

Total Time:

32 minutes

Yield:

6

-

8

servings

1

x

Category:

Potato, Main

Method:

Instant Pot

Cuisine:

Irish

Diet:

Vegan
---
Description
Here is my Vegan Instant Pot Colcannon recipe than many of you have requested. It's got a ton of greens, it's completely oil-free, and you make it all in just one pot - nothing could be easier. 
---
¼ cup

low sodium vegetable broth

2 cups

chopped green cabbage

3 ounces

chopped kale leaves

4

chopped green onions

3

-

4

cloves minced garlic

½ cup

water

3

lbs yukon gold potatoes

1

Tbs white miso

¼ cup

unsweetened almond milk (if needed)
salt and pepper to taste
---
Instructions
Add cabbage and kale to instant pot
Add broth and SAUTE until the kale is slightly wilted
Add onions and garlic, SAUTE 1 minute and press CANCEL
Add water and potatoes
Attach lid, make sure vent is sealed, press MANUAL 7 minutes
After it finishes, let it sit for 10 minutes
CAREFULLY vent any remaining pressure and remove lid
Add miso and mash, adding almond milk as needed
Add salt and pepper if needed and serve
---
Keywords: vegan instant pot colcannon