Looking for a fast and easy stir-fry? I took last week's sauce and spiced it up a bit for this Spicy Air-Fried Garlic Tofu! And it was TASTY!
I'm always looking for different ways to flavor my Tofu. So it's gotta be about the sauce. I mean there are only so many ways to cook tofu - right? Bake, fry, or air-fry?
So I took last week's Yaki Noodle Sauce and spiced it up a bit.
No worries - I didn't say I made it HOT. Trust me, my wife does NOT like hot. No hot sauce, no sriracha, no chile flakes on our pizza.... she can barely tolerate mild salsa.
She does not even like black pepper!
But she loves this. So if she can tolerate the spice, chances are so can you.
And what I used was a product known as Gochugaru - or Korean Chile Flakes. It's the same thing I used to flavor my Vegan Kimchi.
In Korean - gochu means chile pepper, and garu means powder.
It has a sweet, kind of spicy, kind of smoky flavor that is really tasty and goes well on a lot of different dishes.
You may have seen Gochujang next to the Sriracha in your grocery store. Gochujang is a paste made from gochugaru, soybeans, and rice. Think of it as a spicy miso.
Gochugaru would be my preferred choice in this recipe, but if all you can find is gochujang it should still work.
Just remember: If you ARE sensitive to spice - add just a little and taste as you go. The amount I used in this recipe was just right for me, you may want less (or more)!
This recipe is pretty simple, we'll make our sauce, air-fry our tofu, if you don't have an air-fryer you can use your convection oven to bake it, and then we'll stir-fry a whole bunch of garlic and add our sauce until it thickens, then fold in our cooked tofu.
Sound good? Then let's get spicy!
Spicy Air-Fried Garlic Tofu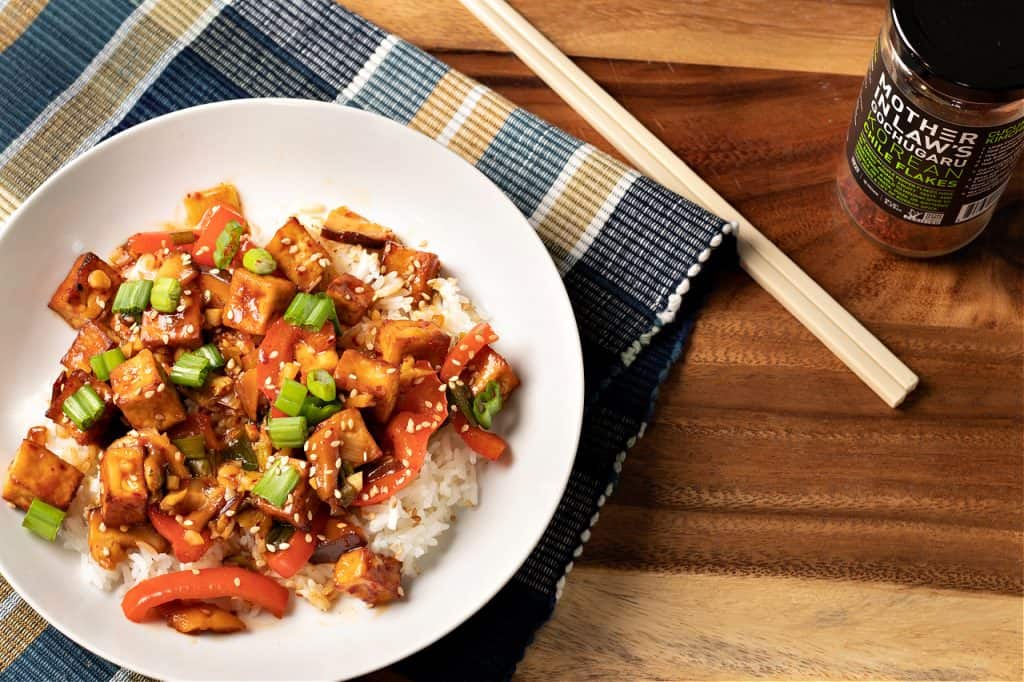 First, the sauce.
Whisk all the ingredients together and set aside.
If you can't find or don't want to use the gochugaru - you can try gochujang, or sriracha, or just leave it out completely. Note the sriracha WILL probably add a lot more heat than the gochugaru.
I'll add some Amazon Links if you DO want to try it. Remember, as an affiliate, I do earn from qualified purchases but at no extra cost to you.
Next, the tofu.
I always buy organic extra-firm and then press it.
I turn it on its side and cut it into 2 slabs of roughly the same thickness, then sandwich them between layers of paper towels and lay something heavy on top, like a cutting board and my entire knife block, or a small kettlebell, or cast iron pan - whatever you got.
After a few minutes, I replace the soaked paper towels with dry ones and continue pressing. I usually give it 10-15 minutes before I then slice up the tofu into cubes.
Normally with tofu, I place the cubes in a Mason Jar and add a marinade but this time I did not. I simply brushed on a little soy sauce and arranged them on my air fry pan then cooked them at 400° F for about 10 minutes, shaking the pan every so often.
When the tofu is done, set it aside. I like mine kind of browned and just starting to get crispy, but my wife & grandson like theirs soft. So bake/air fry until you get the texture you like.
Finally - the stir-fry.
I used a few aromatics like green onions and garlic along with some shiitake mushrooms, but this is a kitchen-sink kind of recipe.... meaning use what you got. Just don't use too MUCH, because the tofu and the sauce are supposed to be the stars of the show.
I chopped 3 sticks of green onions, separating the green parts from the white. The white onions parts went into my saute pan along with about 6 cloves of minced garlic. And I searched for the largest cloves I could find.
I never use oil to saute - so I added a few splashes of low-sodium vegetable broth instead, just to keep everything from sticking. I had my pan on med-high (ish) heat until the onions started to turn translucent then added a red bell pepper I had cut into strips. Again, use what you have.
And because I like mushrooms, I added about half of a little 4 oz container of fresh shiitakes. If you are a mushroom hater - don't use them - easy.
Once the mushrooms release their liquid and the peppers have softened, add the sauce. It will be thin at first, but it will thicken.
Then you just fold in your cooked tofu, turning and stirring everything so it gets completely coated in that wonderful sauce. When it has thickened to your liking - you're ready to serve.
I served it over a bowl of rice and garnished it with the green onion tops and sesame seeds. It was delish! Better than any restaurant I can tell you that for sure.
Hope you enjoy it! And I will see you next time, right here on BNV.

Print
Spicy Air-Fried Garlic Tofu
Author:

Prep Time:

30 min

Cook Time:

15 min

Total Time:

45 minutes

Yield:

2

-

4

servings

1

x

Category:

Stir-Fry

Method:

Air Fryer, Stovetop

Cuisine:

Asian

Diet:

Vegan
---
Description
Looking for a fast and easy stir-fry? I took last week's sauce and spiced it up a bit for this Spicy Air-Fried Garlic Tofu! And it was TASTY!
---
12 oz

package of extra-firm tofu

3

sticks of green onions

5

-

6

cloves garlic

1

red bell pepper (optional)

2

oz

shiitake mushrooms (optional)
Sauce

2 ½ tablespoons low-sodium soy sauce

2 tablespoons

hoisin sauce

1 tablespoon

mirin (Japanese cooking wine)

1 tablespoon

Gochugaru (Korean chile flakes)

2 teaspoons

maple syrup

1 teaspoon

rice vinegar

1 teaspoon

corn starch (or potato starch, arrowroot, etc)

¼

cup

water
---
Instructions
Whisk sauce ingredients together - set aside. 
Press tofu for 10-15 minutes to remove as much moisture as you can, then cut into equal-sized cubes.
Brush cubes with a little soy sauce if desired, then air-fry at 400° for 5-10 minutes, shaking the basket occasionally.   Set aside when done. 
Finely chop the onions reserving some of the green tops for garnish, mince the garlic, and cut the red pepper into strips.  Also clean and chop the mushrooms if you are using them.  
Add the veggies to a saute pan with a little veg broth or water and saute until softened. 
Stir in the sauce and fold in the cooked tofu cubes.
Stir-fry until the sauce has thickened.
Serve over rice and garnish with green onion tops and/or sesame seeds.
---
Keywords: spicy garlic tofu, air-fried, Korean