If you're missing Chico's Tacos, then you've got to try my Oil-Free Taquitos - because they're the next best thing and you don't have to drive to El Paso to enjoy them! ?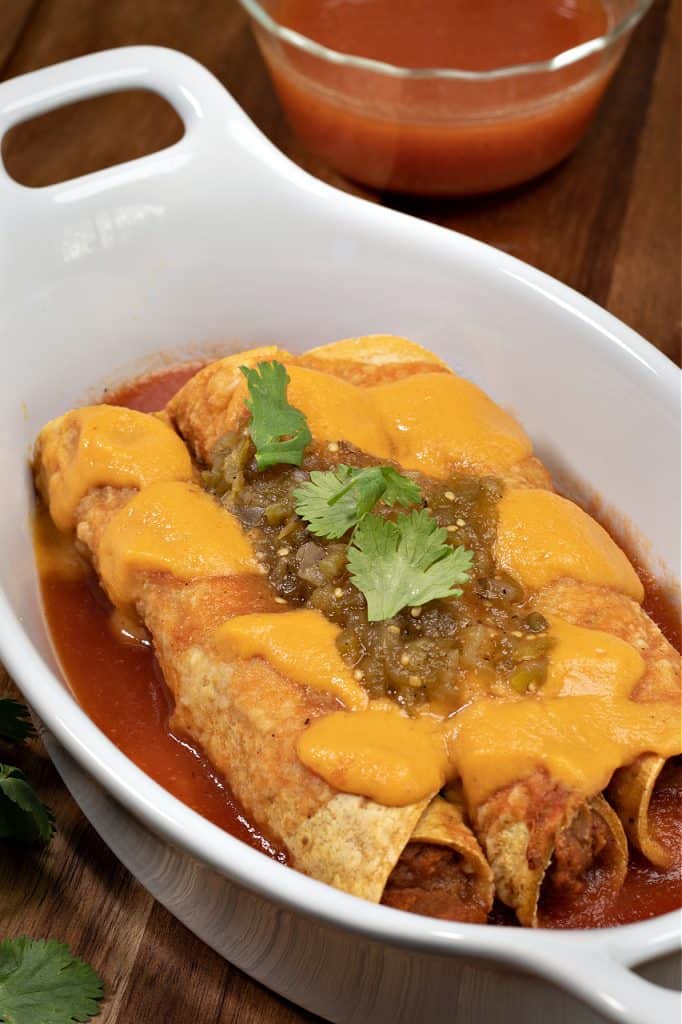 I asked my Facebook Group what they would like to me make this week, and Chico's Tacos popped up and immediately grabbed my attention. Why? Because they're a local El Paso tradition that screams comfort food!
I myself grew up in Indianapolis, so MY local traditions were Steak 'n Shake and White Castle. Of course, NONE of these places are what I would consider healthy, or places I would go to now, but they sure do bring back fond memories of the foods I enjoyed growing up. And Chicos sounds like it's exactly the same kind of place.
So I took a long hard look at this Texas culinary delight to see if it was something I could recreate - and this recipe is the result.
First - what exactly are Chico's Tacos?
An order of Chico's is 3 rolled taquitos (not sure why they call them tacos) filled with ground beef and deep-fried. They are then placed in paper 'boats' and a steaming, watery tomato broth is then ladled over them. And that is all topped with shredded cheese and from what I understand, the cheapest cheese they can find (remember free government cheese?). A side of green salsa verde is also offered on the side.
And THAT, my friends, is Chico's Tacos. Now to make them vegan and oil-free.
From the pictures I've seen, they certainly look like taquitos to me, so that's easy enough as I can roll a corn tortilla and air fry it. Instead of spicy ground beef for the filling, I used some spiced-up refried beans, but you could almost use anything you like. Have some leftover Cauliflower Taco "meat"? I had some leftover Gallo Pinto yesterday and that worked great too.
Now all that's left is that tomato broth and the cheese - and we all know that I always have my killer Cheese Sauce in the fridge, ready for anything.
But that broth - that was the tricky part as I have never had the original and have absolutely no reference. So if my broth is something completely different- all you tried and true Chico's fans - my apologies. That recipe seems to be locked down as tight as the Colonels 11 herbs and spices, but I did my best, and all in all? I think it turned out pretty tasty and no, not spicy at all
So.....whether my recipe tastes anything at all like Chico's - they still turned out delicious and will certainly be made again. Thanks for the suggestion Sonia, my wife loved them.
Hope you enjoy them too.
Chuck's Oil-Free Taquitos
Step 1: If you're making my cheese sauce - now is the time. Get that done and over with and clean the blender for the next round - which is the broth.
Step 2: Add the tomatoes, onion, garlic, and green chiles (or a jalapeno), and 1 cup of water to your blender. Puree until smooth then pour through a fine-mesh sieve into a large pot or dutch oven. Use a rubber spatula to smoosh that pulp into the sieve and get all the juice out. Then add the remaining 3 cups of water through the sieve, continuing to push it through the pulp. Finally, do the same with 1 cup of veggie broth.

Your pot should end up with 4 cups of water total and 1 cup of veggie broth.
Add the seasonings and stir.
I think they use chicken broth or chicken bullion - so instead, I added a heaping teaspoon of Marmite, which is a salty, yeast extract. If you can't find Marmite - I'll add my Affiliate Link to Amazon where I do make a little on every purchase but at no extra cost to you.
If you don't want to use Marmite - you will definitely want to add some salt to taste. I could have used a popular veggie bullion - but it had weird ingredients and oil so I opted for the marmite instead. It'll give us that same umami flavor.

Bring the pot to a simmer and stir occasionally for 15-20 minutes. Set aside.
Step 3: If you're making my filling, add the refried beans and salsa to a small saucepan and heat until it's smooth and heated through. I like to add a little cheese sauce too but not too much or it will be runny.
If you're using leftover rice and beans or taco meat - no need to reheat as we're going to air fry it anyway.
Step 4: Whatever brand of corn tortillas you use, chances are they will be somewhat hard and rubbery and WILL crack if you try to roll them. The trick is to heat them first. You can either heat them in a hot skillet, one at a time, until they become soft and pliable, or microwave them.
If heating in a pan, heat 10-15 seconds at a time over high heat, then flip. When they are soft, place them in a tortilla warmer or keep them covered until they are all done.
If microwaving, lightly brush your tortillas with water and wrap the whole bunch in a damp towel or paper towels, and place either in a tortilla warmer or a BPA Free ziplock baggie. Do not seal. Microwave for up to one and a half minutes, or until soft and pliable.
(Note: I had some really thick organic corn tortillas and I had to moisten them with water, microwave them for ninety seconds, AND heat them in a pan)
Step 5:
Spoon 1-2 tablespoons of the filling onto the bottom third of each tortilla and carefully roll. Place each taquito, seam-side down, on your air-fryer tray or a parchment-lined baking sheet. Air fry or bake at 350° F for 10-15 min or until crispy, flipping occasionally.
Assembly: Place 2-3 taquitos on a plate or in a bowl and ladle some of that tomato broth over the top, as much or as little as you want. Top with cheese and maybe a little salsa verde and enjoy! It's ooey and gooey and oh so good.
And to all my El Paso friends - be sure and let me know how I did.
Seeya next week.

Print
Chuck's Oil-Free Taquitos
Author:

Prep Time:

30 min

Cook Time:

30 min

Total Time:

1 hour

Yield:

4

servings

1

x

Category:

Main

Method:

Stovetop, Air Fryer, Blender

Cuisine:

Mexican

Diet:

Vegan
---
Description
If you're missing Chico's Tacos, then you've got to try my Oil-Free Taquitos - because ... well... they're the next best thing and you don't have to drive to El Paso to enjoy them! ?
---
Taquitos
Vegan Cheese Sauce
Or your favorite vegan shredded cheese if you prefer
Filling
15 oz

can refried beans

¼

cup

salsa

1

-

2

Tbs vegan cheese sauce
Alternatives
Tomato Soup/Broth
28 oz

can whole tomatoes

½

onion

4

cloves garlic

4 oz

can green chiles

4

cups

water, divided

1

cup

vegetable broth

1 tsp

onion powder

1 tsp

garlic powder

1 tsp

marmite yeast extract (can substitute salt to taste)
Salt to taste
---
Instructions
Prepare my cheese sauce if using - set aside
Add tomatoes, onion, garlic, chiles, and 1 cup water to a blender.  Puree until smooth.
Strain tomato puree into a large pot/dutch oven using a fine-mesh sieve.
Scrape contents of sieve until all the liquid is in the pot
Repeat with remaining 3 cups water and veg broth
Add seasonings and bring to a simmer.  Cook 15-20 minutes. 
For the filling, add the ingredients to a small saucepan and simmer until heated through
Lightly brush each tortilla with water and wrap in a kitchen towel or paper towels.  Place them inside a tortilla warmer or BPA-free plastic bag and microwave until soft and pliable - up to 90 seconds.  If they are still brittle you can heat them, one at a time, in a skillet, flipping occasionally.
Spoon 1-2 Tbs of filling onto the lower third of each tortilla and roll.  
Place taquitos seam side down in an air fryer basket or parchment-lined baking sheet and cook at 350° F for 10-15 minutes or until crispy. 
To Plate:  Ladle sauce over taquitos and cover with cheese sauce and/or your favorite salsa verde. 
---
Keywords: oil-free taquitos