A deliciously simple polenta bruschetta without ANY oil! So easy to make and incredibly tasty (and healthy) too.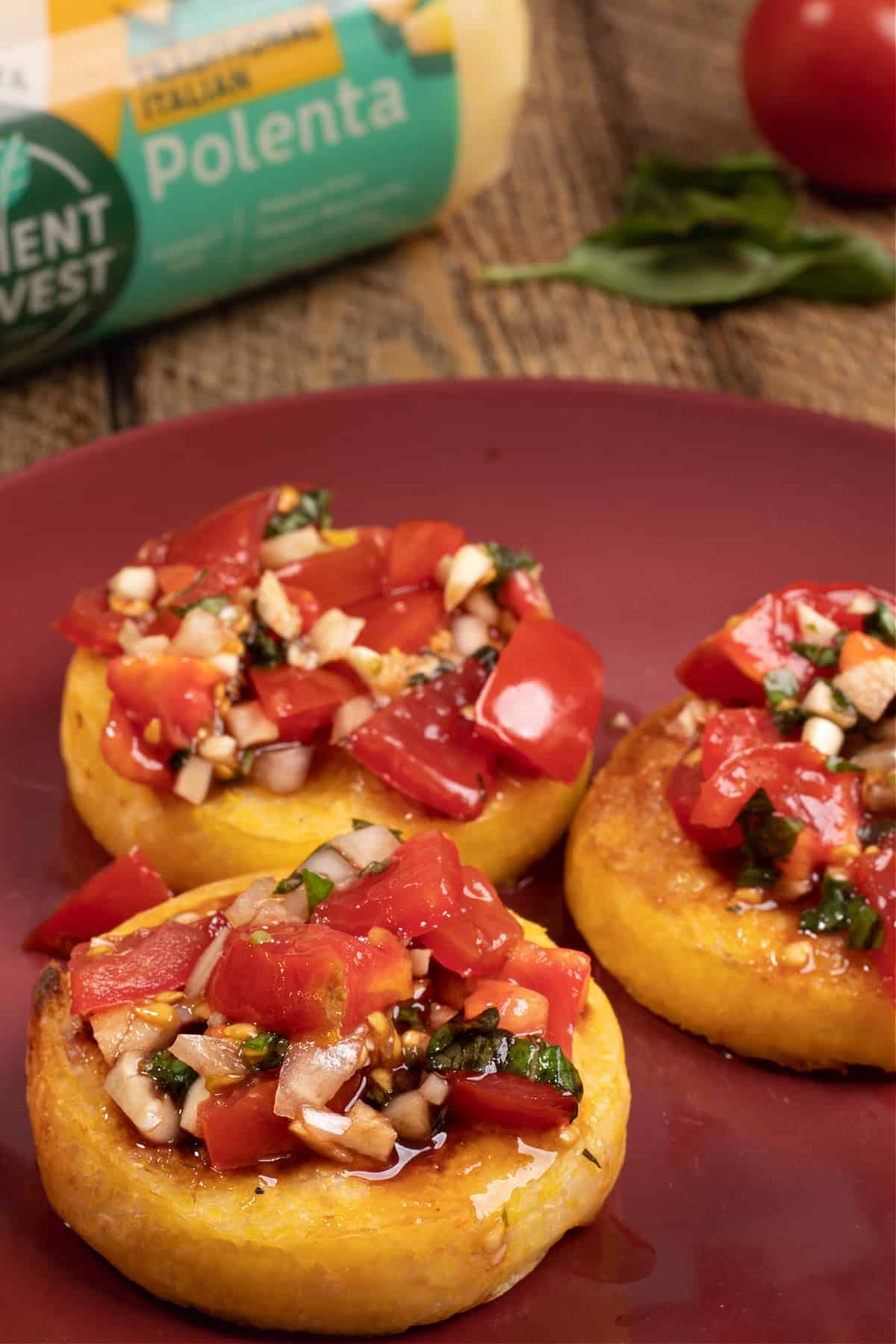 Polenta is probably one of the most SIMPLE prepared foods you can buy if you are dabbling with a plant-based vegan diet. Most grocery stores will carry it, either in the refrigerated cooler where they keep the tofu OR in the pasta aisle with all the marinara sauces.
What in the heck is it?
Polenta is simply corn.....cornmeal to be exact, although ground a little courser than typical cornmeal. In fact, it's very similar to grits, although grits are made from WHITE corn (hominy), and polenta is made from yellow.
You can buy it one of two ways, in a bag as dry cornmeal (it will say POLENTA on the bag), or in a tube, where it is already cooked and ready to eat.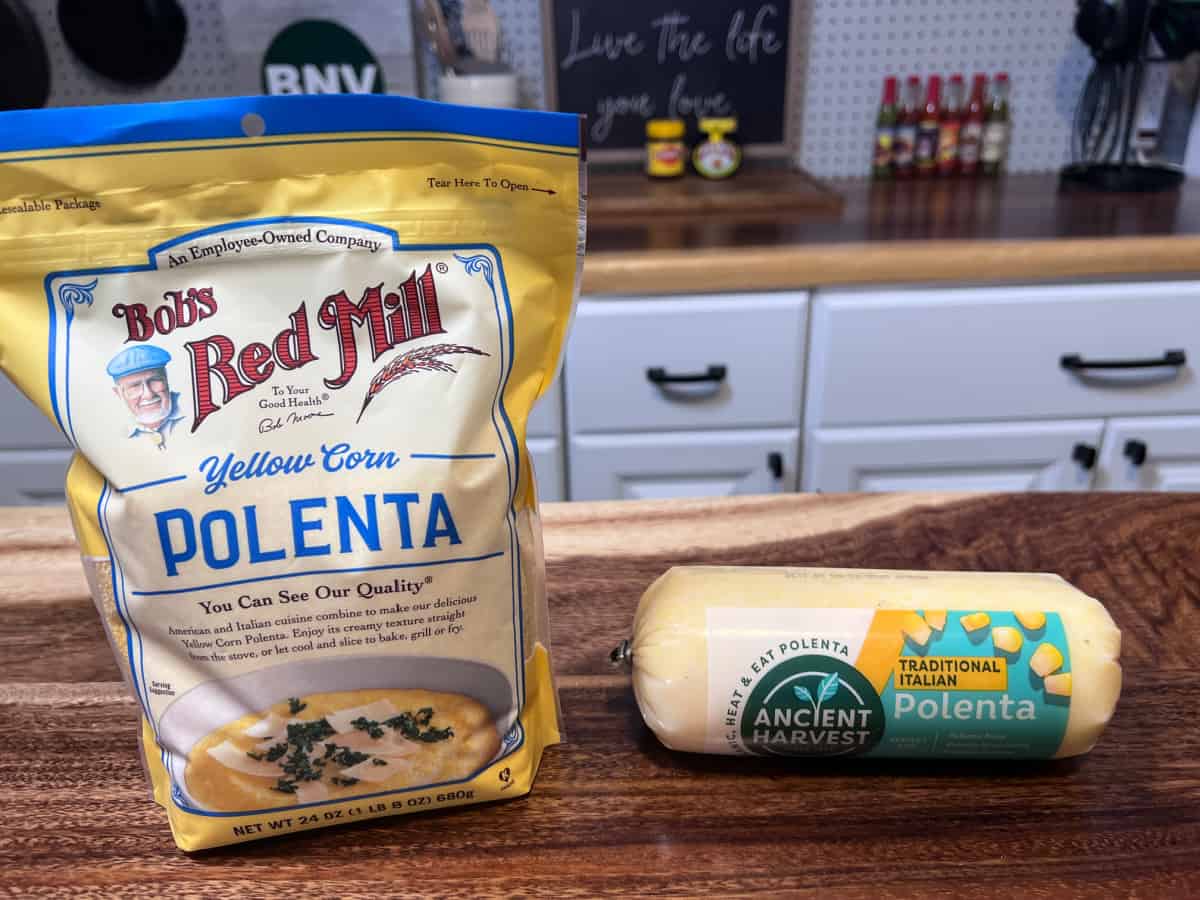 If you buy the dried polenta, you simply add it to boiling water and stir like crazy until it thickens, but the stuff in a tube is already precooked for you - all you have to do is heat it up. Some people fry it, and some cut it into fries and bake it.
And that's what we are going to do today, slice it up and bake it. And then top it with this delicious bruschetta.
Think of polenta like a type of cornbread..... only denser, chewier, and of course minus the bread.
Simple Polenta Bruschetta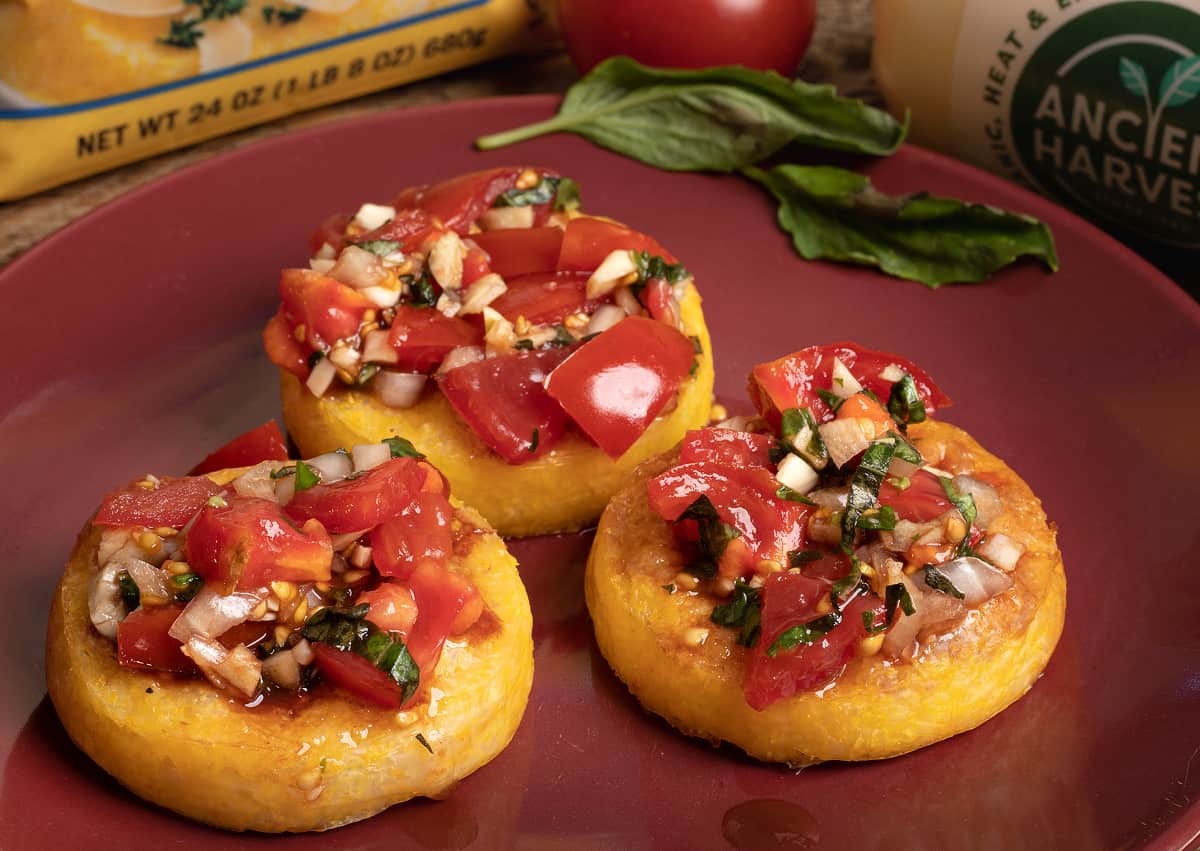 The Polenta
To make this recipe, we will first need to remove the polenta from the tube's plastic lining. This is easy if you simply slice the tube in half because then you can squeeze it out. Try to keep the shape intact.
Then slice it into ½" rounds, or medallions as they are sometimes called. Place them on a silicone baking mat (silpat) or parchment-lined baking sheet and bake at 400° F for about 30 minutes, or until they begin to brown - flipping them halfway.
Note: You can air fry them too using the same temperature. Just do NOT use parchment paper in your air fryer. Air fry them until they are slightly browned and crispy to the touch, shaking them or flipping them halfway.
Meanwhile - while the polenta is baking - let's make the bruschetta.
Technically, if you look up the definition of bruschetta (brew-sketta), it is actually grilled bread - not the tomatoey sauce many of us associate with the dish.
"Bruschetta is an antipasto from Italy consisting of grilled bread rubbed with garlic and topped with olive oil and salt."
But for this recipe, we are going to make the tomato topping that "I" call bruschetta.
I used 3 Campari tomatoes simply because they taste better than anything else in the store at this time of the year. An equal amount of cherry tomatoes would work too. Chop them up into small pieces and add to a bowl.
Next, mince 3-4 cloves of garlic and stir that in too. I also like to add a little minced onion but that is totally up to you.
Next, finely chop a tablespoon or so of fresh basil and add that to the mix. I supposed dried basil MIGHT work in a pinch - but fresh is definitely better.
And feel free to adjust ANY of these amounts to your own individual taste.
Finally, drizzle 1-2 teaspoons of balsamic vinegar over everything and mix well. Add a pinch or so of salt to taste and you have a VERY easy bruschetta - without ANY oil.
When your golden polenta medallions come out of the oven, top them with this sauce and enjoy a little slice of heaven.
Who knew something so easy could be so good .... AND healthy!
See you next time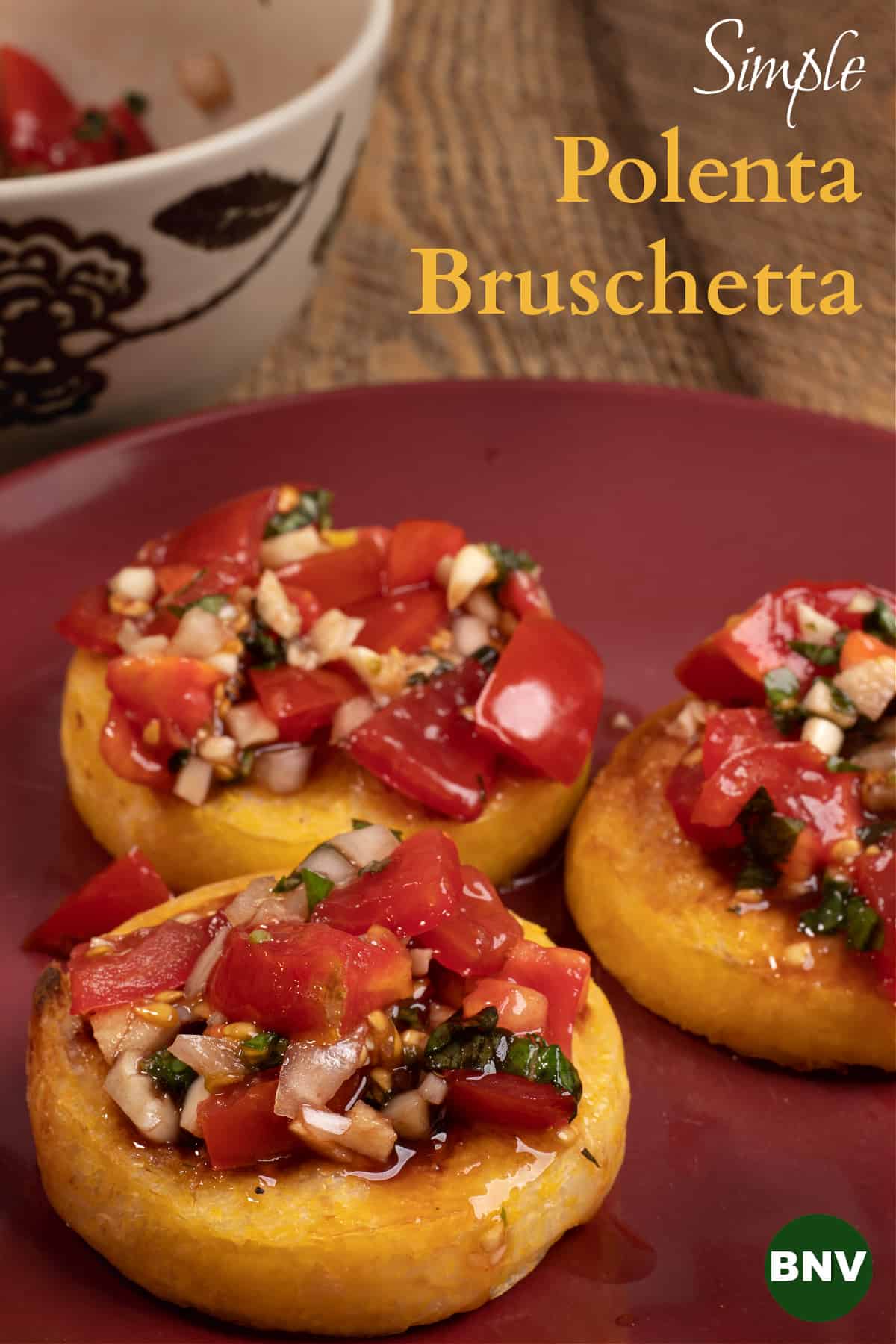 Print
Simple Polenta Bruschetta
Author:

Prep Time:

0 min

Cook Time:

30 min

Total Time:

30 minutes

Yield:

4

-

5

Servings

1

x

Category:

Appetizer

Method:

Oven, Air-Fryer

Cuisine:

Italian

Diet:

Vegan
---
Description
A deliciously simple polenta bruschetta without the oil!  So easy to make and incredibly tasty (and healthy) too.
---
18

-

ounce

tube polenta

3

ripe tomatoes

1

-

2

Tbs diced onion

3

-

4

cloves minced garlic

1

Tbs minced basil

2 tsp

balsamic vinegar

½ tsp

salt
---
Instructions
Preheat oven to 400° F
Remove the polenta from the tube and cut off the ends
Cut into ½" slices (about 9 of them) and place on a parchment-lined baking sheet
Bake for 15 min then flip, and continue baking until golden brown
Meanwhile, dice tomatoes and add to a bowl
The remaining ingredients can be all adjusted to taste
The amounts given were to my liking but you may want more garlic, no onion, less vinegar, no sodium, etc.  Feel free to adjust!
Remove polenta from oven and top with bruschetta
Note:  Polenta may be air-fried too, 400° F until golden brown
Keywords: polenta bruschetta